One of the things that really intrigued me into trying this chicken mole is the usage of chocolate in the sauce. After over 556 recipes I've been cooking, this is the 557th, we're family who is dare to try just about any food on earth. I've always eaten chocolate as part of sweet treat. To use chocolate in cooking was kinda new to me though. I've tried spicy chocolate brought by colleague from Korea before, and as weird as it sounds, it was really delicious. When I saw the ingredients used in the chocolate mole sauce for this recipe in Jamie's America cookbook by Jaime Oliver: dried red chilis, cocoa powder, chocolate, onions, tomatoes, sesame seeds, etc…. that immediately scored some points on my to-cook list.
Mole (pronounced mo-lay) sauce is used in Mexican cuisine. The word Mole itself refer to "sauce" in general. Even with many varieties of mole sauces out there, the preparation of mole is often begins with some type of chili pepper and chocolate is often added in the end of cooking to bring all the flavors together and give it a rich thickness. A good mole sauce should be sweet, spicy, silky smooth, and a pleasure to dip any bit of lucky old meat into. This chocolate mole sauce not only works with chicken,but also great with pork, beef, lamb, or roasted fish.
Another food I've tried and I could check off the list with a big satisfying smile 🙂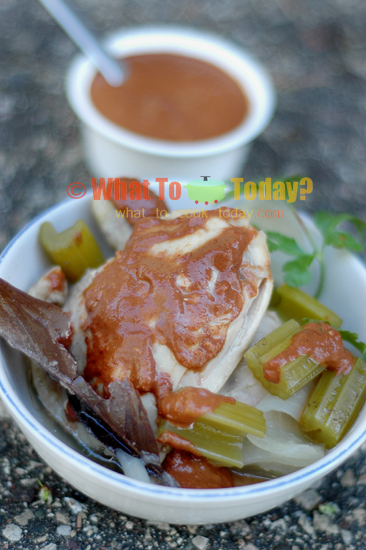 For baking/ kueh making: I highly encourage to weigh ingredients with a digital kitchen scale instead of using measuring cups as they are not very accurate especially when it comes to recipe that requires precision.
GRAMS TO CUPS CONVERSION (UNSIFTED)
INGREDIENTS
2-3

lbs

chicken

-

(can be whole chicken or leg quarters, it's up to you)

1

tsp

sea salt

1

onion

-

, peeled and quartered

1

celery stalk

-

, roughly chopped

3

fresh bay leaves

1

cinnamon stick

5

black peppercorns

2

cloves

garlic

-

, peeled

FOR THE CHOCOLATE MOLE:

3

large dried red chiles

Olive oil

1

onion

-

, peeled and roughly chopped

1

clove

garlic

-

, peeled and thinly sliced

1/2

tsp

ground cumin

1/2

tsp

ground cinnamon

1

heaped tsp white sesame seeds

7

oz

diced tomatoes

1

heaped tsp unsweetened cocoa powder

Sea salt and freshly ground black pepper

2

oz

bar good-quality bittersweet chocolate

-

(70% cocoa solids), broken into chunks

Red wine vinegar
INSTRUCTIONS
Put your chicken into a large saucepan with all the other boil ingredients and cover with cold water to come an inch or so above it. Bring to a boil, then turn down to a low simmer, cover with a lid, and cook for 1 to 1 1/2 hours, or until the meat just pulls and shreds apart beautifully. Skim away any foam that rises to the top from time to time. Check after 30 minutes and top up with a little hot water if it looks as though it's cooked down a lot

While your chicken is cooking, get your mole sauce together. Put your dried chiles into a bowl and cover them with 1 1/4 cups of boiling water. Let them soak in this for about 10 to 15 minutes, so they soften and start to release their incredible flavors. Get a large saucepan on a medium heat and add a good lug of olive oil, onions, sliced garlic, soaked chiles (save the water please), cumin, and ground cinnamon. Slowly cook everything for 15 to 20 minutes, until the vegetables have softened and sweetened. Stir in the sesame seeds and tomatoes, then add in the water you use to soak the chiles. Bring to a boil, then turn down and simmer for another 5 minutes

Add the cocoa powder and a good pinch of salt and pepper, stir really well, and cook for another 5 minutes. At this point, add the chunks of chocolate and stir them in gently until melted, then pour the sauce into a food processor. Pop on the lid, cover with a dish towel, and process for a few minutes. Take the lid off and have a taste. This is where you get the seasoning exactly right, so add a slug of red wine vinegar for that hint of acidity and a pinch more salt and pepper if need be. You want the sauce to be fairly loose in consistency, so add another splash of water if it looks too thick. When it's lovely and smooth, pour it into a bowl, cover it with aluminum foil, and put it in a large saucepan with a couple of inches of simmering water to keep it warm until your chicken is ready

Using tongs, move the chicken from the pan to a large cutting board and get rid of the bones. Shred the meat into bits and pieces if you want. Alternatively, you can always leave them whole and eat them that way. Pour over some mole sauce. Serve them with rice, or some flatbreads, or even salad and have the rest of your fantastic chocolate mole sauce in a jug for extra drizzling