This shop has been compensated by Collective Bias, Inc. and its advertiser. All opinions are mine alone. #ShrimpItUp #CollectiveBias
Whenever I have seafood, especially fishes and shrimp, they remind me of my late father. He knew how much I love those. When I visited home during holiday, he would make sure he got some fresh fishes and shrimp from the market first thing in the morning because that's the best time to get the freshest stocks. It's one of the things that I really looked forward to.
It never stop to amaze me how food can conjure up emotions and memories. Now with kids of my own, it's funny to watch how my 2-year old boy would gobble up large jumbo shrimp like a pro !! He reminds me so much of ME ! 🙂 He is truly a seafood lover. Throw him fishes, squids, mussels, shrimp, crabs, and he is quite a show to watch. Perhaps it's in the genes. My 5 year-old daughter is one to keep her guard up when it comes to trying something new. They are the polar opposites if I may put it that way.
I love cooking with shrimp because they take short time to cook and when you get yourself some quality seafood..oh my… you hardly have to do anything to it and you have yourself a meal in no time. Shrimp just make things taste better (or am I just being bias here ?). I usually try to get fresh seafood whenever they are available, but guess what, I was pretty amazed by what I found at the frozen section when I was at Walmart. I went ahead and grabbed Party Size SeaPak® popcorn shrimp and their coconut shrimp (I love coconut shrimp!).
We love couscous and my kids would refer to it as "tiny rice". Though technically it's not, but look like one to them. So, I decided to whip up something easy, yet flavorful. I thought I was cooking too much, but we polished them off. My kids love the combination of couscous and pomegranate in there. The 2-year old was crazy about both the popcorn and coconut shrimp.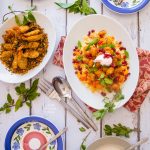 Couscous with shrimp and pomegranate (4-6 servings)
Ingredients
16

oz

of whole wheat couscous

1

Tbsp

cooking oil

1

small onion

diced

1

large red bell pepper

seeded and diced

1

large yellow/orange bell pepper

seeded and diced

Salt to taste

½

cup

of fresh mint leaves

chopped

About 1/2 cup or more of pomegranate seeds

Juice of 1/2 lemon

18

oz

of SeaPak® popcorn shrimp

you can use more or save the rest for next round

Plain natural yogurt

amount is based on your liking
Instructions
Cook the couscous according to direction on the package

Preheat oven to 450 F. Place the popcorn shrimp in a single layer on baking sheet and place in the middle rack of the oven and bake for about 10 minutes

While the shrimp is baking, preheat a large skillet or wok with oil. Add in onion and saute until soft and fragrant, about 3 minutes. Add in the diced peppers and saute for another 5 minutes. Add in the cooked couscous and stir to mix everything. Have a taste and season with salt to your taste. Turn off the heat and transfer the couscous to a large serving platter. The shrimp should be done baking by now (or close to)

Sprinkle the couscous with chopped fresh mint leaves. Topped with the popcorn shrimps and pomegranate seeds. Squeeze the juice of 1/2 lemon over it. Serve immediately with plain yogurt on the side or dollop of it on top of the coucous
We sure do eat with our eyes first and my kids love the colorful presentation. "Pretty food mama…" was what my daughter said followed by a copy-cat 2-year-old.
I did a little extra to the coconut shrimp by toasting some oats and basil leaves with some butter in a large skillet/wok until they are crunchy and added the baked coconut shrimps to the mixture. Oh my !! Seriously, I can never have too many shrimp !! Even my daughter enjoyed the popcorn and coconut shrimp !
The next time you are at Walmart, don't forget to check out SeaPak® at the frozen aisle near the Family Meals. There is also a $.75 coupon available for any SeaPak® products.

Are you ready to make easy incredible meals using simple products ? How would you #ShrimpItUp ?