Learn how to easily make these crispy seaweed crackers (nori seaweed crackers)  without deep-frying. They make perfect Chinese New Year snacks.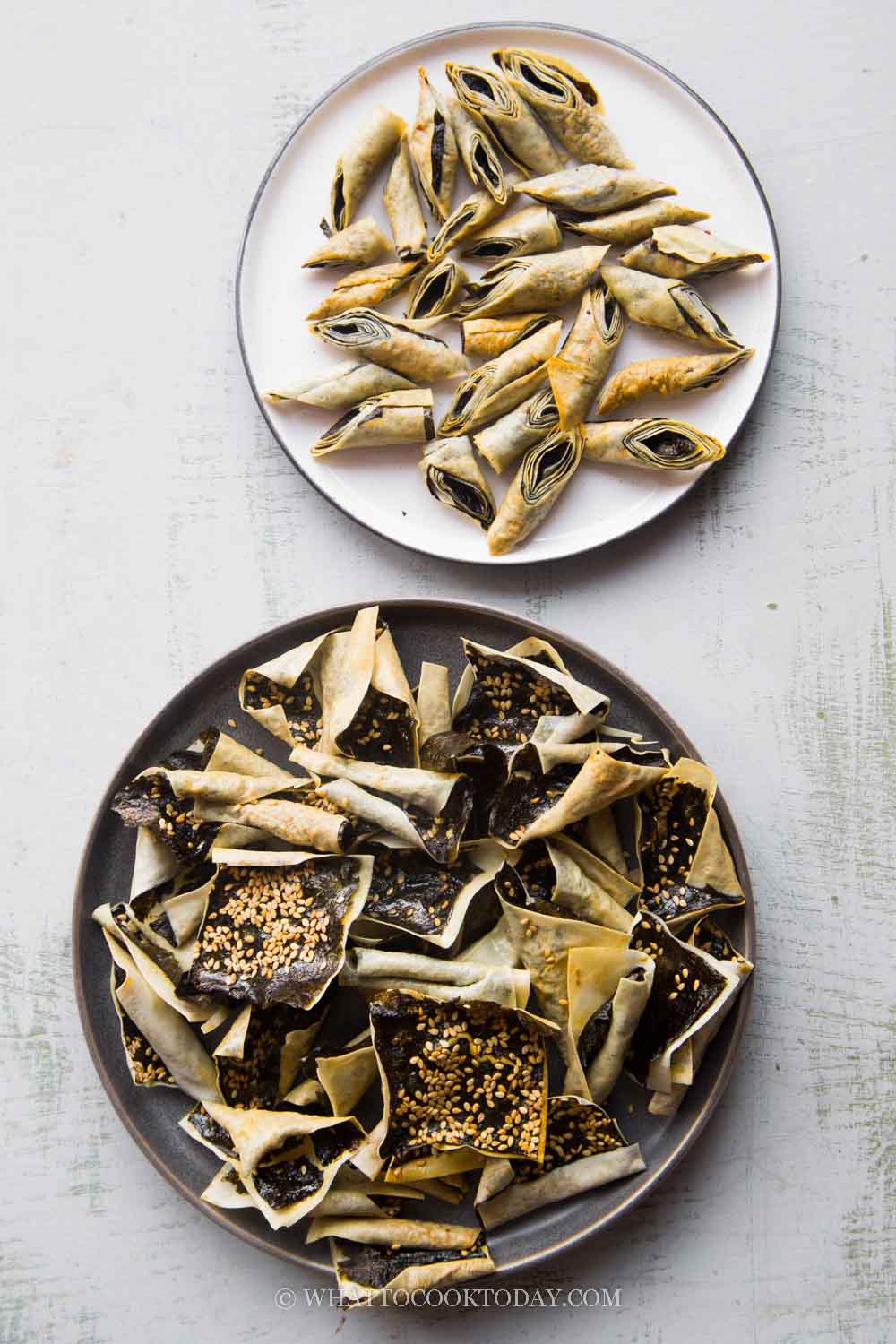 These crispy seaweed crackers or popiah is one of the popular Chinese New Year snacks that kids to adults like to munch on. They are incredibly easy to make. If you have an air-fryer, you don't need to deep fry them. I supposed this can be baked in the oven too, but I never tried baking them in the oven.
Ingredients
1. Roasted seaweed
Nori seaweed is used for this recipe. The seaweed that you use to wrap sushi. It is usually unseasoned yet but has a mild savory taste to it. It usually comes in a size of about 8 x 8 inches
2. Spring roll wrappers
I use the regular size spring roll, about 8 x 8 inches
3. Egg
The egg is used as a "glue" to attach the seaweed and spring roll wrappers together
4. Salt and pepper
We only need a small pinch of this to lightly season the crackers
5. White sesame seeds
I used untoasted white sesame seeds since we will be air-frying this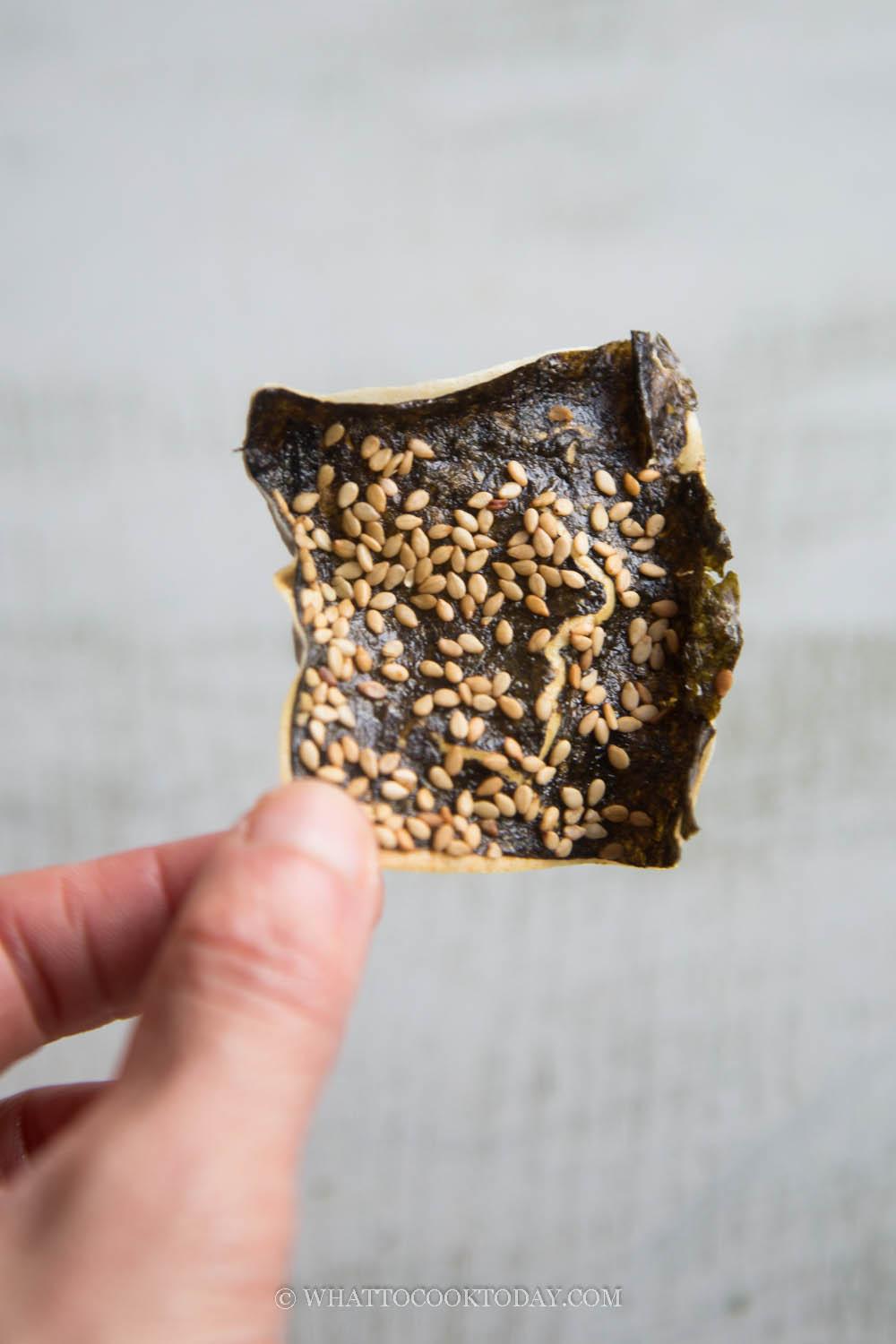 How to make crispy seaweed crackers – 2 ways
1. Whisk the egg with salt and pepper. Set aside. Brush one spring roll sheet with a thin layer of egg wash all over the surface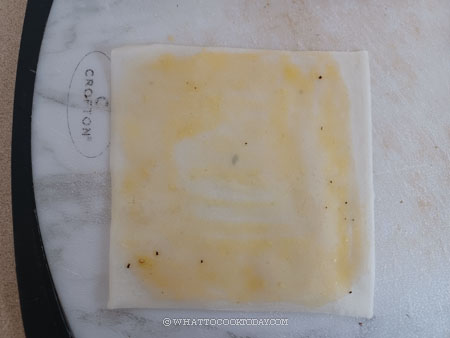 2. To make the seaweed roll shape: put one seaweed sheet on top


3. Use a chopstick to roll from one end to another. You don't need to roll it too tight


4. Brush the end with a bit of egg wash to seal

5. Pull the chopstick out. Use a kitchen shear to cut into 4-5 pieces at an angle. Repeat with the rest

6. To make the cracker shape: Repeat step 1 and 2 above. Brush the seaweed with another thin layer of egg wash. Sprinkle white sesame seeds on the surface


7. Use a kitchen shear to cut into smaller square pieces. Repeat with the rest and let these dry a little bit for about 15 minutes


8. Brush the rolls or crackers with some oil. Put them in the air fryer basket in one layer (do this in batches) and air fry at 350 F (180 C) for 2-3 minutes or until they are golden brown and crispy

Did you make this crispy seaweed crackers or seaweed popiah recipe?
I love it when you guys snap a photo and tag to show me what you've made 🙂 Simply tag me @WhatToCookToday #WhatToCookToday on Instagram and I'll be sure to stop by and take a peek for real!

Crispy Seaweed Crackers/ Seaweed Popiah - 2 ways (Air-Fryer Version)
Ingredients
10

sheets

roasted seaweed

about 8 x 8 inches

10

sheets

spring roll wrappers

about 8 x 8 inches

1

large

egg

Small pinch of salt

Small pinch of ground white pepper

White sesame seeds
Instructions
Whisk the egg with salt and pepper. Set aside

The size of the seaweed and spring roll is roughly about the same size

Separate the spring roll sheets and keep them covered with a damp towel to prevent them from drying out
To make the roll shape:
Brush one spring roll sheet with a thin layer of egg wash all over the surface. Put one seaweed sheet on top. Use a chopstick to roll from one end to another. You don't need to roll it too tight. Brush the end with a bit of egg wash to seal. Pull the chopstick out. Use a kitchen shear to cut into 4-5 pieces at an angle. Repeat with the rest
To make the cracker shape:
Brush one spring roll sheet with a thin layer of egg wash all over the surface. Put one seaweed sheet on top. Brush the seaweed with another thin layer of egg wash. Sprinkle white sesame seeds on the surface. Use a kitchen shear to cut into smaller square pieces. Repeat with the rest and let these dry a little bit for about 15 minutes
To air fry:
Brush the rolls or crackers with some oil. Put them in the air fryer basket in one layer (do this in batches) and air fry at 350 F (180 C) for 2-3 minutes or until they are golden brown and crispy
To deep fry:
Preheat about 1 inch of oil over medium heat. When you put a chopstick into the oil and you see bubbles around it, the oil is ready. Fry over medium heat until they are golden brown. Remove and put on top of absorbent paper towel
Storage:
Let them cool down completely and then transfer to an air-tight container and they should stay crispy