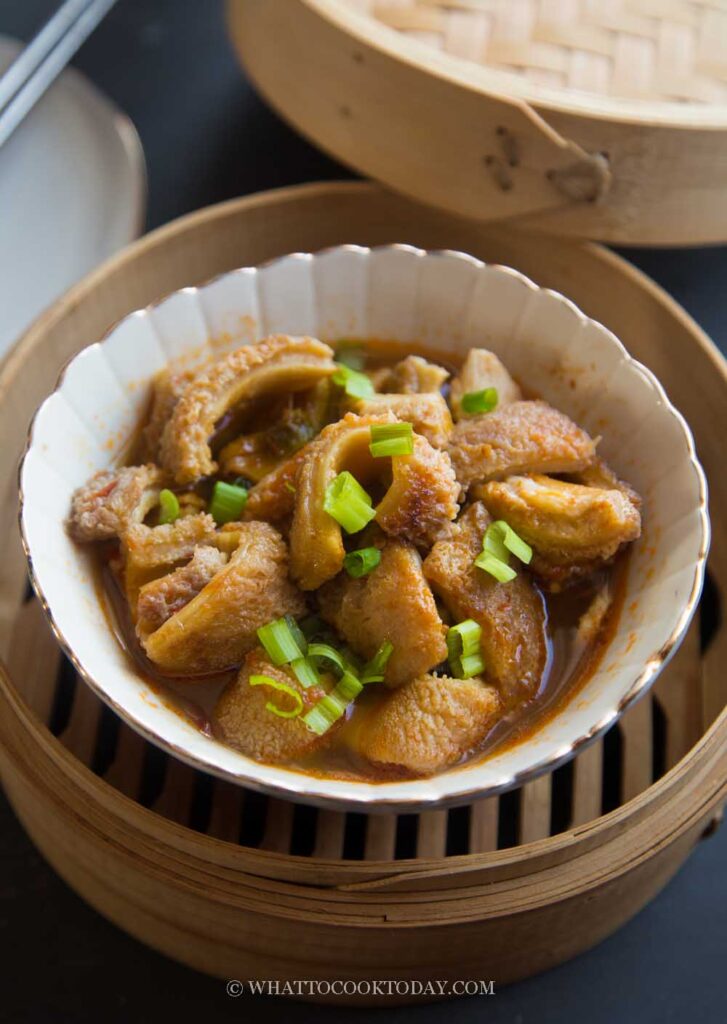 What is dim sum beef tripe stew?
Dim sum beef tripe stew is a classic Cantonese dish that is beloved for its rich flavor and unique texture. Beef tripe is simmered in a flavorful broth made from various spices and seasonings until the tripe becomes tender and infused with the delicious flavors of the stew.
What is beef tripe anyway?
In case you are wondering if it is edible, well it is 🙂 Beef tripe is the edible lining of the cow's stomach, and it is a popular ingredient in many Asian cuisines. In Cantonese cuisine, beef tripe is often used in soups and stews, as its unique texture and flavor make it an ideal ingredient for slow-cooked dishes. The tripe has a chewy texture and it absorbs spices and seasonings very well, making it a perfect ingredient for a stew like this.
How to cook dim sum beef tripe stew
1. You can refer to this post on how to clean the beef tripe
2. Place the prepared beef tripe, honeycomb side down, in the inner pot of Instant pot or a heavy-bottom pot if cooking on the stove. Add the rest of the ingredients, except for the seasonings. Save that for later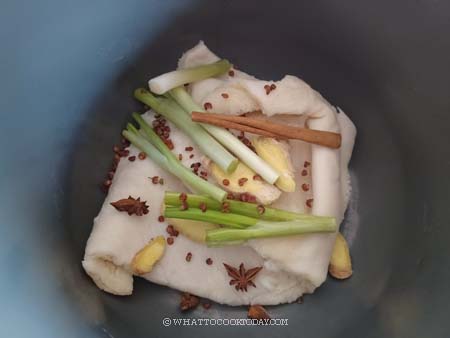 3. Pour in water, about 1 inch above the tripe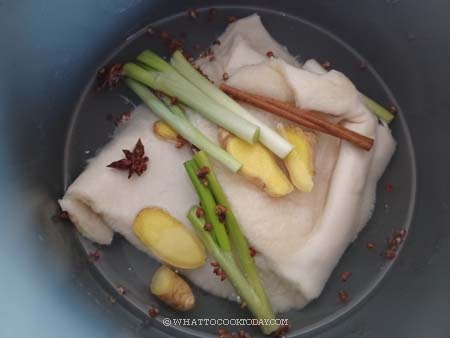 4. If using Instant pot, close the lid and turn the pressure release valve to sealing. Press "Pressure cooker" and set the timer to 30 minutes and make sure it's on high pressure. Do a natural release. It may take about 10 minutes to depressurize. If cooking on the stove, bring the water to a boil and then lower the heat to medium-low and let it simmer for about 1 hour or until the tripe is tender
5. Remove the cooked tripe from the pot and slice the tripe across the grain. ou can flip the tripe over and see the long strands of muscle fibers that run in a particular direction. You want to cut through those fibers, which makes the tripe more tender and easier to chew


6. Place the tripe in a steaming bowl. Combine all the seasonings and have a taste and adjust to your taste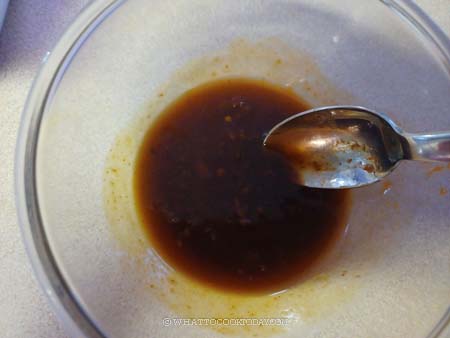 7. Toss the tripe with the seasonings and julienned ginger. Cover the bowl with aluminum foil to prevent water condensation drops on the tripe, diluting the taste. You don't have to do this if you use a bamboo steamer, which can absorb water condensation during steaming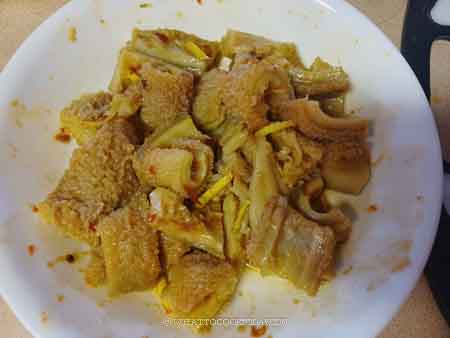 8. Bring the water in the steamer to a boil. Steam over high heat for 10 minutes


9. Garnish with chopped green onion and serve warm as part of a multi-course meal

Did you make this dim sum beef tripe stew recipe?
I love it when you guys snap a photo and tag it to show me what you've made. Simply tag me @WhatToCookToday #WhatToCookToday on Instagram and I'll be sure to stop by and take a peek for real!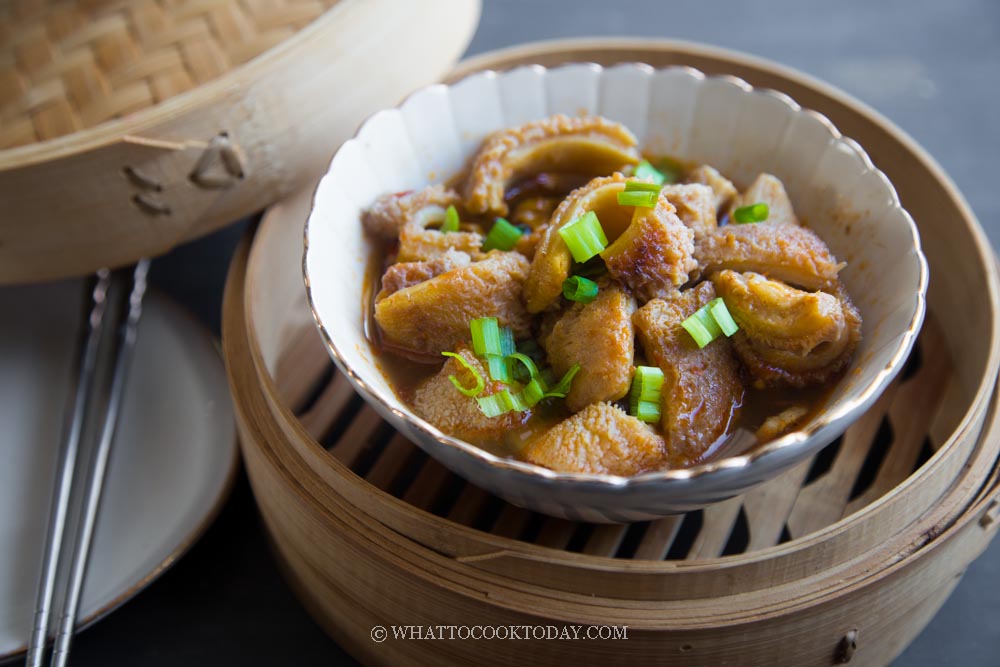 Dim Sum Beef Tripe Stew
Ingredients
500

g

beef tripe

2

stalks

green onion

20

g

ginger

cut into thin slices

1

large

cinnamon stick
Seasonings: (adjust to your taste)
1

Tbsp

soy sauce

1

Tbsp

abalone sauce

1

Tbsp

wine

3

Tbsp

chicken broth

2

Tbsp

shacha sauce (Chinese BBQ sauce)

1

tsp

sugar
For steaming:
10

g

fresh ginger

julienned
For garnish:
1

stalk

green onion

finely chopped
Instructions
Cook the beef tripe in Instant Pot pressure cooker:
Place the prepared beef tripe, honeycomb side down, in the inner pot of Instant pot. Add the rest of the ingredients, except for the seasonings. Save that for later

Pour in water, about 1 inch above the tripe. Close the lid and turn the pressure release valve to sealing. Press "Pressure cooker" and set the timer to 25 minutes and make sure it's on high pressure. Do a natural release. It may take about 10 minutes to depressurize

Unlock the lid and remove the cooked tripe from the pot. Proceed to the slicing step
Cook the beef tripe on the stove:
Place the prepared beef tripe in a heavy-bottom pot with a lid, honeycomb side down. Add the rest of the ingredients, except for the seasonings. Save that for later

Pour in water, about 1 inch above the tripe. Bring to a boil and then lower the heat to medium-low and let it simmer for about 1 hour or until the tripe is tender. You can partially cover the pot with a lid

When it's done cooking, remove from the pot and proceed to the slicing step
Slice the tripe:
Slice the tripe across the grain into bite-size. You can flip the tripe over and see the long strands of muscle fibers that run in a particular direction. You want to cut through those fibers, which makes the tripe more tender and easier to chew
Steam the tripe with seasonings:
Place the tripe in a steaming bowl. Combine all the seasonings and have a taste and adjust to your taste. Toss the tripe with the seasonings and julienned ginger. Cover the bowl with aluminum foil to prevent water condensation drops on the tripe, diluting the taste. You don't have to do this if you use a bamboo steamer, which can absorb water condensation during steaming

Bring the water in the steamer to a boil. Steam over high heat for 10 minutes
Serve:
Garnish with chopped green onion and serve warm as part of a multi-course meal
Recommended products:
Nutrition
Serving:
1
serving
|
Calories:
435
kcal
|
Carbohydrates:
23
g
|
Protein:
53
g
|
Fat:
13
g
|
Saturated Fat:
5
g
|
Polyunsaturated Fat:
2
g
|
Monounsaturated Fat:
3
g
|
Cholesterol:
928
mg
|
Sodium:
1208
mg
|
Potassium:
1027
mg
|
Fiber:
3
g
|
Sugar:
9
g
|
Vitamin A:
61772
IU
|
Vitamin C:
15
mg
|
Calcium:
80
mg
|
Iron:
20
mg