Fine strands of flour/wheat vermicelli noodles or known as mee suah is deep-fried, blanched in boiling water and then stir-fried with vegetables and protein of choice.
What is fried mee suah?
Fried mee suah is a popular dish in Chinese cuisine that is made by stir-frying thin, wheat-based noodles known as mee suah or flour vermicelli. The dish is typically prepared with a variety of vegetables, meat or seafood, and sauces or seasonings. The "special" part about fried mee suah is the preparation of the mee suah itself. If you ask me, preparing the mee suah takes more time than the actual stir-frying the mee suah.
How to prepare mee suah for stir-frying
In order to be able to stir-fry the mee suah, the dried mee suah needs to be deep-fried briefly until golden brown and then blanched in boiling water until they are softened and then rinse in cold running water. After that the mee suah is ready to be stir-fried! phew…I know, it's not the most convenient thing to prepare I have to admit!
Can I not deep-fried the mee suah?
If you skip the deep frying part and simply boil the mee suah for stir frying, the mee suah won't be able to stay in shape and the texture will turn really mushy and soggy. So, no, you don't want to skip the deep-frying part.
How to cook fried mee suah at home
1. In order to be able to stir-fry the mee suah without it turning into mush, the noodles need to be deep-fried briefly and then blanched in boiling water. Preheat some oil, about 1 inch high in a skillet over medium heat. When you test the oil with a skewer, you will see it bubbles around the skewers. The oil is ready, lower the heat . Add the dry mee sua bundles and fry until they are golden brown, about 3 minutes or so. Place on absorbent paper towel


2. Bring a large pot of water to a boil. When it comes to a rolling boil, add the fried mee suah bundles. DO NOT stir them or try to loosen the bundles of noodles yet, they will break into little pieces and that's the last thing you want. Let them cook until they start to soften and then you can gently loosen them


3. Drain off the cooking liquid. Place the boiled mee suah in a heat-proof colander and gently rinse with some cold running water to stop the cooking process. Toss with a bit of oil to prevent sticking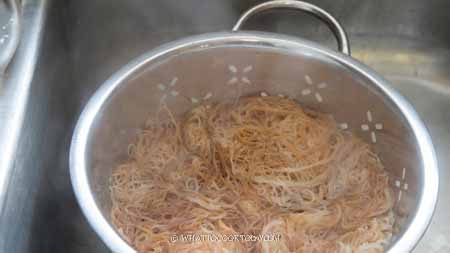 4. Use about 2 tablespoons of oil from deep-frying to stir fry. Preheat a large skillet or wok. Add the oil and stir fry onion, garlic, and white part of the onion for 2-3 minutes or until the onions are soft


5. Add the chicken and continue to stir-fry until the chicken turns opaque in color


6. Add the vegetables and cook for another minute. Add the mee suah followed by the seasonings. Use two wooden spatula to help you toss the noodles so they are well-combined with the seasonings.


7. Add the bean sprouts, green parts of the green onion and toss it for about 30 seconds or so. Check on the taste of the noodles and adjust the seasonings to your preference. Off the heat


8. Serve the fried mee suah immediately while they are still warm

Did you make this fried mee suah recipe?
I love it when you guys snap a photo and tag it to show me what you've made. Simply tag me @WhatToCookToday #WhatToCookToday on Instagram and I'll be sure to stop by and take a peek for real!
Fried Mee Suah (Mee Suah Goreng)
Ingredients
Instructions
Prepare the mee suah:
In order to be able to stir-fry the mee suah without it turning into mush, the noodles need to be deep-fried briefly and then blanched in boiling water

Preheat some oil, about 1 inch high in a skillet over medium heat. When you test the oil with a skewer, you will see it bubbles around the skewers. The oil is ready, lower the heat . Add the dry mee sua bundles and fry until they are golden brown, about 3 minutes or so. Place on absorbent paper towel

Bring a large pot of water to a boil. When it comes to a rolling boil, add the fried mee suah bundles. DO NOT stir them or try to loosen the bundles of noodles yet, they will break into little pieces and that's the last thing you want. Let them cook until they start to soften and then you can gently loosen them

Drain off the cooking liquid. Place the boiled mee suah in a heat-proof colander and gently rinse with some cold running water to stop the cooking process. Toss with a bit of oil to prevent sticking
Let's start cooking:
Cut the meat into bite-size pieces and marinate in soy sauce and cornstarch while you prepare other things

If you use dried shiitake mushrooms, soak them in warm water until softened and then slice into thin strips

Cut the white portion of green onion into 2 inches long stalks. Slice the red onion into thin slices. Julienne the carrots

Mix all ingredients for seasonings in a bowl to combine

Use about 2 tablespoons of oil from deep-frying to stir fry. Preheat a large skillet or wok. Add the oil and stir fry onion, garlic, and white part of the onion for 2-3 minutes or until the onions are soft. Add the chicken and continue to stir-fry until the chicken turns opaque in color

Add the vegetables and cook for another minute. Add the mee suah followed by the seasonings. Use two wooden spatula to help you toss the noodles so they are well-combined with the seasonings. Add the bean sprouts, green parts of the green onion and toss it for about 30 seconds or so

Check on the taste of the noodles and adjust the seasonings to your preference. Off the heat
Serve:
Serve the fried mee suah immediately while they are still warm
Recommended products:
Nutrition
Serving:
1
serving
|
Calories:
373
kcal
|
Carbohydrates:
46
g
|
Protein:
13
g
|
Fat:
15
g
|
Saturated Fat:
2
g
|
Polyunsaturated Fat:
4
g
|
Monounsaturated Fat:
8
g
|
Trans Fat:
0.1
g
|
Cholesterol:
48
mg
|
Sodium:
1356
mg
|
Potassium:
360
mg
|
Fiber:
3
g
|
Sugar:
7
g
|
Vitamin A:
4279
IU
|
Vitamin C:
6
mg
|
Calcium:
42
mg
|
Iron:
1
mg