This sourdough version of wholemeal/whole wheat bread is so soft, delicious, and hearty. The sourdough gives the loaf a nice complex flavor and the bread stays soft for days. A recipe with commercial yeast is also available.
I know wholemeal/whole wheat bread is not everyone's favorite, but I absolutely love whole wheat bread. I love that hint of nuttiness and the natural sweetness. I have made quite a bit of sourdough wholemeal bread since I started baking with sourdough almost 9 months ago (wow….9 months! seems like I've been baking for years with it LOL), but I haven't done the classic Pullman loaf/ Pain De Mie with wholemeal. I consider this wholemeal a light version as it features 30% whole wheat. Honestly, it took me about 5 experiments before I could publish this recipe. The more whole wheat you include in the recipe, the more challenges it has. Trying to find that balance between a healthy, yet delicious and soft loaf of whole wheat bread, and trying to make sure the dough can fill up the Pullman tin was perhaps one of the biggest challenges for me, but finally, I figured it out LOL!
You can use commercial yeast or sourdough starter
If you don't have a sourdough starter, you can certainly still make this bread using commercial yeast ( I included the recipe in the recipe card below). I also have 100% whole wheat bread using tangzhong and a light whole wheat bread pain de mie recipe, which is perfect for people who do not really like whole wheat bread. Those two recipes use commercial yeast.
Sourdough sweet stiff starter/levain for this recipe
Sweet stiff starter (SSS) usually has 50% hydration or less and it has a consistency like a dough basically! (hence the name!). I do not maintain a stiff starter separately. I use my regular 100% hydration starter to build a stiff starter whenever I need it (that's the beauty of it!). I love using SSS in the enriched dough like this. The bread doesn't taste as sour or not sour at all and SSS works much faster. I used a bit more SSS in this recipe because this is a heavy dough, in terms of weight and it worked great!
Size of Pullman Tin to use
This recipe is written to fit into my Pullman tin used with its lid that measures 7 1/2 x 4 x 4 1/2. You can also use 9 x 4 x 4 inches Pullman tin. You can bake with or without the lid. The bread will have a rounded top without a lid.
Can I bake with a regular loaf pan?
You certainly can. You can use a regular loaf pan that measures 9 x 5 x 2.75 inches. It will be a shorter and wider loaf. If you want to use an 8 1/2 x 4 1/2 x 2 1/2 loaf pan, you may need to scale down the recipe by about 20%
How to bake sourdough wholemeal/whole wheat Pullman loaf
1. If using sourdough starter, about 8-10 hours before you plan to make the bread, combine all ingredients for the stiff starter in a bowl. Stir a bit to roughly combine and then use your clean hand to knead it. This is a stiff starter, it's like a dough. Make sure no pockets of dry flour are visible. Transfer to a large see-through container (plastic or glass is fine, preferably wide-mouth so you can get it out easier later). Loosely cover with the lid and let it ferment until triple in size


2. Place all ingredients, including all of the stiff starter for sourdough version, in a mixing bowl of a stand mixer fitted with a dough hook attachment. Use the hook to stir everything around a bit so when you turn the machine on, the flour won't fly around and wet ingredients won't splash (it happened to me before!). Start with the lowest speed to mix things up and then increase to speed 2 and knead for about 7-10 minutes or until it forms a dough. If the dough too dry to come together, you can add a bit of milk one teaspoon at a time


3. The dough should be soft and slightly sticky to the touch. It should be elastic and when you slowly and gently stretch a small amount of dough thinly, it doesn't break (window pane stage). Proceed to first proofing


4. Transfer to a lightly oiled bowl, cover, and proof at a warm place until double in size. If you use commercial yeast, this may take about 1-2 hours. For sourdough version, proof for 2 hours at a warm place 80-86 F (28-30 C) until just puffy, but not necessarily double in size.


5. When you poke the dough with your lightly-floured finger, the indentation stays and the dough doesn't collapse


6. Grease your loaf pan with some oil or non-stick spray. Make sure you grease the lid too. Gently flatten the dough out to the long side about the length of the pan and then roll or fold over tightly and shape into a log so the dough has some strength and structure. Don't just shape it into a log or the dough may collapse.


7. Place this inside the pan and flatten the dough a bit to fill up the pan.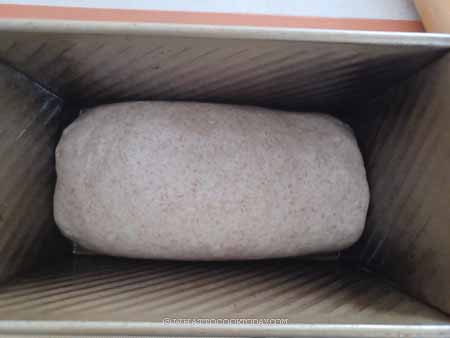 8. Cover with a cling wrap and let the dough final proof at a warm place again until it's about 1/4 inch from the top edge, about 1 to 1 1/2 hours with commercial yeast. About 3 1/2 – 4 hours for sourdough version. Slide the lid to close. You want to monitor closely so the dough won't go above the rim and you can't close the lid anymore if that happens. If you plan to bake without the lid, let the dough rise until it is about 1 inch above the rim of the pan


9. If you bake with a Pullman tin with the lid, 10 minutes before the end of final proofing, preheat oven to 375 F (190 C) for a conventional oven. For a convection oven, lower the temperature by 20 F or 15 C. Place the loaf pan on the middle rack and bake for 10 minutes and then lower the temperature to 350 F (180 C) and continue baking for 23-25 minutes or until the internal temperature is 190 F (88 C).
10. If you bake without a lid, preheat oven to 350 F (180 C) for conventional oven. For a convection oven, lower the temperature by 20 F or 15 C. Place the loaf pan in the middle rack and bake for 35-40 minutes or until the internal temperature is 190 F (88 C)
11. Remove the pan from the oven and remove the bread from the pan onto a cooling rack and let it cool down completely on the rack. This may take 2-3 hours. Do not attempt to slice the bread while it is still warm. The crumb will turn gummy
Did you make this sourdough wholemeal/whole wheat Pullman loaf recipe?
I love it when you guys snap a photo and tag it to show me what you've made. Simply tag me @WhatToCookToday #WhatToCookToday on Instagram and I'll be sure to stop by and take a peek for real!
Sourdough Wholemeal/Whole Wheat Pullman Loaf (Pain De Mie)
Ingredients
Prepare sweet stiff starter (tripled in 7-10 hours):
For the dough:
135

g

whole wheat flour

90

g

milk

or more as needed

9

g

salt

35

g

honey

40

g

milk powder

45

g

oil
If using commercial yeast:
Instructions
Prepare sweet stiff starter (SSS):
I recommend using a starter that is at least one month old and consistently doubles or triples in 4-6 hours when you feed it at 1:1:1 ratio. Young starter will not give the best result

About 8-10 hours before you plan to make the bread, combine all ingredients for the stiff starter in a bowl. Stir a bit to roughly combine and then use your clean hand to knead it. This is a stiff starter, it's like a dough. Make sure no pockets of dry flour is visible. Transfer to a large see-through container (plastic or glass is fine, preferably wide-mouth so you can get it out easier later). Loosely cover with the lid and let it ferment until triple in size
Prepare the dough (whether you use SSS or commercial yeast):
Place all ingredients, including all of the stiff starter for sourdough version, in a mixing bowl of a stand mixer fitted with a dough hook attachment. Use the hook to stir everything around a bit so when you turn the machine on, the flour won't fly around and wet ingredients won't splash (it happened to me before!). Start with the lowest speed to mix things up and then increase to speed 2 and knead for about 5 minutes or until it forms a dough. If the dough too dry to come together, you can add a bit of milk one teaspoon at a time

The dough should be soft and slightly sticky to the touch. It should be elastic and when you slowly and gently stretch a small amount of dough thinly, it doesn't break (window pane stage). Proceed to first proofing
First proofing:
Transfer to a lightly oiled bowl, cover, and proof at a warm place until double in size. If you use commercial yeast, this may take about 1-2 hours. For sourdough version, proof for 2 hours at a warm place 80-86 F (28-30 C) until just puffy, but not necessarily double in size. When you poke the dough with your lightly-floured finger, the indentation stays and the dough doesn't collapse
Shaping:
Grease your loaf pan with some oil or non-stick spray. Make sure you grease the lid too

Grease your loaf pan with some oil or non-stick spray. Make sure you grease the lid too. Gently flatten the dough out to the long side about the length of the pan and then roll or fold over tightly and shape into a log so the dough has some strength and structure. Don't just shape it into a log or the dough may collapse.

Place this inside the pan and flatten the dough a bit to fill up the pan. Cover with a cling wrap and let the dough final proof at a warm place again until it's about 1/4 inch from the top edge, about 1 to 1 1/2 hours with commercial yeast. About 3 1/2 – 4 hours for sourdough version. Slide the lid to close. You want to monitor closely so the dough won't go above the rim and you can't close the lid anymore if that happens

If you plan to bake without the lid, let the dough rise until it is about 1 inch above the rim of the pan
Baking:
If you bake with a Pullman tin with the lid, 10 minutes before the end of final proofing, preheat oven to 375 F (190 C) for a conventional oven. For a convection oven, lower the temperature by 20 F or 15 C. Place the loaf pan in the middle rack and bake for 10 minutes and then lower the temperature to 350 F (180 C) and continue baking for 23-25 minutes or until the internal temperature is 190 F (88 C)

If you bake without a lid, preheat oven to 350 F (180 C) for conventional oven. For a convection oven, lower the temperature by 20 F or 15 C. Place the loaf pan in the middle rack and bake for 35-40 minutes or until the internal temperature is 190 F (88 C)
Cooling:
Remove the pan from the oven and remove the bread from the pan onto a cooling rack and let it cool down completely on the rack. This may take 2-3 hours. Do not attempt to slice the bread while it is still warm. The crumb will turn gummy
Storing:
Once they have cooled down completely, you can put them in an air-tight container and keep them at room temperature for 2-3 days. For longer storage, wrap with a plastic wrap and keep them in freezer bag for about 1 month

Simply thaw at room temperature before serving
Nutrition
Serving:
1
slice
|
Calories:
183
kcal
|
Carbohydrates:
30
g
|
Protein:
5
g
|
Fat:
5
g
|
Saturated Fat:
1
g
|
Polyunsaturated Fat:
1
g
|
Monounsaturated Fat:
2
g
|
Trans Fat:
0.01
g
|
Cholesterol:
4
mg
|
Sodium:
263
mg
|
Potassium:
108
mg
|
Fiber:
2
g
|
Sugar:
6
g
|
Vitamin A:
38
IU
|
Vitamin C:
0.3
mg
|
Calcium:
41
mg
|
Iron:
1
mg