By maintaining a small batch of sourdough starter, you will have less waste and still have the flexibility of building a larger amount of levain/starter when you need it for your baking day. This tutorial is also showing you how to create and maintain a small batch sourdough starter made from scratch.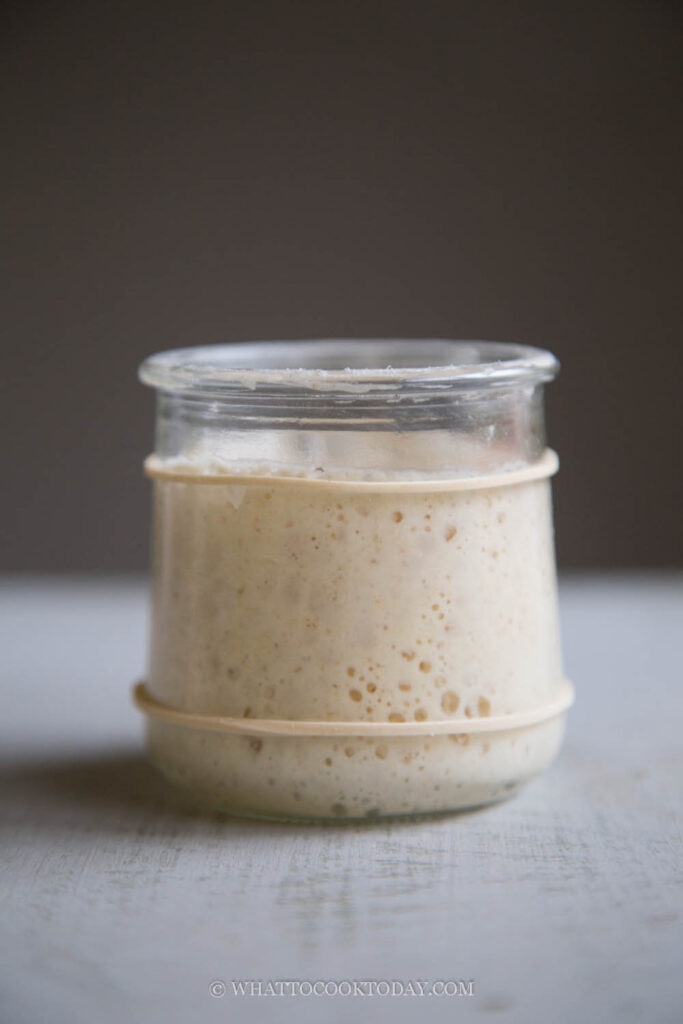 I have been wanting to bake with sourdough starter for the longest time. It's been on my list for at least 2 years but I didn't muster enough guts to try it out until about 2 months ago out of nowhere I start mixing flour and water and my now 2-month-old sourdough starter (as I'm typing this post) has grown so strong and given me very reliable bake! I'm hooked on sourdough baking and there's no turning back at this point!
Benefits of maintaining a small sourdough starter
1. Less discard
When I first started out, I kept thinking I need to maintain at least 100-200 grams of sourdough starter. So having to feed twice a day, imagine the amount of discard I had by the end of the week! With a small amount of starter, you need to feed less flour and water and hence less discard
2. You can build it up when you need it
The night before I plan to bake using certain recipes, I use my starter (which I call the "mother") to build the amount of starter I need.
What is a sourdough?
Sourdough is bread naturally leavened by what we often heard as a "sourdough starter". The starter contains SCOBY (Symbiotic culture of bacteria and yeast). The yeast and bacteria work together to kick-start the fermentation. The wild yeast and bacteria in the flour and around us ferment the sugar in the flour and in the process create acids, alcohol, and carbon dioxide that leavens your bread. That's how you end up with a sourdough starter after a few days or weeks. The fermentation process is what gives sourdough bread its complex flavor. It has that tangy aroma and taste and tender yet slightly chewy crumbs.
What is a sourdough starter made of?
It is made by mixing flour and water. Simple as that. In a matter of days or weeks, you will see how this mixture of flour and water rises and falls inside the container. It's pretty amazing!
What is a sourdough discard?
Just like you and me, the starter also needs to be fed with a mixture of flour and water in order to thrive. Each time you feed the starter, you need to "discard" at least half of what's already in the jar. If you do not discard some, the acids produced by the bacteria build up too much and it's not good for the yeast. I guess it is called "discard" because early in the process when you just start to create a starter, it's not recommended to keep the discard. But once the yeast and bacteria colonies are established and thriving, the so-called "discard" is actually kept in the fridge and can be used in baking too. I love sourdough discard because there are so many sourdough discard recipes out there you can use the discard for.
Do I have to discard every time I feed?
Yes, you have to. For the reason I've mentioned above. Discarding at least half is to maintain the acidity balance and to keep the yeast happy and thriving.
When a recipe calls for sourdough discard, what does it mean?
Some recipes may tell you if the discard used is unfed discard that has been 1-2 week old or something like that or active discard (say..less than 5-day old or something like that). If it is unfed discard, then yes, you can just use the discard as is and usually, the recipe doesn't require much or any leavening. If it says active discard then usually the discard is still pretty fresh and recent. For this type of recipe using active discard, you want to make sure it is up to the task, if not, then usually a small amount of commercial yeast is added to help boost the work!
What is a levain?
You will hear some people refer to levain as sourdough starter, levain starter, offshoot starter, jumpstarter, etc. Technically, both levain and starter consist of flour mixture, wild yeast, bacteria and water. They are pretty much the same thing, however, most people will refer to levain as a larger portion of your sourdough starter. Basically, you use your main starter/sourdough starter to build another starter to be used in a recipe or to alter certain things to suit the recipe. Levain is flexible so you can tailor it to your needs without altering your main starter.
Why there is no activity in my starter from scratch?
They say creating a sourdough starter requires patience and I have to agree 1000%! In fact, anything that has to do with sourdough requires patience and practice 🙂 but it's totally rewarding I have to admit that! Every starter is different! Some starters will take off almost immediately, while some take their own sweet time. From my experience, the starter started out so active the first two days and then had no activity for like 3-4 days. I was a bit scared that I might have killed off the starter! already!!! After consulting many reliable online tutorials and resources it appears that this is very normal.
Should I feed my starter if there is no activity?
So I tried both. I tried to keep feeding it despite there being no activity and still there wasn't activity. Then some advised me that I needed to stop feeding it if there was no activity. Feeding the starter when there is no activity is diluting it is what I was told. So I stopped feeding and just stirred once or twice a day and make sure the lid of my jar wasn't secured tightly and I make sure the starter was at a warm temperature between 75-82 F. I kept this going for about 2 days and finally, the starter showed some bubbles and rose a bit. Then I started the feeding again.
When should I feed my starter?
I feed my starter when it has reaches its peak. As your starter matures, the amount of time it takes to the peak is pretty consistent. At 1:1:1 ratio, my starter peaks at 2-3 hours at a warm temperature. So I know I need to catch this time to feed the starter. Ideally, you don't want to wait too long to feed after it has peaked. Why? the acidity continues to build up inside that jar and over time, it weakens the yeast
How to tell if a starter is at its peak?
These are a few signs that I usually look for:
1. It has definitely at least doubled in height. It has to rise
2. There is some mixture of small or large bubbles on the side of the jar sometimes. There will be breaking of bubbles on the surface, though it's not always the case too
3. You can see the top is slightly dome and you may see some breaking of bubbles too for a very active starter
4. When it starts to flatten and falls down a bit, it's a sign that it's about to pass its peak and running out of food. Ideally, this is when you want to feed or use it immediately for baking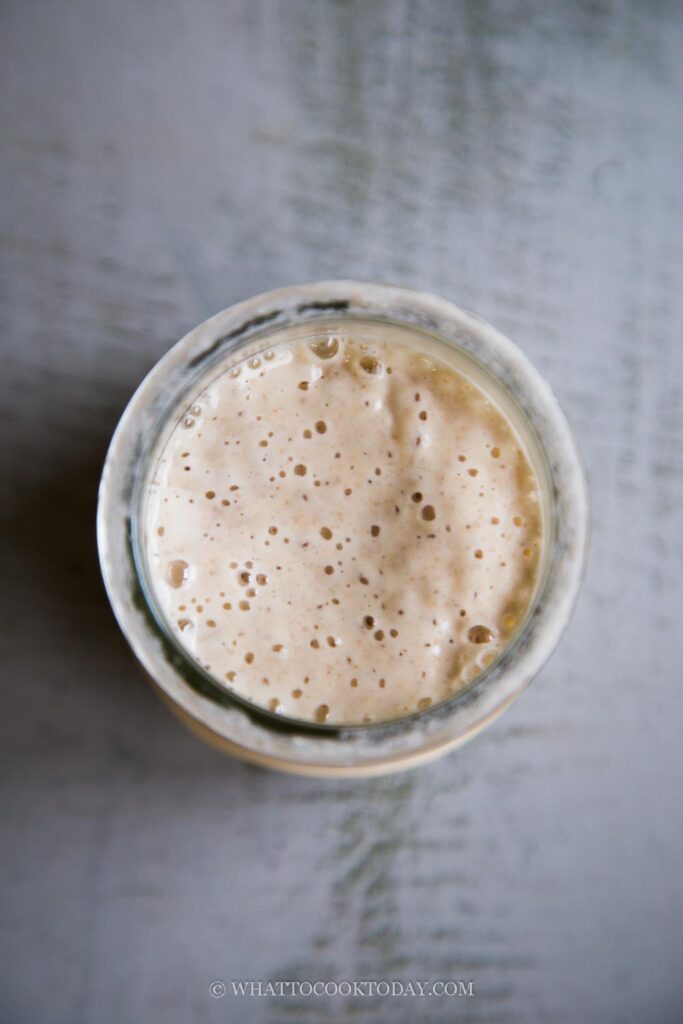 Do I need to do a float test ?
Many bakers swear by a float test. I have baked at least 30 plus sourdough bread in the past 2 months and I haven't performed a single float test. It is usually done by scooping a small amount of unstirred starter and drop it into a glass of water. If it floats, it's ready. But some have argued that it is not all reliable to count on float test alone. To me, I know my starter is ready or matured enough to be used in baking with a good result if it meets the following criteria:
1. It has consistently doubled in 4-6 hours. This is a must!
2. It smells pleasantly sour
3. The consistency is thick and not runny
4. You can see the top is domed when it's at its peak
5. You will see lots of small and large bubbles on the side of the jar and on the surface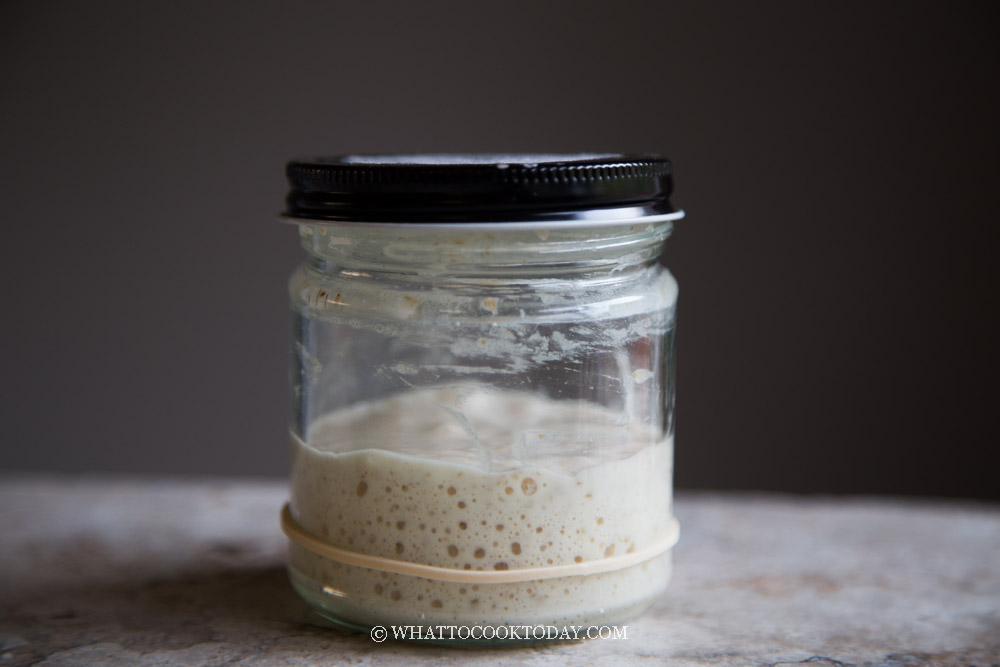 What is a starter feeding ratio?
You will see the feeding ratio mentioned as 1:1:1. The first 1 usually represents the starter. So it is equal weight of starter, flour, and water. For example 10 grams of starter is fed with 10 grams of flour and 10 grams of water and you get a total of 30 grams of starter. Feeding ratio of 1:2:2 simply means for example 10 grams of starter is fed with 20 grams of flour and 20 grams of water. Same thing with 1:5:5 (flour and water are 5X the amount of the starter) or 1:10:10 ratio (flour and water are 10X the amount of the starter)
Why use different feeding ratios?
You can use different feeding ratios to your advantage. The starter usually starts out with 1:1:1 ratio. At least I kept it that way for the first week while growing the starter. As your starter matures, you will discover that the starter peaks quickly, which is a good thing. But we want to make sure we use our starter to bake or feed it when it is at its peak. You also don't want to wake up in the middle of the night to feed your starter because you feed it at 8 pm and it peaks at 11 or 12 pm! So, this is where the ratio comes in handy. The higher ratio takes longer to ferment. In this case you can up the ratio to 1:2:2 or 1:3:3 and so on, to "prolong" the peak time so it works with your schedule. My starter is fed at 1:10:10 ratio in the evening and it takes about 7-8 hours to double and 10-12 hours to triple at two-month old. So, knowing this information, I make sure that the feeding ratio gives me enough time until the next feeding so I catch the peak time and before the starter runs out of food for too long!
What is 100% hydration sourdough starter?
This simply means the starter is fed equal weight of flour and water. So regardless of the feeding ratios, whether it's 1:1:1 or 1:10:10, as long as the last two numbers are the same, your sourdough starter is at 100% hydration. So, altering the ratios will not alter the hydration
How often to feed sourdough starter?
1. If you bake often
I bake almost every day, if not every other day. So I keep my starter at my kitchen counter. It only makes sense because of how often I bake. I feed my starter twice a day, about 12 hours apart.
2. If you don't bake often
If you only bake once or twice a week or less than that, then you don't need to maintain your starter at room temperature. You can keep it in the refrigerator. Here's how to maintain sourdough starter in the fridge:
1. Feed it at least twice a week to keep your starter alive and healthy
2. Take it out from the fridge, discard some and feed it a 1:1:1 ratio and let it sit out for about one to two hours before putting it back in the fridge again.
3. When you plan to bake and your starter has been in the fridge
I would get it out from the fridge at least the day before, discard some and feed it at least 2-3 times to make sure it is up to task before you use it. You may heard or read stories where people use their starter straight out from the fridge without feeding too. It hasn't worked for me that way! This is something you have to experiment yourself to find out!
How to bake with a sourdough starter?
Treat the starter as if your commercial yeast. You can pretty much use the starter to bake anything that needs yeast to leaven.
When can I start using my starter to bake bread?
You can start using your two-week old starter if you are really impatient (like me!), but what I have discovered after being on this 2-month plus and still counting sourdough journey is that, the result of my bake was subpar! I started to bake very good artisan sourdough bread with nice open crumbs without being gummy when my starter has very reliably doubled or tripled in 4 hours or less at 1:1:1 ratio! That was when my starter was a little over one month old! Now at two months old, my starter gets even better and stronger. I can take on a more complicated recipe and the starter will reliably leaven the bread without taking way too long to ferment! So, the moral of the story is, don't rush to bake with a very young starter. If I may offer a piece of advice, I would continue to collect discards while strengthening the starter. Bake with the discards! I honestly have so much fun baking with discard. There are so many creative fun discard recipes out there!
How to scale up a sourdough starter for baking
Since I maintain a small amount of starter, the amount is not going to be enough to be used in recipes most of the time. So, in this case, I can scale it up using the main starter (mother).
Let's say I need 120 grams of starter (I usually make a bit extra than what's needed in the recipe because some are lost during transferring, stuck to the jar or spatula, etc). I usually use only 5 grams of starter in my feeding regimen. So, if using 1:1:1 ratios that will be 1+1+1 = 3. 120/3 = 40 grams. So I will use 40 grams starter + 40 grams flour + 40 grams water and it peaks in about 3-4 hours. If I need longer peak time, I will use a higher feeding ratio like 1:7:7. So 1+7+7 = 15. 120/15 = 8. So I will use 8 grams starter + 56 grams flour + 56 grams water and this will peak in probably 8-10 hours, depending on the strength and age of your starter. If you keep a log, you will be able to see the trend/behavior of your starter. I hope you get the idea! I learned these useful tips from Kristen at FoolProofBaking
Simple tools and ingredients you need to get you started
1. Wide-mouth straight-sided jars with lids
This is not a must but sure is helpful if you have some. It makes transferring and cleaning easier. I have to warn you that sourdough starter is sticky stuff. This is also where you will monitor the rise and fall of your starter, so you want to make sure the container or jar that you use is transparent enough for you to see through
2. Small sturdy spatula
The spatula that is not too big makes it difficult to stir inside the jar
3. Digital kitchen scale
To me, this is a must. I don't like to eyeball or use measuring cups or spoons. Knowing the exact amount, especially when it comes to baking later, is very useful. You don't need an expensive scale, but any digital kitchen scale is useful
4. Water
I use filtered tap water just to be on the safe side. City water is often treated with chlorine or chloramine. The chlorine will kill the yeast and bacteria in the starter
5. Flour
Based on my experience growing the starter, my starter didn't do well when I fed it with bleached flour. You can use pretty much any flour in my opinion as long as they are unbleached. I feed my starter a mixture of unbleached bread flour and rye or sometimes whole wheat.
Freshly milled flour is the best, but I don't have access to that or mill my own flour. You can use any brand of flour you have access to. If it fits your budget, you can use organic flour. I don't use organic but I just make sure the flour is unbleached. I use King Arthur's bread flour and Bob's Red Mill dark rye flour. Any whole grain such as rye and whole wheat flour boost the activity of the yeast and bacteria. They love those!
I will continue to add on to this article with some Q&A that most people have when it comes to create sourdough starter from scratch. I really can't imagine my life without sourdough starter now! It has become a part of my life! my baby! LOL! weirdly, I haven't found a name for my starter lol!
Good resources for learning about sourdough
I have been learning a lot these past few months from very knowledgeable folks on sourdough starter and sourdough baking. Here are some of my favorite resources (not in any particular order) when it comes to learning about anything sourdough!
Full Proof Baking: I love her in-depth tutorial and techniques
The Sourdough Journey : Tom has the most comprehensive sourdough tutorial you will ever find on Youtube!
Autumn's Kitchen and Sourdough Lotti: I love their recipes using sweet stiff starter for sourdough enriched bread
The Pantry Mama: I have questions, she has the answers on her blog!! A very complete resource for sourdough starter and baking
Bread By Joy Ride Coffee: Watching how he created open crumbs sourdough artisan loaf is just amazing! very inspiring
Did you also jump on the sourdough wagon?
I love it when you guys snap a photo and tag to show me what you've made 🙂 Simply tag me @WhatToCookToday #WhatToCookToday on Instagram and I'll be sure to stop by and take a peek for real!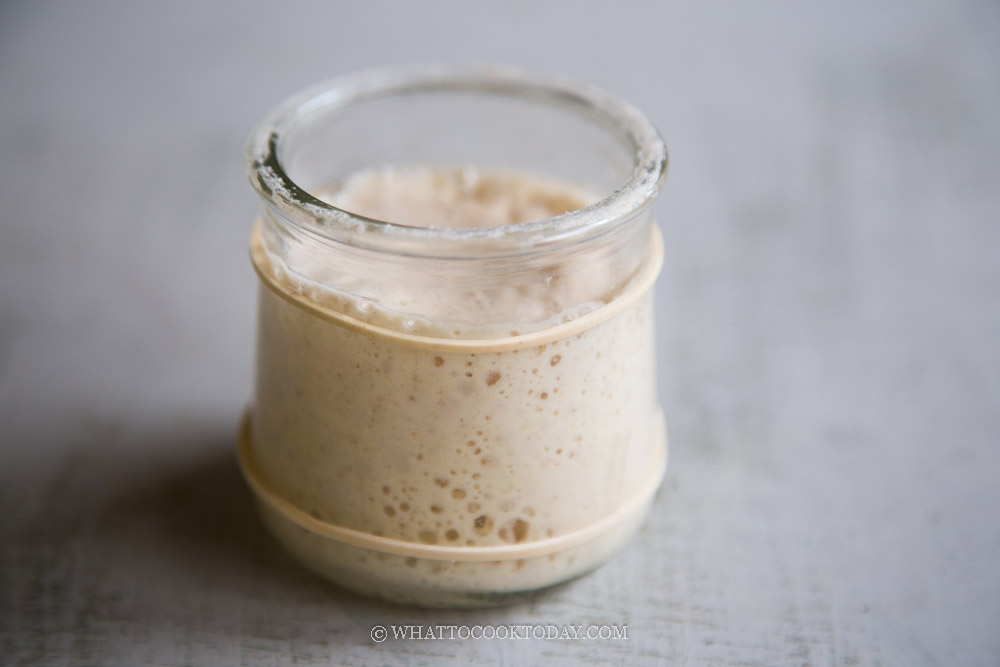 I grew my sourdough starter following Kristen of Full Proof Baking's tutorial with some modifications. I love her YouTube tutorial on how to grow sourdough starter and I highly recommend that you watch the tutorial too. I have learned tons from her!
How To Create and Maintain Small Batch Sourdough Starter
Ingredients
First week (70% bread flour 30% rye):
Second week onwards (90% bread flour 10% rye):
Helpful equipments/tools:
A note book for you to record daily activity

optional
Instructions
Prepare the flour mix to feed the starter:
Combine the bread flour and dark rye flour in a large container with a tight-fitting lid. Use a whisk to really combine them to make sure both flour are equally mixed. This gives you 300 grams in total. Enough to feed the starter for the first week. You may have a bit of leftover
Week 1: Creating starter from scratch
Day 1 evening:
Start with 1:1 ratio, which means equal weight of flour and water. Weigh out 30 grams of the flour mix into the jar. Add 30 grams of filtered tap water (that's what I'm using). Use a small silicone spatula to stir until no dry bits of flour is visible. You will get a paste consistency. Close the lid loosely. You don't want to screw the lid tight as the starter needs some oxygen, but you don't want it to open loose that things can get in there. You can also use a cheesecloth to cover and use a rubberband to secure it on the jar. Keep the starter at a room temperature in between 75-82 F (25-28 C) for 24 hours
Day 2 evening:
There won't be much activity after 24 hours. Transfer the entire content to a new clean jar and give it a good stir and cover loosely again with a lid (or cheesecloth). We only do this in the first few days to prevent mold from growing at this early stage. You don't need to feed the starter yet as there isn't any activity. Let it sit for another 24 hours
Day 3 evening:
You might see that the mixture has grown in volume (or rises up) after 48 hours. This is a good sign showing that some wild yeast and bacteria have been innoculated

Give it a good stir and transfer 20 grams to a clean new jar and discard the rest. You don't want to keep the discard at this early stage as it doesn't contain the right balance of yeast and bacteria in the starter yet. Things are still sorting out at this stage

We will use the 1:1:1 ratio, meaning: equal weight of starter, flour, and water. Add 20 grams of water and 20 grams of your flour mix. We start feeding the starter now since it has shown some activity. Use a spatula to stir again until you don't see dry bits of flour. It should give you a paste consistency

Use a rubber band secured around the jar to show you where the starter starting point is and when it increases in volume, you can tell whether it has doubled or tripled or so on

I usually record down the daily activity of my starter (still doing so). This is optional, but it's helpful to do so
Day 4 morning (start feeding 2 times):
12 hours later you may notice that there are lots of activity. The volume may have increased by 3-4 times. The starter also smells funky. This is normal. Don't worry. The mixture is also runny

Measure out 20 grams of this starter and discard the rest. Feed 1:1:1 ratio again. Add 20 grams water and 20 grams flour mix and stir well until no bits of dry flour is visible. Cover loosely and let it sit for another 12 hours
Day 4 evening:
You will notice the starter rises again, double or triple! Discard all and keep 15 grams of starter in the jar. Feed 1:1:1 ratio. Add 15 grams water and 15 grams flour mix and stir. Cover loosely and let it sit for 12 hours
Day 5 morning:
You may or may not have any activity. The smell is still funky. This is most likely the balance of the wild yeast and bacteria are establishing now. Discard all but keep 15 grams of starter in the jar again and continue feeding 1:1:1 ratio. Cover loosely and let it sit for 12 hours
Day 5 evening:
You may or may not see any activity again. If you don't see any activity at all, don't feed. Give the starter a stir and then observe again for the next 12 hours. Make sure you keep it at a warm temperature in between 75-82 F. Feeding the starter when there's no activity will dilute the starter

If you notice some increase in volume, even though not much, maybe only 10-20%, then you can feed. Discard all but 15 grams again. Continue feeding 1:1:1 ratio and observe for another 12 hours
Day 6 morning:
If there's still no activity, don't feed! Give it a good stir and make sure you do not close the lid too tightly. Don't get discouraged. Observe again for another 12 hours

If you notice some increase in volume, small or a lot, then you can feed. You may notice that the starter has started to smell a bit better, taking more of a sour note and less of that stinky note! Discard all but 15 grams again. Continue feeding 1:1:1 ratio and observe for another 12 hours. You can move the starter to a fresh jar if things start to get a bit messy inside the jar (which is normal as a sourdough starter is sticky stuff!)
Day 6 evening:
If previously there hasn't been any activity and you haven't been feeding and just stirring and observe as I suggested above,there should be some activity by now. It could be minimal but some. If not, then continue to stir and observe. It took me about 3 days like this before some activity started to show. Every sourdough starter is different. Some takes a bit longer, some just takes off! So, please don't give up!

If there's activity, then continue feeding as usual with 1:1:1 ratio. Discard all but 15 grams of starter. Take note of the smell. It should be more pleasant now and you will notice the sour note, you are on the right track. The consistency still runny at this point. Observe again 12 hours later
Day 7 morning:
At this point, my starter actually doubles in volume! Yours may or may not, but as long as there's an increase in volume, it's okay!

Continue to feed 1:1:1 starter and discard all but 15 grams of starter. I won't collect the discard just yet
Day 7 evening:
Repeat the same routine as you did in the morning. Feed 1:1:1 again
Week 2: Building activity and strengthening the starter
Prepare flour mix (90% bread flour + 10% dark rye flour):
Combine the bread flour and dark rye flour in a large container with a tight-fitting lid. Use a whisk to really combine them to make sure both flour are equally mixed. This gives you 500 grams in total. Enough to feed the starter for few weeks
Day 8 (feed twice a day, about 12 hours apart):
The goal from here onwards is to feed your starter when it is at its peak (doubles in volume). You don't want to wait too long after it peaks to feed because the acidity continues to build up in there and overtime, it weakens the yeast.

You will see some activity perhaps double in volume. There shouldn't be any more stinky smell and should smell pleasantly sour/tangy. I start collecting discard in a jar and keep this jar in the fridge. When you have collected enough, you can use this discard to make other things. So really, not much waste of flour and water

Repeat the same routine. Keep 15 grams starter and feed 1:1:1 and keep the rest of the discard. If you have been using cheesecloth, you want to switch to a lid now. Just loosely secure it on the jar
Day 9 (feed twice a day):
Day 10 (morning): microfeeding and change ratio
As your starter gets stronger, it will consume the flour and water in a much faster rate. When it use to take 12 hours to peak, now it may take 6-8 hours to peak. When this is the case, you can play with the ratio

Now instead of keeping 15 grams, I keep 8 grams of starter and starting to change the ratio to 1:2:2 meaning the amount of flour and water doubles the amount of the starter. In this case 8 grams starter, 16 grams water,16 grams flour mix. Continue to collect discard
Day 10 (evening):
I start to increase the ratio with each feeding. Increasing the ratio also helps to strengthen the starter. If your starter is peaking too soon, you can increase your feed ratio to help slow down the activity so it won't peak when you are sleeping in the middle of the night. If your starter is taking too long to peak, try lowering the ratio and it will peak much quicker

Switch to 1:3:3 ratio. 8 grams starter, 24 grams water, 24 grams flour mix. You will notice that your starter continue to get stronger and will hold its peak longer too before it gradually falls off
Day 11 (morning):
Switch to 1:4:4 ratio and decrease the amount of starter to 5 grams. 5 grams starter, 20 grams flour mix, 20 grams water
Day 11 (evening) onwards and maintainance routine:
Switch to 1:5:5 ratio and maintain at 5 grams. 5 grams starter, 25 grams flour mix, 25 grams water

I continue to maintain this ratio and this amount most of the time unless it peaks too soon then I may increase the ratio a bit to 1:6:6 and sometimes even 1:10:10 ratio. Definitely play with the ratio to your advantage
If you don't bake often:
Read my post above on how to store sourdough starter if you don't bake often
How to store sourdough discard:
I keep all the discards in the jar for 2 weeks in the coldest part of my refrigerator, about 37 F (about 3 Celcius), usually no longer than that as I bake very often and maintain a small amount of starter and would have used it up by then. For longer than 2 weeks, I suggest freezing the discard. It's better to portion it out into 200-300 grams portions so you don't have to thaw them all out at once. They can last for months in the freezer
Recommended products: