Tangzhong is one of my favorite methods for extending the shelf life of bread and getting that soft and moist crumbs. Here is my take on applying tangzhong to 100% whole wheat bread that is made without any butter and refined sugar.
If you are looking for a healthy loaf of whole wheat bread, 100% whole wheat at that! then you may like this tangzhong 100% whole wheat bread.
How soft is the soft we are talking about here!
I know 100% whole wheat/wholemeal bread is not a favorite by many people, especially kids. I'm not saying that this 100% whole wheat bread is as soft as this tangzhong milk bread I made. Nope, it's not possible! We are working with 100% whole wheat here. So, we need to be realistic. BUT, with the tangzhong method, the bread stays moist and soft for a longer period of time compared to regular 100% whole wheat made from the straight-dough method (without tangzhong or any preferment!)
Why you'll like this recipe
1. It uses 100% whole wheat
2. No refined sugar
3. No butter is used
4. The tangzhong extends the shelf life of this bread longer than typical recipe made without using tangzhong
Let's talk ingredients
1. Whole wheat flour
I used the regular whole wheat flour made from hard red wheat. If you prefer a milder taste of whole wheat, you can use white whole wheat flour
2. Milk
I use whole milk. You can use low-fat or skim milk, or other non-dairy milk. Keep in mind that milk helps to add more flavor to the bread and if you use whole milk, expect much richer, tender crumbs because of the higher fat content vs if you use low-fat milk
3. Milk powder
Milk powder also helps to add flavor. I used this because this is milk bread and I want more flavor of that in a pleasant way
4. Honey
Not only honey helps to lightly sweeten the loaf, it also adds moisture to the loaf. Not to mention that I love a bit of that honey aroma in a baked bread
5. Salt
Unless you are really watching your sodium intake, I suggest not cutting down on the amount of salt. It does help to bring out the overall flavor of the bread
6. Oil
I use neutral-tasting oil. Any oil of your choice would work here. The oil's primary role is to keep the crumb moist. I would not skip this if I were you, especially with 100% whole wheat bread
How To bake tangzhong 100% whole wheat milk bread
1. Place milk and the bread flour in a small saucepan. Whisk until there are no more lumps. Cook this mixture over low-medium heat until it reaches 65 C (149 F). Remove from the heat and cover with a plastic wrap, touching the tangzhong so the skin won't form. You can use it once it has cooled down completely but if you have the time and patience, I highly suggest using this the next day instead of using it on the same day. Store this in the fridge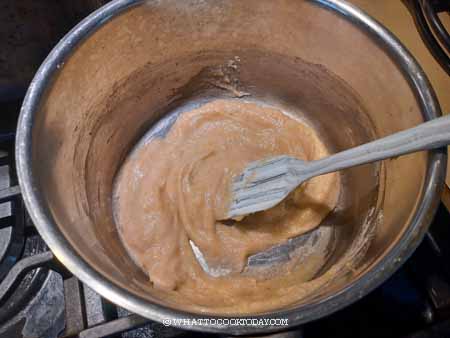 2. If you use active dry yeast, dissolve the yeast in 2 Tbsp of water and let it bloom. Put the flour, milk powder, salt in a mixing bowl of a stand mixer. Roughly stir to combine. Add the milk, honey, tangzhong, yeast, and oil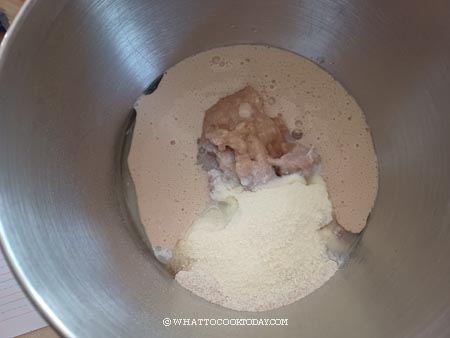 3. Turn the mixer fitted with a dough hook attachment, on to the lowest speed to let it mix until just combined and no dry bits of flour. Cover and let it rest for 20 minutes. This gives the whole wheat flour some chance to hydrate, making it easier to knead later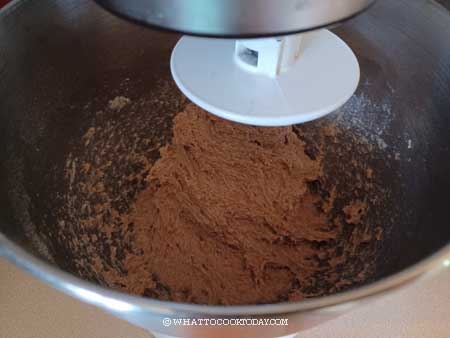 4. After resting, turn the mixer back on and knead on speed 2 for about 6-8 minutes or until the dough is smooth and just slightly tacky, but not sticky. Due to different brands of flour, you may need to adjust by adding a bit more milk if you find the dough is a bit too dry. Add 1 teaspoon at a time if you need to. You won't reach the window pane stage, not with 100% whole wheat flour anyway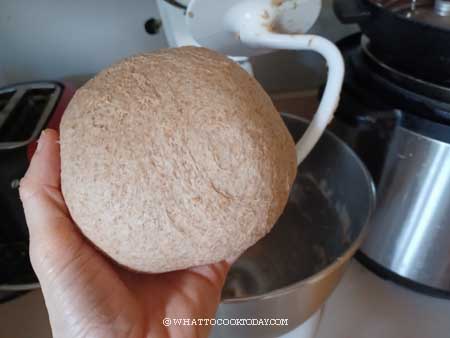 5. Oil the bowl and let the dough ferment at a warm place until puffy.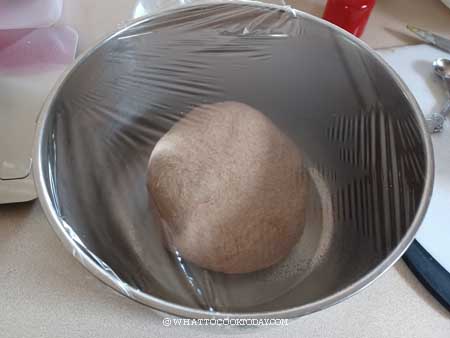 6. It may be close to double, not necessarily double the size. This may take somewhere from 1-2 hours depending on the temperature. Observe the dough, not the time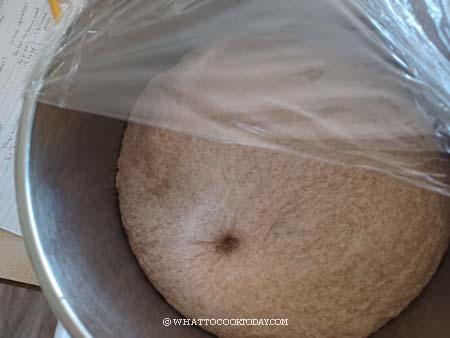 7. Gently deflate the dough and give it a few knead and round it up into a ball. Cover and let it rest for 15 minutes before shaping. Grease your loaf pan on all sides. Shape it into a log, about the same length as the length of your pan.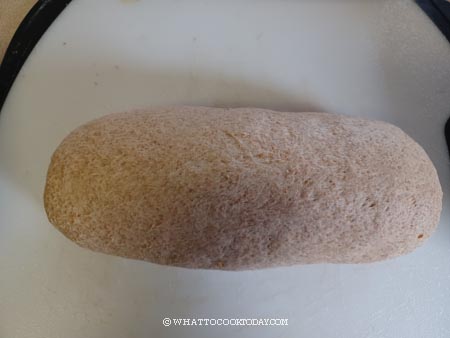 8. Mist with some water on the top. Roll and gently press the surface on some oats. Kind of gently press them onto the dough.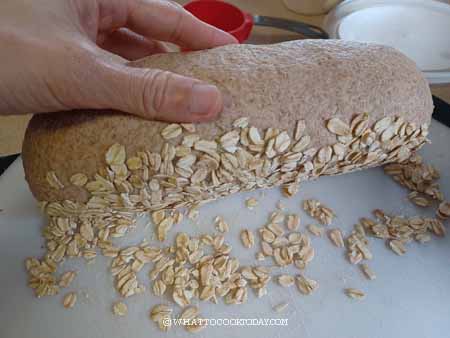 9. Put this inside the prepared pan. Gently press the dough to fit the size of the pan. Cover and let the dough proof for the second time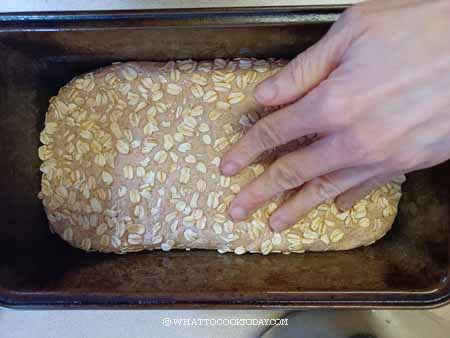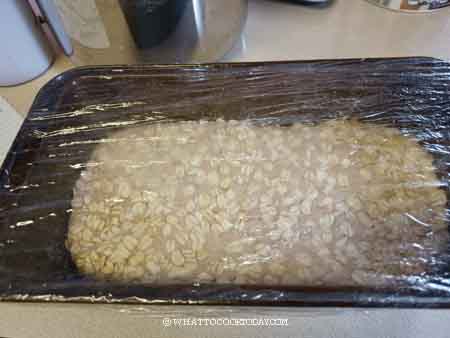 10. Let the dough proof in the pan until it crowns about 1-inch above the rim of your loaf pan. This may take about 1 hour or longer. 10 minutes before the end of proofing time, preheat the oven to 350 F. Position the oven rack in the middle rack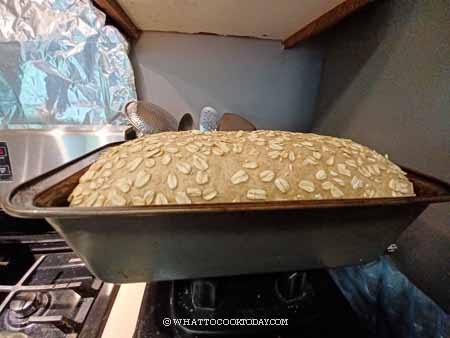 11. Put the loaf pan on the middle rack and bake for the next 40 minutes. You may want to tent with a foil, shiny side up, after 20 minutes of baking if the loaf gets browned too quickly. Remove from the oven and turn the bread out from the pan onto a cooling rack. Brush with some oil while it is warm if you want a softer crust. I also like to wrap the bread in a clean tea towel to preserve moisture. This really helps to keep the bread moist and tender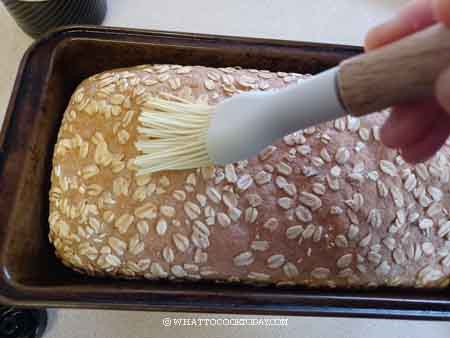 12. Let the bread cool down completely on the cooling rack if you prefer a crusty top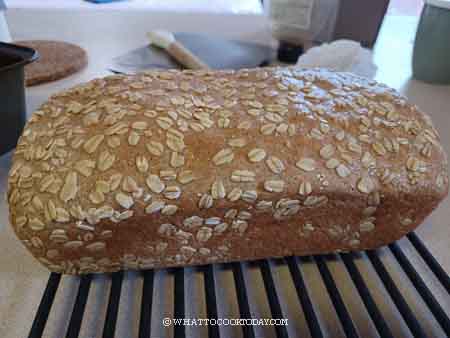 Did you make this tangzhong 100% whole wheat milk bread recipe?
I love it when you guys snap a photo and tag to show me what you've made 🙂 Simply tag me @WhatToCookToday #WhatToCookToday on Instagram and I'll be sure to stop by and take a peek for real!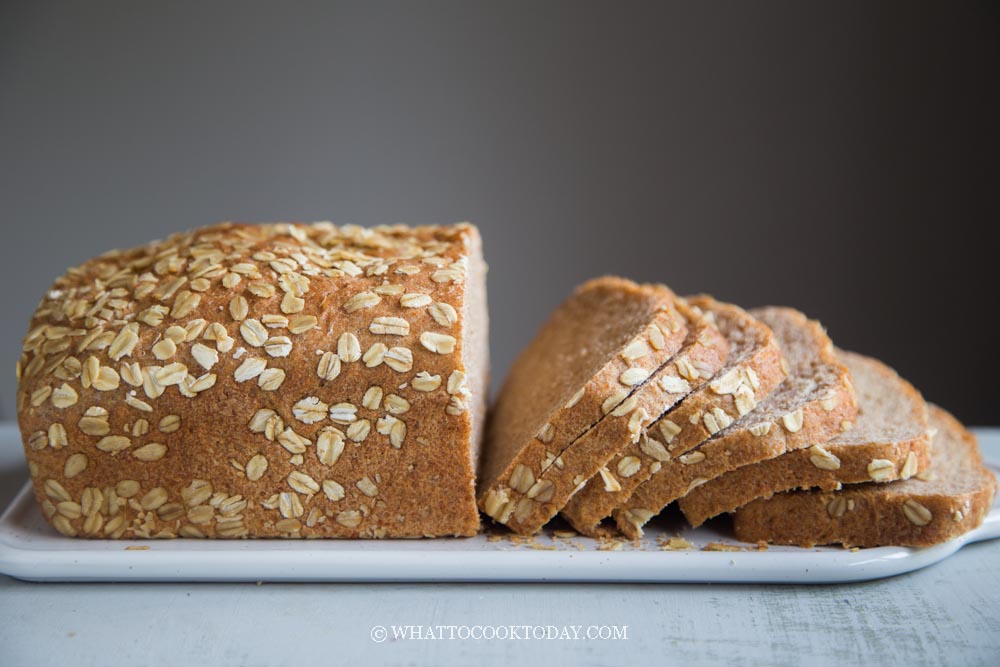 Tangzhong 100% Whole Wheat Bread/Wholemeal Toast
Ingredients
Tangzhong roux:
30

gr

whole wheat flour

120

gr

whole milk
Main dough:
2

tsp

active dry yeast

2

Tbsp

water

360

gr

whole wheat flour

30

gr

milk powder

8

gr

salt

40

gr

honey

100

gr

whole milk

or as needed

50

gr

oil
Topping: (optional)
1

Tbsp

oats

or more a needed
Instructions
Prepare tangzhong: (one day before)
Place milk and the bread flour in a small saucepan. Whisk until there are no more lumps. Cook this mixture over low-medium heat until it reaches 65 C (149 F). Remove from the heat and cover with a plastic wrap, touching the tangzhong so the skin won't form. You can use it once it has cooled down completely but if you have the time and patience, I highly suggest using this the next day instead of using it on the same day. Store this in the fridge

If you use active dry yeast, dissolve the yeast in 2 Tbsp of water and let it bloom
Prepare the dough:
Put the flour, milk powder, salt in a mixing bowl of a stand mixer. Roughly stir to combine. Add the milk, honey, tangzhong, oil, and the yeast. Turn the mixer fitted with a dough hook attachment, on to the lowest speed to let it mix until just combined and no dry bits of flour. Cover and let it rest for 20 minutes. This gives the whole wheat flour some chance to hydrate, making it easier to knead later

After resting, turn the mixer back on and knead on speed 2 for about 6-8 minutes or until the dough is smooth and just slightly tacky, but not sticky. Due to different brands of flour, you may need to adjust by adding a bit more milk if you find the dough is a bit too dry. Add 1 teaspoon at a time if you need to. You won't reach the window pane stage, not with 100% whole wheat flour anyway
Bulk fermentation:
Oil the bowl and let the dough ferment at a warm place until puffy. It may be close to double, not necessarily double the size. This may take somewhere from 1-2 hours depending on the temperature. Observe the dough, not the time
Shaping:
Gently deflate the dough and give it a few knead and round it up into a ball. Cover and let it rest for 15 minutes before shaping

Grease your loaf pan on all sides. Shape it into a log, about the same length as the length of your pan. Mist with some water on the top. Roll and gently press the surface on some oats. Kind of gently press them onto the dough

Put this inside the prepared pan. Gently press the dough to fit the size of the pan. Cover and let the dough proof for the second time
Final proofing:
Let the dough proof in the pan until it crowns about 1-inch above the rim of your loaf pan. This may take about 1 hour or longer. 10 minutes before the end of proofing time, preheat the oven to 350 F. Position the oven rack in the middle rack
Baking:
Put the loaf pan on the middle rack and bake for the next 40 minutes. You may want to tent with a foil, shiny side up, after 20 minutes of baking if the loaf gets browned too quickly
Cooling:
Remove from the oven and turn the bread out from the pan onto a cooling rack. Brush with some oil while it is warm if you want a softer crust. I also like to wrap the bread in a clean tea towel to preserve moisture for about 30 minutes. This really helps to keep the bread moist and tender. If you prefer a crispier crust, then just transfer it to a cooling rack to let it cool down completely before slicing or storing
Storage:
The bread needs to be cooled down completely before storing. Once it has cooled down completely, wrap it well and keep in an air-tight container or zipper bag. They can be kept at room temperature for 3-4 days

For longer storage, I suggest freezing them. You can slice the loaf. I like to wrap 4 slices in one batch and then put inside a freezer bag, push all the air out and seal the bag. It can be kept frozen for one month for the best result and quality
Recommended products:
Nutrition
Serving:
1
slice
|
Calories:
190
kcal
|
Carbohydrates:
29
g
|
Protein:
6
g
|
Fat:
6
g
|
Saturated Fat:
1
g
|
Polyunsaturated Fat:
2
g
|
Monounsaturated Fat:
3
g
|
Trans Fat:
1
g
|
Cholesterol:
5
mg
|
Sodium:
277
mg
|
Potassium:
202
mg
|
Fiber:
4
g
|
Sugar:
5
g
|
Vitamin A:
56
IU
|
Vitamin C:
1
mg
|
Calcium:
58
mg
|
Iron:
1
mg