Bee hoon (rice noodles) is braised with homemade or canned pig trotter. It is such a humble yet delicious food that brings so much comfort.


After making some braised pork hock/pig trotter, I decided to whip up this pig trotter bee hoon. I actually used a mixture of pig trotter and pork hocks. I remember mom made this for birthday celebrations and Chinese New Year using a canned pig trotter. Sometimes we were gifted some canned pig trotters during Chinese New Year and that's what my mom usually used them for, to make this pig trotter bee hoon. In Hokkian, we call this ter kar bee hoon.
What is pig trotter bee hoon?
It is a rice noodle braised with a stewed pig trotter. A canned pig trotter is usually used for convenience. The bee hoon soaks up all the delicious sauce and flavor from the pig trotter. This is a popular dish among home cooks in Southeast Asia.
How to cook easy pig trotter bee hoon
1. Beat the eggs with salt and pepper. Preheat a non-stick pan. I use my 8 inch pan. Pour the egg mixture into the pan and tilt the pan left and right to allow the egg to cover the base of the pan. Let it cook for about 20 seconds and then flip over to the other side and cook for another 10 seconds or so or until it is set. Remove from the pan onto a chopping board. Cut into strips and set aside


2. If you are not using canned pig trotter, you can make your own following this recipe
Soak bee hoon in warm water for about 30 minutes until softened. Use a kitchen shear to cut into shorter pieces. Cut the soaked shitake mushrooms into slices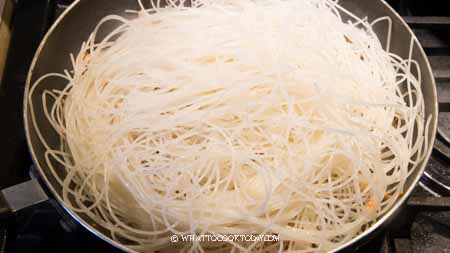 3. If you make your own braised pig trotter, cut them into smaller pieces


4. Preheat a large wok or skillet. Add cooking oil. Saute garlic and white parts of green onion for about 2 minutes.


5. Add the carrots, red pepper, shiitake mushroom slices and saute for another 2 minutes


6. Add the pre-soaked bee hoon along with the seasonings and about 1/2 cup of the liquid from the canned pig trotter or the braising liquid from your homemade braised pig trotter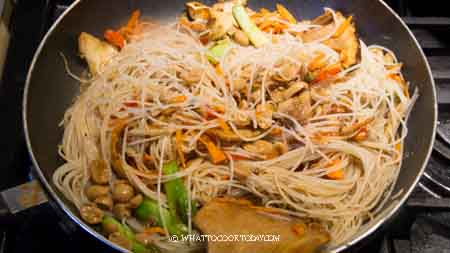 7. Give it a few tosses and then cover to let the bee hoon absorb the liquid. If it's a bit too dry and you want it more "saucy", add more of the braising liquid. I like mine a bit more saucy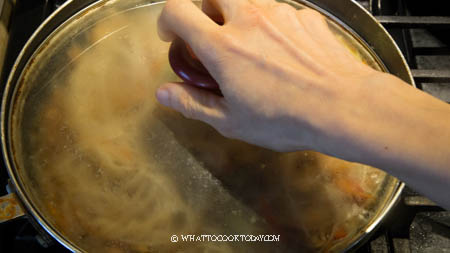 8. When bee hoon has absorbed the liquid, add the pig trotter pieces, green part of the green onion, and beansprouts into the bee hoon and give them a toss to mix everything. Cook for another minute. Have a taste and adjust seasonings to your preference. Scatter some egg omelette strips on top and give them a few tosses to combine just before serving


9. Serve warm

Did you make this pig trotter bee hoon recipe?
I love it when you guys snap a photo and tag to show me what you've made 🙂 Simply tag me @WhatToCookToday #WhatToCookToday on Instagram and I'll be sure to stop by and take a peek for real!

Pig Trotter Bee Hoon
Ingredients
For egg omelette (optional):
3

large

eggs

1

tsp

oil

Salt and pepper to taste
Instructions
Cook the omelette (if you choose to include):
Beat the eggs with salt and pepper. Preheat a non-stick pan. I use my 8 inch pan. Pour the egg mixture into the pan and tilt the pan left and right to allow the egg to cover the base of the pan. Let it cook for about 20 seconds and then flip over to the other side and cook for another 10 seconds or so or until it is set. Remove from the pan onto a chopping board. Cut into strips and set aside

If you are not using canned pig trotter, you can make your own following this recipe

Soak bee hoon in warm water for about 30 minutes until softened. Use a kitchen shear to cut into shorter pieces. Cut the soaked shitake mushrooms into slices

If you make your own braised pig trotter, cut them into smaller pieces

Preheat a large wok or skillet. Add cooking oil. Saute garlic and white parts of green onion for about 2 minutes. Add the carrots, red pepper, shiitake mushroom slices and saute for another 2 minutes

Add the pre-soaked bee hoon along with the seasonings and about 1/2 cup of the liquid from the canned pig trotter or the braising liquid from your homemade braised pig trotter. Give it a few toss and then cover to let the bee hoon absorb the liquid. If it's a bit too dry and you want it more "saucy", add more of the braising liquid

When bee hoon has absorbed the liquid, add the pig trotter pieces , green part of the green onion, and beansprouts into the bee hoon and give them a toss to mix everything. Cook for another minute. Have a taste and adjust seasonings to your preference. Scatter some egg omelette strips on top and give them a few toss to combine just before serving
Nutrition
Serving:
1
serving
|
Calories:
1532
kcal
|
Carbohydrates:
144
g
|
Protein:
78
g
|
Fat:
71
g
|
Saturated Fat:
21
g
|
Polyunsaturated Fat:
11
g
|
Monounsaturated Fat:
34
g
|
Trans Fat:
1
g
|
Cholesterol:
497
mg
|
Sodium:
1682
mg
|
Potassium:
1711
mg
|
Fiber:
9
g
|
Sugar:
11
g
|
Vitamin A:
6062
IU
|
Vitamin C:
72
mg
|
Calcium:
173
mg
|
Iron:
8
mg