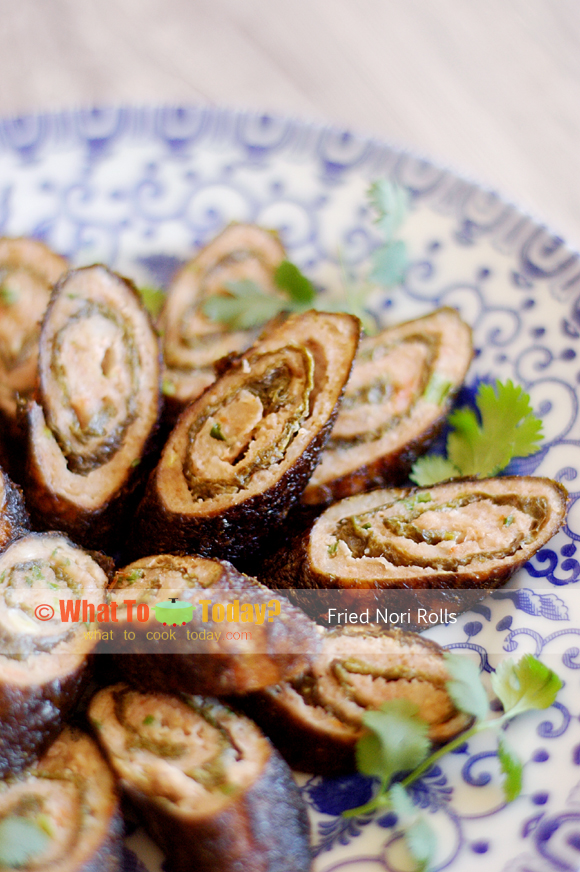 Seaweed is very commonly used in East Asia's cooking. Nori is the Japanese term for edible seaweed .You will mostly see it being used as a wrap (like in sushi roll) and also as snack. My daughter loves roasted nori seaweed. I actually have to hide the seaweed from her because she can just eat LOTS of them if I allow her to.
These fried nori rolls are pretty similar to making a sushi roll. Instead of rice and other things, the nori rolls use ground meat. The rolls are then deep-fried and sliced. If you are not into deep-frying, you can steam the rolls instead. The seaweed won't be crunchy, but they will still taste good.
For baking/ kueh making: I highly encourage to weigh ingredients with a digital kitchen scale instead of using measuring cups as they are not very accurate especially when it comes to recipe that requires precision.
GRAMS TO CUPS CONVERSION (UNSIFTED)
INGREDIENTS
4

sheets of roasted nori seaweed

1

lb

of ground pork/ turkey

8

oz

of shrimp

-

peeled, deveined, and finely minced

1

egg

-

beaten

2

Tbsp

of corn starch

3

stalks of green onions

-

finely chopped

Dash of salt and pepper

Oil for deep-frying
INSTRUCTIONS
In a medium to large size mixing bowl, add in the ground meat, finely minced shrimp, egg, corn starch, green onions, salt and pepper. Mix well with your clean hand. The whole thing should be like a meat paste. Divide this mixture into 4 equal portion

On a clean working surface, lay one sheet of nori (the long side near you). Place one portion of the meat filling and one end of the nori sheet near you and spread it out to the side and to the entire nori sheet, leaving about 1/2 an inch gap at the opposite end. Then gently roll the it up to the other end and seal with water at the end. Repeat with the rest of the nori sheets and filling

Preheat oil in a skillet or pot (enough to deep-fry the rolls). When the oil is hot, lower the heat to medium and gently place the rolls into the hot oil. Do the deep-frying in batches, so you don't lower the temperature of the oil too much. Fry for about 8 minutes or until the filling is cooked through. Wait for at least 5 minutes before slicing the rolls. When they are cook enough to handle, slice the rolls at angle and place on a serving platter and serve immediately
Notes
If you do not wish to deep fry the rolls, you can steam the rolls instead. Get the steamer ready with rolling boil water and steam for about 10 minutes or until the filling is cooked through. Let them cool down before slicing