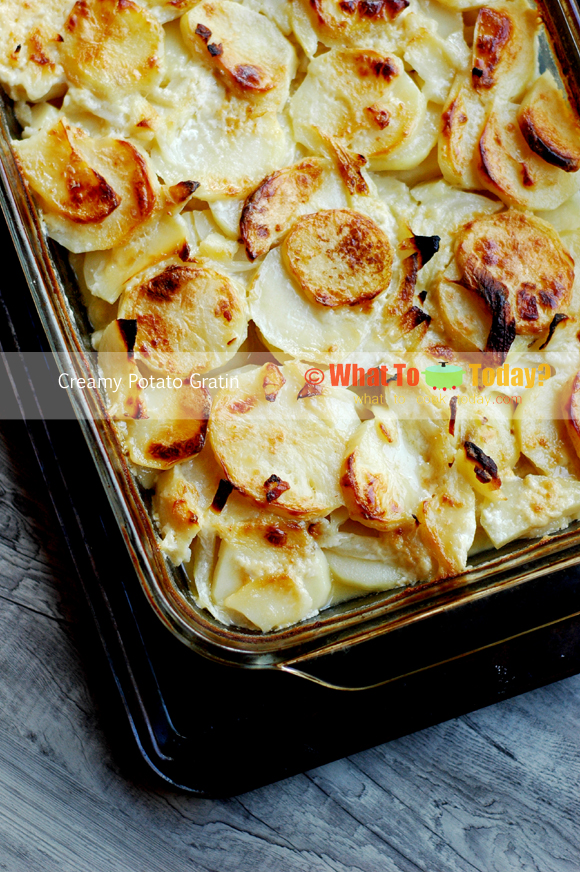 From what I understand is that Gratin is originated in French Cuisine. Gratin usually represented with browned crust on top of the dish. What I'm sharing here is creamy potato gratin from Nigella Lawson's cookbook: Nigella Bites.
You will find that the recipe is definitely not the orthodox way of cooking the classic gratin. A gratin is usually baked or cooked under an overhead grill or broiler to form a golden crust on top and is traditionally served in its baking dish. In this recipe, the potatoes are actually cooked in a pan in the stove first. The bonus of doing that is that, you can do this a day ahead and give the gratin a blast in the oven for final touch.
I can tell you though, this gratin is so creamy and yummy. It blew my mind away how simple things like potatoes, milk, onion…yes, the onion really flavor up the dish. I love it, and yes…BUTTER resulted in such a comforting dish. Give it a try please if you haven't made any potato gratin before. I had not and this was my first time and certainly not my last. This is a perfect dish to feed a large crowd or to bring to a pot luck. It certainly pleased the crowd when I made it for pot luck the other day 🙂
For baking/ kueh making: I highly encourage to weigh ingredients with a digital kitchen scale instead of using measuring cups as they are not very accurate especially when it comes to recipe that requires precision.
GRAMS TO CUPS CONVERSION (UNSIFTED)
INGREDIENTS
4 1/2

lbs

potatoes

2

cups

whole milk

2

cups

heavy cream

1

onion

-

peeled and cut in half

2

cloves

garlic

-

minced

1

Tbsp

salt

1/4

cup

unsalted butter

-

cut into thin squares
INSTRUCTIONS
Preheat the oven to 450 F

Peel the potatoes and cut the into 1/2-inch slices. Put them into a large sauce pan with the milk, cream, onion, minced garlic and salt. Bring to the boil and cook at a robust simmer or gentle boil until verging on tender, but not dissolving into mush. Discard the onion

Grease a large roasting pan (15x12 inches) and then pour the almost sludgy milk and potato mixture into it. Dot with remaining butter and cook in the oven for 15 minutes (longer with my oven) or until the potato is bubbly and browned on top. Remove, and let stand for 10-20 minutes and then serve
Notes
I've tried substituting heavy cream with equal amount of coconut milk and it was delicious too