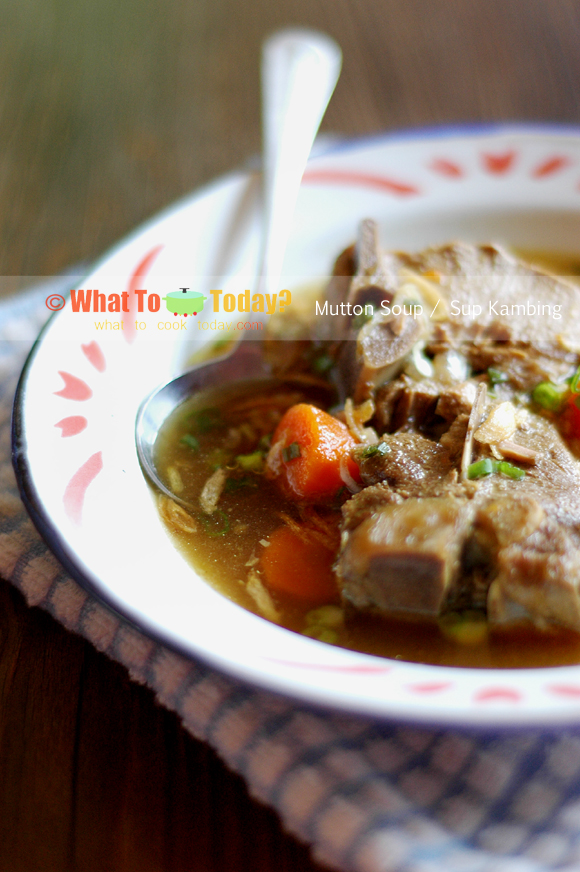 Mention mutton soup or known as sup kambing at the town where I grew up, you can see some horrors in my parents' face. Not because they taste horrible. In fact, this is one very delicious soup. My parents and many older generations believe that when you consume mutton soup, you are bound to have stroke immediately. Mutton or lamb is somehow treated as a very "sinful" treat by my parents actually. I never grew up eating mutton soup ever. Not until I went to college and very curious to try it out and I did and love it. Regardless though, sup kambing is still one of the very popular street food at my home town.
When you prepare the stock, the leg of lamb or mutton does give out lots of the fat (which flavors the soup). What I did was to chill the stock and when the fat is chilled, they turned into white layer on top of the stock and I scoop them up and discard. I still end up with a very flavorful soup but not greasy. Try it and you might love it 😉
**The recipe is written in Metric and sometimes I include U.S. Measurements**
Please weigh ingredients with a digital kitchen scale instead of using measuring cups as they are not very accurate especially when it comes to recipe that requires precision.
INGREDIENTS
Stock:
3

lbs

bone-in leg of lamb or mutton

4

carrots

-

peeled and cut into large chunks

1

large stalk of leeks

-

cut into rings and wash thoroughly by soaking in water

2

oz

of Chinese parsley - both stalks and leaves

-

chopped

4

stalks of lemon grass

-

trim off the woody ends and bruise to release flavor

1

large onion

-

peeled and dice
Ground ingredients (place all ingredients in a food processor and process into a paste):
2

large onions

-

peeled and cut into large chunks

4

cloves

garlic

-

peeled

4

shallots

-

peeled

3

candlenut / kemiri

1

Tbsp

of coriander seeds

1

tsp

of fennel seeds
Spices:
1

piece

of star anise

1

large cinnamon

5

pieces

of cloves

10

pieces

of cardamom

3

Tbsp

of cumin powder

1

tsp

of turmeric powder
Seasonings:
Salt to taste

1

Tbsp

of sugar
Garnishes:
Chinese parsley leaves

-

finely chopped

2-3

stalks of spring onion

-

finely chopped

Fried shallots crisp / bawang goreng
INSTRUCTIONS
Preparing stocks (recommended to prepare the stock the day before):
Place the leg of lamb/mutton in a large pot. Fill the pot up with clean water until it covers the leg of lamb/mutton and bring to a boil. Let it boil for about 5 minutes. Discard the water and rinse the leg of lamb/mutton. Clean the pot

Place the leg of lamb/mutton back into the clean pot. Fill up with clean water until it covers the leg of lamb/mutton again along with the rest of ingredients for stock. Bring it to a boil and then lower the heat and let it simmer for the next 2 1/2 hours or until the meat is tender (falling off the bones). Once the meat is tender, remove it from the pot and when cool enough to handle, cut into large chunks. Strain the stock and discard all the veggies and herbs (I actually save the carrots because I like them in the soup when they are soft). Save the stock and scoop up as many fat that floats on top of the stock as you can. What I did was to put chill the stock in the refrigerator and the fat will turn into white layer and it's easier to scoop it up.

In a large skillet, add in about 2 Tbsp of oil and saute the ground ingredients and spices until really fragrant, about 5 minutes or so. Add in the stock you've prepared above and let it simmer for another 30 minutes. Have a taste and season with salt to your taste and with some sugar and adjust to your liking
When ready to serve:
Bring the stock to a rolling boil and place the cooked lamb/mutton meats back into the soup to let it warm up and then dish the meat out and place on serving bowl and ladle generous amount of soup into the bowl and garnish with parsley, spring onion and fried shallots crisp