Chinese-style crispy and flaky flatbread stuffed with savory meat filling, vegetables, and spices and cook on the griddle. They are popular street food in China.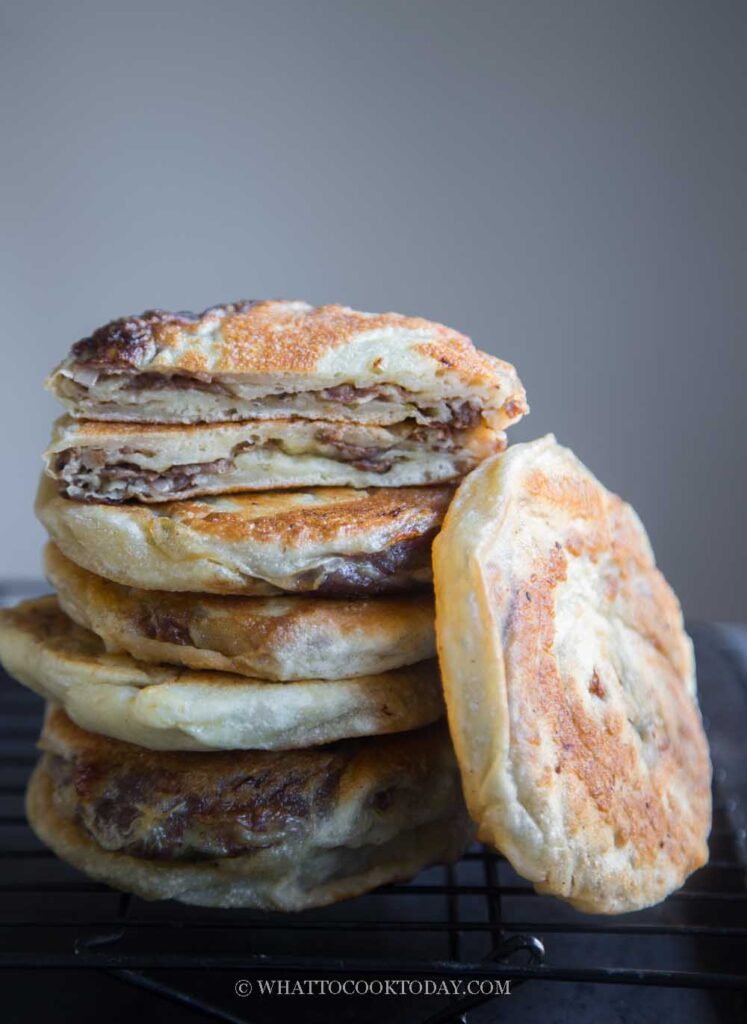 What is guo kui?
The term "guo kui" (锅盔) is a Chinese phrase that roughly translates to "pan helmet" or "pot cover." It is believed that the name comes from the shape of the flatbread, which resembles the shape of a helmet or a pot cover. The history of guo kui can be traced back to the Tang dynasty in China, when street vendors would sell flatbreads filled with various ingredients as a quick and portable meal. Over time, guo kui became a staple food in northern China, where the climate is cold and dry, and hearty, filling foods are preferred. Today, guo kui is still a popular street food in many cities in China, and can be found in many variations depending on the region.
Is guo kui a sweet or savory snack?
Guo kui is usually a savory snack. The flatbread dough is typically filled with various savory ingredients such as meat, vegetables, and spices. However, there are also some variations of guo kui that have a slightly sweet filling, such as sugar filling, red bean paste or lotus seed paste, which makes them a sweet snack. Overall, guo kui can be either sweet or savory depending on the specific recipe and ingredients used.
This recipe uses yeast
The traditional recipe for guo kui uses yeast. The yeast helps the dough to rise and gives the flatbread a light, airy texture. However, there are variations of guo kui recipes that do not use yeast. It uses leavening agents, such as baking powder or baking soda. These recipes may result in a different texture or flavor compared to the traditional recipe that uses yeast. I personally prefer it with yeast. It's an extra step and takes a bit longer, but I feel like it's doable.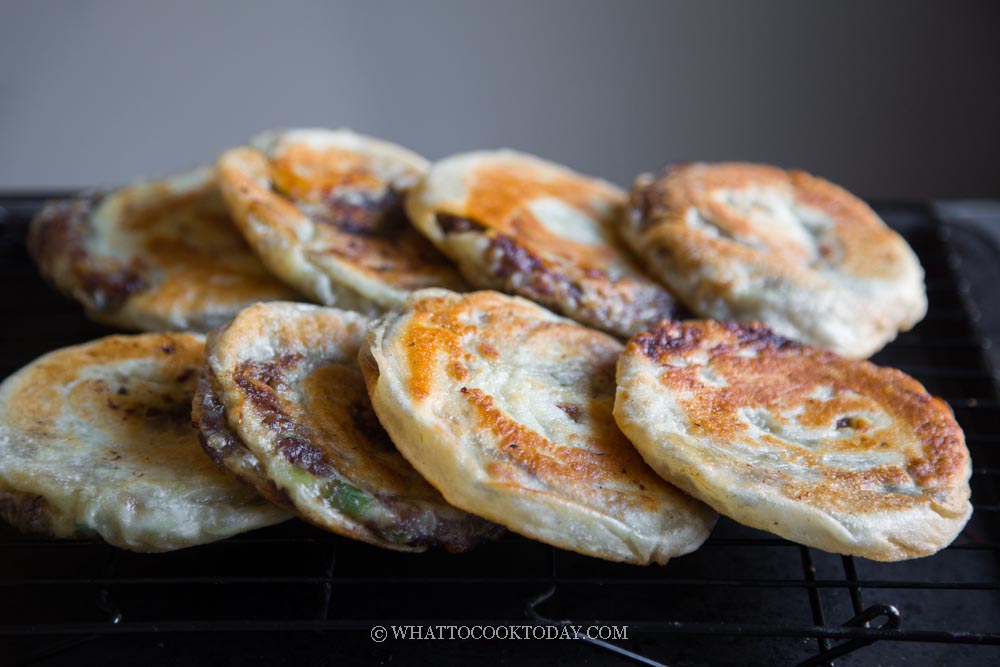 How to make guo kui
1. Mix all ingredients for the dough in a mixing bowl of a stand mixer fitted with a dough hook attachment. Turn the speed to low to start mixing the ingredients. Then increase speed to 2 and knead until the dough is soft and smooth, about 4 minutes.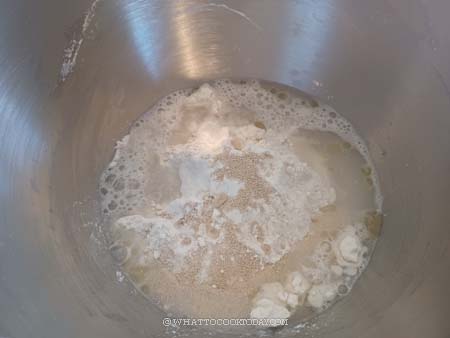 2. While the dough is proofing, prepare the filling. I suggest preparing it the day before. Combine all the ingredients in a large mixing bowl and stir into one direction using a chopstick to get a paste-like consistency. Boil a small amount of water and get a small amount of a filling and cook in the boiling water. Have a taste and adjust the seasoning to suit your taste. When you are happy with the taste, cover and let the filling marinate in the fridge. When ready to use, divide the filling into roughly 8 equal portions
3. Then cover and let it proof for one hour. The dough should be only about 50% puffy. We don't need the dough to proof until double in size


4. When the dough is about 50% puffy, don't deflate and knead the dough. Simply shape it into a log and divide the dough into 8 equal pieces. Keep them covered and work with one at a time


5. Lightly oil your work surface. Stretch the dough into a long oval and then use a rolling pin to roll it out into about 8 inches long, about 4 inches wide and about 1/16 inch thick. Roll the dough up like a Swiss roll. Repeat this with the rest of the dough. Keep them covered


6. Back to the first dough that you roll, flatten slightly with your fingers and roll it out again into a long oval about 1/16 inch thick. If the dough is hard to roll and keeps retracting back, rest it for 10 minutes to relax the gluten. It will be easier to roll out after that. Spread the beef filling on top of the dough. Roll it up like a Swiss roll again. Repeat with the rest of the dough and filling


7. Stand the dough up and flatten it down with your palm. Repeat with the rest of the dough


8. Go back to the first dough you have flattened and use a rolling pin to gently roll it out into a disc about 1/8 inch in thickness. Repeat with the rest


9. Preheat oven to 400 F (204 C). Lined a baking pan with parchment paper. Preheat a large non-stick pan over medium heat. Add 1 tbsp of oil. Cook 2-3 guo kui on the pan, or the amount that fits your pan. Cook for 2-3 minutes or until golden brown and then flip over and cook another 2-3 minutes. Repeat with the rest. The next batch may brown faster as the pan has heated up more by now, it may turn golden brown in 1-2 minutes


10. Arrange the browned guo kui on the baking pan and bake in the preheated oven for 8-10 minutes

How to keep leftovers
1. Refrigerator: Let guo kui cool down completely and then put them in an air-tight container. They can be kept in the fridge for 3-4 days
2. Freezer: Leftovers can also be kept frozen. Flash freeze them by putting them on a baking sheet, not touching each other and let them chill for one hour. Then transfer to a freezer bag, push all the air out as much as possible and seal. They can be kept frozen for one month
How to reheat guokui
1. Reheat in the oven: Preheat the oven to 350°F (180°C). Place the guo kui on a baking sheet and heat it for 10-15 minutes, or until it is heated through.
2. Reheat in the microwave: Place the guo kui on a microwave-safe plate and heat it for 30-60 seconds, or until it is heated through.
Did you make this guo kui recipe?
I love it when you guys snap a photo and tag it to show me what you've made. Simply tag me @WhatToCookToday #WhatToCookToday on Instagram and I'll be sure to stop by and take a peek for real!
Guo Kui (Chinese Meat-Stuffed Flat Bread)
Ingredients
Beef filling:
300

g

ground beef

80% lean

1

tsp

grated ginger

1

tsp

salt

1

tsp

sugar

1

tsp

sesame oil

1

Tbsp

soy sauce

¼

tsp

ground white pepper

¼

tsp

ground black pepper

2

Tbsp

chicken seasoning powder

30

g

oil

½

small

onion

diced

2

stalks

green onion

finely chopped
Instructions
Prepare the dough:
Mix all ingredients for the dough in a mixing bowl of a stand mixer fitted with a dough hook attachment. Turn the speed to low to start mixing the ingredients. Then increase speed to 2 and knead until the dough is soft and smooth, about 4 minutes. Then cover and let it proof for one hour. The dough should be only about 50% puffy. We don't need the dough to proof until double in size
Prepare the filling: (can be prepared the day before)
Combine all the ingredients in a large mixing bowl and stir into one direction using a chopstick to get a paste-like consistency

Boil a small amount of water and get a small amount of a filling and cook in the boiling water. Have a taste and adjust the seasoning to suit your taste. When you are happy with the taste, cover and let the filling marinate in the fridge

When ready to use, divide the filling into roughly 8 equal portions
Assembling:
When the dough is about 50% puffy, don't deflate and knead the dough. Simply shape it into a log and divide the dough into 8 equal pieces. Keep them covered and work with one at a time

Lightly oil your work surface. Stretch the dough into a long oval and then use a rolling pin to roll it out into about 8 inches long, about 4 inches wide and about 1/16 inch thick. Roll the dough up like a Swiss roll. Repeat this with the rest of the dough. Keep them covered

Back to the first dough that you roll, flatten slightly with your palm and roll it out again into a long oval about 1/16 inch thick. If the dough is hard to roll and keeps retracting back, rest it for 10 minutes to relax the gluten. It will be easier to roll out after that

Spread the beef filling on top of the dough. Roll it up like a Swiss roll again. Repeat with the rest of the dough and filling

Stand the dough up and flatten it down with your palm. Repeat with the rest of the dough

Go back to the first dough you have flattened and use a rolling pin to gently roll it out into a disc about 1/8 inch in thickness. Repeat with the rest
Cooking:
Preheat oven to 400 F (204 C). Lined a baking pan with parchment paper. Preheat a large non-stick pan over medium heat. Add 1 tbsp of oil. Cook 2-3 guo kui on the pan, or the amount that fits your pan. Cook for 2-3 minutes or until golden brown and then flip over and cook another 2-3 minutes. Repeat with the rest. The next batch may brown faster as the pan has heated up more by now, it may turn golden brown in 1-2 minutes
Baking:
Arrange the browned guo kui on the baking pan and bake in the preheated oven for 8-10 minutes

Serve them warm or let them cool down on cooling rack
Recommended products:
Nutrition
Serving:
1
guo kui
|
Calories:
297
kcal
|
Carbohydrates:
30
g
|
Protein:
11
g
|
Fat:
14
g
|
Saturated Fat:
3
g
|
Polyunsaturated Fat:
2
g
|
Monounsaturated Fat:
7
g
|
Trans Fat:
0.5
g
|
Cholesterol:
27
mg
|
Sodium:
849
mg
|
Potassium:
169
mg
|
Fiber:
1
g
|
Sugar:
1
g
|
Vitamin A:
30
IU
|
Vitamin C:
1
mg
|
Calcium:
19
mg
|
Iron:
3
mg