It's like having a fluffy soft baked donut cake but in a form of a loaf. The donut cake is flavored with pandan and coconut milk. After all, pandan and coconut milk are two combinations that often go together so well.
Yes, it's me and the pandan again 🙂 I do have a thing for pandan flavor. Growing up with this flavor, pandan is like the vanilla of Southeast Asia. I can't help but to "pandanize" this donut loaf cake. This is one of our family's favorite cakes. They are rich, yet not overly so, moist yet light and airy at the same time! It's perfect to go with that cuppa coffee or tea!
What is donut loaf cake?
It's basically a cake that has a texture or flavor reminiscent of a baked donut cake, which typically doesn't involve using yeast. The donut depends on baking powder and baking soda as leavening agents. Instead of being baked in a donut-shaped pan with holes in the middle, this is baked in a loaf pan and dusted with powdered sugar to resemble a giant donut instead.
The texture of this donut loaf cake is needless to say, cake-like in texture. It is dense and moist thanks to the butter. If you ask me, it actually reminds me of a butter cake.
Ingredients and substitutions
1. Unbleached all-purpose flour
If you don't have unbleached all-purpose, you can use regular all-purpose flour. Bleached all-purpose flour is chemically treated and will give you softer and tender crumbs. It's your choice.
2. Unsalted butter
You can use salted butter and just omit the salt in the recipe
3. Coconut milk
I use canned coconut milk for a more fragrant richer taste. I don't suggest using coconut milk sold as a beverage for drinking
4. Eggs
I use large chicken eggs, which weigh about 58-60 grams when weigh with the shells
5. Granulated sugar
You can also use caster sugar or turbinado sugar
6. Baking powder
Please make sure your baking powder is fresh as the cake depends on this as a leavening agent
7. Baking soda
Please make sure your baking soda is also fresh. This works with baking powder and vinegar to give the cake a good rise
8. Vinegar
The vinegar here is used to make a "buttermilk" (coconut milk version), to react with the baking soda, which helps to leaven the cake to give it a fluffy and soft texture.
9. Salt
The salt really enhances the flavor of the cake. If you use salted butter, you can omit the salt here
10. Pandan essence
I use pandan essence to flavor the cake with pandan flavor. This is the best I can find where I am.
11. Powdered sugar/icing sugar
This is used to coat the donut loaf later after baking to resemble a giant donut. You can omit this if you prefer
How to bake pandan donut loaf cake
1. Preheat your oven to 325 F (170 C) for a conventional oven. For a convection oven, preheat to 300 F (150 C). Position the oven rack in the middle of the oven
2. I suggest using a light-colored loaf pan. A dark-colored pan will make the cake darker on the sides and the bottom and it's easy to overbake the cake too. Line your loaf pan with 2 pieces of parchment paper overlapping horizontal and vertical wise. The side can overhang a bit so you can easily lift the cake out of the pan later


3. Combine the coconut milk with vinegar. Let it sit for 10 minutes. We are making a "buttermilk" but coconut milk version.


4. Whisk the eggs lightly to loosen them and set aside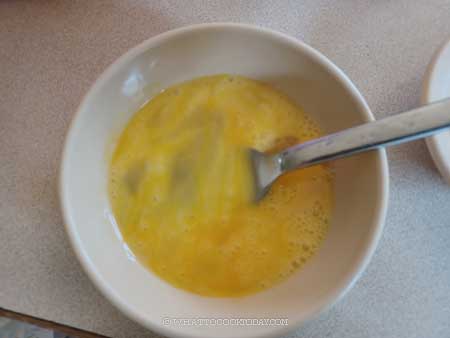 4. Make sure the butter, eggs, coconut milk are at room temperature so the butter won't curdle when you mix them together. Combine all the dry ingredients and set aside. Put butter and sugar in a mixing bowl fitted with a paddle attachment. Beat at speed 6 on Kitchen aid until the mixture is creamy and fluffy, about 3 minutes.


5. Then add pandan essence and beat for another minute.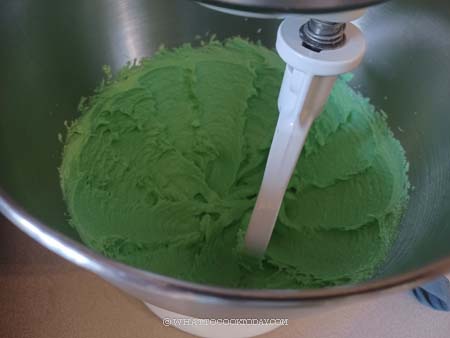 6. Lower the speed to 4 and add the eggs, 1/3 at a time. Scrape the side of the bowl halfway if necessary


7. Lower the speed to 2 and add 1/3 of the flour mixture alternating with the coconut milk mixture, ending with the flour mixture. Don't worry if the flour is not fully incorporated yet. Stop the machine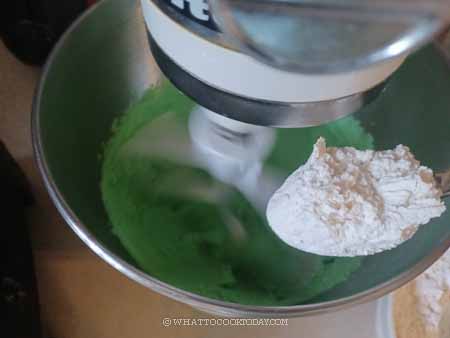 8. We don't want to overmix the cake batter. Use a spatula to finish folding the flour into the batter. This is a thick cake batter


9. Scoop the cake batter into the prepared loaf pan and smooth the top with the spatula


10. Place the baking pan on the positioned rack and bake for 60-75 minutes. A toothpick inserted into the cake should come out clean.


11. Let the cake cool in the pan place on a cooling rack for 15 minutes. Then remove the cake from the pan by grabbing the parchment paper and put on a cooling rack to let it cool down for about 30 minutes. The cake still feels warm


12. Put some powdered sugar on a shallow plate/pan or something flat. If you want to coat with some powdered sugar, brush the sides and top of the cake with some melted coconut oil.


13. Carefully coat the right side of the loaf with melted coconut oil and then put this side on top of the powdered sugar to coat. Brush the left side with coconut oil and do the same. Repeat with the front and the back side. Lastly, brush the top with coconut oil and sieve powdered sugar over it


14. Let the cake cool down completely after that. I suggest waiting 24 hours before slicing the cake. The flavor gets better and the cake will be moist and flavorful

How to store
1. Allow the cake to cool completely to room temperature before storing it. This will prevent any moisture buildup inside the container.
2. Wrap the cake tightly in plastic wrap or aluminum foil. Make sure the wrap is snug and covers the entire cake, so air cannot get in.
3. Place the wrapped cake in an airtight container. You can use a cake carrier, a plastic container with a tight-fitting lid, or a resealable plastic bag
4. Store the container in a cool, dry place, such as a pantry or cupboard for about 3 days. Do not store the cake in the fridge as this can dry it out.
5. For longer storage, freeze it for one month. Simply wrap it tightly in plastic wrap and then aluminum foil, and place it in an airtight container or freezer-friendly bag. Thaw the cake at room temperature before serving
Did you make this pandan donut loaf cake recipe?
I love it when you guys snap a photo and tag it to show me what you've made. Simply tag me @WhatToCookToday #WhatToCookToday on Instagram and I'll be sure to stop by and take a peek for real!
The recipe is adapted from Shauna Sever's Donut Loaf from Midwest Made: Big, Bold Baking from the Heartland
Pandan Donut Loaf Cake
Ingredients
Wet ingredients:
200

g

unsalted softened butter

175

g

granulated sugar

150

g

eggs

room temperature, beaten

1

tsp

pandan essence
For dusting (optional):
2

Tbsp

Melted coconut oil

130

g

Powdered sugar
Instructions
Preheat your oven to 325 F (170 C) for a conventional oven. For a convection oven, perheat to 300 F (150 C). Position the oven rack in the middle of the oven

I suggest using a light-colored loaf pan. A dark-colored pan will make the cake darker on the sides and the bottom and it's easy to overbake the cake too. Line your loaf pan with 2 pieces of parchment paper overlapping horizontal and vertical wise. The side can overhang a bit so you can easily lift the cake out of the pan later
Prepare the cake batter:
Combine the coconut milk with vinegar. Let it sit for 10 minutes. We are making a "buttermilk" but coconut milk version.

Make sure the butter, eggs, coconut milk are at room temperature so the butter won't curdle when you mix them together

Combine all the dry ingredients and set aside. Put butter and sugar in a mixing bowl fitted with a paddle attachment. Beat at speed 6 on Kitchen aid until the mixture is creamy and fluffy, about 3 minutes. Then add pandan essence and beat for another minute. Lower the speed to 4 and add the eggs, 1/3 at a time. Scrape the side of the bowl halfway if necessary. Lower the speed to 2 and add 1/3 of the flour mixture alternating with the coconut milk mixture, ending with the flour mixture. Don't worry if the flour is not fully incorporated yet. Stop the machine

We don't want to overmix the cake batter. Use a spatula to finish folding the flour into the batter. This is a thick cake batter

Scoop the cake batter into the prepared loaf pan
Baking:
Place the baking pan on the positioned rack and bake for 60-75 minutes. A toothpick inserted into the cake should come out clean

Let the cake cool in the pan place on a cooling rack for 15 minutes. Then remove the cake from the pan by grabbing the parchment paper and put on a cooling rack to let it cool down for about 30 minutes. The cake will still feel warm after that
Coat with powdered sugar (optional):
Put some powdered sugar on a shallow plate/pan or something flat

If you want to coat with some powdered sugar, brush the sides and top of the cake with some melted coconut oil.

Carefully coat the right side of the loaf with melted coconut oil and then put this side on top of the powdered sugar to coat. Brush the left side with coconut oil and do the same. Repeat with the front and the back side. Lastly, brush the top with coconut oil and sieve powdered sugar over it

Let the cake cool down completely after that. I suggest waiting 24 hours before slicing the cake. The flavor gets better and the cake will be moist and flavorful. Please refer to my post above on how to store the cake properly
Recommended products:
Nutrition
Serving:
1
serving
|
Calories:
400
kcal
|
Carbohydrates:
49
g
|
Protein:
5
g
|
Fat:
21
g
|
Saturated Fat:
15
g
|
Polyunsaturated Fat:
1
g
|
Monounsaturated Fat:
4
g
|
Trans Fat:
1
g
|
Cholesterol:
82
mg
|
Sodium:
362
mg
|
Potassium:
95
mg
|
Fiber:
1
g
|
Sugar:
25
g
|
Vitamin A:
485
IU
|
Vitamin C:
0.2
mg
|
Calcium:
69
mg
|
Iron:
2
mg