Soft and fluffy milk buns are stuffed with ground chicken filling cooked with aromatic spices and umami seasonings. This is a popular street food in Indonesia also known as roti baso ayam jadul.
My dad often brought home this roti baso ayam when we were young. I'm not sure if I have mentioned before that he went to bakery shops every day after work. He would pick up all kinds of mini cakes, pastries, and bread, for himself and us, the kids and savory snacks for my mom. My mom has zero sweeth tooth in her LOL! My dad, on the other hand, was the opposite. But this, roti baso ayam, our whole family loves this!
What is roti baso ayam jadul?
Roti means bread, baso/bakso in general means meatballs, ayam means chicken, and jadul is short of JAman DULu, which means old-school in Indonesian language. If you were to translate this literally it is old-school chicken meatball buns. You would think it's chicken meatballs sandwiched in between milk buns. Well, there are no round meatballs. The filling is actually made with minced/ground chicken and has a savory and sweet combination. Kinda like deconstructed meatballs. The old-school bread/buns are usually not glazed with any eggwash, milk wash, etc. The buns/bread are baked unglazed and the finished buns won't be shiny
Recipe rundown
1. Taste: the filling is savory and sweet. It reminds me of the filling of Nyonya Chang. It's very flavorful with its savory and sweet note
2. Texture: The buns are incredibly soft and fluffy. What I love about this recipe is that the bread is also eggless
3. Difficulty: Medium
How to make roti baso ayam jadul
1. Preheat a non-stick pan over medium heat. Add butter or margarine and let it melt.


2. Add the onion and saute until soft, about 2-3 minutes. Add garlic and saute for another 30 seconds.


3. Add the ground chicken meat, breaking up the lumps with the wooden spatula. Cook until the chicken turns opaque in color.


4. Add the seasonings and finely chopped candied winter melon and continue to saute until the chicken picks up all the seasonings


5. There will be some juice ooze out after cooking. Combine cornstarch with water and pour into the filling and continue stirring until the mixture is thickened and no longer watery. It's easier to wrap the filling later


6. Add the green onion and cook for another minute and then turn off the heat. Have a taste. It should be savory and sweet. Adjust the seasonings to your preference


7. If you prepare ahead, let the filling cool down completely and then keep in an air-tight container in the fridge for up to 5 days. When ready to use, portion the filling into 8 portions so you won't have any leftovers. Line a large baking sheet with parchment paper


8. Let's prepare the dough now. Combine all ingredients for the dough, except for the butter in a mixing bowl of a stand mixer fitted with a dough hook attachment.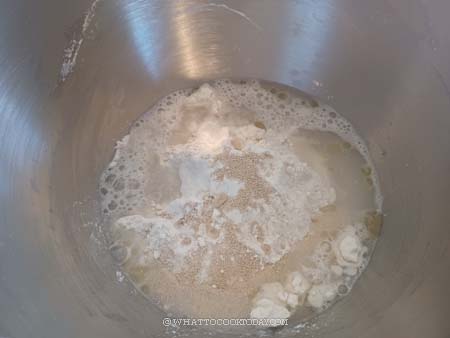 9. Knead until it forms a rough dough, about 5 minutes on speed 2.


10. Add the softened butter and continue to knead until the dough is smooth and elastic, on speed 4 about 7-10 minutes. The dough is soft and shiny and slightly sticky. Don't add any extra flour. If you slowly stretch a small amount of the dough thinly, it won't break. It has reached a window-pane stage. Oil your hands or spatula to transfer the dough to a container for proofing in the next step


11. Oil a large bowl and transfer the dough into the bowl. Cover and let it proof at a warm place for about 1 hour or until it doubles in size. Don't go by the time. It may take longer if the temperature is colder where you are


12. When you press on the dough, the indentation stays, which means the dough is done proofing. Transfer to a work surface lightly dusted with some flour


13. Punch all the air out and give it a few kneads. Divide the dough into 8 equal pieces. Roll it into smooth round dough ball. Cover and let them rest for 10 minutes


14. Work with one dough at a time. Roll it into an oval, about 5-6 inches long and about 4 inches wide. Scoop one portion of the filling, leaving about 1/2 inch clear around the edge of the dough. Try not to let the filling touch the edge of the dough because the oil from the filling won't let you seal the dough properly


15. Fold the dough over to cover the filling and then continue to roll up tightly and roll into an oval shape. Pinch the seam to seal tightly. Alternatively, you can always shape them into round shapes too. The jadul version I remember is an oval shape  


16. Place this on the baking sheet. Give about 2 inches of space in between the buns


17. Cover and let the dough proof for the second time until they are puffy and light, about 45 minutes to 1 hour at a warm place. 10 minutes before the end of the second proofing, preheat the oven to 375 F (190 C) for a conventional oven. For a convection oven, 350 F (180 C)
18. The jadul version I grew up with was the buns were baked without any egg glaze. If you want to brush with egg wash for a shiny look, don't let me stop you. Simply beat some egg to loosen with water. Brush this over the surface of the buns. Bake on the middle rack of the preheated oven for 15 minutes or until the buns are golden brown or until internal temperature is at least 190 F (88 C). Brush with some melted butter on the surface of the buns while they are still warm. Let the buns cool down on a cooling rack. Serve them warm or room temperature

How to store
As these buns are filled with meat, they are best eaten on the same day, but if you have leftovers, I suggest freezing them instead of keeping them in the fridge. The refrigerator will make the bread stale much faster. Here's how to freeze them:
1. Let the buns cool down completely
2. Individually wrap them in a plastic wrap and then put inside a freezer bag, push all the air out and seal. They can be kept frozen for one month
3. To reheat, no need to thaw the buns. Simply wrap them in a foil and bake in a preheated oven at 325 F (165 C) for 10 minutes
Did you make this roti baso ayam jadul recipe?
I love it when you guys snap a photo and tag it to show me what you've made. Simply tag me @WhatToCookToday #WhatToCookToday on Instagram and I'll be sure to stop by and take a peek for real!
Roti Baso Ayam Jadul (Old-School Baked Chicken Buns)
Ingredients
For the dough:
250

g

bread flour (12% protein content)

4

g

yeast

30

g

milk powder

50

g

sugar

4

g

fine sea salt

50

g

egg

1 large egg

120

g

water

40

g

softened butter
For the filling:
2

Tbsp

unsalted butter

250

g

ground chicken

100

g

yellow/white onion

finely chopped

1

clove

garlic

minced

20

g

Candied winter melon

minced. See notes
Egg wash (optional) – I didn't use
Instructions
Prepare the filling: (can be done a few days before)
Combine all the seasonings ingredients in a bowl and set aside

Preheat a non-stick pan over medium heat. Add butter or margarine and let it melt. Add the onion and saute until soft, about 2-3 minutes. Add garlic and saute for another 30 seconds. Add the ground chicken meat, breaking up the lumps with the wooden spatula. Cook until the chicken turns opaque in color. Add the seasonings and finely chopped candied winter melon and continue to saute until the chicken picks up all the seasonings.

There will be some juice ooze out after cooking. Combine cornstarch with water and pour into the filling and continue stirring until the mixture is thickened and no longer watery. It's easier to wrap the filling later

Add the green onion and cook for another minute and then turn off the heat. Have a taste. It should be savory and sweet. Adjust the seasonings to your preference. It should taste savory and sweet

If you prepare ahead, let the filling cool down completely and then keep in an air-tight container in the fridge for up to 5 days
Prepare the dough:
Combine all ingredients for the dough, except for the butter in a mixing bowl of a stand mixer fitted with a dough hook attachment. Knead until it forms a rough dough, about 5 minutes on speed 2. Add the softened butter and continue to knead until the dough is smooth and elastic, on speed 4 about 7-10 minutes. The dough is soft and shiny and slightly sticky. Don't add any extra flour. If you slowly stretch a small amount of the dough thinly, it won't break. It has reached a window-pane stage. Oil your hands or spatula to transfer the dough to a container for proofing in the next step
First proofing:
Oil a large bowl and transfer the dough into the bowl. Cover and let it proof at a warm place for about 1 hour or until it doubles in size. Don't go by the time. It may take longer if the temperature is colder where you are

When you press on the dough, the indentation stays, which means the dough is done proofing. Transfer to a work surface lightly dusted with some flour
Shaping:
Portion the filling into 8 portions so you won't have any leftovers. Line a large baking sheet with parchment paper

Punch all the air out and give it a few kneads. Divide the dough into 8 equal pieces. Flatten the dough slightly into a disc and then pull the edges of the dough and tuck to form a round shape. Roll it into smooth round dough ball. Cover and let them rest for 10 minutes

Work with one dough at a time. Roll it into an oval, about 5-6 inches long and about 4 inches wide. Scoop one portion of the filling, leaving about 1/2 inch clear around the edge of the dough. Try not to let the filling touch the edge of the dough because the oil from the filling won't let you seal the dough properly

Pinch the edge together to seal the dough tightly and roll into an oval shape. Alternatively, you can always shape them into round shape too. The jadul version I remember is an oval shape 🙂 Place this on the baking sheet. Give about 2 inches of space in between the buns
Second proofing:
Cover and let the dough proof for the second time until they are puffy and light, about 45 minutes to 1 hour at a warm place

10 minutes before the end of the second proofing, preheat the oven to 375 F (190 C) for a conventional oven. For a convection oven, 350 F (180 C)
Baking:
The jadul version I grew up with was the buns were baked without any egg glaze. If you want to brush with egg wash for the shiny look, don't let me stop you. Simply beat some egg to loosen with water. Brush this over the surface of the buns

Bake on the middle rack of the preheated oven for 15 minutes or until the buns are golden brown or until internal temperature is at least 190 F (88 C). Brush with some melted butter on the surface of the buns while they are still warm if you want soft and shiny crust

Let the buns cool down on a cooling rack. Serve them warm or room temperature
Notes
Candied winter melon is also known as buah kundur (tangkwe). If you cannot find it, you can omit and increase the amount of sugar to another 1 Tbsp 
Recommended products:
Nutrition
Serving:
1
buns
|
Calories:
318
kcal
|
Carbohydrates:
39
g
|
Protein:
13
g
|
Fat:
12
g
|
Saturated Fat:
6
g
|
Polyunsaturated Fat:
1
g
|
Monounsaturated Fat:
4
g
|
Trans Fat:
0.3
g
|
Cholesterol:
95
mg
|
Sodium:
625
mg
|
Potassium:
299
mg
|
Fiber:
1
g
|
Sugar:
14
g
|
Vitamin A:
332
IU
|
Vitamin C:
2
mg
|
Calcium:
58
mg
|
Iron:
1
mg