This hairy gourd with tang hoon (glass noodles) stir-fry is an easy and popular Cantonese home cooking. Despite its humble appearance, this dish is delicious and satisfying.

What is hairy gourd ?
Hairy gourd / fuzzy melon or known as mao gua is one of the popular Chinese vegetables. They are often used in soup and stir-fry dishes like this. Hairy gourd has green peel covered by tiny hair and hence the name. When you cut it open you will see the flesh is white in color. It has a texture and taste very similar to winter melon.

The combination of hairy gourd, tang hoon (mungbean vermicelli noodles/glass noodles), and dried shrimp is simply excellent. You wouldn't have thought that something so humble and simple can taste so good. My kids love this dish a lot (and I'm forever grateful that they are super adventurous eaters)
How to stir-fry hairy gourd with tang hoon
1. Soak the dried shrimp in warm water for about 10 minutes or until softened. Do the same with mungbean thread noodles (tang hoon) in a separate large bowl


2. Peel the skin of hairy gourd. If you want to leave the skin on, you can do so too. You can use a veggie peeler to carefully remove the tiny hair from the skin. Rinse with water and pat the hairy gourd dry. Cut into strips (thin or thick is up to you). I cut mine rather thick, about 1/2-inch thick. Mix all seasoning ingredients in a bowl and set aside
3. Preheat a large wok. Add oil. Stir fry garlic, ginger, and dried shrimp until aromatic, about 2 minutes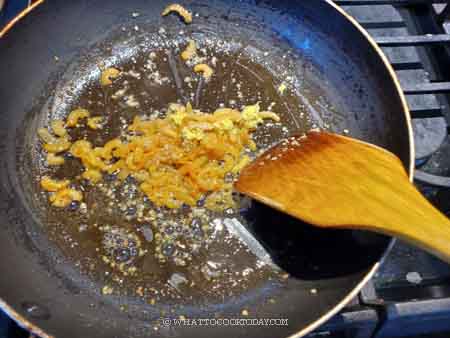 4. Add the hairy gourd strips followed by seasonings and stir fry for about 1 minute


5. Add seasonings, chicken broth and pre-soaked glass noodles


6. Cover and cook for about 2-3 minutes or until the gourd strips are soft but not mushy and there will still a bit of broth left so the dish is a bit saucy but not soupy. Have a taste and adjust seasonings to your preference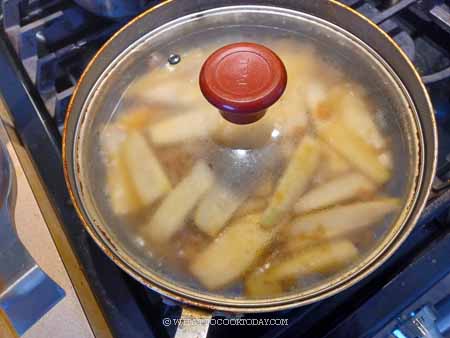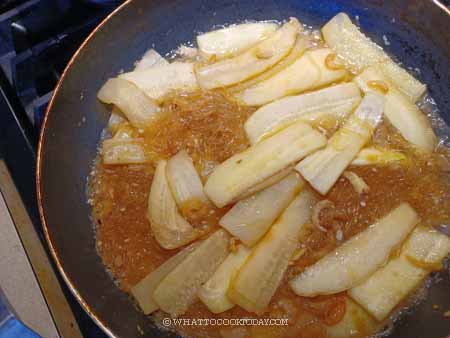 7. Garnish with green onion and serve immediately as part of multi-course meal

Substitutions
Hairy gourd: If you can't get hairy gourd, you can use winter melon, zucchini, chayote
Dried shrimp: to make it vegetarian or vegan, you can use fermented soy bean paste or miso paste for that umami flavor
Oyster sauce: to make it vegetarian or vegan, you can buy vegetarian oyster sauce, mushroom-based oyster sauce
Did you make this hairy gourd with tang hoon recipe?
I love it when you guys snap a photo and tag to show me what you've made 🙂 Simply tag me @WhatToCookToday #WhatToCookToday on Instagram and I'll be sure to stop by and take a peek for real!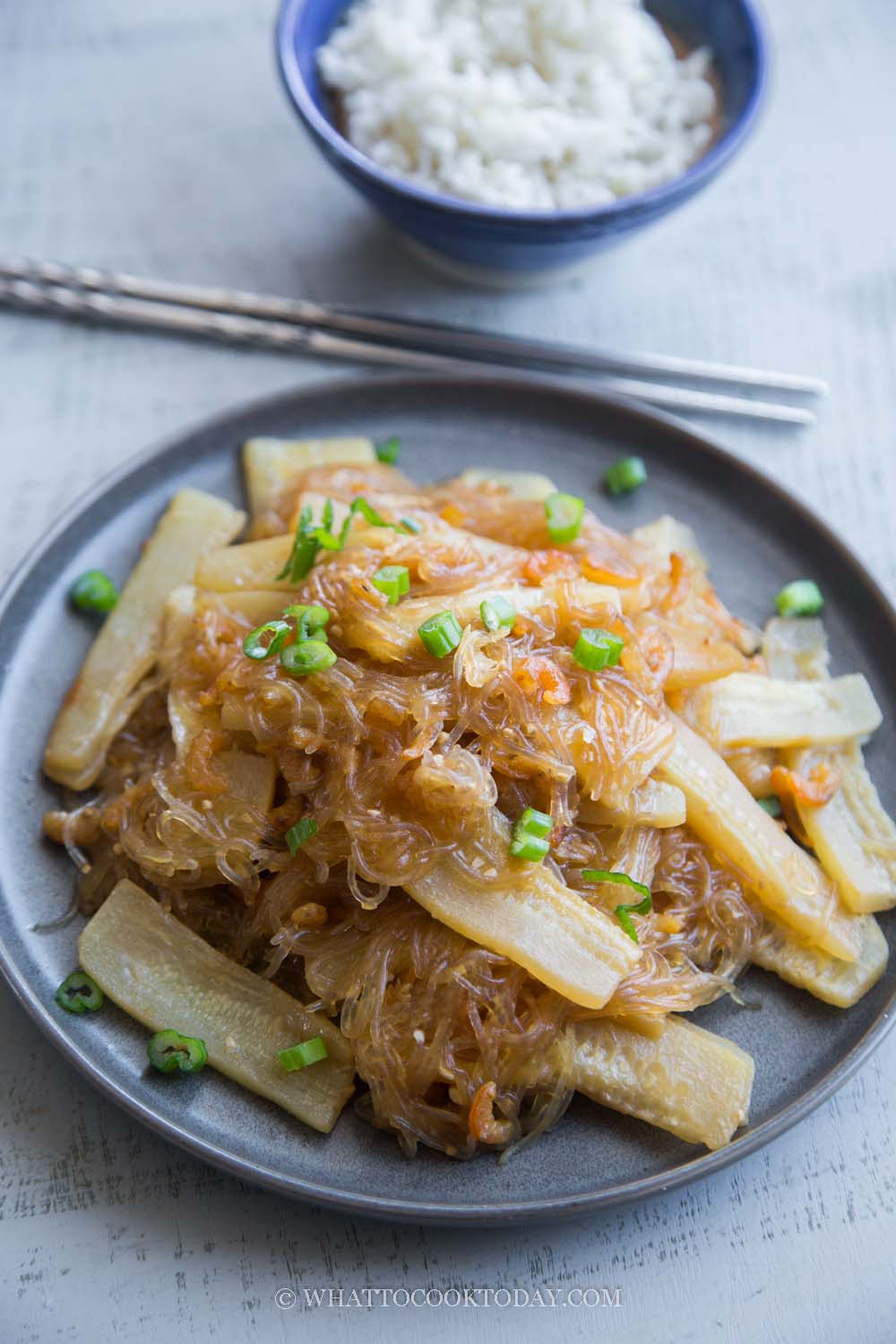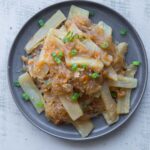 Stir-fried Hairy Gourd with Tang Hoon
Ingredients
Seasonings: (please adjust to your preference)
Garnish:
1

stalk

green onion

finely chopped
Instructions
Things to prepare:
Soak the dried shrimp in warm water for about 10 minutes or until softened. Do the same with mungbean thread noodles (tang hoon) in a separate large bowl

Peel the skin of hairy gourd. If you want to leave the skin on, you can do so too. You can use a veggie peeler to carefully remove the tiny hair from the skin. Rinse with water and pat the hairy gourd dry. Cut into strips (thin or thick is up to you). I cut mine rather thick, about 1/2-inch thick

Mix all seasoning ingredients in a bowl and set aside
Cooking:
Preheat a large wok. Add oil. Stir fry garlic, ginger, and dried shrimp until aromatic, about 2 minutes. Add the hairy gourd strips followed by seasonings and stir fry for about 1 minute

Add chicken broth and pre-soaked glass noodles. Cover and cook for about 2-3 minutes or until the gourd strips are soft but not mushy and there will still a bit of broth left so the dish is a bit saucy but not soupy. Have a taste and adjust seasonings to your preference

Garnish with green onion and serve immediately as part of multi-course meal
Nutrition
Serving:
1
serving
|
Calories:
132
kcal
|
Carbohydrates:
15
g
|
Protein:
7
g
|
Fat:
5
g
|
Saturated Fat:
1
g
|
Polyunsaturated Fat:
1
g
|
Monounsaturated Fat:
3
g
|
Trans Fat:
1
g
|
Cholesterol:
86
mg
|
Sodium:
646
mg
|
Potassium:
31
mg
|
Fiber:
1
g
|
Sugar:
1
g
|
Vitamin A:
30
IU
|
Vitamin C:
3
mg
|
Calcium:
102
mg
|
Iron:
3
mg