Indo-Chinese style of stir-fried noodles in easy and simple seasonings. Hakka noodles are super popular dish in India. Hakka noodle is perfect as an everyday meal or for any celebrations The recipe is perfect for vegetarian and can be adapted to make it a complete meal by including chicken or other meatless protein.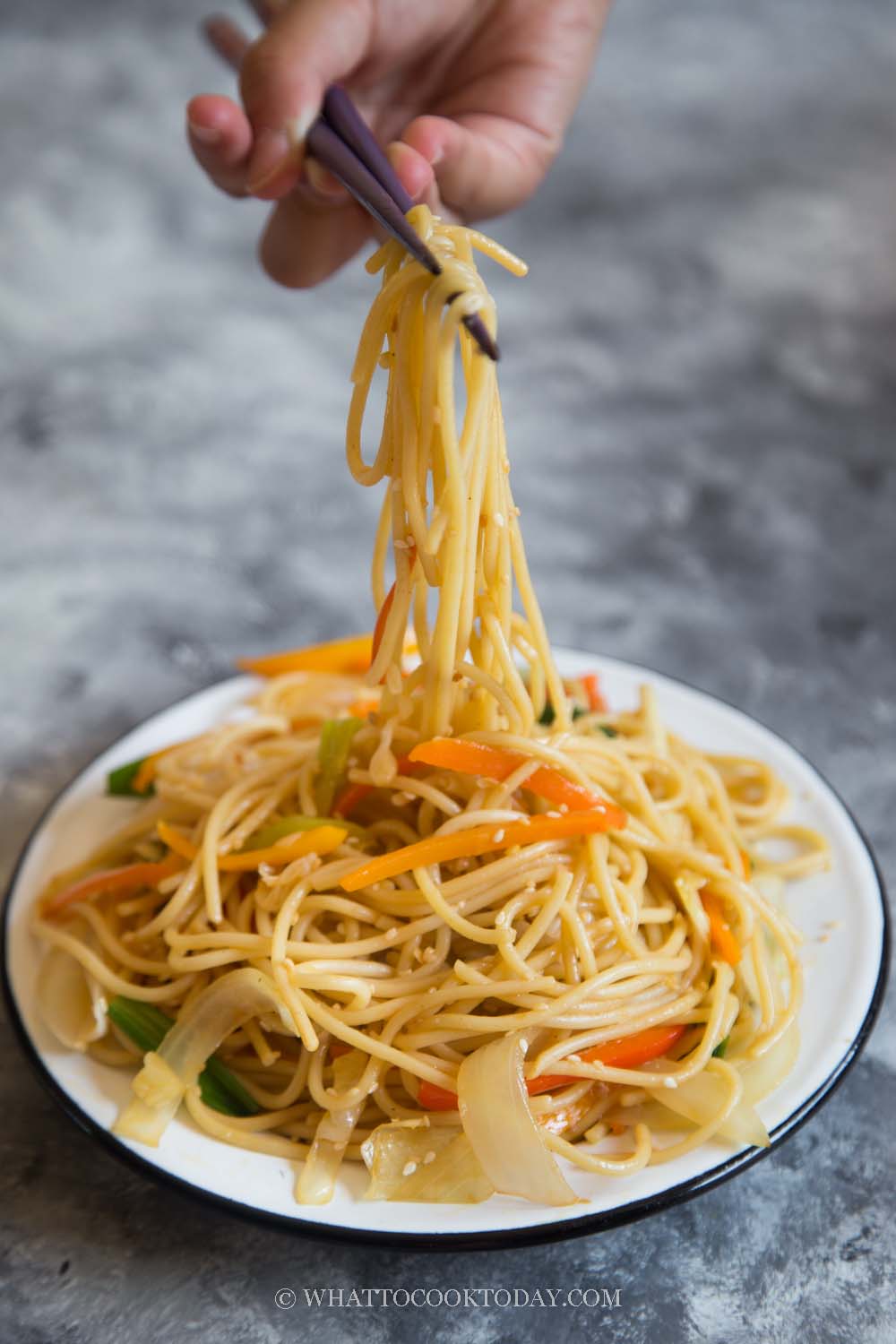 In India, Indo-Chinese food is also known as Desi-Chinese, Indo-Chinese or Chindian. The food is based on the Chinese food but adapted to the Indian taste. I guess in a way similar to Peranakan food, the fusion of Chinese and Malay.
It's not until I moved to the U.S. that I am more familiar with the Indian cuisine and actually love it. My kids love Indian food a lot. We
go to Indian restaurant pretty often and that's where I get to know Indian-Chinese dishes such as Gobi Manchurian, Chili Chicken, and this Hakka Noodles.
What is Indo-Chinese Hakka Noodles?
Indo-Chinese Hakka noodles are all over India. The locals love it. It is a popular street food and also restaurant food. The Hakka noodles that I grew up eating, known as bakmi khek, is totally different with this Indo-Chinese Hakka noodles. But you know, there are so many different variety of Hakka noodles. So imagine when I first saw the sign Hakka noodles at the Indian restaurant, I was a bit perplexed. It was actually a stir-fried noodles!! Just like the Chinese chow mein noodles. The seasonings have been adjusted to suit the Indian palate. It's savory, with hint of spiciness with a bit of tang.
Type of noodles to use
The popular brand to use for Indo-Chinese Hakka noodles are Ching's Hakka Noodles, but you can use whatever brand you like. It's basically a round wheat noodles that looks like spaghetti.
Substitution: Chinese chow mein noodles, spaghetti noodles, ramen noodles
How to make easy Indo-Chinese Hakka noodles
1. Preheat a large skillet or a wok. Add cooking oil. Add onion wedges, garlic and the white parts of green onion. Stir fry for about one minute


2. Add shredded cabbage and bell peppers and stir fry for another minute. If you want to add chicken, push the veggies to the side and add chicken cubes and stir fry until they turn opaque, about a minute or so.


3. Add the cooked noodles followed by seasonings.


4. Stir fry to combine everything to make sure the seasonings coat the noodles. Have a taste and adjust seasonings to your taste. It should be savory with hint of spiciness (if using chili oil).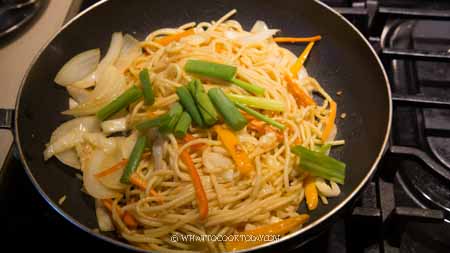 5. Turn off the heat and add the green parts of green onion and stir fry few more times. The residual heat will soften the green onion. Garnish with white sesame seeds if you like

This is the Chicken Indo-Chinese Hakka noodles I made by adding chicken to the basic vegetable Hakka noodles

Did you make this Indo-Chinese Hakka noodles recipe?
I love it when you guys snap a photo and tag to show me what you've made 🙂 Simply tag me @WhatToCookToday #WhatToCookToday on Instagram and I'll be sure to stop by and take a peek for real!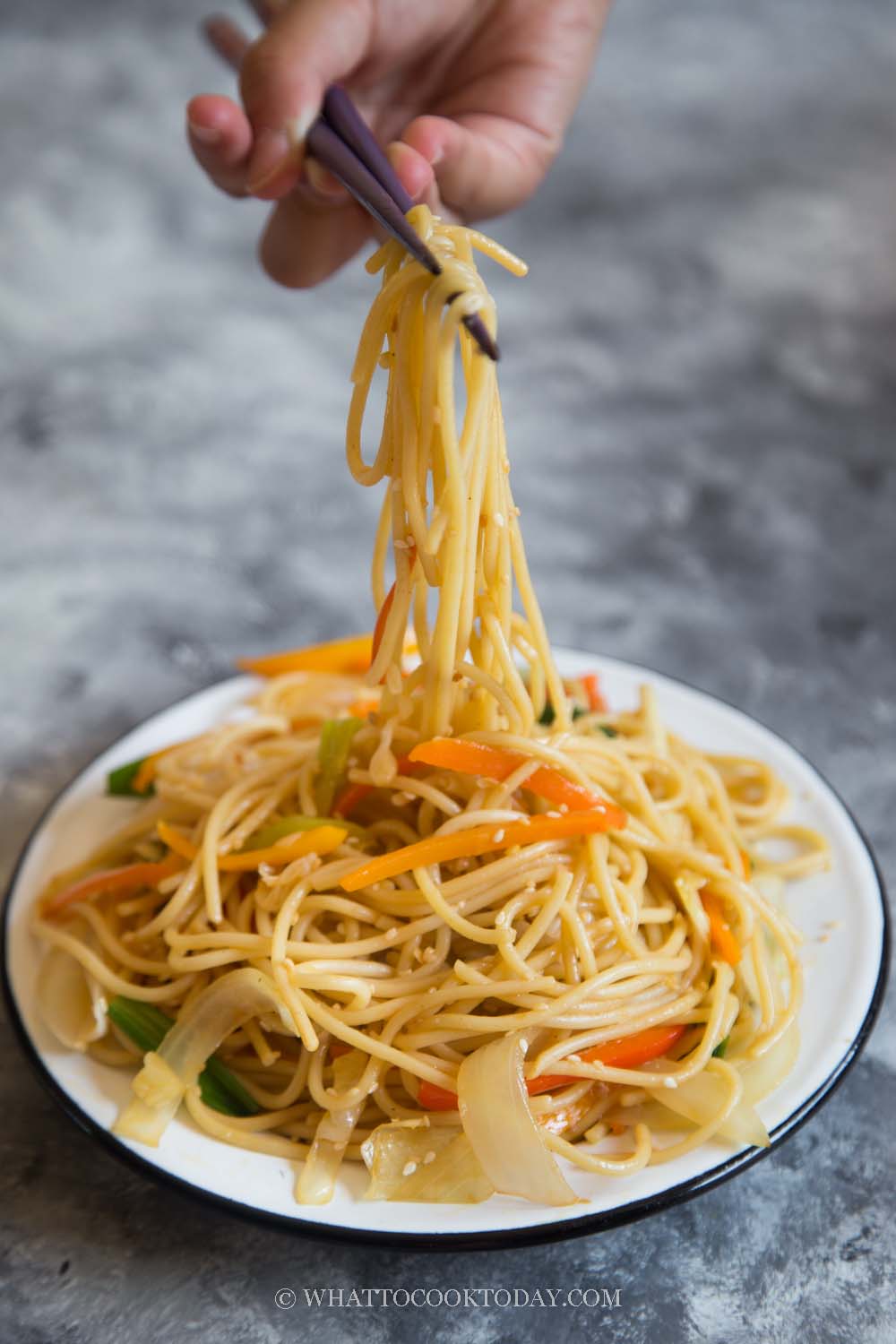 Super Easy Indo-Chinese Hakka Noodles
Ingredients
For stir-frying:
4

Tbsp

oil

4

cloves

garlic

minced

1

large

onion

cut into wedges

2

stalks

green onions

separate greens from whites

2

large

bell peppers

I use red and orange colors, julienned

1

large

carrots

julienned

2

cups

shredded cabbage
Protein (optional):
200

gr

boneless skinless chicken breast

or thighs, cut into bite-size pieces

1

tsp

soy sauce

¼

tsp

ground black pepper
Garnish:
green part of green onions

Toasted white sesame seeds

optional
Instructions
Separate the white and the greens of the green onion. Cut into about 2 inches length

If you plan to add chicken, marinate the chicken meat with soy sauce and pepper and set aside while you prepare other things

Mix all the seasonings ingredients in a bowl and set aside
Cook the noodles:
Bring a large pot of water to a boil. When it comes to a boil, add salt and 1 tsp of oil. Cook the noodles according to instructions on the package. Cook the noodles until firm to bite. Don't overcook the noodles because we will be stir-frying them. I usually cook about 1 minute less than what's suggested on the package. Discard the cooking water and refresh the noodles with cold water, drain off water and toss with 1 tsp of oil and set aside
Stir-frying:
Preheat a large skillet or a wok. Add cooking oil. Add onion wedges, garlic and the white parts of green onion. Stir fry for about one minute

Add shredded cabbage and bell peppers and stir fry for another minute. If you want to add chicken, push the veggies to the side and add chicken cubes and stir fry until they turn opaque, about a minute or so. Add the cooked noodles followed by seasonings. Stir fry to combine everything to make sure the seasonings coat the noodles

Have a taste and adjust seasonings to your taste. It should be savory with hint of spiciness (if using chili oil)

Turn off the heat and add the green parts of green onion and stir fry few more times. The residual heat will soften the green onion. Garnish with white sesame seeds if you like
Recommended products: