Whether you are a foodie or just looking for a quick snack, Hong Kong Curry Fish Balls are a perfect choice for anyone wanting to experience the flavors of Hong Kong in the comfort of your home.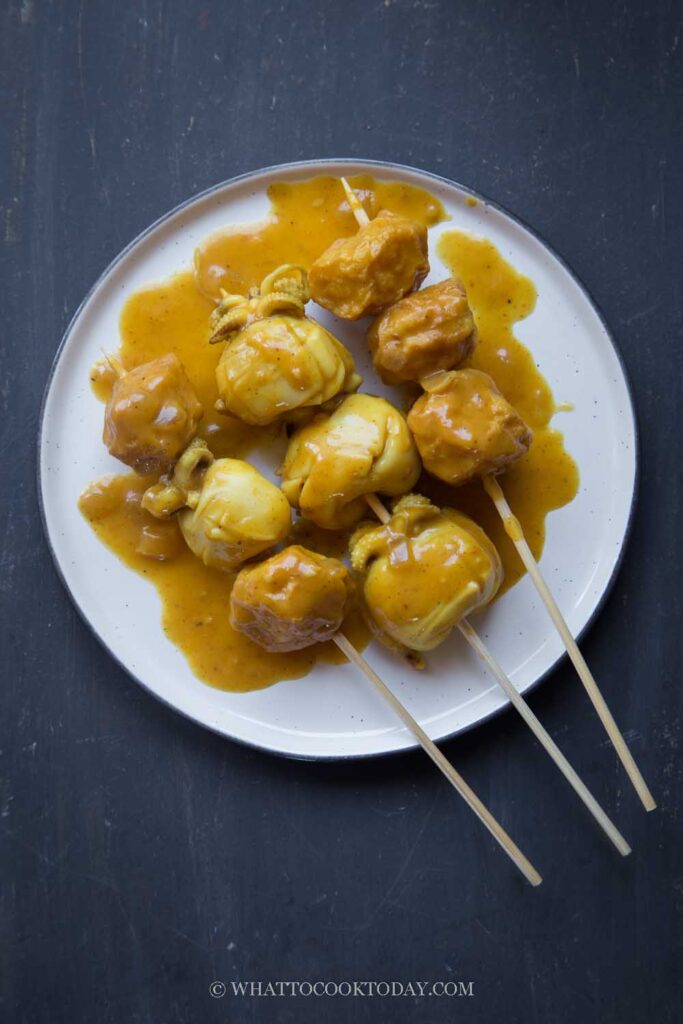 Hong Kong holds so many sweet memories for us. My husband and I went to Hong Kong for our honeymoon when we just got married and boy we were really spoiled by the food. Curry Fish Balls are a must-try when visiting Hong Kong. They are not only delicious, but they also represent the rich and diverse food culture of the city. Curry Fish Balls are not only tasty, but they are also incredibly affordable. They are one of the cheapest snacks available in Hong Kong, and can be found for as little as HKD5 (around $0.60 USD) per skewer or cup. This makes it an accessible snack for all, from students to office workers.
What is Hong Kong curry fish ball?
The fish balls are made from a mixture of fish paste, seasonings, and starch. They have a chewy and bouncy texture after being boiled. The fish balls are simmered in aromatic curry sauce. Some are threaded in skewers. Some are floating in a giant pot of curry broth and served in a cup. It's savory and spicy snack that is loved by both locals and tourists.
Ingredients and substitutions
1. Fish balls and squid
I used store-bought fish balls and baby squids


2. Daikon
Also known as Chinese radish. It complement the curry very well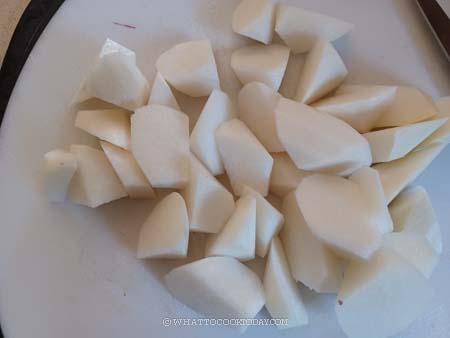 3. Purple onion
You can use shallots. Purple onion or red onion is more common here and that's what I use
4. Garlic
Use fresh garlic if you can instead of pre-minced garlic that comes in a jar
5. Red chilis
You can use red jalapeno or Fresno peppers
6. Ginger
I use fresh ginger. Do not use powdered ginger. It's not the same
7. Fresh curry leaves
Fresh curry leaves smell amazing. They can be difficult to find. You can skip if you can't find any
8. Chicken stock
You can use store-bought or homemade chicken stock
9. Madras curry powder
Use good-quality curry powder
10. Chili powder
This adds a bit of heat. You can skip if you don't like spicy
11. Turmeric powder
A little goes a long way and it adds a nice yellow hue to the curry
12. Evaporated milk
You can also used canned coconut milk
13. Soy sauce
Also known as light soy sauce
14. Fish sauce
Fish sauce is salty and a bit goes a long way. You can omit it if you don't have any.
15. Cornstarch
Cornstarch is used to thicken the curry sauce
How to cook Hong Kong Curry Fish Balls
1. Combine ingredients for curry paste and set aside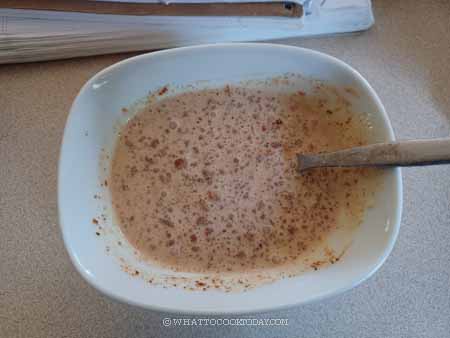 2. Saute onion and garlic for about 3 minutes until the onion pieces are soft and aromatic.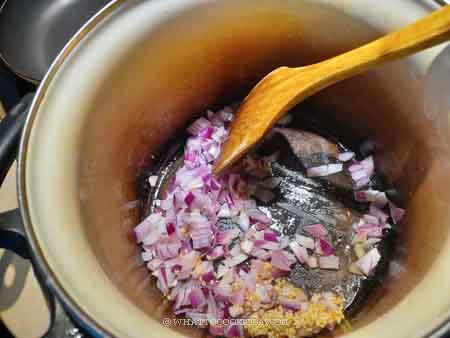 3. Add the chili and curry leaves and saute for another minute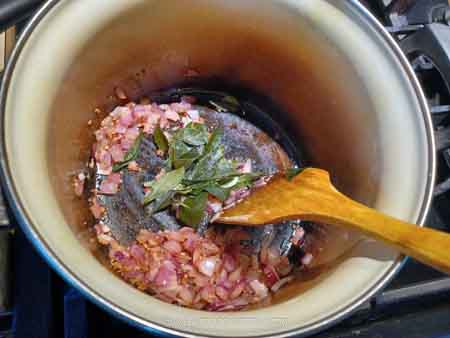 4. Add the curry paste and saute for another minute. Add half of the chicken stock and scrape the bottom of the pan to loosen bits and pieces that get stuck in the pan.


5. Add the rest of the stock followed by the seasonings. Bring it to a simmer. Put the daikon pieces in and cook until they are soft about 4 minutes


6. Add the fish balls. I use store-bought, so they are pre-cooked. We are just heating them up to let them absorb the sauce. Cook for 1 minute over medium-low heat. Add the squid pieces and it should cook pretty quickly, 1-2 minutes.



7. Combine the cornstarch with water to make a slurry to thicken the sauce. Pour the cornstarch slurry into the sauce and stir to thicken. You don't want it too thick. Have a taste and adjust to your preference. Off the heat and serve warm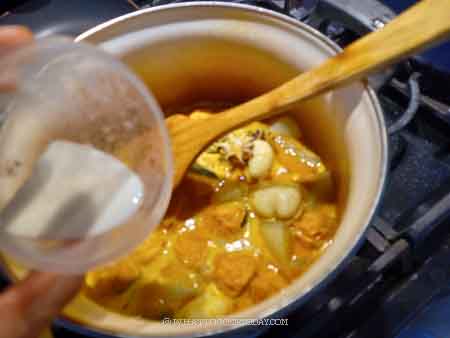 Curry fish balls can be served as part of a meal
Despite being a popular street food, Curry Fish Balls have also been adapted into various dishes in Hong Kong cuisine. For example, they can be added as a topping on noodles, or served as a side dish with rice. There are even restaurants that specialize in Curry Fish Balls, serving them in different variations and styles. My kids love it with rice. The sauce is so good with the plain rice.
Did you make this Hong Kong Curry Fish Ball recipe?
I love it when you guys snap a photo and tag it to show me what you've made. Simply tag me @WhatToCookToday #WhatToCookToday on Instagram and I'll be sure to stop by and take a peek for real!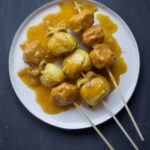 Hong Kong Curry Fish Balls
Ingredients
Instructions
Combine ingredients for curry paste and set aside

Saute onion and garlic for about 3 minutes until the onion pieces are soft and aromatic. Add the chili and curry leaves and saute for another minute

Add the curry paste and saute for another minute. Add half of the chicken stock and scrape the bottom of the pan to loosen bits and pieces that get stuck to the pan. Add the rest of the stock followed by the seasonings. Bring it to a simmer. Put the daikon pieces in and cook until they are soft, about 4 minutes

Add the fish balls. I use store-bought, so they are pre-cooked. We are just heating them up to let them absorb the sauce. Cook for 1 minute over medium-low heat. Add the squid pieces and it should cook pretty quickly, 1-2 minutes.

Combine the cornstarch with water to make a slurry to thicken the sauce. Pour the cornstarch slurry into the sauce and stir to thicken. You don't want it too thick. Have a taste and adjust to your preference. Off the heat and serve warm
Nutrition
Serving:
1
serving
|
Calories:
456
kcal
|
Carbohydrates:
22
g
|
Protein:
31
g
|
Fat:
27
g
|
Saturated Fat:
8
g
|
Polyunsaturated Fat:
4
g
|
Monounsaturated Fat:
13
g
|
Trans Fat:
0.03
g
|
Cholesterol:
236
mg
|
Sodium:
1209
mg
|
Potassium:
1003
mg
|
Fiber:
3
g
|
Sugar:
12
g
|
Vitamin A:
367
IU
|
Vitamin C:
64
mg
|
Calcium:
122
mg
|
Iron:
3
mg