Seasoned mashed potatoes are filled with aromatic chicken fillings, breaded, fried and served with whole chili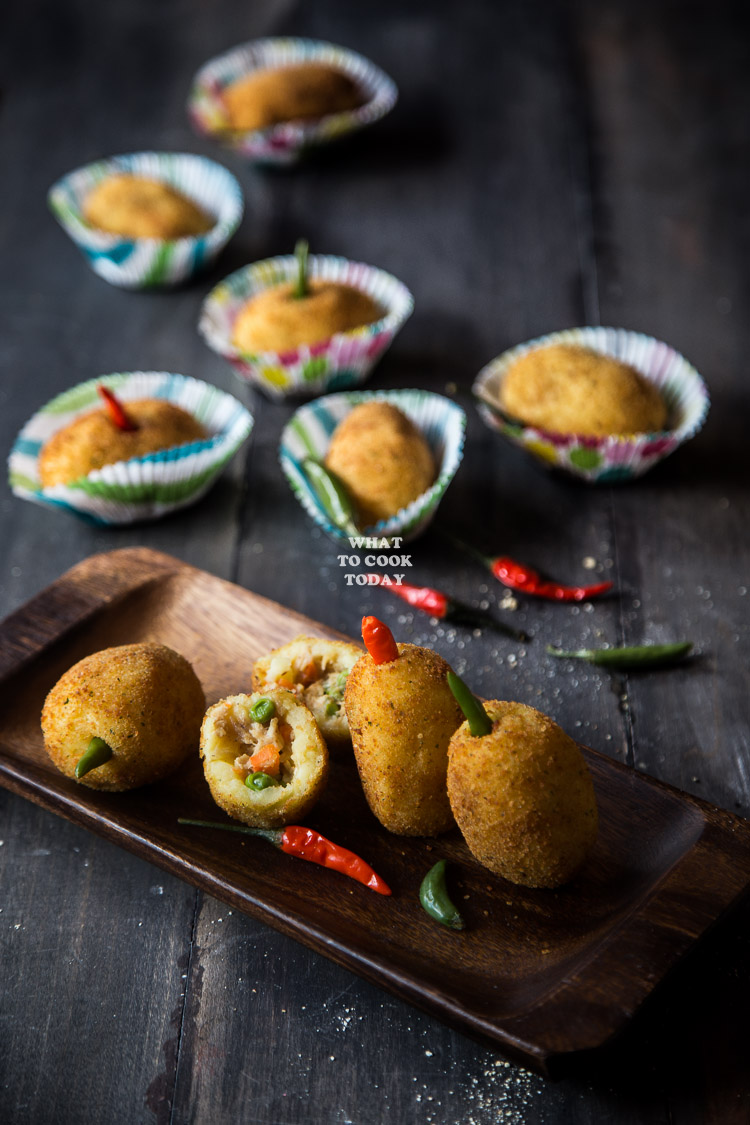 My daughter often says "Mama, when I grow up as big as you, I will cook all the food you've cooked for me". I don't know about you, but when I hear that, I think I grew taller a few inches somehow! She's my "picky" eater (though a lot better now!) and so, when she really likes something I made, mom couldn't be happier.
I never knew what it's like being a picky eater. Seriously! I was born to eat. I love food from day 1 (and so mom said!). My husband said his mom had to chase him around trying to feed him. He did not like to eat! But looking at him now, you wouldn't believe my story. In fact, people at the office know him as tiny Asian guy who can REALLY eat! and eat just about anything! So people…I have hope that picky eaters might turn around!
This kroket kentang is one of my favorite recipes from mom. I loved it as a kid (still do now) and now my kids get to have a taste of Indonesian version of croquettes. The kroket is usually stuffed with whole green chili. Most Indonesians like their food spicy. I used some red chili for some color contrast in the photo.
Ingredients
Potato dough:
500

gr

potatoes

boiled, peeled and mashed

2

Tbsp

milk powder

1/4

tsp

of nutmeg powder

1/4

tsp

of white pepper powder

1/2

tsp

of salt
Fillings:
1

Tbsp

unsalted butter

1

cup

chopped onions

1

cup

shredded chicken meat

1/2

cups

of frozen mixed veggies

(thawed)

1/2

tsp

white pepper powder

1/4

tsp

nutmeg powder

1

tsp

salt

1

stalk of green onion

(finely chopped)

1/4

cup

of water

1

Tbsp

all-purpose flour
Frying:
Oil for frying

1

egg beaten

2

cups

bread crumbs
Instructions
Filling:
Melt butter in a pan. Add in onions and saute until soft and fragrant. Add in meat, vegetable, and spices. Cook for another minute. Have a taste and season with salt. Add water and sprinkle in the flour. Cook until the filling is slightly thickened. Remove from the heat and let it cool down completely. Can be prepared one day ahead.
Potato dough:
Boil the potato until soft (you can easily pierce with fork). Mash it while it's hot using potato masher or using mixer. Add the milk powder and the rest of the ingredients. Stir to mix everything. Set aside to let it cool down
Assembling:
Preheat cooking oil enough for deep-frying. Clean your hands thoroughly and it's easier if your hands are a bit wet. Take about 1-2 Tbsp of potato dough and flattened it on your hand and make a little well in the middle. Fill with the filling (don't over fill or you will have trouble wrapping it up) and close it by molding the dough around the filling to form a croquette shape

Dip in eggs and then bread crumbs. Fry in small batches 2-3 at a time for best result