Seasoned mashed potato dough is filled with aromatic chicken fillings, breaded, fried and served with whole chili. This kroket kentang recipe is a must to have in your recipe archive!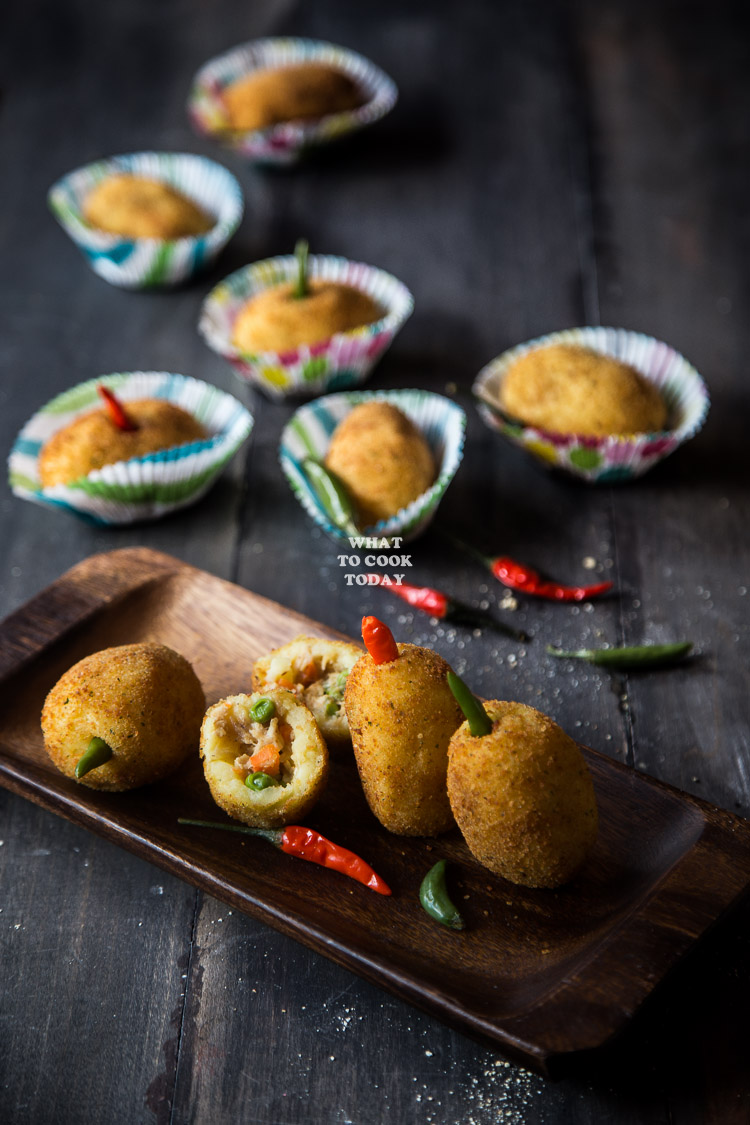 Kroket kentang is one of my favorite snacks ever. Mom made them very often when we were kids. Any Indonesian can tell you that he/she loves kroket kentang. The one I'm sharing here is kroket kentang isi ayam (Chicken potato croquette). There are also kroket kentang isi daging (beef potato croquette), kroket sayur (vegetables croquette), kroket keju (cheese croquette).
The recipe rundown
Taste: Savory with a nice aroma from nutmeg and butter
Texture: Crispy on the outside with soft and moist filling on the inside
Level: Intermediate
Pros: The potato dough is really easy to work and they can be prepared ahead and all you need to do is fry them when you want to
Cons: It can be quite a time-consuming project. It's best to have someone help you with the wrapping
How to make kroket kentang isi ayam
1. Melt butter in a pan. Add onions and garlic and saute until soft and fragrant.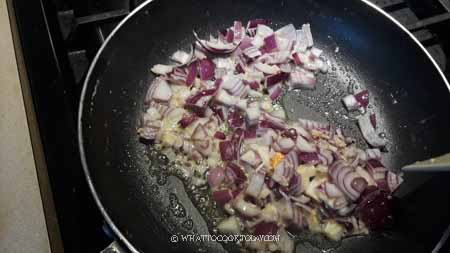 2. Add chicken and cook until they turn color. Add coconut milk and carrots and seasonings. Cook until the carrots are soft and liquid has been absorbed. Add green onions and stir to combine. Have a taste and adjust the taste to your preference

3. Mix the all-purpose flour with water and then pour into the pan and cook until the mixture is thickened


4. Set aside to let it cools down completely before using or before storing it in the fridge if preparing the day before


5. Cut the potatoes into small cubes and steam for 15-20 minutes until they can be easily mashed. You can also pressure cook the potatoes for one minute on high pressure. Mash it while it's hot using potato masher or using a blender or immersion blender. Mash until they are smooth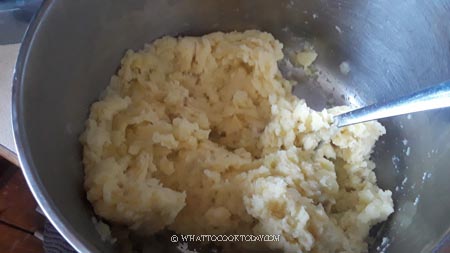 6. Preheat a large skillet. Add milk and butter and bring to a boil. Add pepper, nutmeg, and salt. Stir to combine


7. Add the flour and quickly stir until you form a dough. Remove from the heat


8. Put this dough into the mashed potato and stir to combine the two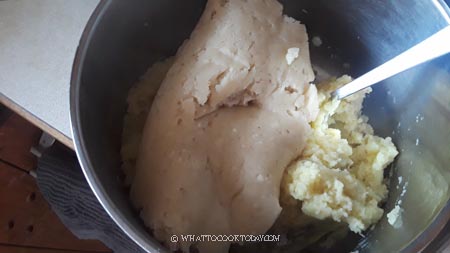 9. Lightly oil your palms. Portion the potato dough into about 35-40 grams dough balls. Keep them covered to prevent them from drying out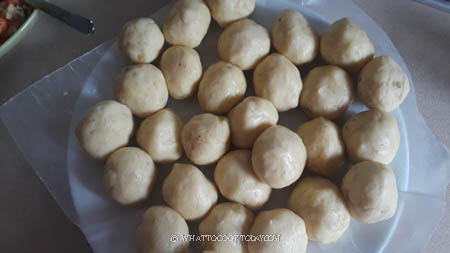 10. The dough should be easy to work with and quite pliable. Flatten the dough slightly to form a round circle.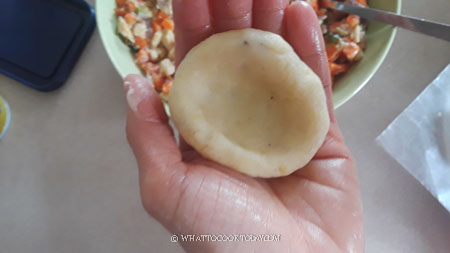 11. Put about 1/2 Tbsp of filling in the middle and then gather the two sides to enclose. Form into an oval shape. Place on a large baking sheet lined with parchment paper. Continue with the rest of the dough and filling. I can make about 32 good size kroket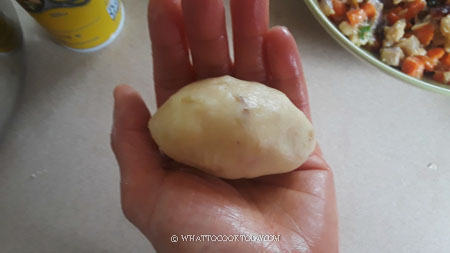 12. Mix all-purpose flour with water. Dip the kroket into the flour slurry and then coat with bread crumb. Repeat with the rest.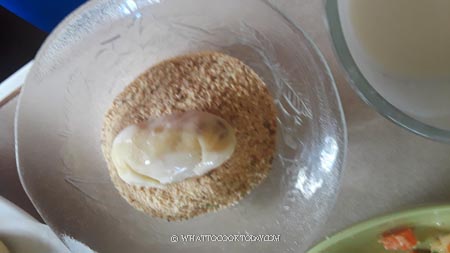 13. Put this in the freezer for one hour before frying. You can also freeze them for up to one month and fry them whenever you want to

14. Preheat about 3 inches of cooking oil over medium heat. When you dip a chopstick or a skewer in the oil, you will see bubbles around it, the oil is ready. Fry about 3-4 kroket at a time. Make sure to control the heat. Fry at medium heat to prevent the kroket from getting too dark on the outside but still frozen inside. Fry until they are light golden brown. Put on an absorbent paper towel to absorb extra oil. Repeat with the rest. Put them on a cooling rack and keep them warm in the oven at 200 F (93C)
How to store kroket kentang
1. Uncooked kroket kentang
Simply put the breaded kroket on a baking sheet lined with a parchment paper and then put them in the freezer for about one hour. Then transfer to a freezer bag or container. They can be kept for up to three months. When ready to cook, do not thaw. Simply fry over medium heat and make sure to control the heat so the outside won't get burn and the inside is still cold and frozen
2. Cooked kroket kentang
The same step as above and they can be kept or up to one month. Simply reheat in the oven at 350 F (180 C) for 10 minutes until crispy again

Did you make this kroket kentang isi ayam recipe?
I love it when you guys snap a photo and tag to show me what you've made 🙂 Simply tag me @WhatToCookToday #WhatToCookToday on Instagram and I'll be sure to stop by and take a peek for real!


The recipe was originally published in 2017 and has been updated for improvement and step-by-step process are added on May 3, 2021.

Kroket Kentang / Indonesian Potato Croquette
Ingredients
Instructions
Filling (recommend to prepare the day before):
Melt butter in a pan. Add onions and garlic and saute until soft and fragrant. Add chicken and cook until they turn color. Add coconut milk and carrots and seasonings. Cook until the carrots are soft and liquid has been absorbed. Add green onions and stir to combined. Have a taste and adjust the taste to your preference

Mix the all-purpose flour with water and then pour into the pan and cook until the mixture is thickened. Set aside to let it cools down completely before using or before storing it in the fridge if preparing the day before
Potato dough:
Cut the potatoes into small cubes and steam for 15-20 minutes until they can be easily mashed. You can also pressure cook the potatoes for one minute on high pressure. Mash it while it's hot using potato masher or using a blender or immersion blender. Mash until they are smooth

Preheat a large skillet. Add milk and butter and bring to a boil. Add pepper, nutmeg, and salt. Stir to combine. Add the flour and quickly stir until you form a dough. Remove from the heat. Put this dough into the mashed potato and stir to combine the two
Wrap and shape:
Lightly oil your palms. Portion the potato dough into about 35-40 grams dough balls. Keep them covered to prevent them from drying out

The dough should be easy to work with and quite pliable. Flatten the dough slightly to form a round circle. Put about 1/2 Tbsp of filling in the middle and then gather the two sides to enclose. Form into an oval shape. Place on a large baking sheet lined with parchment paper. Continue with the rest of the dough and filling. I can make about 32 good size kroket
Coat with bread crumbs:
Mix all-purpose flour with water. Dip the kroket into the flour slurry and then coat with bread crumb. Repeat with the rest. Put this in the freezer for one hour before frying. You can also freeze them for up to three months and fry them whenever you want to
Deep frying:
Preheat about 3 inches of cooking oil over medium heat. When you dip a chopstick or a skewer in the oil, you will see bubbles around it, the oil is ready. Fry about 3-4 kroket at a time. Make sure to control the heat. Fry at medium heat to prevent the kroket from getting to dark on the outside but still frozen inside. Fry until they are light golden brown. Put on absorbent paper towel to absorb extra oil. Repeat with the rest. Put them on a cooling rack and keep them warm in the oven at 200 F (93C)

Serve as is or with bird's eye chilis
Nutrition
Serving:
1
piece
|
Calories:
127
kcal
|
Carbohydrates:
18
g
|
Protein:
4
g
|
Fat:
4
g
|
Saturated Fat:
3
g
|
Trans Fat:
1
g
|
Cholesterol:
15
mg
|
Sodium:
236
mg
|
Potassium:
224
mg
|
Fiber:
2
g
|
Sugar:
2
g
|
Vitamin A:
1405
IU
|
Vitamin C:
7
mg
|
Calcium:
33
mg
|
Iron:
1
mg