Learn how to make this delicious dim sum favorite, ham sui gok. They are crispy and slightly sweet on the outside and soft and chewy on the inside and filled with savory meat filling. What a great combination of taste and texture. Step-by-step instructions are included.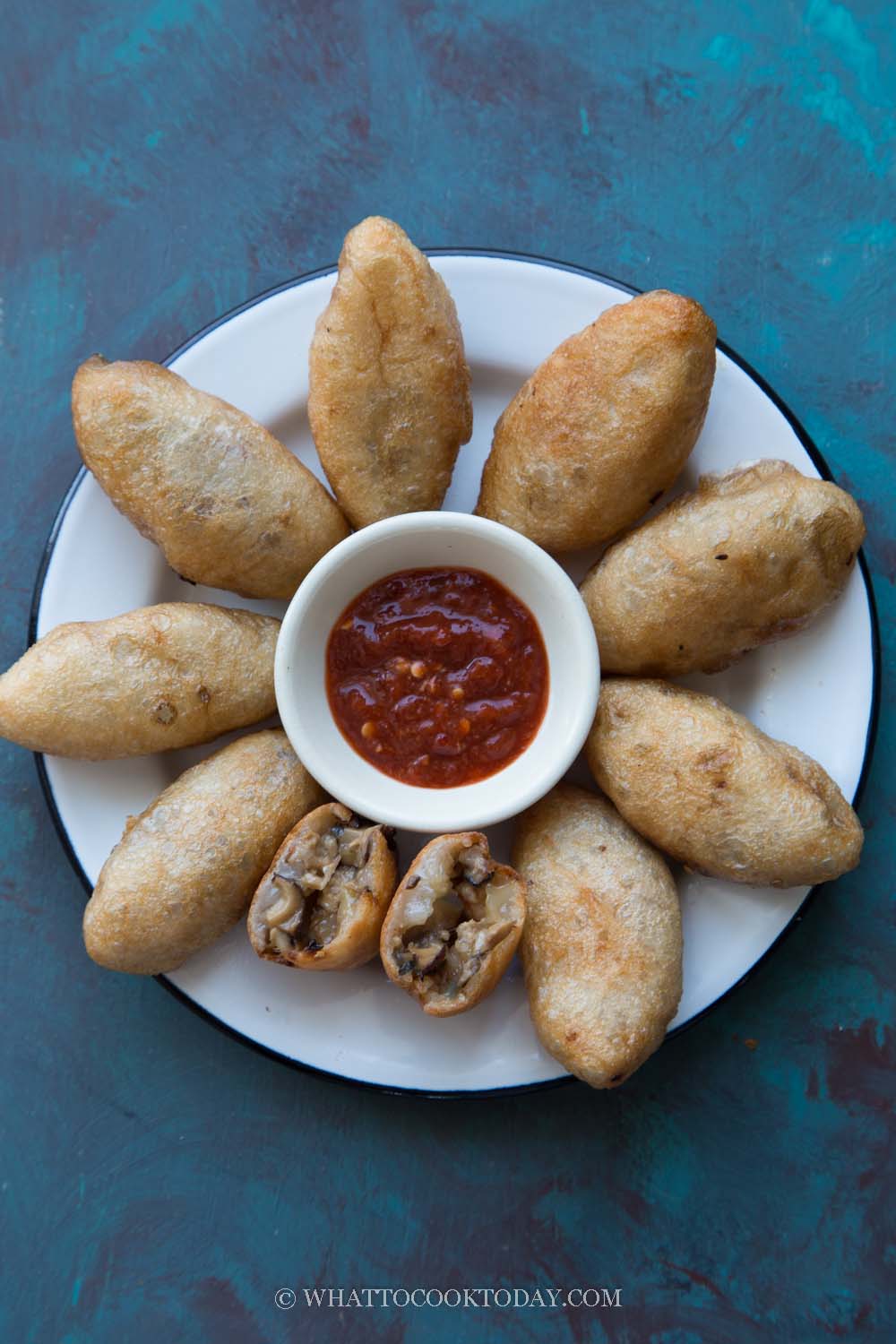 It's been a while since we went for a yum cha. With all the things that are going on now, we hardly ever eat out anymore, if at all. I was kinda missing this one of my favorite dim sum foods, ham sui gok and decided to try making my own. They are not as difficult to make as I thought and experimented with some recipes and I feel like this one turns out very decent actually.
What is ham sui gok?
If you haven't had ham sui gok before, it is basically fried dumplings made with savory minced meat filling enclosed in crispy, soft, and chewy gluten-free dough. It's like eating a fried mochi with savory meat filling 🙂 I love them a lot!
The recipe rundown
Taste: Savory filling with slightly sweet crispy dough. I love the combination
Texture: The dough has a thin layer of crispiness and chewy at the same time, like a mochi 🙂
Level: Medium
Type of flour/starch to use for the dough
The dough is made with two gluten-free flours: glutinous rice flour (mochiko flour) and wheat starch (tang mian)
You CANNOT substitute glutinous rice flour with any other flour starch. Please don't use regular rice flour. It won't work here for sure. I haven't experimented with substituting wheat starch with other starch like cornstarch or potato starch or tapioca starch, so I apologize that I can't tell you what the result is going to be like if you do substitute the wheat starch with other gluten-free starch. If you do substitute and get a good result, I'm all ears too 🙂

How to make ham sui gok from scratch
1. Preheat a large skillet. Add cooking oil. Saute shallots and ginger for about 1 minute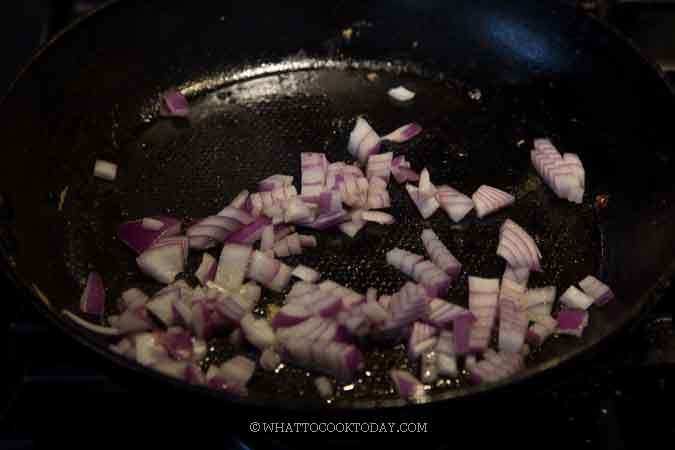 2. Add shiitake mushrooms, dried shrimp, and chye poh and continue to stir fry for another 3 minutes.


3. Add the pork followed by the seasonings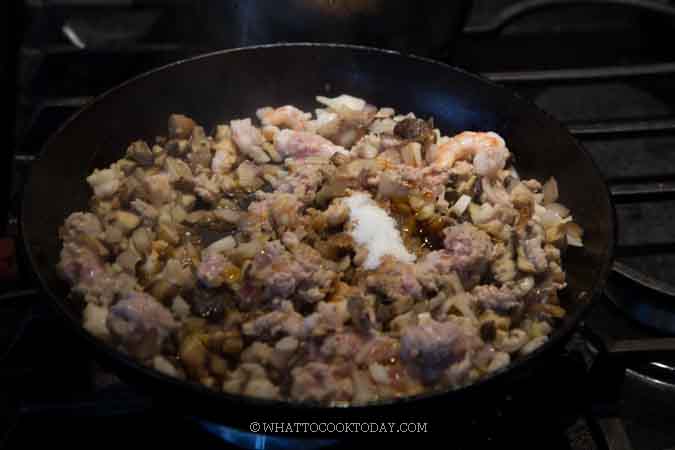 4. Use the cooking spatula to break the meat lumps into pieces. Cook until the meat is cooked through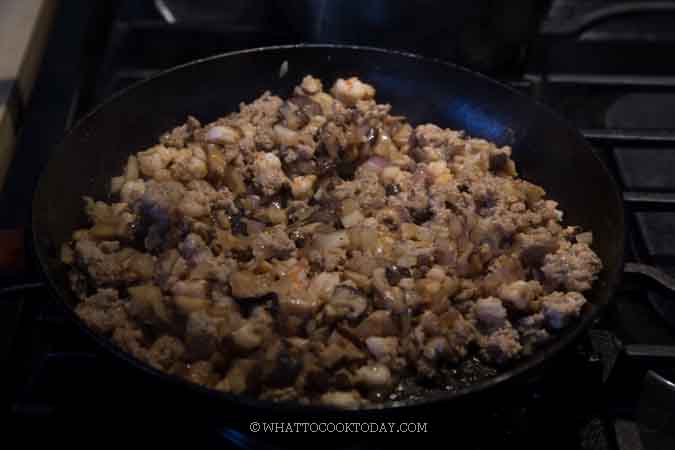 5. Stir the cornstarch with water to make a cornstarch slurry. Pour into the meat mixture and cook until slightly thickened


6. Remove from the heat and let it cools down completely before using. You can also keep it in the fridge once it has cooled down completely until you are ready to use it


7. Put wheat starch (tang mian) in a mixing bowl. Pour a boiling hot water (it has to be boiling hot). Use a spoon to stir and combine


8. Add the sugar, glutinous rice flour, and half of the water and knead the dough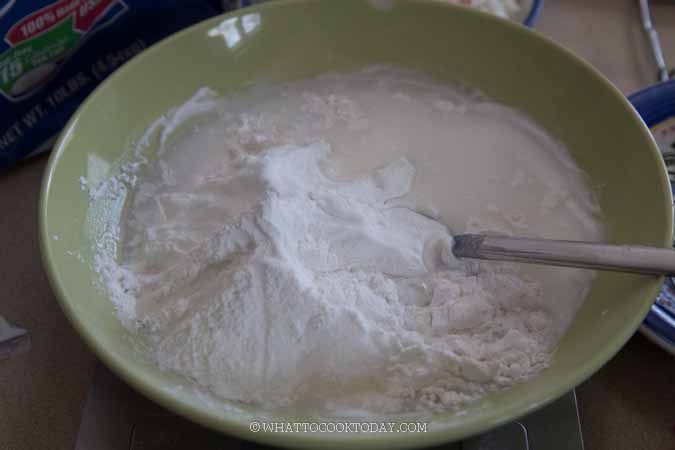 9. Add the water gradually until you can form a rough dough


10. Add the oil and continue to knead into a smooth elastic dough


11. You can roll the dough into a long log and then cut into 24 pieces or you can just divide the dough into 24 equal portion


12. Work with one dough at a time and keep the rest covered to prevent drying. Flatten the dough into about 3-4 inch round and then form into a bowl-like


13. Scoop about 1 Tbsp of filling on the center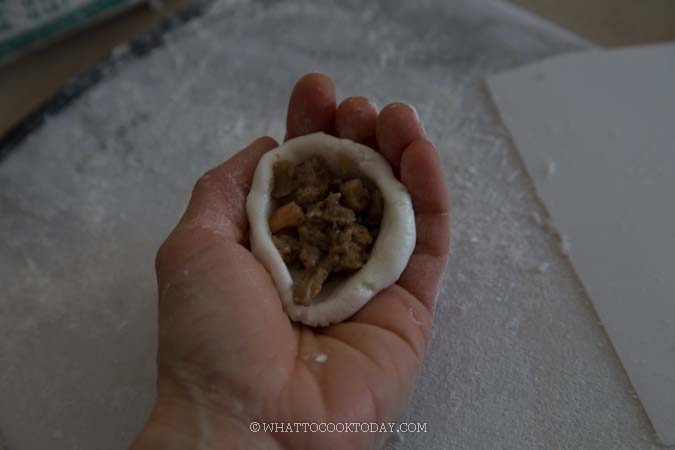 14. Gather both sides and pinch to seal securely on top. They look almost like an oval with slightly pointy ends (like American football).


15. Repeat with the rest and keep them covered in a damp cloth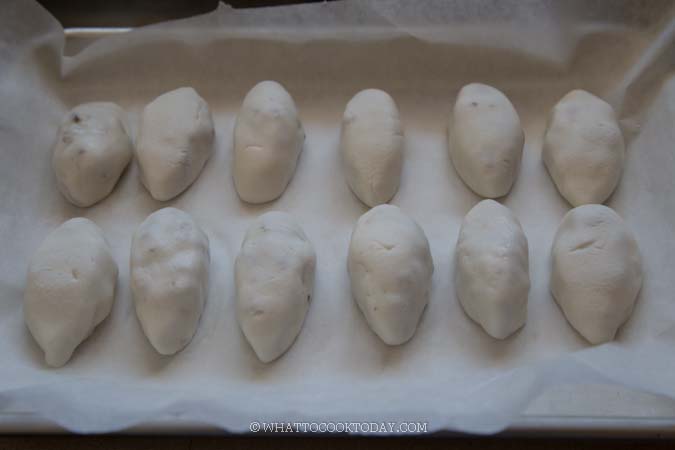 16. Preheat about 2 inches of oil. When you dip a skewer or chopstick into the oil and you see steady bubbles around it, the oil is ready. Try to fry in small batches (3-4 at a time) to avoid the dumplings sticking to each other. They can be quite sticky at first. Fry over medium-low heat to avoid the skin getting too dark (there is sugar in the dough) on the outside but the inside is still not cooked through. You can move the dumplings around as they are frying so they cook evenly and won't stick to each other. Once the dumplings start to float to the top you can increase the heat a little bit and let them fry until lightly golden brown


17. Remove them from the oil into an absorbent paper towel. Repeat with the rest of the dumplings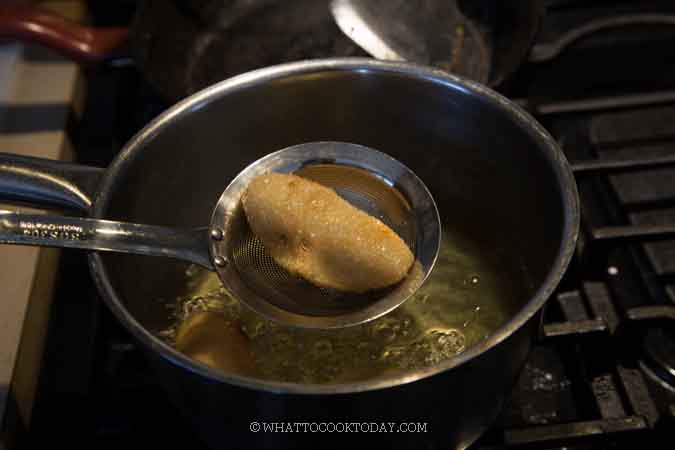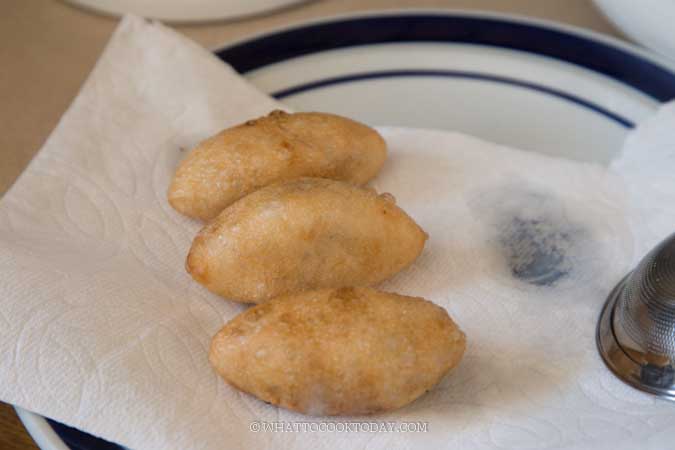 These ham suik gok is best served while they are still warm and crispy. They may lose their crispiness after a while. You can simply re-crisp in the air fryer or in the oven or toaster oven at 350 F for 5 minutes or so. Maybe shorter time in the air fryer.

How to make ahead
1. You can prepare the recipe all the way to before frying the dumplings. Place the shaped dumplings on a baking sheet lined with parchment paper, not touching each other. Put in the freezer for about an hour. Then transfer to a freezer bag, push all the air out, and seal. They won't stick to each other anymore
2. When ready to fry, no need to thaw the dough. Preheat oil and then fry the dumplings over medium-low heat. Please remember that since they are frozen they need longer cooking time to make sure the inside is cooked through. So it is important not to fry over high heat or the dough will get burn on the outside and the inside might still be frozen. Remember to fry over medium-low heat and then take one out and cut open and check before lifting all the dumplings out

Did you make this ham sui gok recipe?
I love it when you guys snap a photo and tag to show me what you've made 🙂 Simply tag me @WhatToCookToday #WhatToCookToday on Instagram and I'll be sure to stop by and take a peek for real!

Ham Sui Gok (Fried Glutinous Rice Dumplings)
Ingredients
Meat filling:
1

large

shallot

diced

1

tsp

ginger

finely chopped

1

Tbsp

cooking oil

plus more for deep frying

20

gr

dried shiitake mushrooms

soak in warm water and diced

30

gr

dried shrimp shrimp

soak in warm water and diced

30

gr

chye poh

soak in water and diced

200

gr

minced pork
Instructions
Prepare the meat filling (can be done the day before):
Combine all ingredients for seasonings and set aside. Preheat a large skillet. Add cooking oil. Saute shallots and ginger for about 1 minute. Add shiitake mushrooms, dried shrimp, and chye poh and continue to stir fry for another 3 minutes. Add the pork followed by the seasonings. Use the cooking spatula to break the meat lumps into pieces. Cook until the meat is cooked through

Stir the cornstarch with water to make a cornstarch slurry. Pour into the meat mixture and cook until slightly thickened. Remove from the heat and let it cools down completely before using. You can also keep it in the fridge once it has cooled down completely until you are ready to use it
Prepare the dough:
Put wheat starch (tang mian) in a mixing bowl. Pour a boiling hot water (it has to be boiling hot). Use a spoon to stir and combine. Add the sugar, glutinous rice flour, and half of the water and knead the dough. Add the water gradually until you can form a rough dough then add the oil and continue to knead into a smooth elastic dough

You can roll the dough into a long log and then cut into 24 pieces or you can just divide the dough into 24 equal portion
Fill and shape:
Work with one dough at a time and keep the rest covered to prevent drying. Flatten the dough into about 3-4 inch round and then form into a bowl-like. Scoop about 1 Tbsp of filling on the center and then gather both sides and pinch to seal securely on top. They look almost like oval with slightly pointy ends (like American football). Repeat with the rest and keep them covered in damp cloth
Frying:
Preheat about 2 inches of oil. When you dip a skewer or chopstick into the oil and you see steady bubbles around it, the oil is ready. Try to fry in small batches (3-4 at a time) to avoid the dumplings sticking to each other. They can be quite sticky at first. Fry over medium-low heat to avoid the skin getting too dark (there is sugar in the dough) on the outside but the inside is still not cooked through. You can move the dumplings around as they are frying so they cook evenly and won't stick to each other. Once the dumplings start to float to the top you can increase the heat a little bit and let them fry until lightly golden brown. Remove from the oil into an absorbent paper towel. Repeat with the rest of the dumplings
Serving:
Serve them while they are still warm
Recommended products:
Nutrition
Serving:
1
piece
|
Calories:
111
kcal
|
Carbohydrates:
15
g
|
Protein:
3
g
|
Fat:
4
g
|
Saturated Fat:
1
g
|
Trans Fat:
1
g
|
Cholesterol:
20
mg
|
Sodium:
144
mg
|
Potassium:
84
mg
|
Fiber:
1
g
|
Sugar:
4
g
|
Vitamin A:
1
IU
|
Vitamin C:
1
mg
|
Calcium:
11
mg
|
Iron:
1
mg