Soft and melt-in-mouth cookies with their nice distinct milky flavor are shaped into round balls and coated with icing sugar are popular celebration cookies in Malaysia and Singapore. This recipe is simple to make and eggless.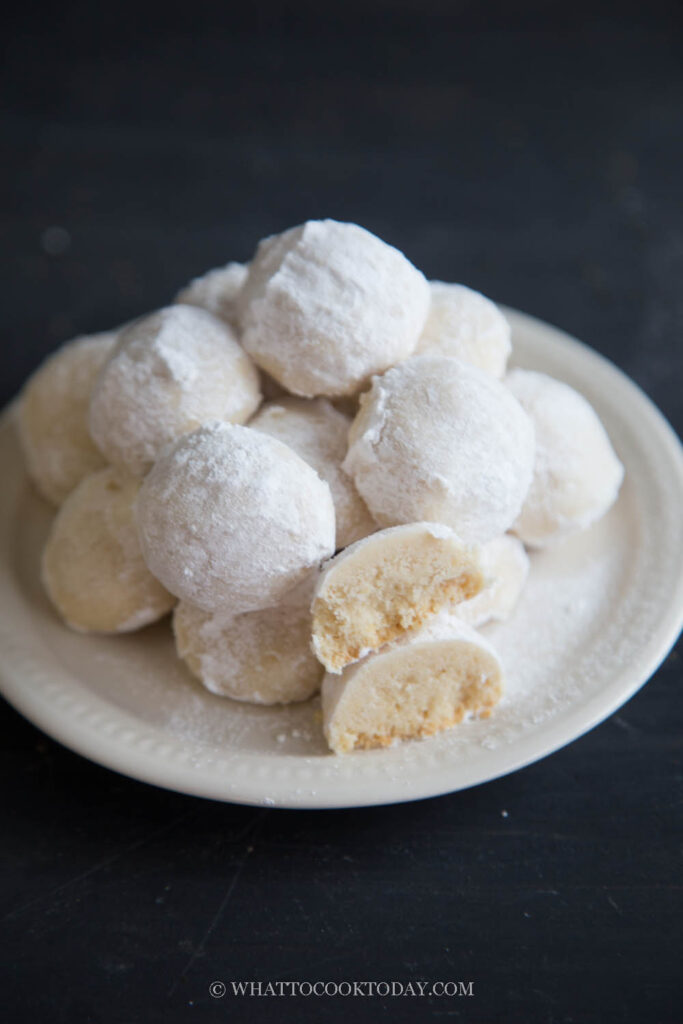 What is kuih momo?
Kuih momo/Biskut Arab susu is originated in Sarawak. They are also known as Kuih Mor in Brunei. They are made with flour, milk powder, icing sugar, ghee/butter. The dough is then rolled into balls and then baked and coated with icing sugar. They are white in color and hence the name snowball cookies.
Why you'll like this recipe
1. You only need 5 ingredients: cake flour, ghee/butter, milk powder, icing sugar, and salt
2. The recipe is eggless
3. You don't need to precook the flour but the cookies still give that melt-in-your-mouth texture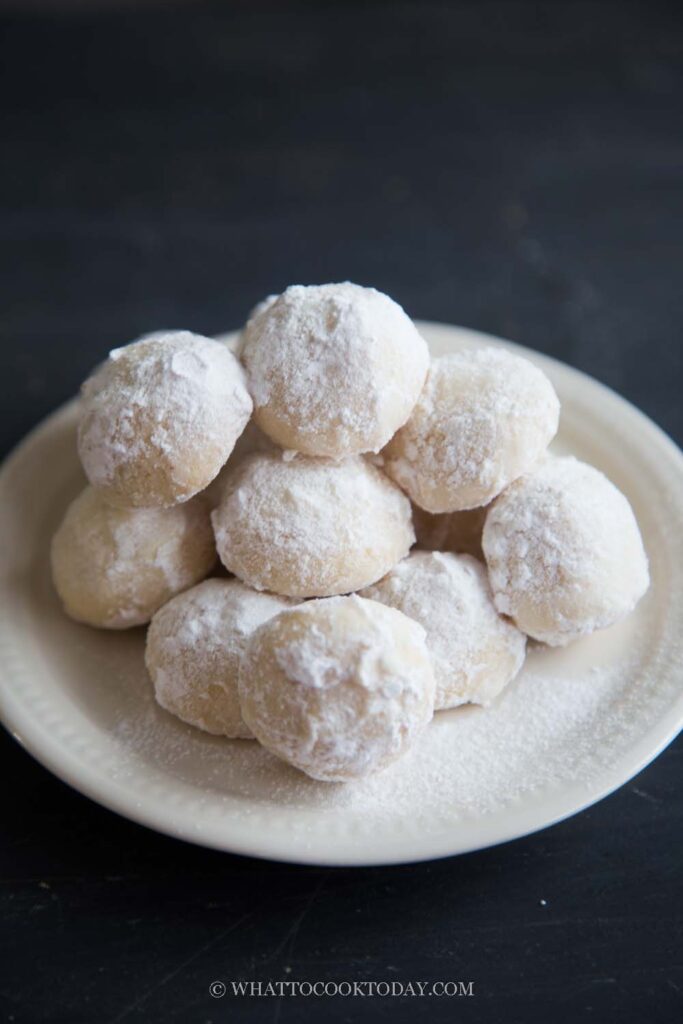 Ingredients
1. Cake flour
It's important that you use cake flour, which is low in gluten. Most recipe for kuih momo requires that you stir-fry the flour. By using cake flour, you will still get that melt-in-mouth texture
2. Ghee/butter
You can use either one. I use unsalted butter
3. Milk powder
I use non-fat milk powder because that's what is available. It is not common to find full-fat milk powder here in the U.S. But the substitution still gives good result
4. Icing sugar
It is also known as powdered sugar or confectioner's sugar
5. Salt
A small pinch of salt really rounds up the overall taste very well
How to make kuih momo Sarawak (Eggless recipe)
1. Please make sure the butter and ghee are soft but not melting
2. Combine all ingredients for the dough. Rub the butter/ghee with the flour to resemble a wet sand texture and keep combining until you can get a dough that won't crumble. If the dough is too dry, add more ghee/butter so you can form a dough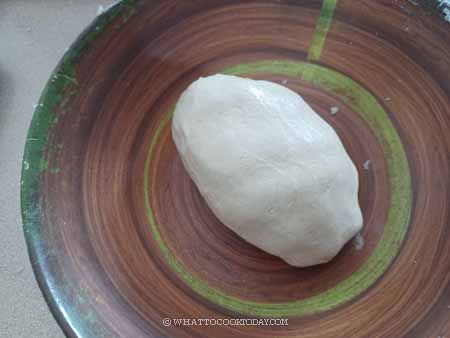 3. Preheat the oven to 300 F (150 C) for a conventional oven and 285 F (140 C) for a convection oven. Divide the dough into about 8-10 grams each and roll into a round ball. Put on a baking sheet lined with parchment paper, about 1/2 inch apart. The cookies will expand slightly but not much. If you have a problem with the cookie spreading and melting during baking, chill the cookies for 1 hour in the fridge before baking

4. Bake in a preheated oven, middle rack, for 15 minutes. The cookies won't brown much and just lightly golden brown at the bottom. Let them cool down on the pan for 5 minutes. They are very fragile so you don't want to handle them when they are just out of the oven. While the cookies are baking, put the milk powder in a food processor or coffee grinder to grind them up into fine texture. Combine with the icing sugar and set aside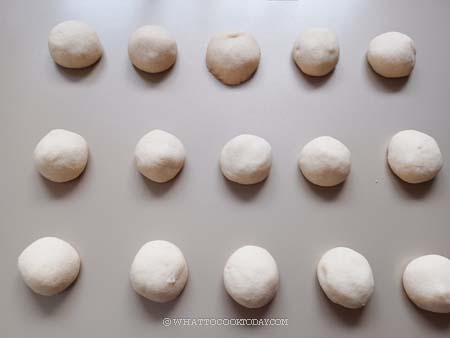 5. Coat each cookie in the sugar and milk powder mixture and then put on a cooling rack to let them cool down completely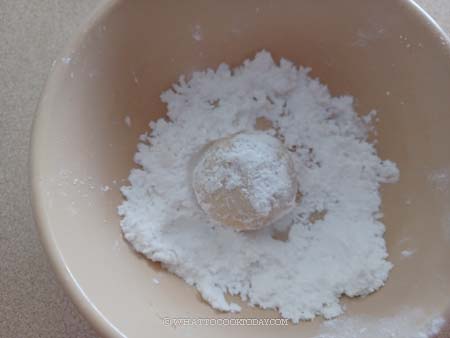 6. Let the cookies cool down completely and then store them in an air-tight container for 2-3 weeks
Can I make vegan kuih momo?
I have tried making this using coconut oil with some success too. Start with the same amount of coconut oil, softened or vegan ghee. I haven't tried with vegan ghee however. You may need more to get the dough to come together. Instead of milk powder, you can use coconut milk powder, which is available at Asian grocery store.
You may also like this Kuih makmur (Malay peanut pastry)
Did you make this kuih momo recipe?
I love it when you guys snap a photo and tag it to show me what you've made. Simply tag me @WhatToCookToday #WhatToCookToday on Instagram and I'll be sure to stop by and take a peek for real!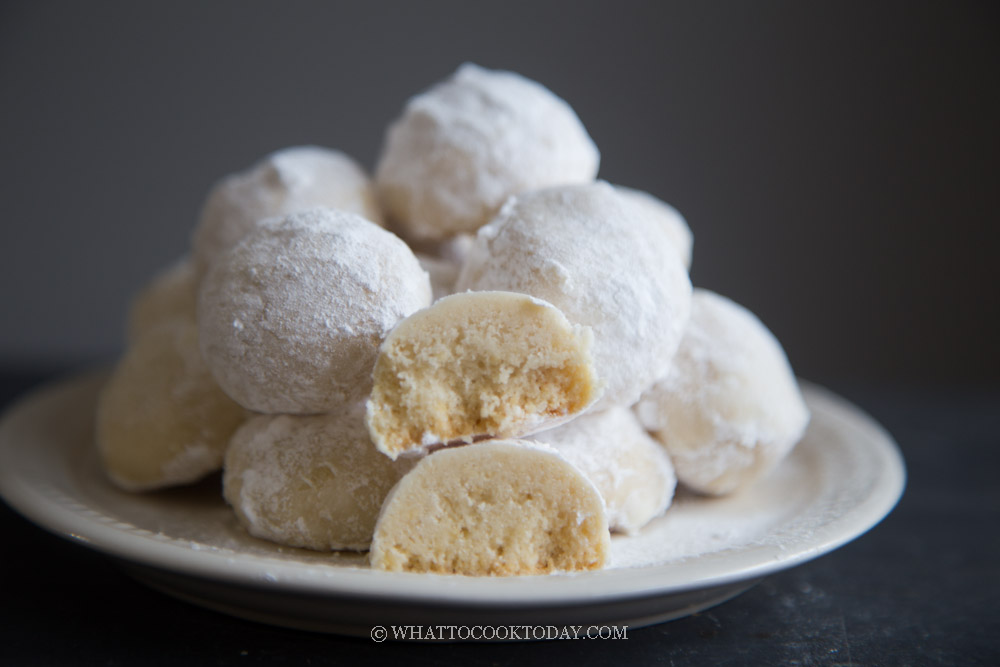 Kuih Momo Sarawak/ Biskut Arab Susu (Snowball Cookies)
Instructions
Prepare the dough:
Please make sure the butter and ghee are soft but not melting

Combine all ingredients for the dough. Rub the butter/ghee with the flour to resemble a wet sand texture and keep combining until you can get a dough that won't crumble. If the dough is too dry, add more ghee/butter until you can form a dough
Shaping:
Preheat the oven to 300 F (150 C) for a conventional oven and 285 F (140 C) for a convection oven

Divide the dough into about 8-10 grams each and roll into a round ball. Put on a baking sheet lined with parchment paper, about 1/2 inch apart. The cookies will expand slightly but not much

If you have a problem with the cookie spreading and melting during baking, chill the cookies for 1 hour in the fridge before baking
Baking:
Bake in a preheated oven, middle rack, for 15 minutes. The cookies won't brown much and just lightly golden brown at the bottom. Let them cool down on the pan for 5 minutes. They are very fragile so you don't want to handle them when they are just out of the oven

While the cookies are baking, put the milk powder in a food processor or coffee grinder to grind them up into fine texture. Combine with the icing sugar and set aside

Coat each cookie in the sugar and milk powder mixture and then put on a cooling rack to let them cool down completely
Storing:
Let the cookies cool down completely and then store them in an air-tight container for 2-3 weeks
Recommended products:
Nutrition
Serving:
1
cookie
|
Calories:
53
kcal
|
Carbohydrates:
6
g
|
Protein:
1
g
|
Fat:
3
g
|
Saturated Fat:
2
g
|
Polyunsaturated Fat:
0.1
g
|
Monounsaturated Fat:
1
g
|
Trans Fat:
0.1
g
|
Cholesterol:
7
mg
|
Sodium:
24
mg
|
Potassium:
32
mg
|
Fiber:
0.1
g
|
Sugar:
3
g
|
Vitamin A:
82
IU
|
Vitamin C:
0.2
mg
|
Calcium:
20
mg
|
Iron:
0.1
mg