Try this humble yet satisfying traditional kue lemet ubi kayu/singkong made with cassava/tapioca wrapped in banana leaves and then steamed. I'm sharing with you the easy version to make this cake. It is naturally gluten-free, dairy-free, and vegan.


We love our kue/kueh in Southeast Asia. I remember my grandma used to make this cake quite a bit. Cassava root is one of the cheap ingredients in Asia and it's being used in many sweet or savory recipes. They are filling (mainly carbs) and easy to grow in tropical countries. This lemet singkong is one of my favorites kue. It's so simple with just a few ingredients, yet it never fails to satisfy that craving for something sweet but not overly done.
INGREDIENTS
1. Grated cassava
It saves lots of work if you can get a hold of already-greated cassava. Usually it's in frozen form and available in the freezer section at pretty much any Asian grocery store
2. Grated unsweetened coconut
This usually also comes in frozen form and available in the freezer section at any Asian grocery store
3. Palm sugar (or use coconut sugar)
We call this gula Jawa in Indonesia. You can substitute palm sugar with light/dark brown sugar if you don't have palm sugar. I use coconut sugar and this is widely available at any major grocery stores these days
4. White sugar
The recipe only calls for a small amount of white sugar to add a little sweetness. Palm sugar or coconut sugar is not very sweet
5. Tapioca starch
Tapioca starch is added to help bind the mixture and also to add that extra chewiness texture to the kue lemet
6. Salt
A little bit of salt goes a long way and it brings out the flavor of everything
HOW TO MAKE LEPAT /LEMET SINGKONG
1. Cut the banana leaves into about 20×10 cm pieces


2. If you use frozen grated cassava, like I did, thaw it and squeeze out any excess liquid before proceeding with recipe. Put all ingredients, except for banana leaves, in a mixing bowl.


3. Stir to mix everything. It will be a wet mixture but not wet enough to form a dough (you can watch the video).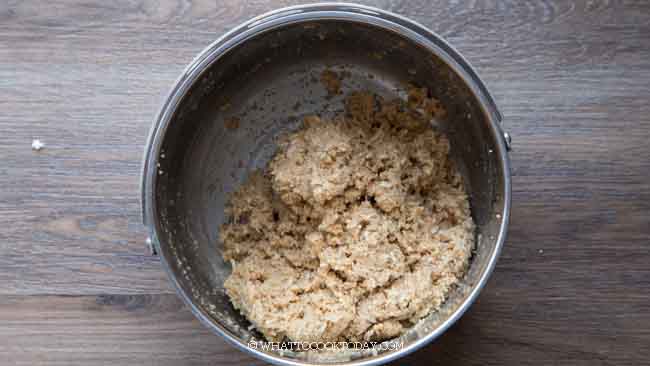 4. Scoop about 2-3 Tbsp of the mixture on the banana leaves.


5. Fold the leaf over like wrapping a parcel. Continue until you run out of the cassava mixture


6. Place them in a steamer and steam for 20-30 minutes or until the kue is cooked through


7. Check for doneness. If you open it, it will not fall apart. It has a nice firm bouncy texture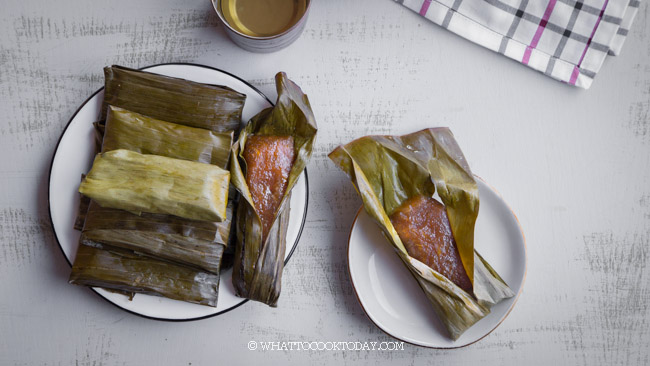 CAN I MAKE LEMET WITHOUT BANANA LEAVES?
Of course you can. You can simply press them into a pan lined with a parchment paper and then steam. Simply cut them into pieces when ready to serve
HOW TO STORE LEMET SINGKONG
REFRIGERATOR: Cooked lemet can be kept in the refrigerator for up to one week max
FREEZER: Let the cooked lemet cools down completely and then transfer to freezer bag, push out the bag and seal the bag. Consume within 3 months to avoid freezer burn

HOW TO REHEAT LEMET SINGKONG
STEAMER: Place them in the steamer and steam for 3-5 minutes or until heated through. If they are frozen, steam for 10 minutes or until heated through
MICROWAVE: Microwave them on a one-minute increment until heated through

DID YOU MAKE THIS EASY LEMET/ KETIMUS SINGKONG RECIPE?
I love it when you guys snap a photo and tag to show me what you've made 🙂 Simply tag me @WhatToCookToday #WhatToCookToday on Instagram and I'll be sure to stop by and take a peek for real!

Lepat Ubi Kayu / Lemet /Ketimus Singkong (Steamed Cassava Cake)
Ingredients
500

gr

grated cassava

thaw if frozen

100

gr

grated unsweetened coconut

thaw if frozen

200

gr

palm sugar

or use coconut sugar (color will be much darker)

15

gr

sugar

15

gr

tapioca starch

½

tsp

salt
For wrapping:
Banana leaves

Thaw if frozen
Instructions
If using banana leaves:
I can only get frozen banana leaves. Thaw it and wipe it clean with a damp cloth. Cut into about 8 pieces of 20 x 10 cm leaves. Set aside
Fresh or frozen cassava:
If you use fresh cassava root, peel off the skin and get 500 grams of cassava. Grate the cassava with a grater

If you use frozen grated cassava, like I did, thaw it and squeeze out any excess liquid before proceeding with recipe
Mixing and wrapping:
Bring water in the steamer to a boil. Put all ingredients, except for banana leaves, in a mixing bowl. Stir to mix everything. It will be a wet mixture but not wet enough to form a dough (you can watch the video)

Scoop about 2-3 Tbsp of the mixture on the banana leaves. Fold the leaf over like wrapping a parcel. Continue until you run out of the cassava mixture
If you use a steamer:
Place them in a steamer and steam for 20-30 minutes or until the kue is cooked through. If you open it, it will not fall apart
If you use pressure cooker to cook:
Pour 1 cup of water in the inner pot. Put a steamer rack in. Place the lemet in there. It's okay to stack them up. Pressure cook on high pressure for 5 minutes and then release pressure immediately
Serving:
Let them cool down before serving. They will firm up further as they cool down
Recommended products: