Sambal terasi / sambal belacan is one of the quintessential condiments or ingredients in Southeast Asia. It is perfect to serve on the side or to use it as an ingredient in cooking. It is spicy and packs with umami flavor.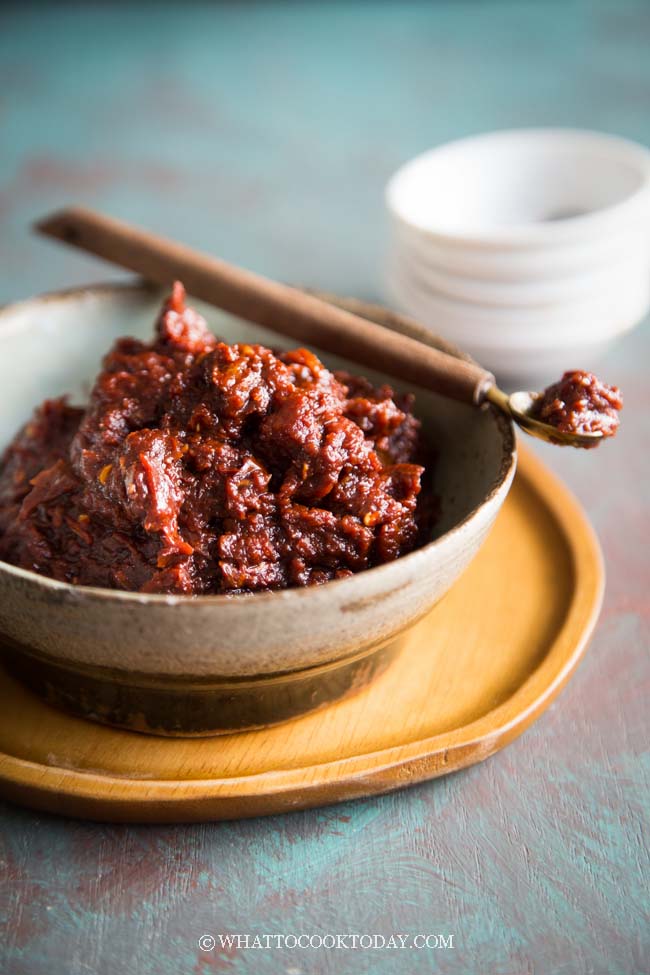 Sambal terasi or known as sambal belacan in Malaysia and Singapore gets lots of love. For folks who enjoy eating spicy sambal (I'm one of them), it's a joy to have sambal terasi (or anykind of sambal really!) with a meal.
WHAT IS SAMBAL TERASI
Basically a basic spicy chili sauce (sambal) made with red chilies, shallots, garlic, tomatoes are mixed with terasi for an extra punch of flavor.
SAMBAL TERASI MENTAH AND SAMBAL TERASI MATANG
In Indonesia, sambal terasi can be raw (mentah) or cooked (matang). The version I'm sharing here is the cooked version.
The raw version will not keep for long and is meant to be consumed on the same day it is prepared. The cooked version can be made in bigger batch and keep in the fridge for weeks or months in the freezer.
LET'S TALK TERASI / BELACAN (SHRIMP PASTE)
Like many Asian ingredients that we clasified as "umami", terasi has a strong pungent aroma. For those who are not familiar with it will think that this thing is spoiled or rotten! ha..ha..! It is made with small tiny shrimp that is fermented and hence that pungent aroma. There are so many varieties of shrimp paste across Asia. They comes in different forms and different colors. Terasi usually comes in a dry block form in Indonesia. It's hard for me to find terasi here and it is only available in select Asian grocery stores. In Indonesia, terasi is usually toasted over open fire or dry fry on a pan to make it really fragrant. The same thing with other varieties of shrimp paste, if you pre-cook it by stir-frying, it will actually kick it up a notch.

SUBSTITUTE FOR TERASI OR BELACAN
If you can't find Indonesian style terasi or Malaysian or Singapore style belacan, you can use other variety as the flavor is pretty close. I usually use the Vietnamese or Thai version of shrimp paste or sometimes the Chinese shrimp paste.
HOW TO USE SAMBAL TERASI
AS A CONDIMENT
I'm just listing a few example here, but basically it goes well with anything grilled or fried.
Tahu and Tempeh Bacem
Ayam Ungkep
Ayam Penyet
Ayam Goreng Kremes (Indonesian Fried Chicken with Crunchy Bits)
Ayam Goreng Kalasan
https://whattocooktoday.com/ayam-panggang-bumbu-kecap.html
AS AN INGREDIENT IN COOKING
Sambal terasi can also be used as an ingredients in many stir-fry for veggies, noodles, rice. Sky is the limit. You want it, you add it 🙂
DID YOU MAKE THIS EASY SAMBAL TERASI/ BELACAN RECIPE?
I love it when you guys snap a photo and tag to show me what you've made 🙂 Simply tag me @WhatToCookToday #WhatToCookToday on Instagram and I'll be sure to stop by and take a peek for real!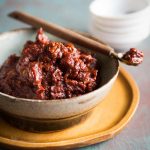 How To Make Sambal Terasi / Belacan (Fried Shrimp Paste Sambal)
Ingredients
100

gr

red chilies

you can use any varieties. See notes

5

Thai chilies

optional (to add spicyness)

5

shallots

peeled and roughly chopped, you can use small purple onion too

3

cloves

garlic

halved

2

tsp

shrimp paste or use terasi or belacan if it's available

1

large

tomato

quartered

3

Tbsp

cooking oil
Seasonings:
2

tsp

palm sugar

or use coconut sugar or brown sugar

Salt to taste
Instructions
If you use terasi:
Terasi usually comes in a block. Cut the terasi into smaller pieces. Toast the terasi on a dry pan until fragrant, about 5 minutes or so
If you use dried chilies:
Soak the dried chilies in hot water until soft
Stir fry to enchance flavor:
Preheat cooking oil in a pan. Add all the ingredients and stir fry for until the shallots are soft, about 5 minutes or so
Grind or "ulek" the pre-fried sambal:
Transfer this to a food processor and blend into a paste. If you use cobekan, ulek until they are fine
Stir fry again:
Return this to the pan and stir fry again until the mixture is dry and shiny. The color will turn darker too. The longer you stir fry, the longer it will last
Storing:
Let sambal terasi cools down completely. Store this in a sterilized container and it can keep for maximum of 2 weeks in the fridge

For longer storage, I recommend portioning them into about 1 Tbsp portion and place them on a parchment paper and freeze them for about 1 hour or so. Then transfer to a freezer bag or container. So whenever you need sambal terasi, you can just take whatever much you need. You can also portion them by using ice cube trays too
Notes
You can also use premade chili like this. If you are using dried chilies, make sure you soak them in warm water until soft and proceed with recipe. I used red jalapeno peppers.