Soft, wobbly, and creamy mango pudding with an amazing aroma of mango is a perfect dessert that feels light and luscious at the same time. The mango pudding is very easy to put together and no cooking is needed.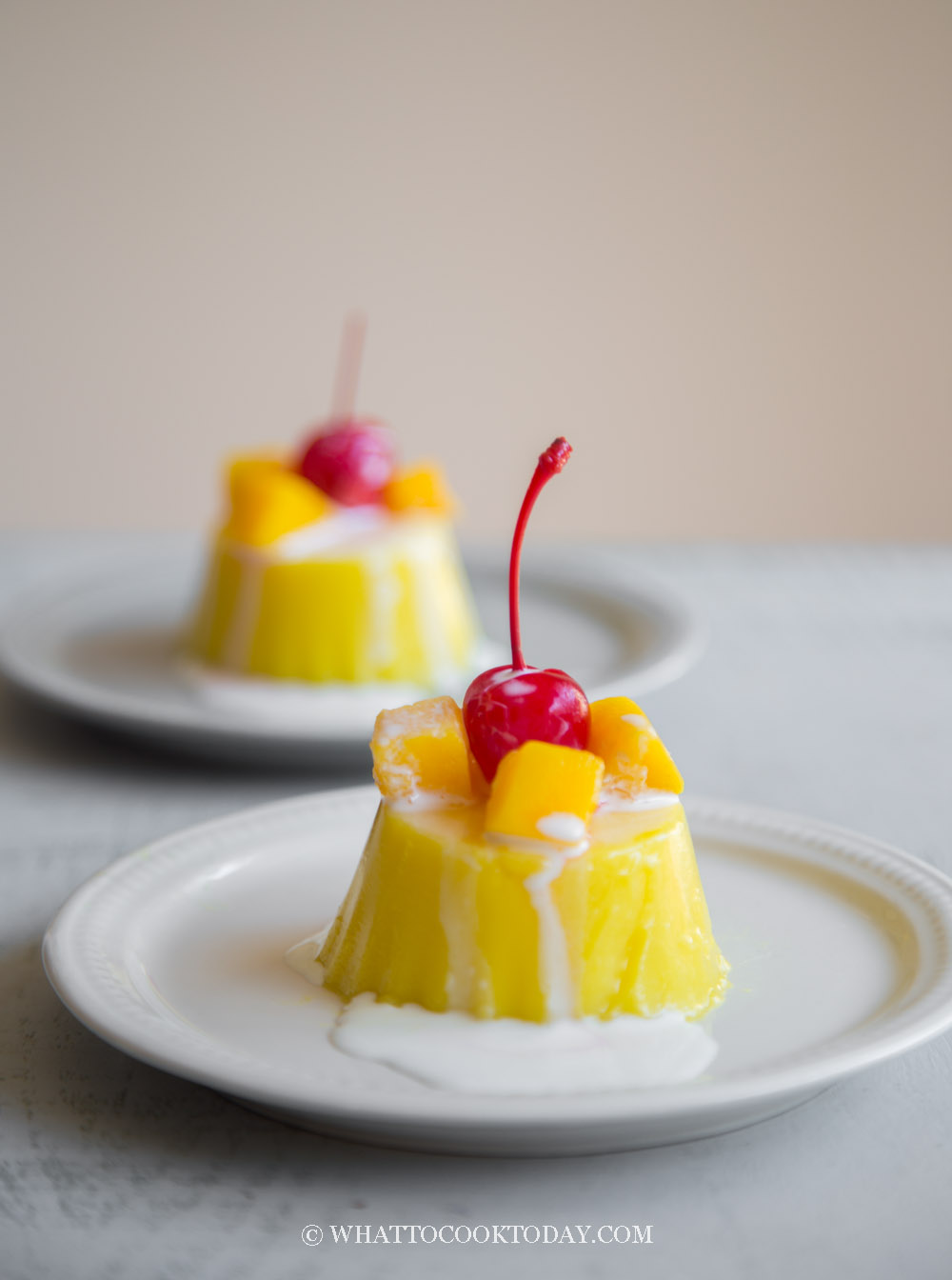 Mango pudding is one of the popular dessert served at dim sum restaurant. It is perfectly light, yet luscious at the same time, It is packed with lots of mango flavor (from fresh mango fruits, not extract!). The texture is soft and wobbly. It melts in your mouth! How can something so simple tastes so good you would wonder!
Why you'll like this recipe
1. Easy
The recipe is no-fuss. You don't have to turn on the stove to make this. Well, maybe to boil some water if you don't have some already. We have a hot water dispenser so literally it's a no-cook for me
2. Amazing texture
I love pudding made with gelatin because it can really gives you that wobbly jiggly texture.
3. Pack with lots of mango flavor
My kids love the maximum mango flavor in this pudding. It's important to choose good-quality mango that has really ripen for that natural sweetness and aroma
Ingredients
1. Mango
Use very ripe mango for puree for the best result. To use as topping, choose mango that is ripe but not overly ripe that it's mushy and you can't dice it. If you can get a hold of mangoes from the Phillipines or India, go for them! They are the best, especially the latter!
2. Gelatin
I used powdered gelatin
3. Evaporated milk
You can also substitute evaporated milk with half and half
4. Whole milk
I strongly suggest to use whole milk for the richness, but you are welcome to use low-fat milk too
5. Sugar
I use granulated sugar. The amount of sugar usually depends on how sweet your mango is too
How to make easy Hong Kong mango pudding
1. Combine sugar and gelatin powder. Pour the hot water in and keep stirring until dissolves. Set aside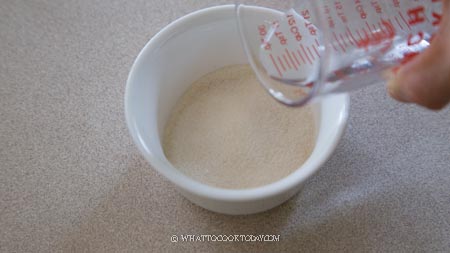 2. Combine mango, evaporated milk, milk in a blender or a food processor and blend until smooth. Alternatively, you can also use a hand blender to puree the mango and then combine with milk and evaporated milk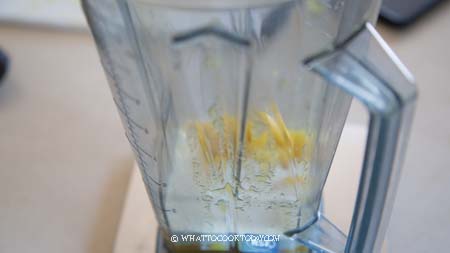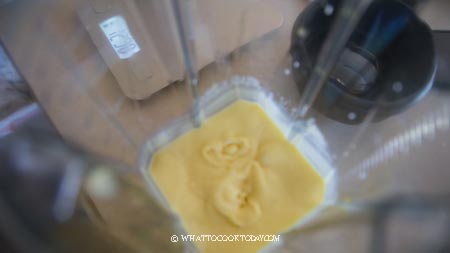 3. Strain the mixture to make sure it's smooth. Stir in the melted gelatin mixture and stir to combine


4. I use silicone cup molds, so I don't need to coat the cups with some oil. If you use ceramic cups, I recommend lightly oiling them for easier release if you plan to unmold the pudding. If you going to eat straight from the cup, don't worry about oiling the cups. Transfer the pudding mixture into a spouted cup for easier pouring if you have one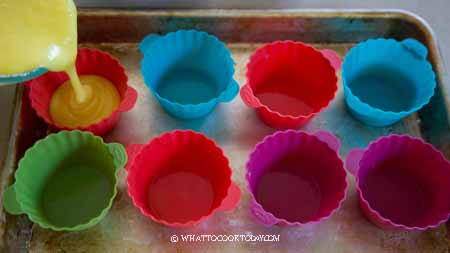 5. Ladle or pour the pudding mixture into the cups you use. Pop any bubbles and smooth the surface using a toothpick to stir. Chill in the fridge for at least 4 hours or overnight for the best result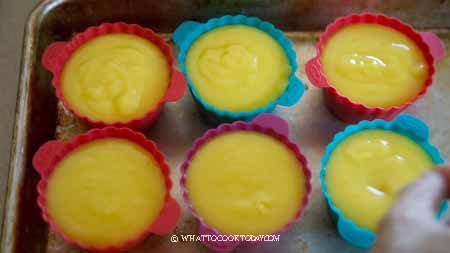 6. Cut some mango into cubes. Unmold the pudding onto a plate if you choose to do so, otherwise, it can be served in a cup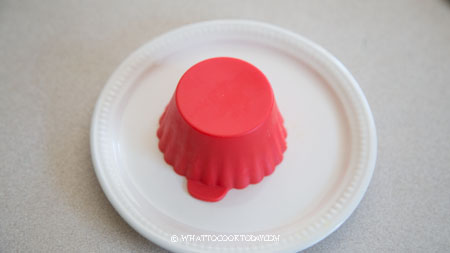 7. Top with some mango cubes. Drizzle with more evaporated milk if you want

How to store
Keep them in an air-tight container for about 5 days in the refrigerator. I do not recommend freezing as the texture will change.
Did you make this easy Hong Kong mango pudding recipe?
I love it when you guys snap a photo and tag to show me what you've made 🙂 Simply tag me @WhatToCookToday #WhatToCookToday on Instagram and I'll be sure to stop by and take a peek for real!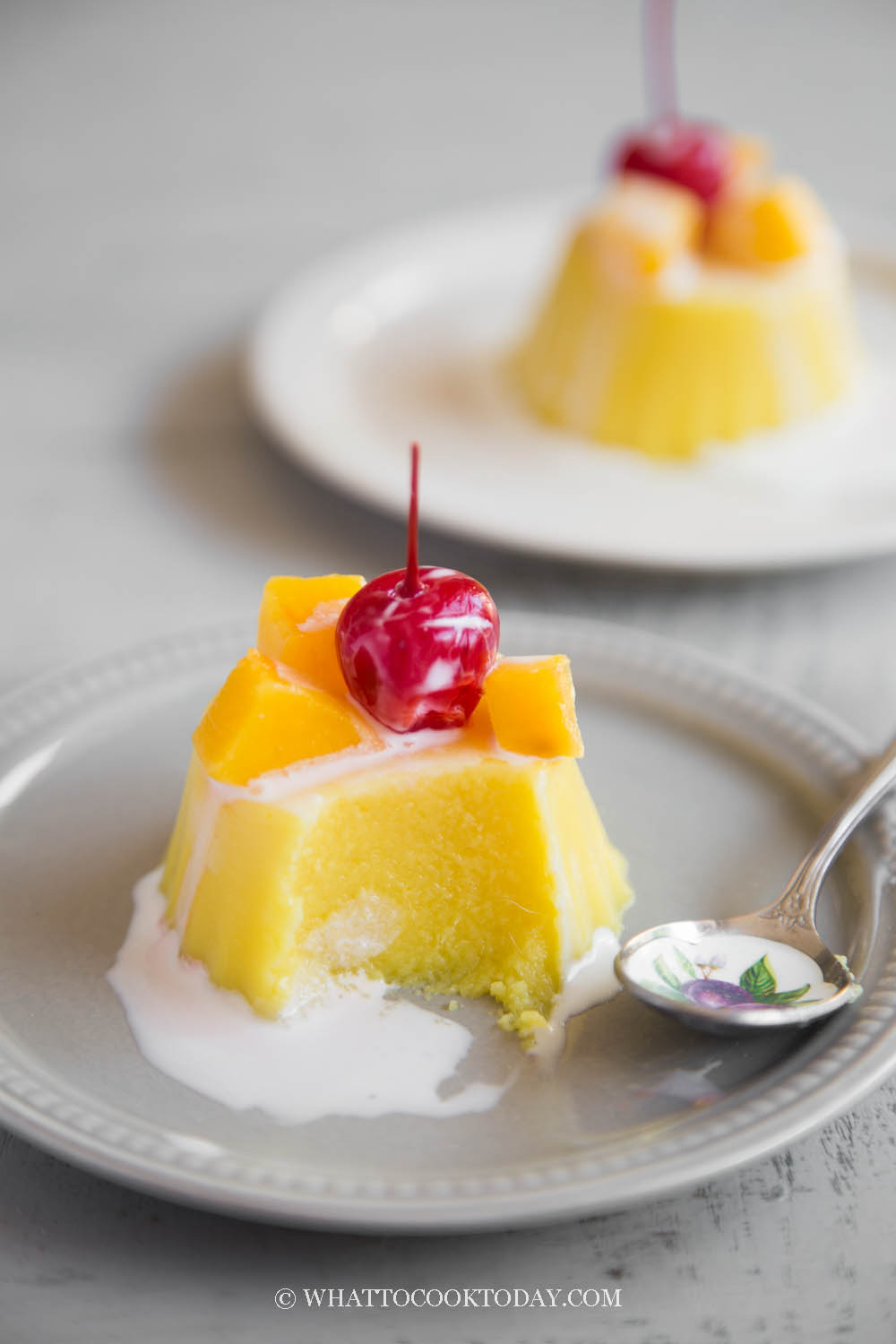 Hong Kong Mango Pudding
Ingredients
For the pudding:
250

gram

peeled ripe mango

15

g

gelatine powder

150

ml

hot water

70

g

sugar

150

ml

evaporated milk

or use half and half

200

ml

whole milk
Serve with: (optional)
200

gr

peeled ripe mango

Evaporated milk
Instructions
Prepare the pudding:
Combine sugar and gelatin powder. Pour the hot water in and keep stirring until dissolves. Set aside

Combine mango, evaporated milk, milk in a blender or a food processor and blend until smooth. Alternatively, you can also use a hand blender to puree the mango and then combine with milk and evaporated milk. Strain the mixture to make sure it's smooth. Stir in the melted gelatin mixture and stir to combine

I use silicone cup molds, so I don't need to coat the cups with some oil. If you use ceramic cups, I recommend lightly oiling them for easier release if you plan to unmold the pudding. If you going to eat straight from the cup, don't worry about oiling the cups. Transfer the pudding mixture into a spouted cup for easier pouring if you have one
Chilling:
Ladle or pour the pudding mixture into the cups you use. Chill in the fridge for at least 4 hours or overnight for the best result
Serving:
Cut some mango into cubes. Unmold the pudding into a plate if you choose to do so, otherwise, it can be served in a cup. Top with some mango cubes. Drizzle with more evaporated milk if you want
Nutrition
Serving:
1
serving
|
Calories:
233
kcal
|
Carbohydrates:
41
g
|
Protein:
9
g
|
Fat:
5
g
|
Saturated Fat:
3
g
|
Polyunsaturated Fat:
1
g
|
Monounsaturated Fat:
1
g
|
Cholesterol:
18
mg
|
Sodium:
71
mg
|
Potassium:
390
mg
|
Fiber:
2
g
|
Sugar:
39
g
|
Vitamin A:
1398
IU
|
Vitamin C:
42
mg
|
Calcium:
184
mg
|
Iron:
1
mg