Milo-flavored jelly cubes and sago/tapioca pearls are served in a creamy milo drink and ice cubes make a wonderful refreshing easy summer dessert/beverage.


With Summer just around the corner, I couldn't help but think of refreshing cold beverages or desserts. Milo was once part of my childhood. I think most Asian kids who live in Asia, would know Milo. Drinking cow's milk for breakfast was not common at the time when I was a kid. Cow's milk was expensive back in my days. Milo or sometimes Ovaltine or Horlicks was what my mom would prepare us for breakfast.
This chocolate-flavored malted milk drink can be served warmed or chilled.
What is Milo jelly sago dessert/drink?
I'm not sure whether to call it a dessert or a drink. Some even call it a Milo jelly sago salad. I supposed depends on the consistency. I made it more like a beverage consistency and not thick and creamy enough to be called a salad. This milo jelly sago dessert is popular in the Philippines. It has made its way to Indonesia a few years ago and is gaining popularity
Ingredients
1. Milo powder
You can also use other malted drink such as Ovaltine and Horlicks.The taste will be different, but as long as you like, that's all matters
2. Agar agar
I use agar agar powder
3. Evaporated milk
If you can't find evaporated milk, you can also just use regular whole milk, half and half, or other non-dairy milk
4. Whole milk
You can also use non-dairy milk such as soybean milk, almond milk, etc. Just know that the taste won't be the same, but it should be still pretty good
5. Condensed milk
The condensed milk provides the sweetness and nice aroma here. You can also use full-fat coconut milk or use evaporated milk and adjust with adding more sugar to your taste
6. Granulated sugar
The sugar is used to sweeten the Milo jelly
7. Young coconut meat
Young coconut meat is tender and yummy. You can use fresh coconut meat from young coconut or get the frozen version from Asian grocery store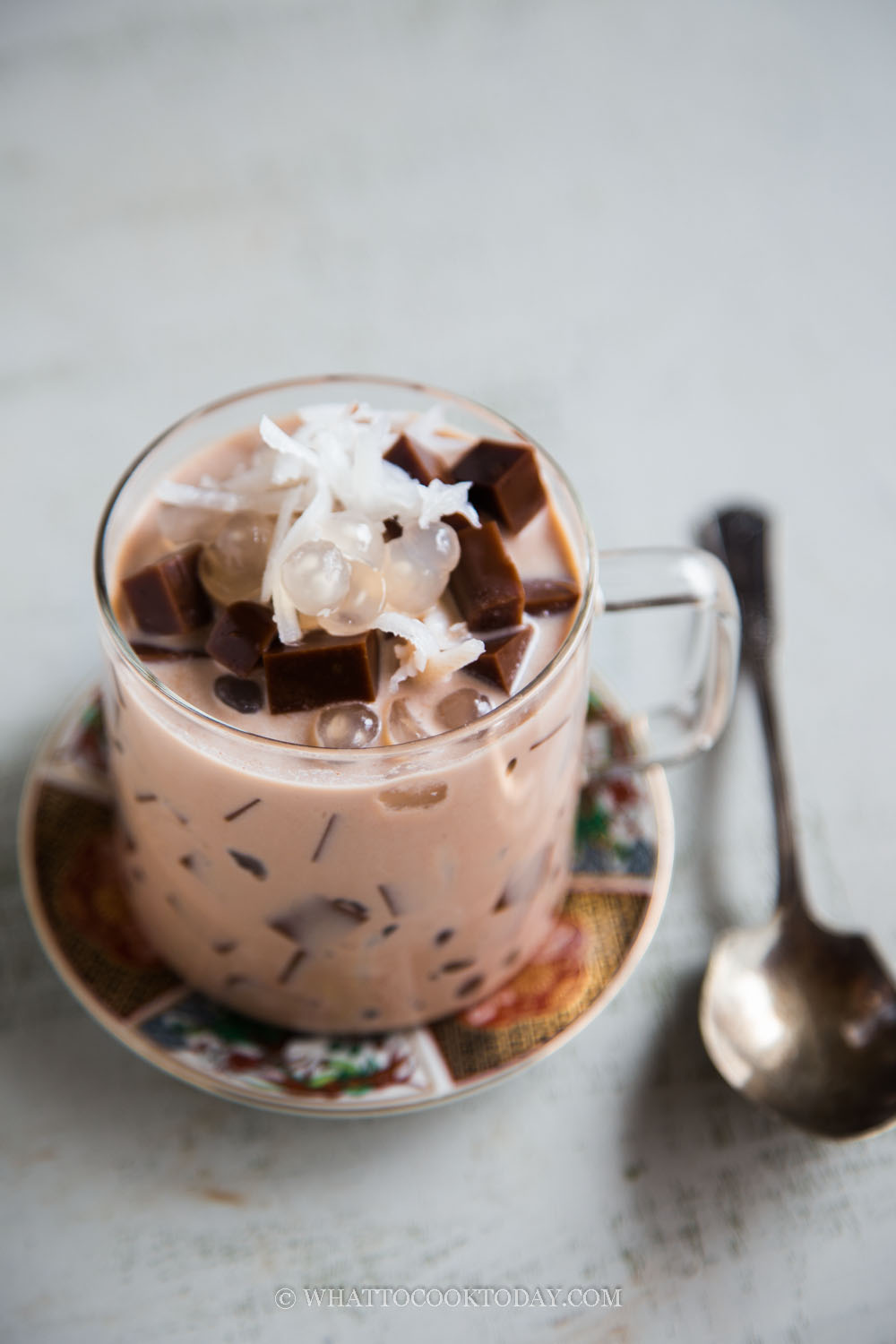 How to make Milo jelly sago dessert/drink
1. In a saucepan, whisk milo powder, sugar, cocoa powder, and agar agar powder to combine


2. Add water and whisk to combine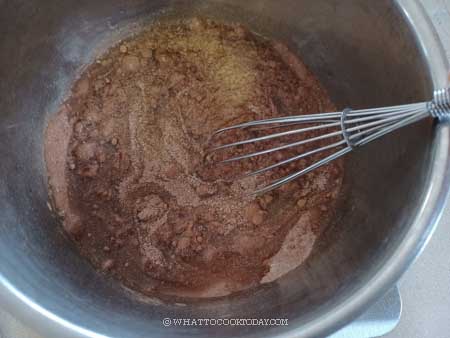 3. Put the pan on the stove over medium heat and continue to whisk. Cook until it comes to a simmer and let it cook until you no longer see specks of agar agar powder, about 5 minutes. The agar agar powder needs to be dissolves so the jelly will set properly


4. Remove from the heat and pour into a container. I pour it into two separate containers so the jelly is about 1 inch tall. They are easier to cool down and set if the jelly is not too thick. Let it cool at room temperature for 10 minutes and then transfer to a fridge to let the jelly set completely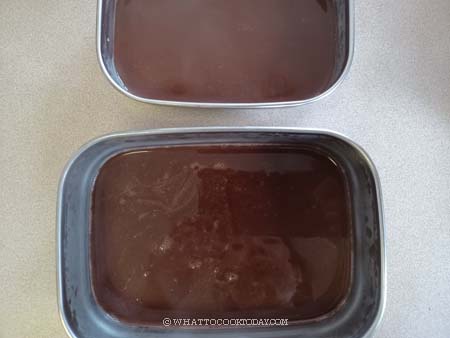 5. When the milo jelly has set, use a knife to cut into small cubes, about 1/2 inch cubes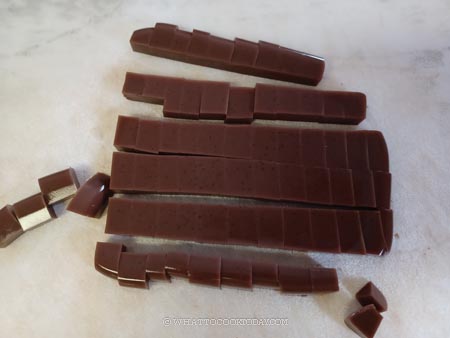 6. Combine milo powder, evaporated milk, whole milk, and condensed milk in a blender or you can use a whisk. Blend until they are combined


7. This can make 2 generous servings or 3 smaller servings. Put some ice cubes in each bowl/tall glass. Portion out the jelly cubes, and tapioca pearls. Portion out the milo drink. Add young coconut meat if you choose to use it. Serve at once

Did you make this easy Milo jelly sago dessert/drink recipe?
I love it when you guys snap a photo and tag to show me what you've made 🙂 Simply tag me @WhatToCookToday #WhatToCookToday on Instagram and I'll be sure to stop by and take a peek for real!

Milo Jelly Sago Dessert/Drink
Ingredients
Tapioca pearls:
50

gr

small tapioca pearls

500

ml

water
Milo drink:
50

gr

milo

250

ml

evaporated milk

250

ml

whole milk

20

gr

condensed milk

more or less to your taste

½

cup

Young coconut meat

optional
Instructions
Cook tapioca pearls:
If you use small tapioca pearls, bring water to a boil. Add the tapioca pearls and let them boil for 5 minutes. Turn off the heat, cover with a lid and let them sit for 30 minutes. Give it a stir and then turn the heat back on and boil for another 8-10 minutes or until the pearls are soft. They may still have the white center but that doesn't always mean that they are not cooked through. As long as they are soft and bouncy and not hard, they are cooked through

Drain off the cooking water and soak the tapioca pearls in water while preparing other things
Prepare milo jelly:
In a saucepan, whisk milo powder, sugar, cocoa powder, and agar agar powder to combine. Add water and whisk to combine. Put the pan on the stove over medium heat and continue to whisk. Cook until it comes to a simmer and let it cook until you no longer see specks of agar agar powder, about 5 minutes. The agar agar powder needs to be dissolves so the jelly will set properly

Remove from the heat and pour into a container. I pour it into two separate containers so the jelly is about 1 inch tall. They are easier to cool down and set if the jelly is not too thick. Let it cool at room temperature for 10 minutes and then transfer to a fridge to let the jelly set completely

When the milo jelly has set, use a knife to cut into small cubes, about 1/2 inch cubes
Prepare the milo drink:
Combine milo powder, evaporated milk, whole milk, and condensed milk in a blender or you can use a whisk. Blend until they are combined
Assembly:
This can make 2 generous servings or 3 smaller servings. Put some ice cubes in each bowl/tall glass. Portion out the jelly cubes, and tapioca pearls. Portion out the milo drink. Add young coconut meat if you choose to use it. Serve at once
Nutrition
Serving:
1
serving
|
Calories:
481
kcal
|
Carbohydrates:
70
g
|
Protein:
14
g
|
Fat:
17
g
|
Saturated Fat:
11
g
|
Polyunsaturated Fat:
1
g
|
Monounsaturated Fat:
4
g
|
Cholesterol:
45
mg
|
Sodium:
255
mg
|
Potassium:
707
mg
|
Fiber:
2
g
|
Sugar:
47
g
|
Vitamin A:
429
IU
|
Vitamin C:
3
mg
|
Calcium:
458
mg
|
Iron:
1
mg