You can easily make mung bean flour at home with just a few simple steps. Mung bean flour can be used in some Asian cooking, baking, beverage, or as an extra protein powder to supplement your diet if you wish. It is gluten-free and vegan flour.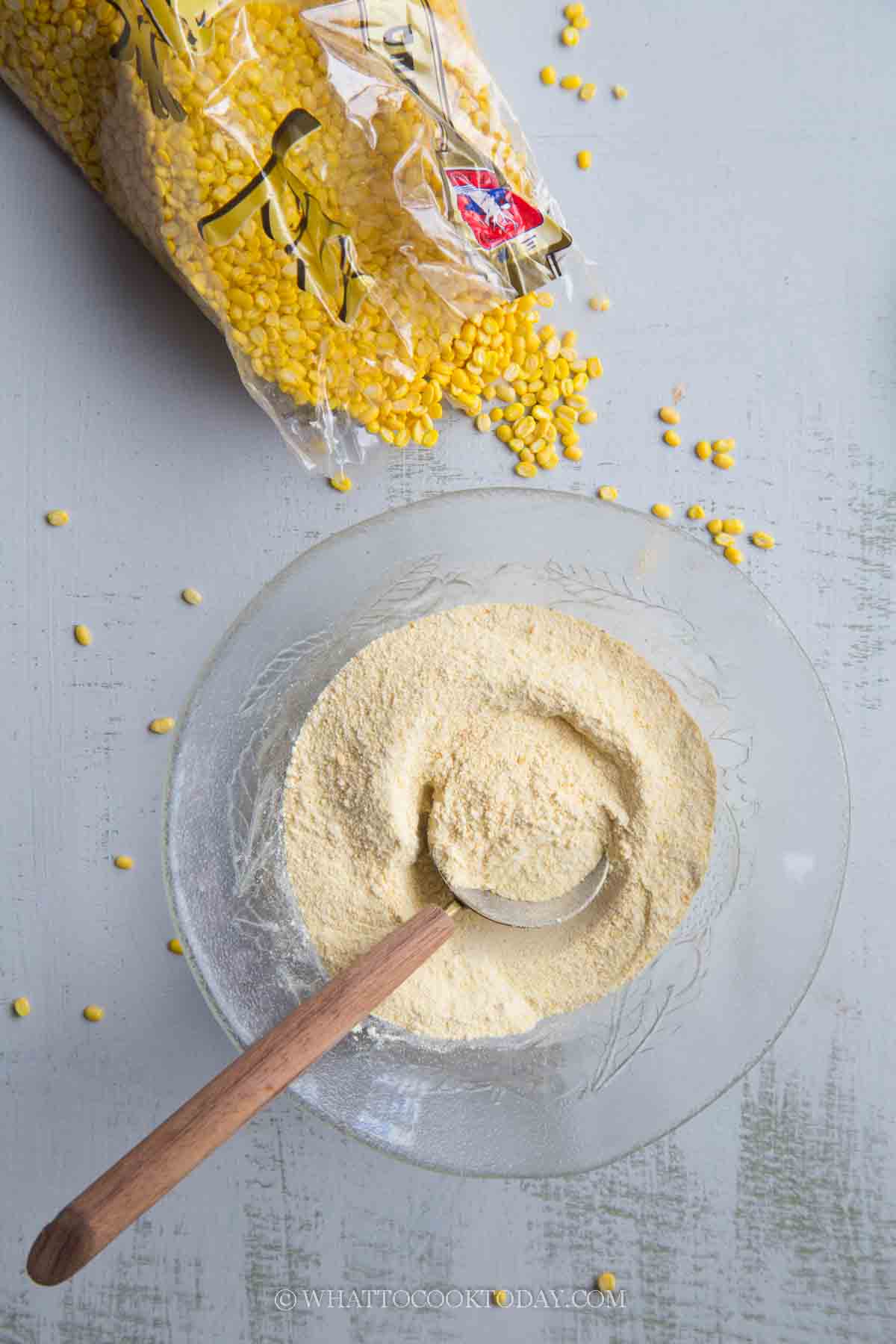 Mung Beans or Green Mung Beans
Mung beans are green in color and they are tiny in size. Sometimes they are referred to as green beans in short in Asia (not the same as the vegetable, green beans). Mung beans have gained popularity lately as the vegan and gluten-free diets are on the rise. Mung beans are cheap good source of protein and fiber.
Split mung beans
Split mung beans (moong dal) are whole green mung beans that have been hulled or skin removed to expose their yellow flesh inside. The beans are then split into halve and cook faster too. Split mung beans are what we want to use to make homemade mung bean flour
Can you dehull green mung beans on your own? Yes you can, but I won't recommend it. It takes lots of work. Split mung beans are readily available at Asian grocery stores.
Can I use mung beans (not dehulled) to make mung bean flour?
Depending on what you are using it for. I'm using this to make Macau almond cookies and the recipe needs mung bean flour made with dehulled mung beans. You can use whole mung beans (not dehulled) to make a flour. Just know that they will be muted green (almost brownish) in color when you add them to cooking or baking
Mung bean flour vs mung bean starch vs hoon kwe flour
Mung bean flour and mung bean starch ARE NOT the same things. Mung bean flour is made by grinding the whole dehulled mung beans. Mung bean starch is made by extracting the starch out from the beans. The starch is white in color and the flour is kinda beige in color. They are not interchangeable and it gives different result in cooking and baking. Hoon kwe flour is also made with mung bean starch and it is not the same as mung bean flour.
How to make homemade mung bean flour
1. Rinse the dried split mung beans in water. Some of these beans have additional yellow food coloring added and washing them will rinse off those added colors. Drain off water as much as possible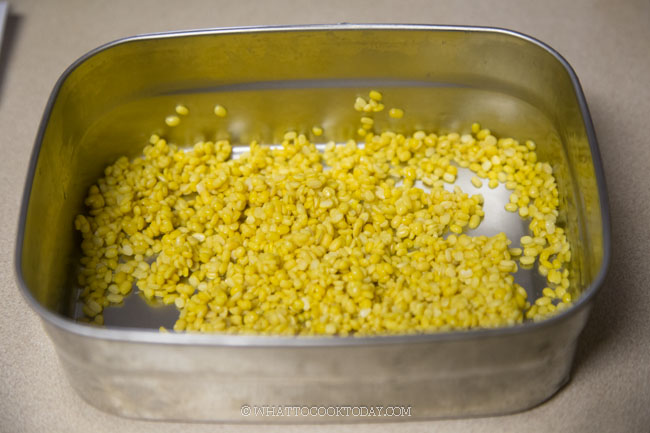 2. Put the beans on a dry large pan and stir fry over low-medium heat. They may feel sticky at first but just continue to stir fry and keep the heat low or between low and medium


3. The wet beans will continue to get drier and drier as you stir fry them and feel lighter


4. Once they are really dry and smells slightly nutty, turn off the heat. Don't stir fry until they turn too brown as this will make them taste bitter. Control the heat
5. Let the beans cool down completely. I spread them out as thinly as possible on a plate so they cool down faster. This is important so the beans won't turn into a paste when you blend them into a powder/flour


6. Put the beans in a DRY blender (make sure it's completely dry)


7. Blend it on high speed for few seconds and then stop and do it again several times until they turn into a fine powder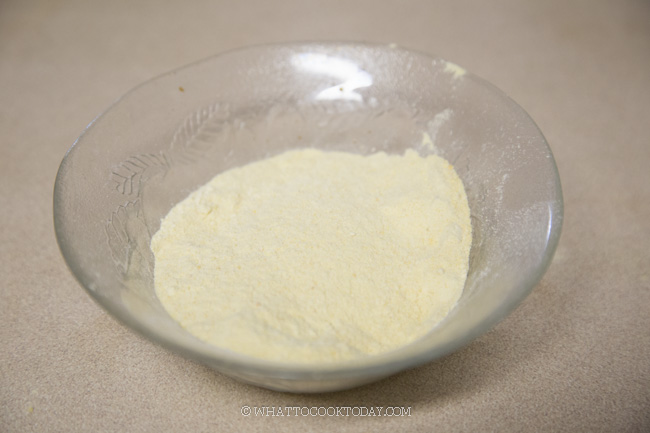 How to use mung bean flour
1. Baking
I make this homemade mung bean flour for the purpose of making this Macau Almond Cookies.
2. Cooking
I have added them in cooking to thicken a soup and stew slightly and also to add additional protein and fiber. I've used them to make porridge
3. Beverage
I have added it to my smoothie and protein shake too
How to store homemade mung bean flour
The flour can be stored in an air-tight container or zipper bag, push all the air out, and keep for no more than one month if possible
Did you make this homemade mung bean flour recipe?
I love it when you guys snap a photo and tag to show me what you've made 🙂 Simply tag me @WhatToCookToday #WhatToCookToday on Instagram and I'll be sure to stop by and take a peek for real!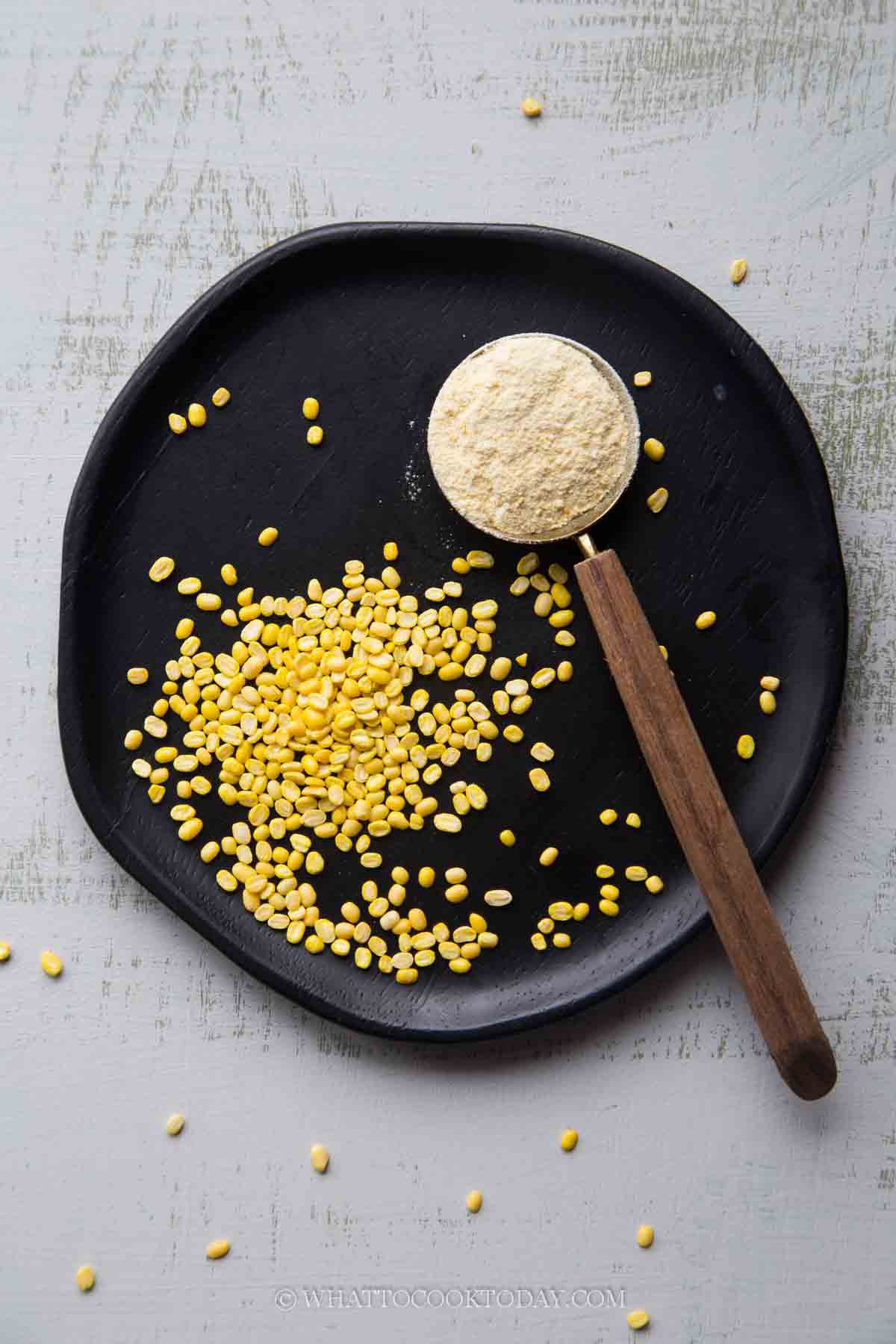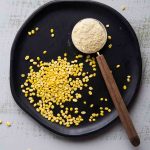 Easy Homemade Mung Bean Flour
Instructions
Rinse the dried split mung beans in water. Some of these beans have additional yellow food coloring added and washing them will rinse off those added colors. Drain off water as much as possible

Put the beans on a dry large pan and stir fry over low-medium heat. They may feel sticky at first but just continue to stir fry and keep the heat low or between low and medium

The wet beans will continue to get drier and drier as you stir fry them and feel lighter. Once they are really dry and smells slightly nutty, turn off the heat. Don't stir fry until they turn too brown as this will make them taste bitter. Control the heat

Let the beans cool down completely. I spread them out as thinly as possible on a plate so they cool down faster. This is important so the beans won't turn into a paste when you blend them into a powder/flour

Put the beans in a DRY blender (make sure it's completely dry). Blend it on high speed for few seconds and then stop and do it again several times until they turn into a fine powder
Recommended products: