Our family absolutely loves these super easy and melt-in-your-mouth cashew nut cookies. You only need 6 ingredients and the cookies are made without butter.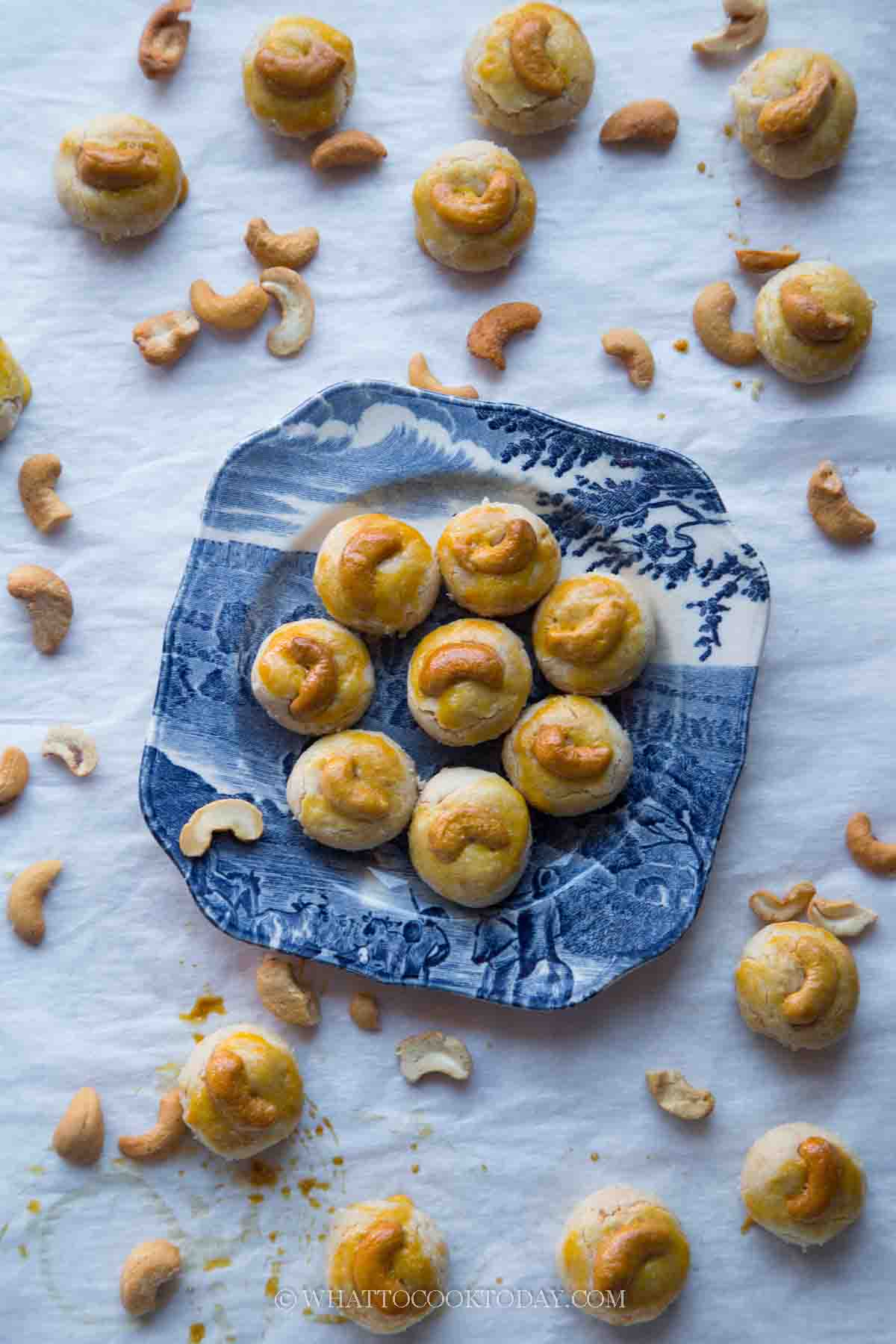 I have declared myself as a cashew nut monster 🙂 I absolutely love cashew nuts (or pretty much any nuts and tree nuts available out there!). I love making easy and simple nuts cookies that don't use any butter like this Chinese New Year Peanut Cookies, Chinese New Year Almond Cookies, and Hup Toh Soh (Walnut biscuits)
The recipe rundown
Taste: Sweet with hint of savory. Love the nutty taste of toasted cashews in every bite
Texture: Melt in your mouth with some crunch from the cashew bits
Level: Easy
How to make Chinese New Year Cashew Nut Cookies
1. I got roasted cashews from the store so I didn't have to toast the cashew anymore. Put the toasted nuts in a food processor and pulse a few times to finely chop them


2. Preheat the oven to 340 F (170 C). Line a large baking sheet with parchment paper. In a large mixing bowl, combine icing sugar, flour, and salt. Whisk to mix everything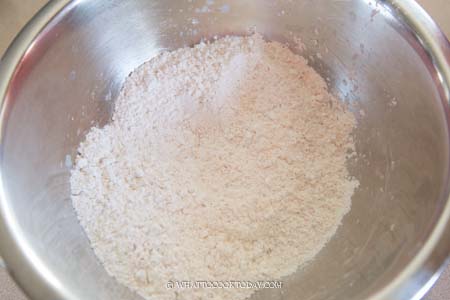 3. Add the chopped cashew nuts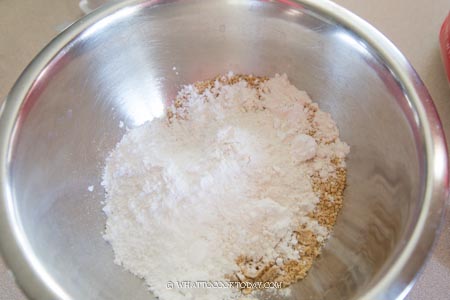 4. Gradually add the cooking oil until you can form a nice smooth non-sticky dough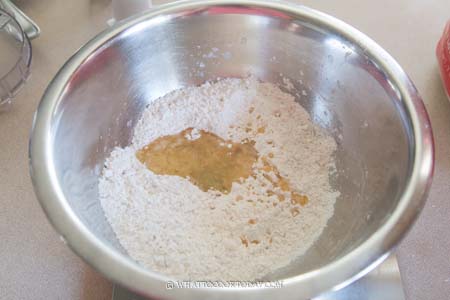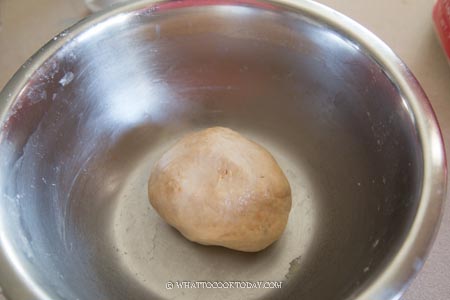 5. Pinch off about 10-12 grams of dough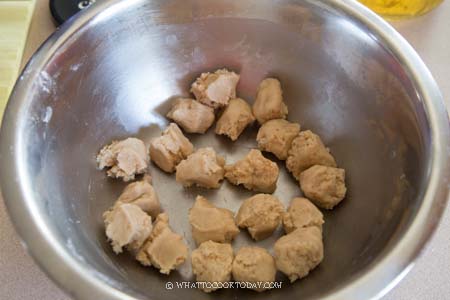 6. Roll them smooth into a round ball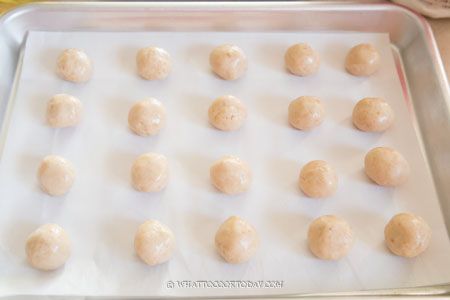 7. Pick up one halve piece of cashew nut and gently press on top. Repeat with the remaining dough and nuts. Place them on the baking sheet. These cookies do not spread, so you can put them pretty close together as long as they don't touch each other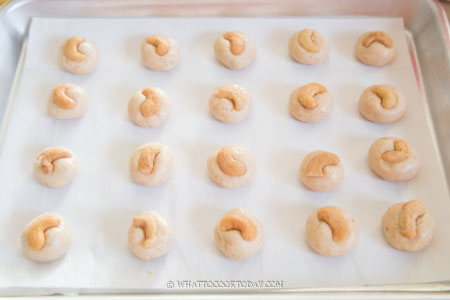 8. Brush the top with some egg wash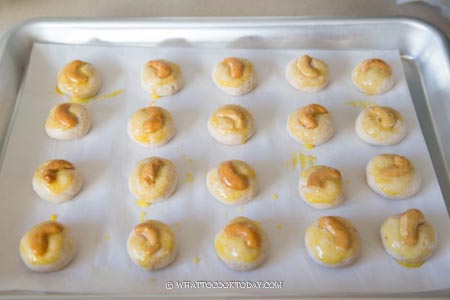 9. Bake in the preheated oven at 340 F (170 C), in the middle rack for about 15 minutes or until golden brown
Let them cool down on the baking tray for 5 minutes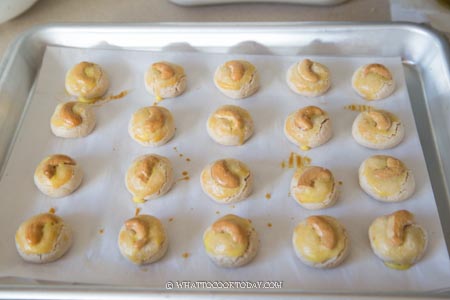 10. Transfer to a cooling rack to let them cool down completely

Ta..da..you just made yourself some cashew nut cookies. Ain't that bad right?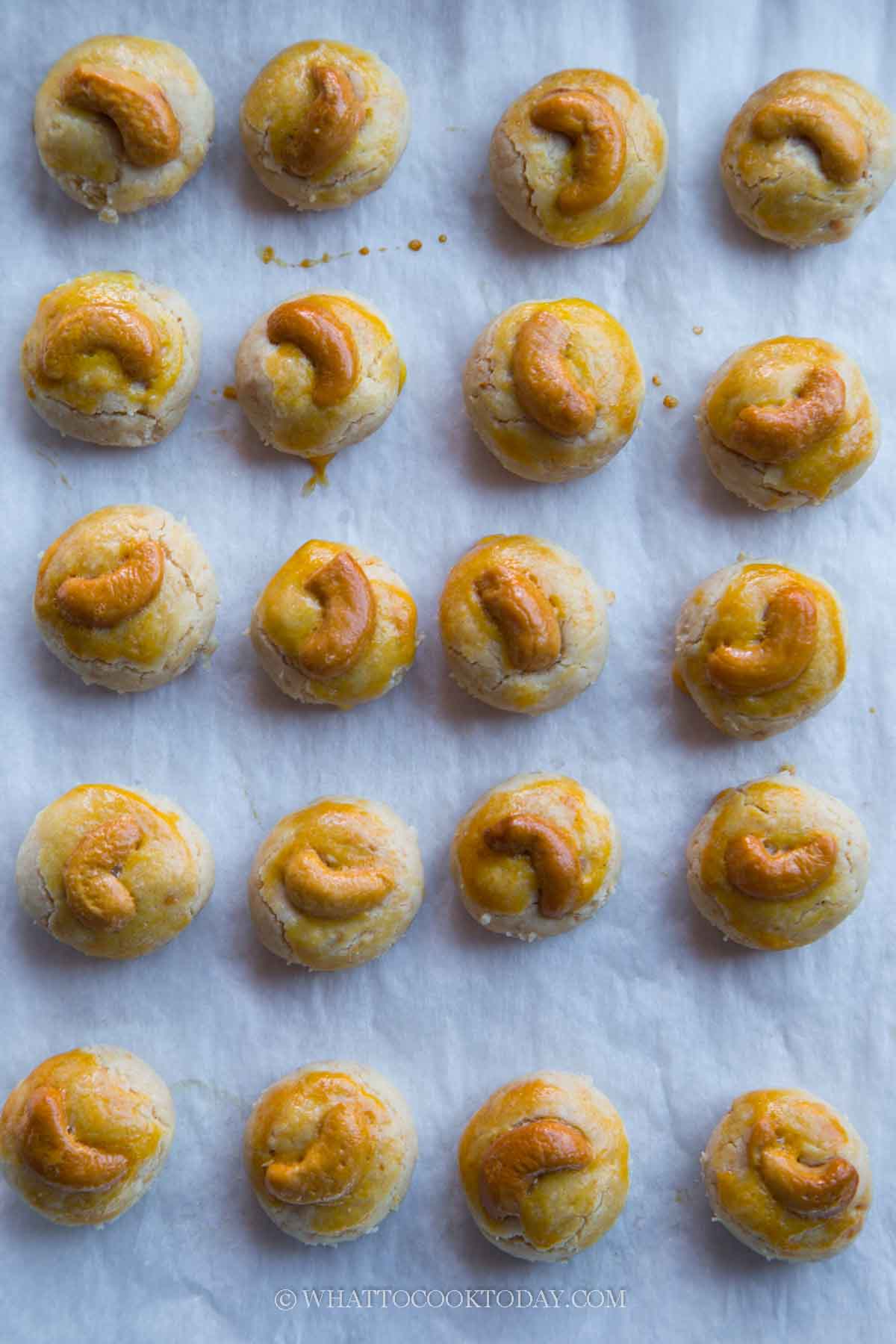 These cashew nut cookies are one of my favorites because they are so easy to make and you literally just need a mixing bowl and the recipe does not require any creaming of butter and sugar.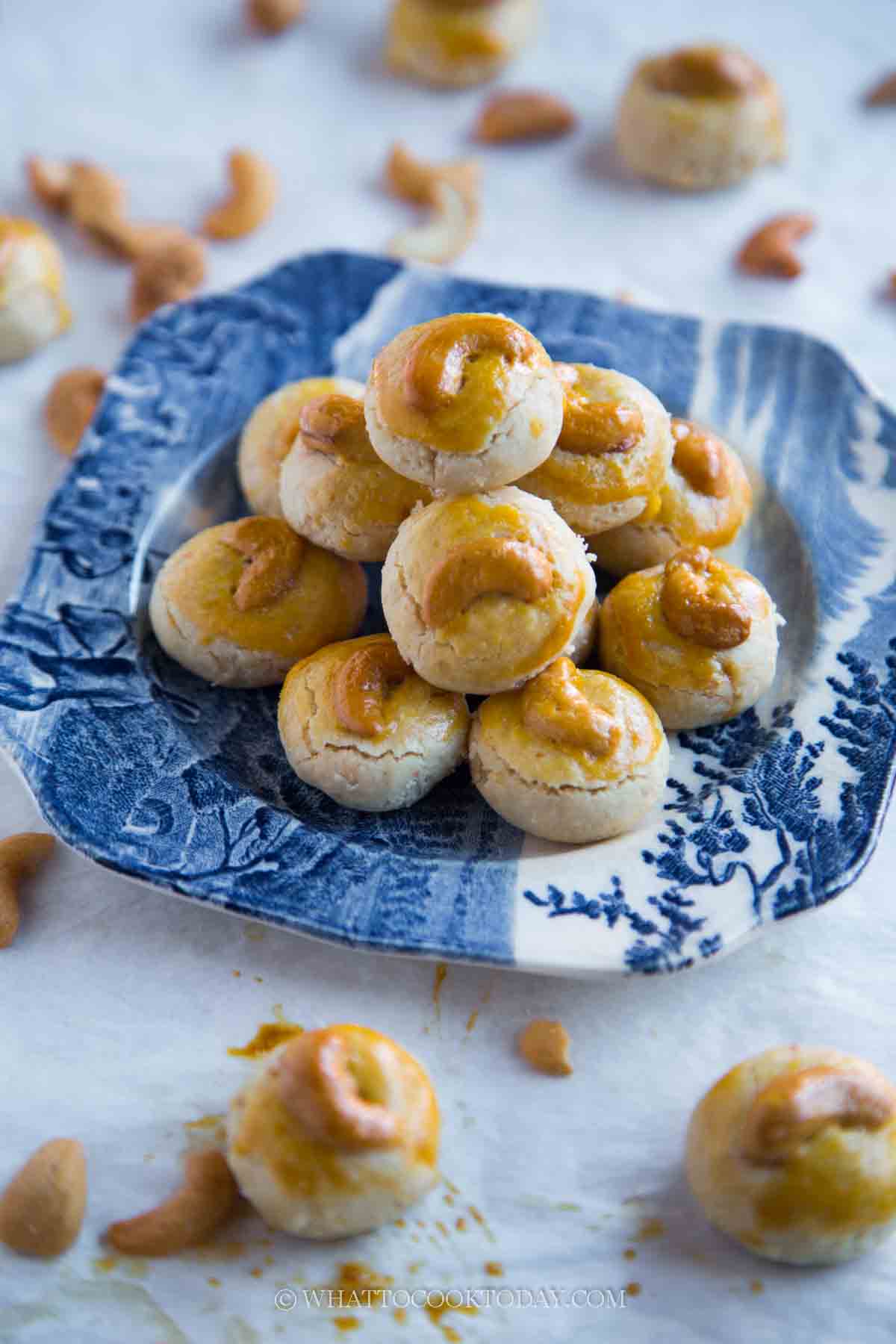 How to store cashew nut cookies
For freshly baked cashew nut cookies: It is important to let them cool down completely and then transfer to an air-tight cookie jar or container and they can be kept for weeks at room temperature.
You can also freeze the baked cashew nut cookies. Simply transfer them to a freezer bag (double layer if possible), push all the air out and seal the bag. They can be kept this way for about 1 month. I won't suggest keeping any longer as the quality starts to deteriorate after that. Simply thaw at room temperature for 30 minutes or so and they can be consumed after that.
To freeze cashew nut cookie dough: Place the shaped cookies on a baking sheet lined with a parchment, as closely as possible but not touching each other and put in the freezer for 1 hour. Then transfer to freezer bag. They can be kept for 3 months. When ready to bake, do not need to thaw and bake as directed in the recipe and add about 3-5 minutes extra time or until they are nicely golden brown.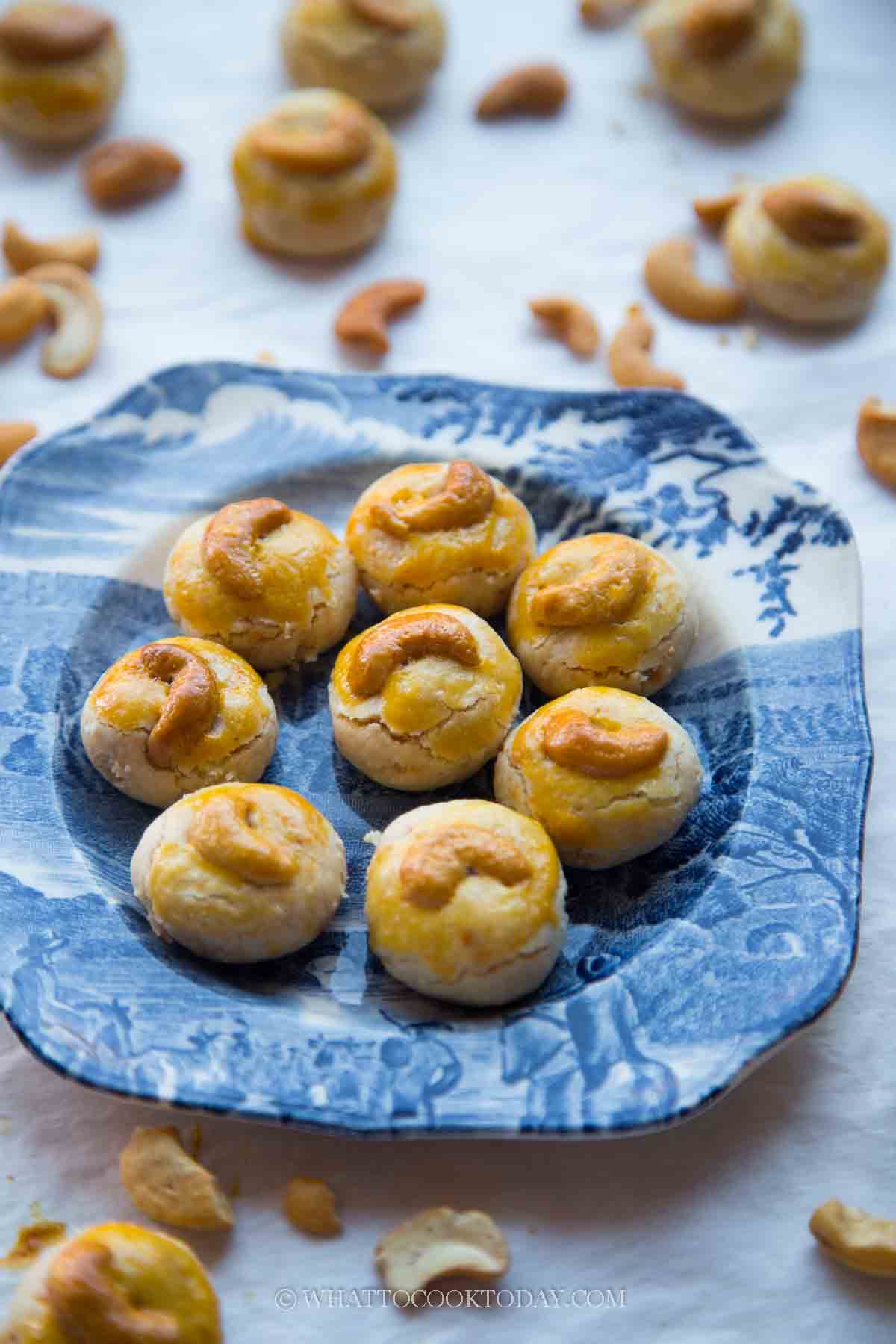 Did you make this Chinese New Year cashew nut cookies recipe?
I love it when you guys snap a photo and tag to show me what you've made 🙂 Simply tag me @WhatToCookToday #WhatToCookToday on Instagram and I'll be sure to stop by and take a peek for real!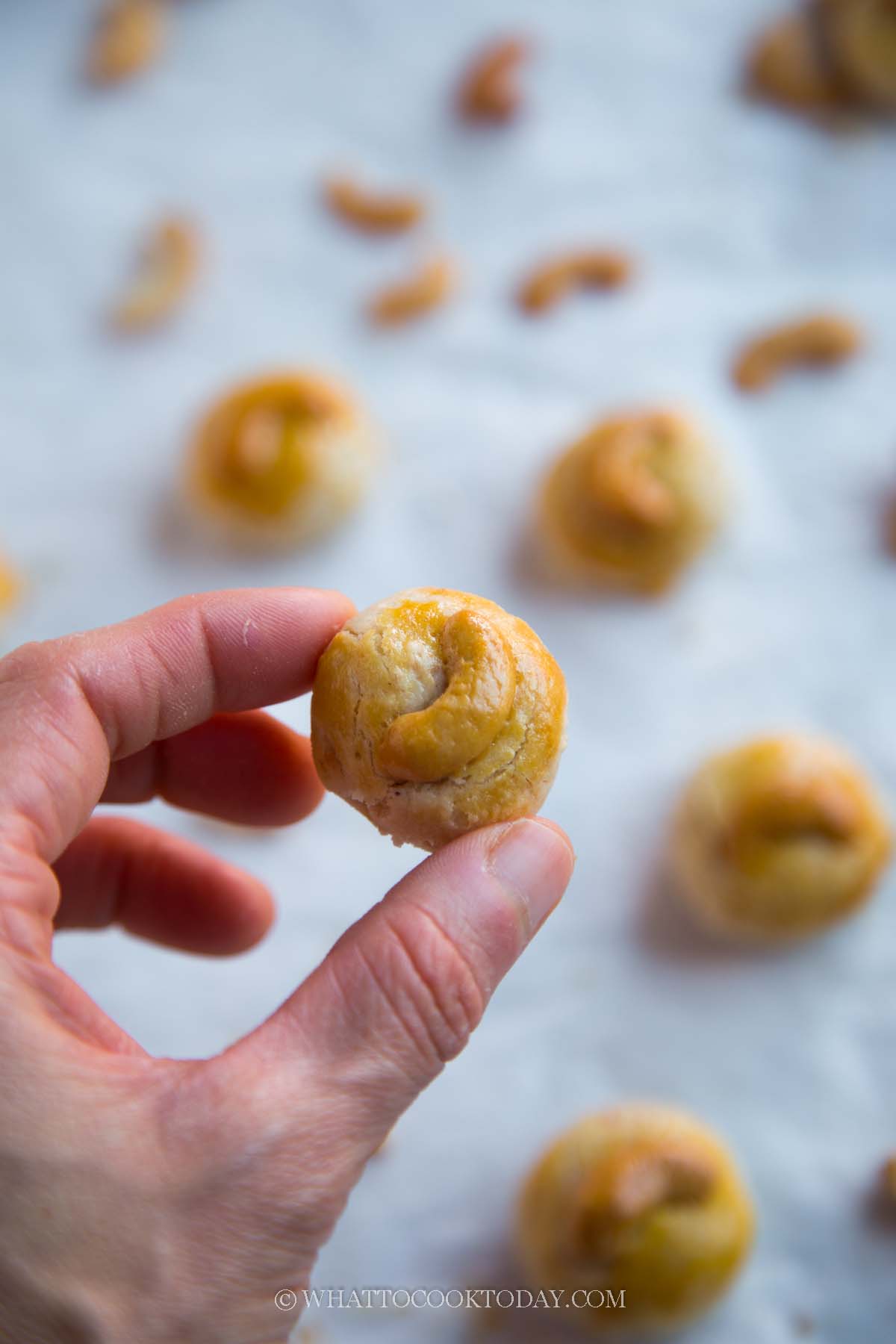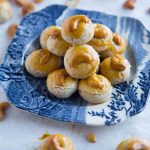 Melt-In-Your-Mouth Cashew Nut Cookies (Chinese New Year)
Instructions
Toast the cashew nuts:
If the cashew nuts are not toasted, toast them on a dry pan over low-medium heat for about 5 minutes or until you smell the wonderful nutty aroma. Take care not to burn them. Remove from the pan and let them cool down completely

Split the whole cashew nuts into half, following the line on the nuts, to decorate the cookies later
Finely chop the nuts:
Put the toasted nuts in a food processor and pulse a few times to finely chop them
Prepare the cookie dough:
Preheat the oven to 340 F (170 C). Line a large baking sheet with parchment paper. In a large mixing bowl, combine icing sugar, flour, and salt. Whisk to mix everything. Add the chopped cashew nuts and gradually add the cooking oil until you can form a nice smooth non-sticky dough. You may need a bit more oil than what's call for in the recipe. The key is to gradually add the oil until you can get a smooth non-sticky dough

Pinch off about 10-12 grams of dough and roll them smooth into a round ball. These make really small cookie. If you want larger size, feel free to make them larger. Pick up one halve piece of cashew nut and gently press on top. Repeat with the remaining dough and nuts. Place them on the baking sheet. These cookies do not spread, so you can put them pretty closely together as long as they don't touch each other
Bake the cookies:
Brush the top with some egg wash and bake in the oven, in the middle rack for about 15 minutes or until golden brown. If your cookies are bigger, you need to adjust the baking time

Let them cool down on the baking tray for 5 minutes and then transfer to a cooling rack to let them cool down completely
Store the cookies:
It is important to let them cool down completely and then store them in a cookie jar or a container with a tight-fitting lid. They can be kept for weeks at room temperature