A twist to the classic Chinese steamed white rice cake by using pandan juice and pandan essence to impart the aromatic pandan flavor to the steamed cake.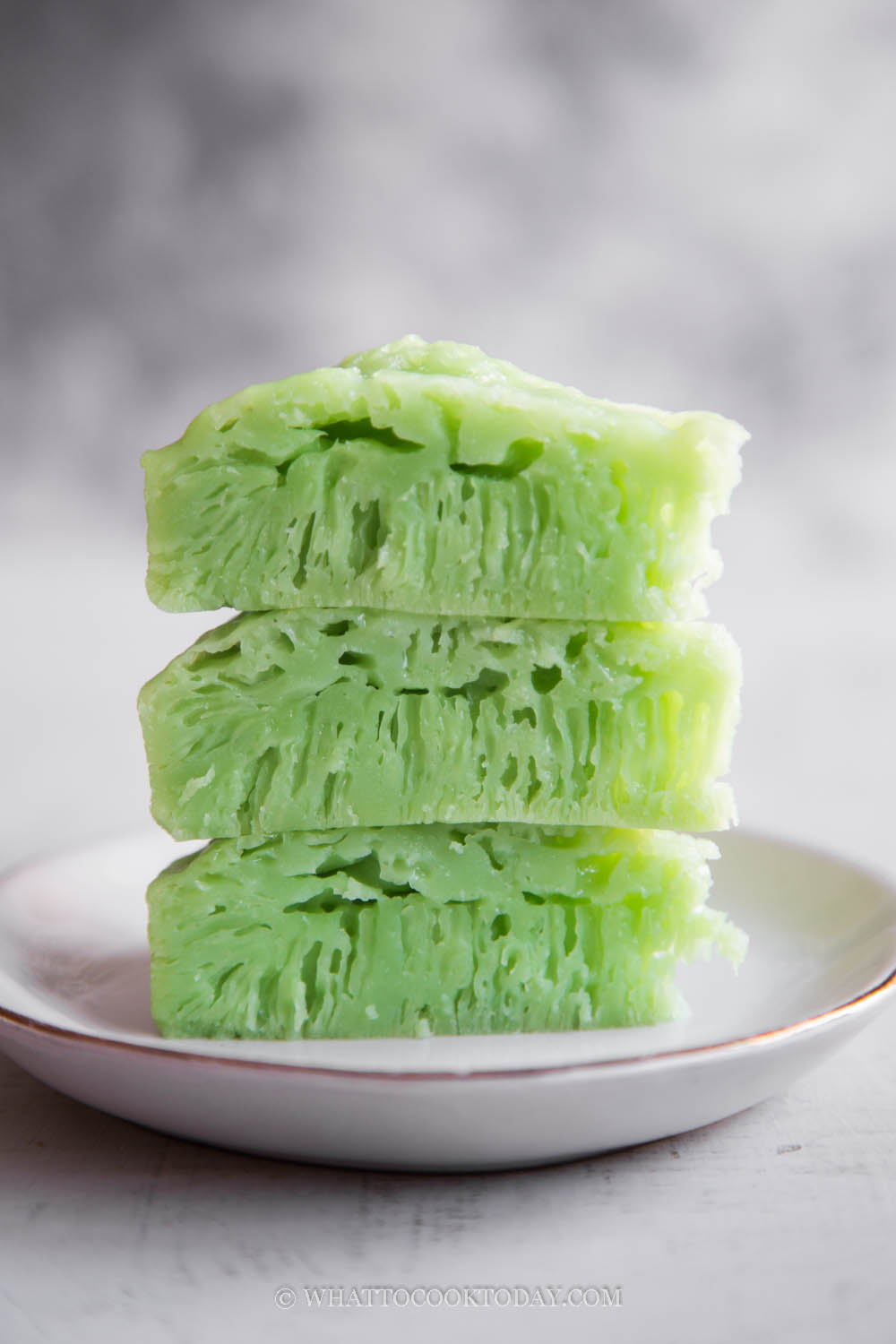 I grew up having a lot of food flavored with pandan leaves. It's a Southeast Asian thing 🙂 I love the floral aroma of pandan leaves. This Chinese white sugar rice cake (bai tang gao) is one of my favorite steamed cakes. It is so simple to make and it's a perfect cake for me to use pandan leaves to flavor it.
How to make pandan bai tang gao
1. Put pandan juice and sugar in a saucepan. Bring to a simmer and cook until sugar dissolves. Let it cool down completely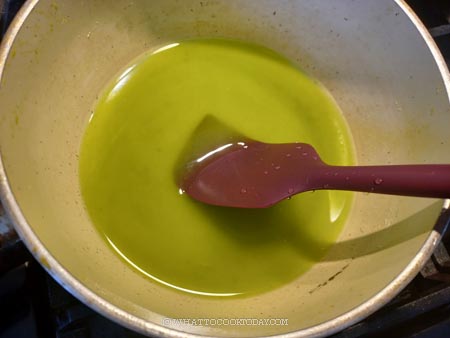 2. Put all ingredients for starter in a bowl and let it sits for 10-15 minutes until foamy while you prepare other things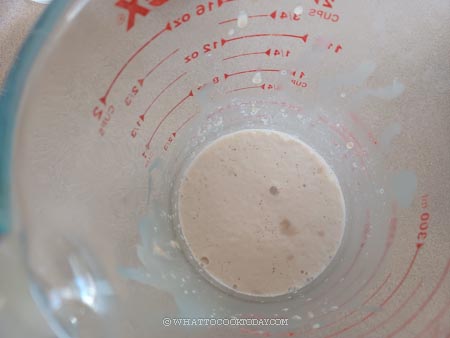 3. Add rice flour and whisk to combine. Add pandan essence if using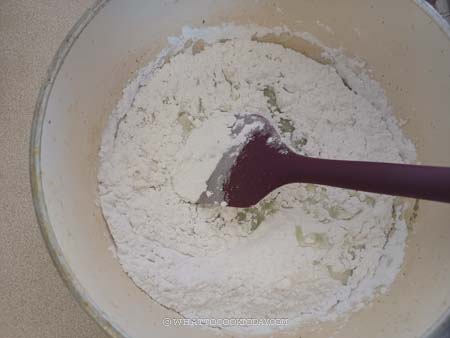 4. Pour the yeast starter into the pandan syrup mixture. The batter is watery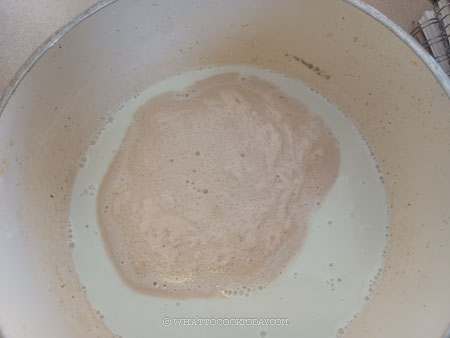 5. Cover and let it proof for 1 hour or until you see lots of bubbles. Place it in a warm place. I use my oven's bread proof function and it works great. Or you can turn on your oven to the lowest temperature then turn off and open the door to let it cools down to lukewarm before putting the batter in (we don't want to kill the yeast!)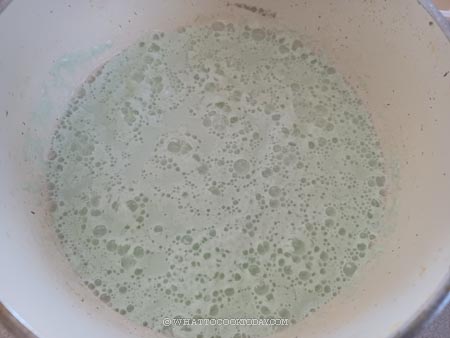 6. Bring the water in the steamer to a rolling boil before you add baking powder. I use the largest burner on my stove. Grease a 7-inch round or 6-inch square pan with some oil. You can use 8-inch round pan too, the cake will just be shorter. Stir the batter thoroughly to make sure the bubbles are mixed in and the flour that settles to the bottom is all combined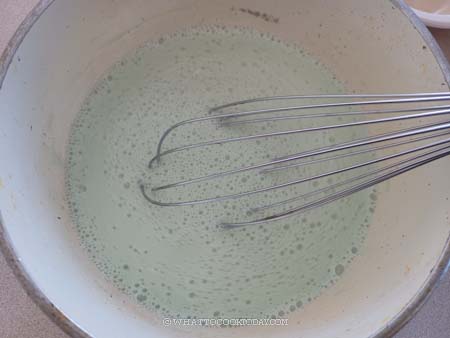 7. Add baking powder and stir one last time to mix everything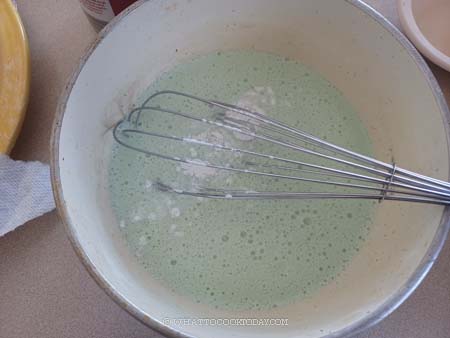 8. Pour into the prepared pan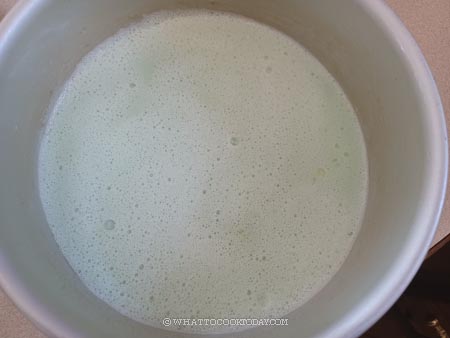 9. Place this inside the steamer and lower heat to medium (not high heat). Remember that I use my largest burner on the stove, so I don't crank up the heat all the way up, as it's too hot. So I set it on medium and steam for the next 25-30 minutes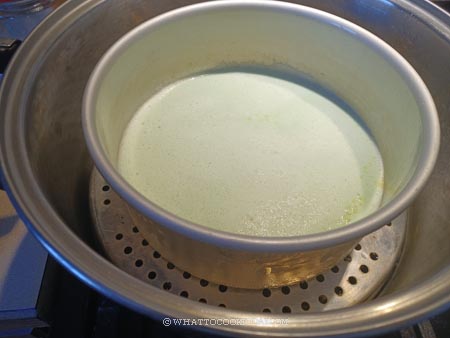 10. The top of the cake should be dry and not wet anymore. Insert a toothpick or chopstick into the cake and it should come out clean with a few sticky crumbs is okay as long as no wet batter. There is no need to wrap the lid with a cloth or cover the cake with a plate during steaming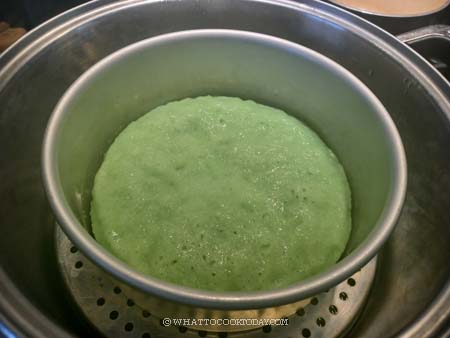 11. Remove from the steamer and let it cool down completely before cutting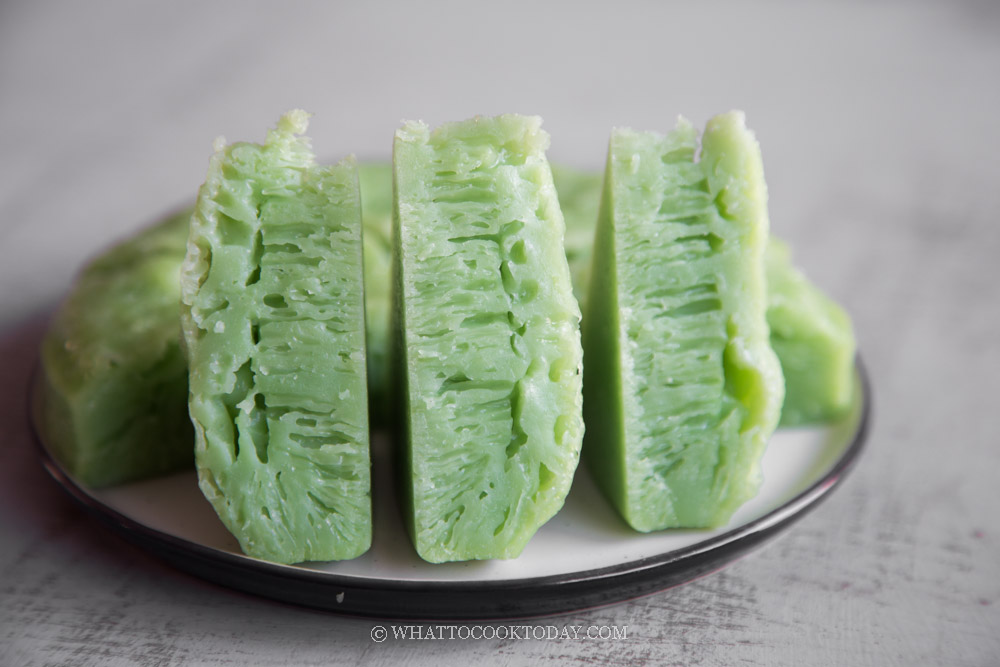 How to store and reheat bai tang gao
1. Let the cake cool down completely
2. It can be stored at room temperature for a day or two if it's not humid where you are
3. If it's humid, you can store it in the fridge. The cake may harden slightly when it's chilled. Simply reheat in the steamer or in the microwave until it's warm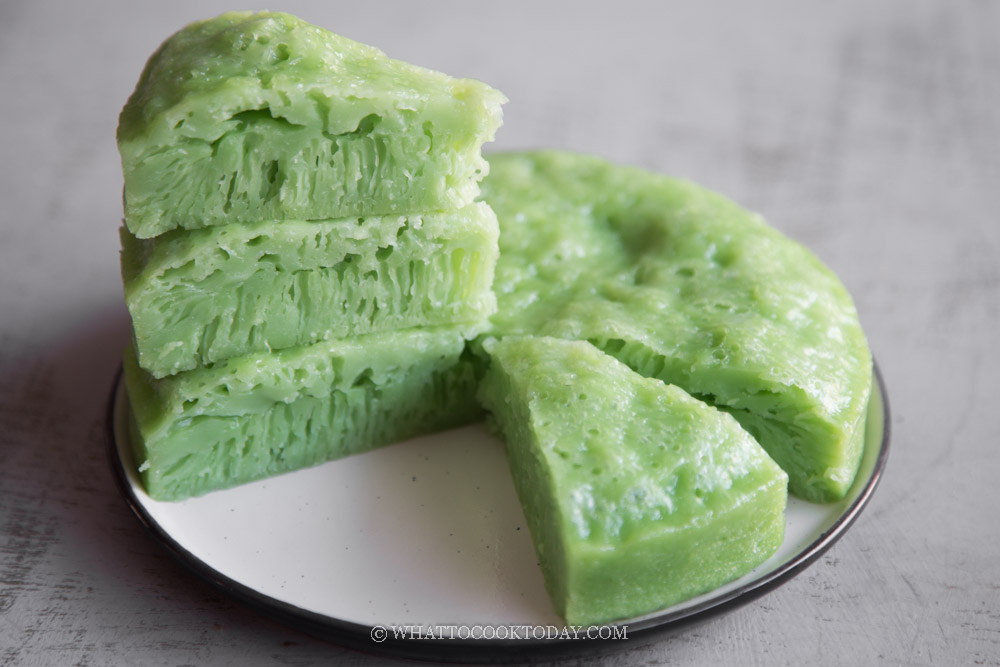 You might want to also check out the original bai tang gao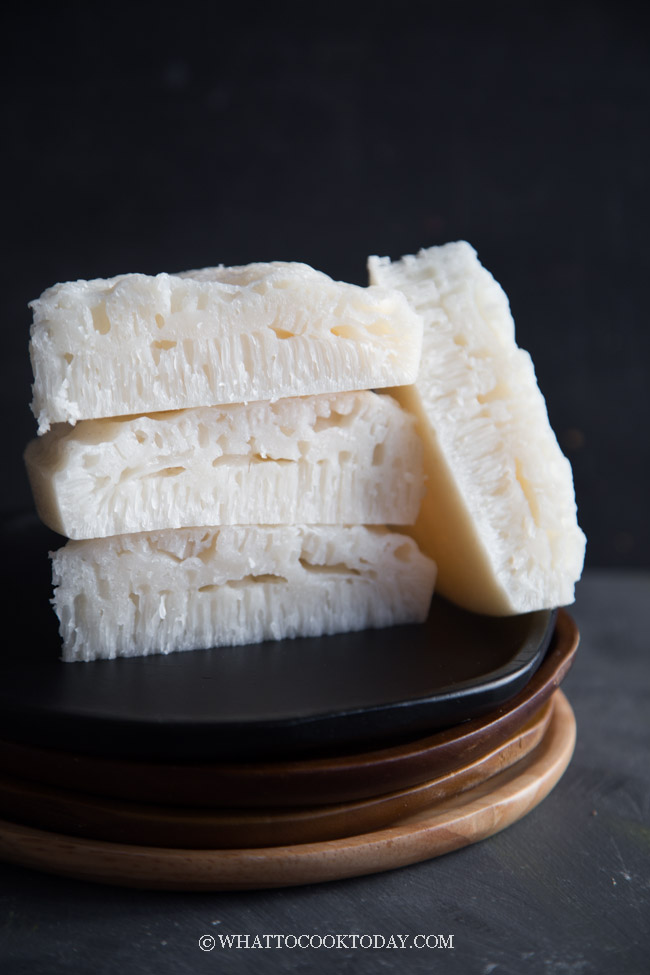 Did you make this pandan bai tang gao recipe?
I love it when you guys snap a photo and tag to show me what you've made 🙂 Simply tag me @WhatToCookToday #WhatToCookToday on Instagram and I'll be sure to stop by and take a peek for real!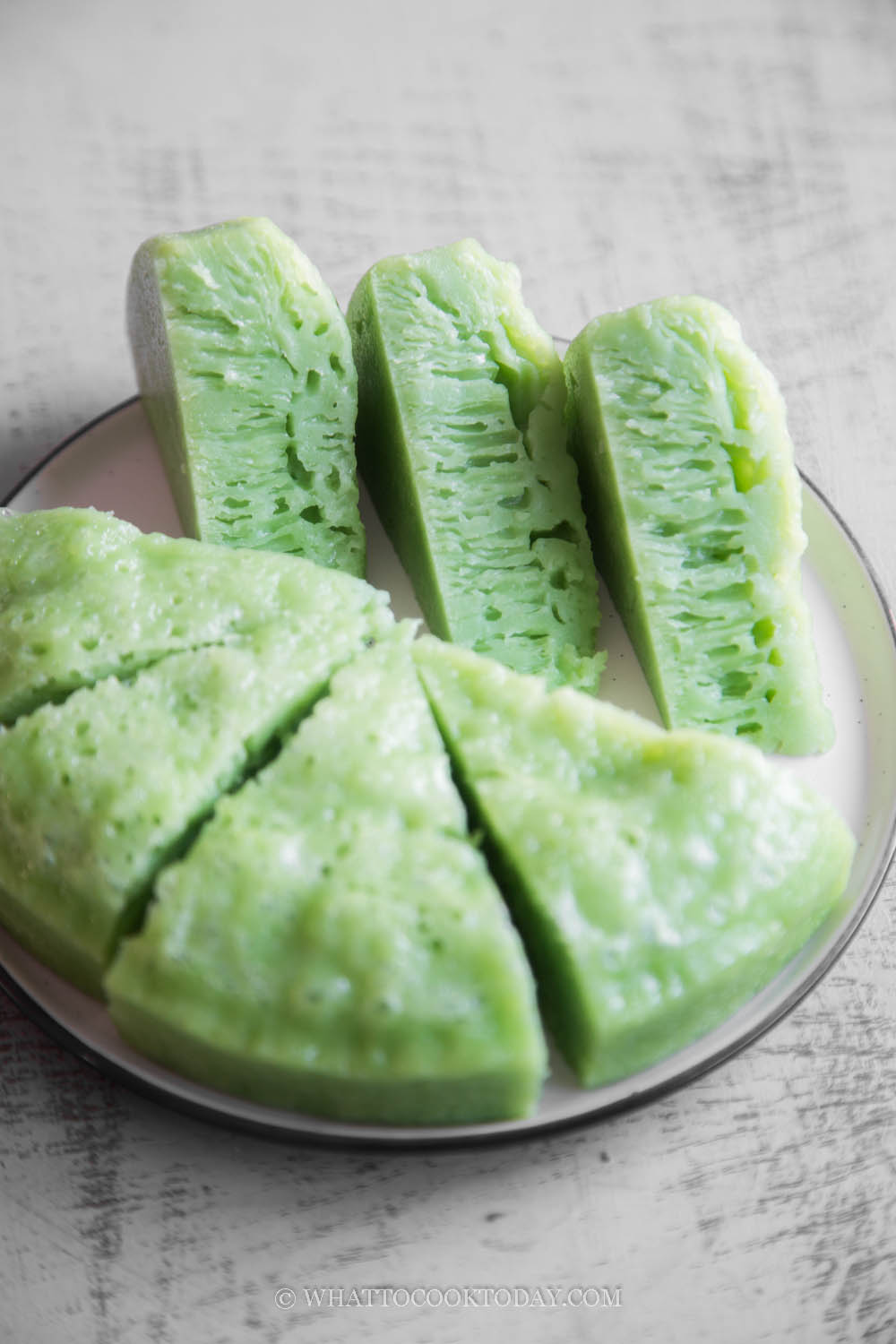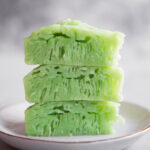 Pandan Bai Tang Gao (Pandan Sugar Rice Cake)
Ingredients
Pandan sugar syrup:
300

ml

water

5

blades

pandan leaves

80

gr

fine sugar or more to your taste
To add last:
½

tsp

baking powder double-acting
Instructions
Prepare pandan syrup:
Cut pandan leaves into smaller pieces and put into a blender. Blend until you get the juice. Squeeze the pulp to get as much liquid out as possible. Strain the juice and measure to make sure you get 300 ml. Discard the pulp

Put pandan juice and sugar in a saucepan. Bring to a simmer and cook until sugar dissolves. Let it cool down completely
Prepare starter:
Put all ingredients for starter in a bowl and let it sits for 10-15 minutes until foamy while you prepare other things
Prepare the batter:
Add rice flour and whisk to combine. Add pandan essence if using. Pour the yeast starter into the pandan syrup mixture. The batter is watery
Proofing:
Cover and let it proof for 1 hour or until you see lots of bubbles. Place it in a warm place. I use my oven's bread proof function and it works great. Or you can turn on your oven to lowest temperature then turn off and open the door to let it cools down to lukewarm before putting the batter in (we don't want to kill the yeast!)
Add baking powder:
Bring the water in the steamer to a rolling boil before you add baking powder. I use the largest burner on my stove. Grease a 7-inch round or 6-inch square pan with some oil. You can use 8-inch round pan too, the cake will just be shorter

Stir the batter thoroughly to make sure the bubbles are mixed in and the flour that settles to the bottom is all combined. Add baking powder and stir one last time to mix everything. Pour into the prepared pan
Steam the cake:
Place this inside the steamer and lower heat to medium (not high heat). Remember that I use my largest burner on the stove, so I don't crank up the heat all the way up, as it's too hot. So I set it on medium and steam for the next 25-30 minutes
Check for doneness:
The top of the cake should be dry and not wet anymore. Insert a toothpick or chopstick into the cake and it should come out clean with a few sticky crumbs is okay as long as no wet batter. There is no need to wrap the lid with a cloth or cover the cake with a plate during steaming

Remove from the steamer and let it cool down completely before cutting
Recommended products:
Nutrition
Serving:
1
serving
|
Calories:
125
kcal
|
Carbohydrates:
29
g
|
Protein:
2
g
|
Fat:
1
g
|
Saturated Fat:
1
g
|
Polyunsaturated Fat:
1
g
|
Monounsaturated Fat:
1
g
|
Sodium:
3
mg
|
Potassium:
22
mg
|
Fiber:
1
g
|
Sugar:
12
g
|
Vitamin C:
1
mg
|
Calcium:
4
mg
|
Iron:
1
mg