Make an incredibly easy and delicious tiramisu using coffee-soaked panettone bread. The recipe requires no baking or cooking and a great way to use up panettone.
What you'll need
1. Panettone/pandoro
You can also use lady fingers (which what is traditionally used for tiramisu) or other bread like brioche
2. Heavy whipping cream
I use heavy whipping cream with at least 35% fat
3. Mascarpone
A soft Italian cheese that makes this tiramisu taste so amazing
4. Espresso powder
This espresso is what we are going to use to dip the panettone in to give that coffee flavor
5. Sugar
I use granulated sugar. Fine caster sugar works too
6. Cocoa powder
Any of your favorite cocoa powder works here. If you have Valrhona, then that's the best as it offers a rich deep cocoa flavor
How to make easy no-bake panettone tiramisu
1. Brew the coffee ahead and let it cool down completely before dipping the panettone bread slices. If you dip the bread when the coffee is hot, the bread will turn mushy. Pour the coffee into a shallow dish for easier dipping later

2. For coffee syrup, just combine all the ingredients and set aside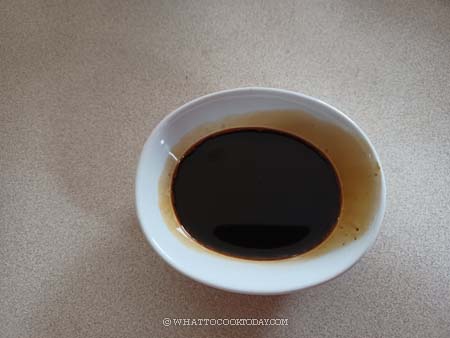 3. Combine heavy whipping cream and icing sugar in a mixing bowl. Use a mixer to whip until just firm and the cream can hold its shape. Don't overbeat that the cream turns grainy.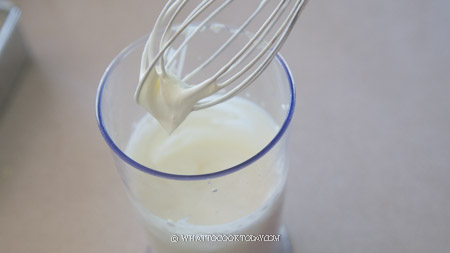 4. Add the coffee syrup and mascarpone cheese and use spatula to fold them in until combined. Keep them chilled in the fridge while you prepare the panettone bread slices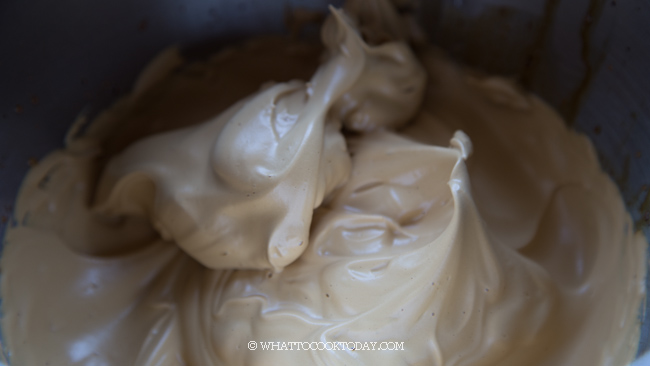 5. You can use rectangular baking dish like 9 x 13 or 7 x7 or 8 x 8 square dish or pan. Cut the panettone into 1 inch-thick slices. You can just leave it in sandwich bread size or into finger stick like lady's fingers. Don't cut too thin though.

Dip one side of the bread quickly in the coffee, just barely dipping. You don't want to soak it in. You can also lay the bread slices on the tray and then use a pastry brush to brush the syrup on top of the slices

6. Arrange the bread slices on the dish/pan. Cut to shape if necessary to fill in the gap

7. Spread half of the cream mixture on top and dust with some cocoa powder (and some shaved chocolate if you want it extra chocolatey-not captured in the photo)

8. Dip the panettone slices in the coffee again for the second layer and arrange them on top of the cream

9. Spread with the remaining cream mixture. Dust with cocoa powder and chocolate shavings if using

10. Cover with a cling wrap. Refrigerate in the fridge for at least 4 hours or overnight before serving. Simply cut into the serving size you wish

Did you make this easy no-bake panettone tiramisu recipe?
I love it when you guys snap a photo and tag it to show me what you've made 🙂 Simply tag me @WhatToCookToday #WhatToCookToday on Instagram and I'll be sure to stop by and take a peek for real!

Super Easy No-Bake Panettone/Pandoro Tiramisu
Ingredients
600

gr

panettone or pandoro

240

ml

strongly brewed coffee

to dip panettone bread

280

gr

heavy whipping cream

40

gr

icing sugar

350

gr

mascarpone cheese
Coffee syrup (for the cream):
10

gr

espresso powder

20

gr

sugar

100

ml

hot water
For dusting:
Instructions
Brew coffee (to dip panettone/pandoro bread):
Brew the coffee ahead and let it cool down completely before dipping the panettone bread slices. If you dip the bread when the coffee is hot, the bread will turn mushy. Pour the coffee into a shallow dish for easier dipping later
Prepare cream and cheese:
Combine heavy whipping cream and icing sugar in a mixing bowl. Use a mixer to whip until just firm and the cream can hold its shape. Don't overbeat that the cream turns grainy. Add the coffee syrup and mascarpone cheese and use spatula to fold them in until combine. Keep them chilled in the fridge while you prepare the panettone bread slices
Assembling:
You can use rectangular baking dish like 9 x 13 or 7 x7 or 8 x 8 square dish or pan. Cut the panettone/pandoro into 1 inch-thick slices. You can use sandwich bread size or cut into finger stick like lady's fingers. Don't cut too thin though

Dip one side of the bread quickly in the coffee, just barely dip. You don't want to soak it in. You can also lay the bread slices on the tray and then use a pastry brush to brush the syrup on top of the slices

Arrange the bread slices on the dish/pan. Cut to shape if necessary to fill in the gap

Spread half of the cream mixture on top and dust with some cocoa powder

Dip the bread slices in the coffee again for the second layer and arrange on top of the cream. Spread with the remaining cream mixture. Dust with cocoa powder and chocolate shavings if using. I use a grater to shave the chocolate. Try not to touch the chocolate shaving with your hand as it melts easily
Refrigerate:
Cover with a cling wrap. Refrigerate in the fridge for at least 4 hours or overnight before serving
Serving:
Simply cut into serving size you wish
Leftovers:
You can cut into slices and store in an air-tight container or keep in the original dish and cover with a cling wrap. Keep in the fridge for 2-3 days max. The bread or ladyfingers (whichever you use) breaks down and turn into mush the longer you keep them
Tips:
If you want the bread to last a bit longer, you can toast the cut panettone in a preheated oven at 350 F (180 C) for 10 minutes and let them cool down before dipping or brushing with coffee
Recommended products:
Nutrition
Serving:
1
serving
|
Calories:
635
kcal
|
Carbohydrates:
59
g
|
Protein:
13
g
|
Fat:
40
g
|
Saturated Fat:
24
g
|
Polyunsaturated Fat:
1
g
|
Monounsaturated Fat:
4
g
|
Cholesterol:
224
mg
|
Sodium:
471
mg
|
Potassium:
137
mg
|
Fiber:
0.3
g
|
Sugar:
11
g
|
Vitamin A:
1543
IU
|
Vitamin C:
0.3
mg
|
Calcium:
92
mg
|
Iron:
1
mg