Learn how to make this popular Chinese steamed pork ribs with glutinous rice using Instant Pot pressure cooker or steaming on the stove. The ribs are tender and perfect with the umami sticky rice.
Steamed pork ribs with glutinous rice is a popular traditional Chinese recipe. The ribs are marinated and then mixed with glutinous rice (sticky rice/sweet rice) and steamed until the ribs are tender. Instead of using steamer, I use pressure cooker to cook this dish. It saves a bit of time and I like the convenience of not having to keep an eye on the steamer.
What type of pork ribs to use
You can use baby back ribs or spare ribs for this recipe. I use baby back ribs because I bought them when they were on sale and kept them frozen. Spare ribs are meatier compared to baby back ribs, but also have more bones. Spare ribs will take a bit longer to cook, but some people prefer spare ribs as they are more flavorful. Spare ribs are cheaper compared to baby back ribs. So it's up to you which one you want to use.
What to substitute for lotus leaves
Lotus leaves impart a great flavor to the rice and ribs. If you don't have them, you can also use bamboo leaves. The bamboo leaves will give you a flavor similar to zongzi. If you don't have or don't want to use any lotus or bamboo leaves, you can use cabbage leaves or napa cabbage to line the steamer. You can also just use parchment paper to line the steamer. I recommend lining the steamer so that the "juice" from the meat won't drip underneath the pot or steamer. Those are flavorful juice that I like to mix with the rice later.
How to cook steamed ribs with glutinous rice with Instant Pot
I also include instructions on how to cook this by steaming it on the stove on the recipe card below when you scroll down to view the recipe.
1. Soak the sticky rice for at least 4 hours or overnight. Drain off the soaking water after that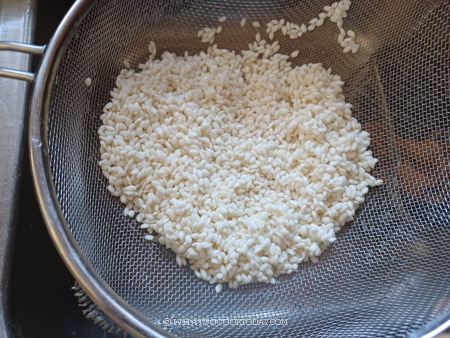 2. Remove excess fat from the ribs and cut it into an individual rib. Soak the ribs in cold water for 30 minutes to remove excess blood. Drain off the water and pat them dry. Add all ingredients for the marinade and mix thoroughly to make sure the marinade coats the ribs. Cover and let marinade for at least 2 hours or overnight for the best result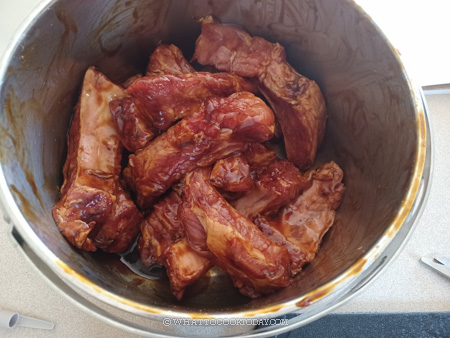 3. Remove the ribs from the fridge. Add the jujube and soaked sticky rice. Use your clean hand to mix everything to make sure the ribs are coated with the rice

4. Fill up the inner pot with 2 cups of water. Put a steaming rack inside. Line the rack with lotus leaves, overlapping each other if necessary. Arrange the ribs on top of the leaves. It is best if you can line them in one layer so they cook more evenly. If not, you can stack in two layers, it may take a bit longer to cook

5. Cover the lid. Press the "pressure cooker" function and make sure it's on high pressure. Set the timer to 40 minutes if you use baby back ribs and 45 minutes if you use spare ribs. When the timer is done, do a natural release. The pressure valve will collapse on its own, which may take about 10 minutes or so. Unlock the lid. You may see some of the rice grain may not be fully cooked, especially if you arrange the ribs for more than one layer. Just close the lid back up and let the residual heat cooks the rice for another 10 minutes

Did you make this Chinese steamed ribs with glutinous sticky rice recipe?
I love it when you guys snap a photo and tag it to show me what you've made 🙂 Simply tag me @WhatToCookToday #WhatToCookToday on Instagram and I'll be sure to stop by and take a peek for real!
Chinese Steamed Ribs with Glutinous Sticky Rice (Stove-top or Instant Pot)
Ingredients
Garnish:
1

stalk

green onion

finely chopped
Instructions
Soak sticky rice:
Soak the sticky rice for at least 4 hours or overnight. Drain off the soaking water after that

Lotus leaves are large in size. Cut into the size you need to line the steaming rack. Soak the lotus leaves in warm water to soften them
Marinate the ribs:
Remove excess fat from the ribs and cut into an individual rib. Soak the ribs in cold water for 30 minutes to remove excess blood. Drain off water and pat them dry

Add all ingredients for the marinade and mix thoroughly to make sure the marinade coats the ribs. Cover and let marinade for at least 2 hours or overnight for the best result
Cooking with Instant pot:
Remove the ribs from the fridge. Add the jujube and soaked sticky rice. Use your clean hand to mix everything to make sure the ribs are coated with the rice

Fill up the inner pot with 2 cups of water. Put a steaming rack inside. Line the rack with lotus leaves, overlapping each other if necessary

Arrange the ribs on top of the leaves. It is best if you can line them in one layer so they cook more evenly. If not, you can stack in two layers, it may take a bit longer to cook

Cover the lid. Press the "pressure cooker" function and make sure it's on high pressure. Set the timer to 40 minutes if you use baby back ribs and 45 minutes if you use spare ribs

When the timer is done, do a natural release. The pressure valve will collapse on its own, which may take about 10 minutes or so. Unlock the lid. You may see some of the rice grain may not be fully cooked, especially if you arrange the ribs for more than one layer. Just close the lid back up and let the residual heat cooks the rice for another 10 minutes
Cooking on the stove:
Bring the water in the steamer to a boil.

Remove the ribs from the fridge. Add the jujube and soaked sticky rice. Use your clean hand to mix everything to make sure the ribs are coated with the rice

Line the steaming rack with lotus leaves, overlapping each other if necessary

Arrange the ribs on top of the leaves. It is best if you can line them in one layer so they cook more evenly. If not, you can stack to two layers, it may take a bit longer to cook. Scatter the remaining rice grains and jujube on top of the ribs

Let it steam over high heat for 1 hour for baby back ribs and about 1 hour 10 minutes for spare ribs or until the ribs are tender but not falling off the bones yet
Serving:
Transfer to ribs to a serving platter, garnish with some chopped green onion if you like and serve while they are warm
Notes
You can use baby back ribs or spare ribs. Spare ribs are meatier and have more bone and take a bit longer to cook compared to baby back ribs but spare ribs are cheaper. So , it's up to you which one you want to use
If you don't have lotus leaves, you can use bamboo leaves, cabbage leaves, napa cabbage, or parchment paper to line the steamer
Recommended products:
Nutrition
Serving:
1
serving
|
Calories:
495
kcal
|
Carbohydrates:
38
g
|
Protein:
21
g
|
Fat:
28
g
|
Saturated Fat:
9
g
|
Polyunsaturated Fat:
5
g
|
Monounsaturated Fat:
10
g
|
Trans Fat:
0.3
g
|
Cholesterol:
93
mg
|
Sodium:
1052
mg
|
Potassium:
376
mg
|
Fiber:
1
g
|
Sugar:
3
g
|
Vitamin A:
20
IU
|
Vitamin C:
1
mg
|
Calcium:
33
mg
|
Iron:
2
mg