Soft, fluffy, and slightly chewy Hakka-style hee pan or steamed buns leavened with yeast and made with pumpkin and just lightly sweetened.


Similar to making the traditional Chinese steamed buns, making this Hakka-sytle steamed buns known as hee pan/xi ban, can be quite a fun thing to do simply because the possibility of flavors you can infuse these fluffy and slightly chewy hee pan is quite limitless. So far I've done pandan hee pan, gula Melaka hee pan, purple sweet potato hee pan, and now pumpkin hee pan. More are coming though 🙂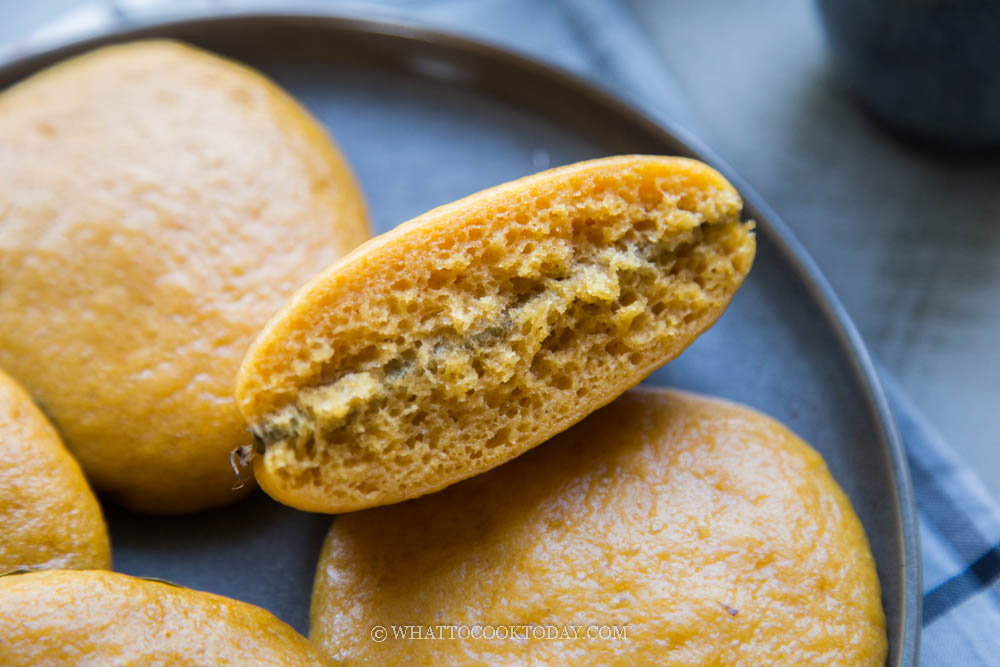 How to make pumpkin hee pan
1. Cut banana leaves into about 4×4 inch square and brush with some oil. Cut pumpkin into small chunks and steam over medium-high heat until soft, about 10 minutes. Puree until smooth.
2. Mash pumpkin with sugar


3. When it is no longer hot and lukewarm (suitable for the yeast), add the yeast and stir to combine


4. Add glutinous rice flour, all-purpose flour, salt, oil, and half of the water


5. Knead into a dough and add water gradually until you get a smooth non-sticky dough. The amount of water needed may vary slightly depending on the pumpkin you use


6. Divide the dough into 8 equal pieces. Oil both of your palms, but not too heavily and roll the dough into smooth round ball and place it on the banana leaves and flatten it with your palm to form a disc. Repeat with the rest of the dough balls


7. Cover with a clean tea towel and put at a warm place to let them proof for at least 1 hour (no less). It may take longer than 1 hour in a colder climate. I found that if the dough is properly proofed, the hee pan will have fluffy with a slightly chewy texture. They will puff up to about 50% of its original size and feels really light. If you gently press with your finger, it will bounce back slowly


8. Arrange the proofed buns inside the steamer. Start with a cold steamer that you have filled up with some water. Wrap the lid with towel to prevent condensation from dropping on the buns. If you use bamboo basket, you don't need to do this


9. Turn the stove on and adjust the heat to medium. When the water comes to simmer, crack the lid open to allow some gap a bit to let steam escape. Start the timer and set it to 15 minutes and let them steam over medium heat with the lid slightly opened and DO NOT crank up the heat. When 15 minutes are up, allow 5 minutes before opening the lid

What is the correct texture for hee pan ?
Hee pan should be soft and fluffy like regular steamed buns BUT also has that slightly chewy texture thanks to the glutinous rice flour.
Why hee pan is dense and more like mochi?
If the texture of your hee pan is dense and heavy after steaming and chewy and stretchy like mochi instead of steamed buns, there could be a couple of reasons:
1. Please make sure you weigh the ingredients correctly. Use a digital kitchen scale is the most accurate
2. Most likely the hee pan is not proofed sufficiently. Many recipes call for proofing for only 30 minutes. I have consistently found that this is not sufficient and I had been doing the same thing. Finally, once I proofed them for at least 1 hour and with evidence showing the buns are lighter, 50% puffier than its original size, the hee pan come out fluffy with a pleasantly chewy texture every time.
3. You steam the hee pan over high heat and the hee pan will collapse when you take them out from the steamer and the texture turns really dense
How to store and reheat hee pan
1. Let them cool down completely
2. Transfer to an air-tight container and they can be kept at room temperature for 2-3 days. They should remain soft for a day or two
3. Simply reheat in the microwave for a few seconds to warm up or use a steamer to warm them up
4. They can be kept frozen for longer storage. Wrap each hee pan with cling wrap and then store in a zipper bag. Simply thaw in the fridge and then reheat in the steamer or microwave until heated through
Did you make this pumpkin hee pan recipe?
I love it when you guys snap a photo and tag to show me what you've made 🙂 Simply tag me @WhatToCookToday #WhatToCookToday on Instagram and I'll be sure to stop by and take a peek for real!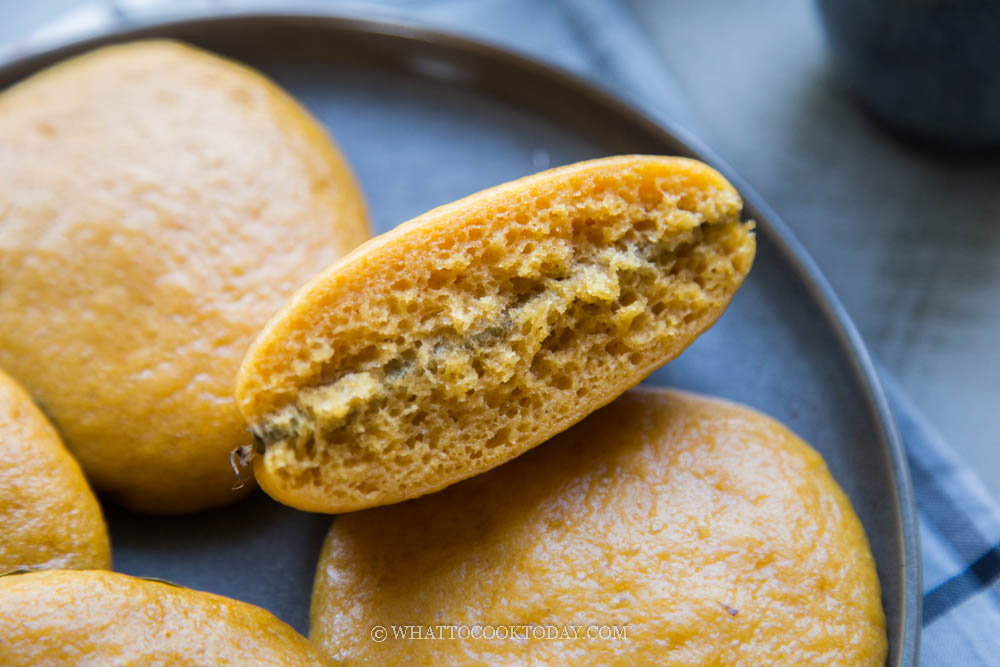 Pumpkin Hee Pan (Hakka Xi Ban/ Steamed Buns)
Ingredients
Activate the yeast: (whether you use instant yeast or active dry yeast)
1

tsp

instant yeast

1

Tbsp

warm water (not hot, we don't want to kill the yeast)

¼

tsp

sugar
You will also need:
Banana leaves

sub with parchment paper if you don't have any
Instructions
Cut banana leaves into about 4x4 inch square and brush with some oil
Prepare the dough:
Put the yeast, water and sugar in a small bowl. Stir to combine and then let it sit for 10 minutes. The mixture will turn foamy and bloom. This shows that the yeast is active

Cut pumpkin into small chunks and steam over medium-high heat until soft, about 10 minutes. Puree until smooth. Mash with sugar. When it is no longer hot and lukewarm, add the yeast mixture and oil and stir to combine. Add glutinous rice flour, all-purpose flour, and salt. Knead until you get a rough dough. The amount of water needed may vary slightly depending on the pumpkin you use. You may not need to add water. Cover and rest for 15 minutes. Then go back and knead into a soft and smooth dough
Shaping:
Divide the dough into 8 equal pieces. Oil both of your palms lightly (don't make it too greasy) and roll the dough into a smooth round ball and place it on the banana leaves and flatten it with your palm to form a disc. Repeat with the rest of the dough balls
Proofing:
Cover with a clean tea towel and put at a warm place to let them proof for at least 1 hour (no less). It may take longer than 1 hour in a colder climate. I found that if the dough is properly proofed, the hee pan will have fluffy with a slightly chewy texture. They will puff up to about 50% of its original size and feels really light. If you gently press with your finger, it will bounce back slowly
Steaming:
Arrange the proofed buns inside the steamer. Start with a cold steamer that you have filled up with some water. Wrap the lid with towel to prevent condensation from dripping on the buns. If you use bamboo basket, you don't need to do this.

Turn the stove on and adjust the heat to medium. When the water comes to simmer, crack the lid open to allow some gap a bit to let steam escape. Start the timer and set it to 15 minutes and let them steam over medium heat with the lid slightly opened and DO NOT crank up the heat. When 15 minutes are up, allow 5 minutes before opening the lid
Cooling down:
Then transfer the hee pan out onto a cooling rack to let them cool down a little bit. Use a kitchen shears to trim the extra banana leaves if you want a neat presentation. They can be served warm or at room temperature
Recommended products:
Nutrition
Serving:
1
hee pan
|
Calories:
113
kcal
|
Carbohydrates:
22
g
|
Protein:
2
g
|
Fat:
2
g
|
Saturated Fat:
1
g
|
Polyunsaturated Fat:
1
g
|
Monounsaturated Fat:
1
g
|
Trans Fat:
1
g
|
Sodium:
39
mg
|
Potassium:
59
mg
|
Fiber:
1
g
|
Sugar:
7
g
|
Vitamin A:
1945
IU
|
Vitamin C:
1
mg
|
Calcium:
6
mg
|
Iron:
1
mg