Make this delicious soft and fluffy baked bomboloni/bombolone (Italian filled doughnuts) filled with pandan custard cream. They are sooo good and you don't have to deep fry the doughnuts.


Nothing is more satisfying than biting into a homemade yeasted bomboloni doughnuts/donuts filled with creamy pandan custard! OMG! Soooo….good! that was the first thing I heard from the kids when they took the first bite! The best part is, the doughnuts were baked and not deep-fried!
What is bomboloni/bombolone?
This popular Italian filled doughnuts definitely need no introduction from me to you. The popularity is on the rise recently, not only in Italy, but outside of Italy. They are leavened with yeast and then deep fried and rolled in sugar. And if that's not enough, they are also filled with pastry cream. My take on the bomboloni is the baked version and to fill them with pandan custard cream. I love to add a bit of Southeast Asian touch to this delicious soft and light doughnuts
Can I make bomboloni without yeast?
Yes you can, BUT, as much as I like convenience and easy recipe, I like an old-fashioned yeasted doughnuts. They are different compared to when you just leavened the doughnuts using chemical such as baking powder or baking soda. I've tried it with baking powder and while they turned out okay, the family still prefer the yeasted bomboloni and so that's the recipe I'm sharing here.
How to make bombolini with pandan custard cream / pandan donuts
1. Cut the pandan leaves into little pieces. Blend this together with the milk from both the dough and the custard. Strain and squeeze out more juice from the pulp and discard. Measure to make sure you get 370 ml. Top up with more milk if necessary. Combine 260 ml pandan milk, sugar, pandan essence, and flour in a saucepan. Whisk to combine until no lumps. Add egg yolks in and whisk again to combine to make sure it's smooth. Strain mixture if necessary.


2. Put this over low-medium heat, add butter and cook until the sugar dissolves and the butter melts and continue to stir until the custard thickens


3. It coats the back of the spatula. It will thicken further when it cools down


4. Remove from the heat and cover with a cling wrap, touching the surface of the custard to prevent the custard forming a skin on top. Chill in the fridge while you prepare the doughnuts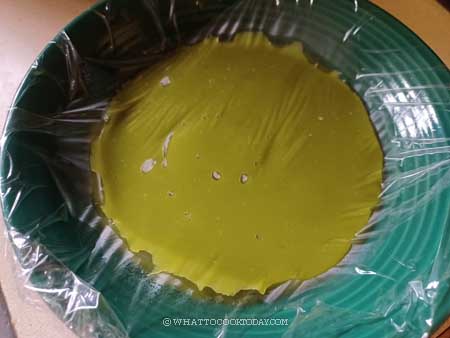 5. Combine all ingredients for the dough, except for the butter in a mixing bowl of a stand mixer fitted with a dough hook attachment.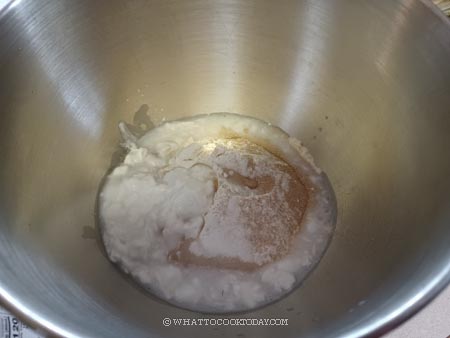 6. Knead until it forms a rough dough


7. Add the softened butter and continue to knead until the dough is smooth and just slightly sticky to touch. It doesn't have to reach window pane


8. Oil a large bowl and transfer the dough into the bowl. Cover and let it proof at a warm place for about 1 hour or until it doubles in size. Don't go by the time. It may take longer if the temperature is colder where you are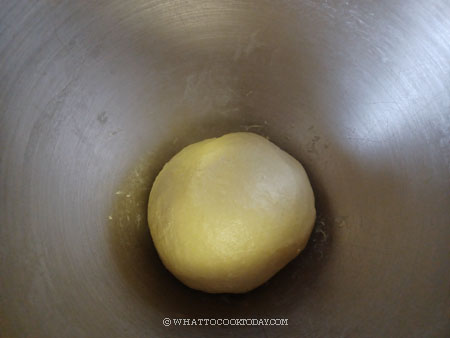 9. When you press on the dough, the indentation stays, which means the dough is done proofing. Transfer to a work surface lightly dusted with some flour


10. Punch all the air out and give it a few kneads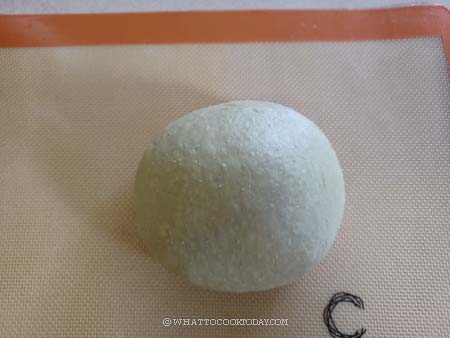 11. Divide the dough into 10 equal pieces.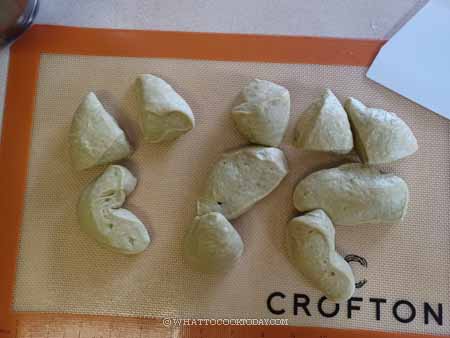 12. Flatten the dough slightly into a disc to push any extra air bubbles out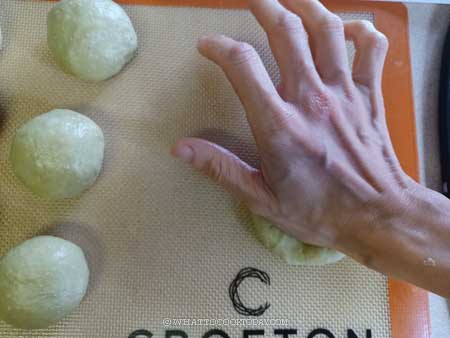 13. Then pull the edges of the dough and tuck to form a round shape. Roll it into smooth round dough ball.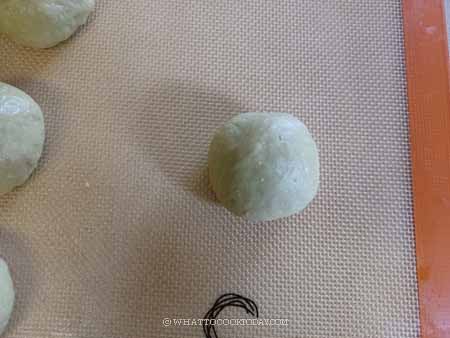 14. Flatten with your palm. Put them on a large baking sheet lined with parchment paper. Repeat with the rest of the dough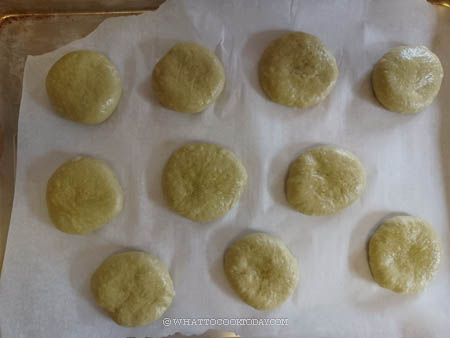 15. Cover the shaped dough with a clean tea towel and let them proof again until they are puffy at a warm place. It may take 45 minutes to one hour at a warm place. When you gently push on the dough, the indentation will slowly spring back and


16. The dough feels much lighter and almost double in size. These are the signs that they are done proofing. Preheat your oven to 375 F (190 C) 12-15 minutes before the end of proofing time. Brush with egg wash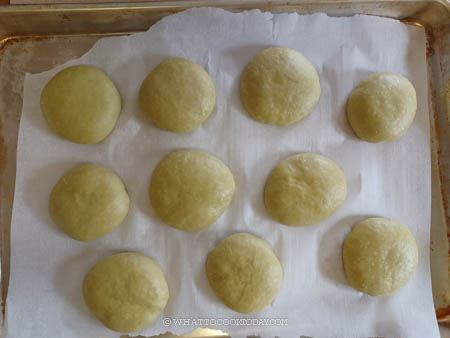 17. Place the baking sheet in the middle rack of the oven and bake for the next 12-15 minutes


18. Remove from the oven and brush with melted butter all over immediately


19. Coat with sugar on both sides. Place them on cooling rack to let them cool down before filling them with custard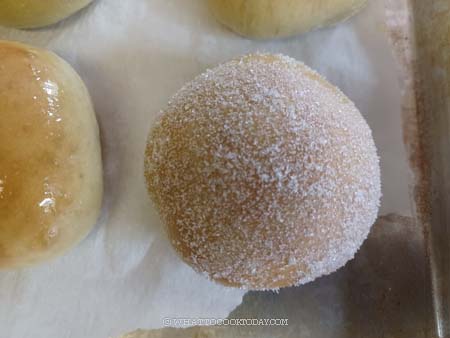 20. Transfer custard to a piping bag fitted with star or plain nozzle. Cut a slit on the side of the doughnuts, deep enough to have decent amount of filling inside the doughnuts. Gently pipe in filling into the doughnuts until you see the custard filling all the way up. I recommend only fill as many doughnuts you want to serve, that way, you can store the doughnuts and the custard separately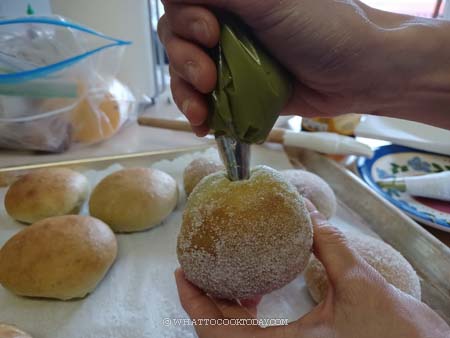 How to store bomboloni without filling
Once the bomboloni has cooled down completely. Put them in air-tight container and they can be kept at room temperature for about 1-2 days max. You can keep the custard cream wrap up in the fridge and it should be good for about 3-5 days max
How to store bomboloni with filling
Once you have filled the bomboloni with cream, it is best to eat them on the same day. Which is why you only want to fill them when you want to eat them. Keep them in an air-tight container in the fridge for 3-4 days max.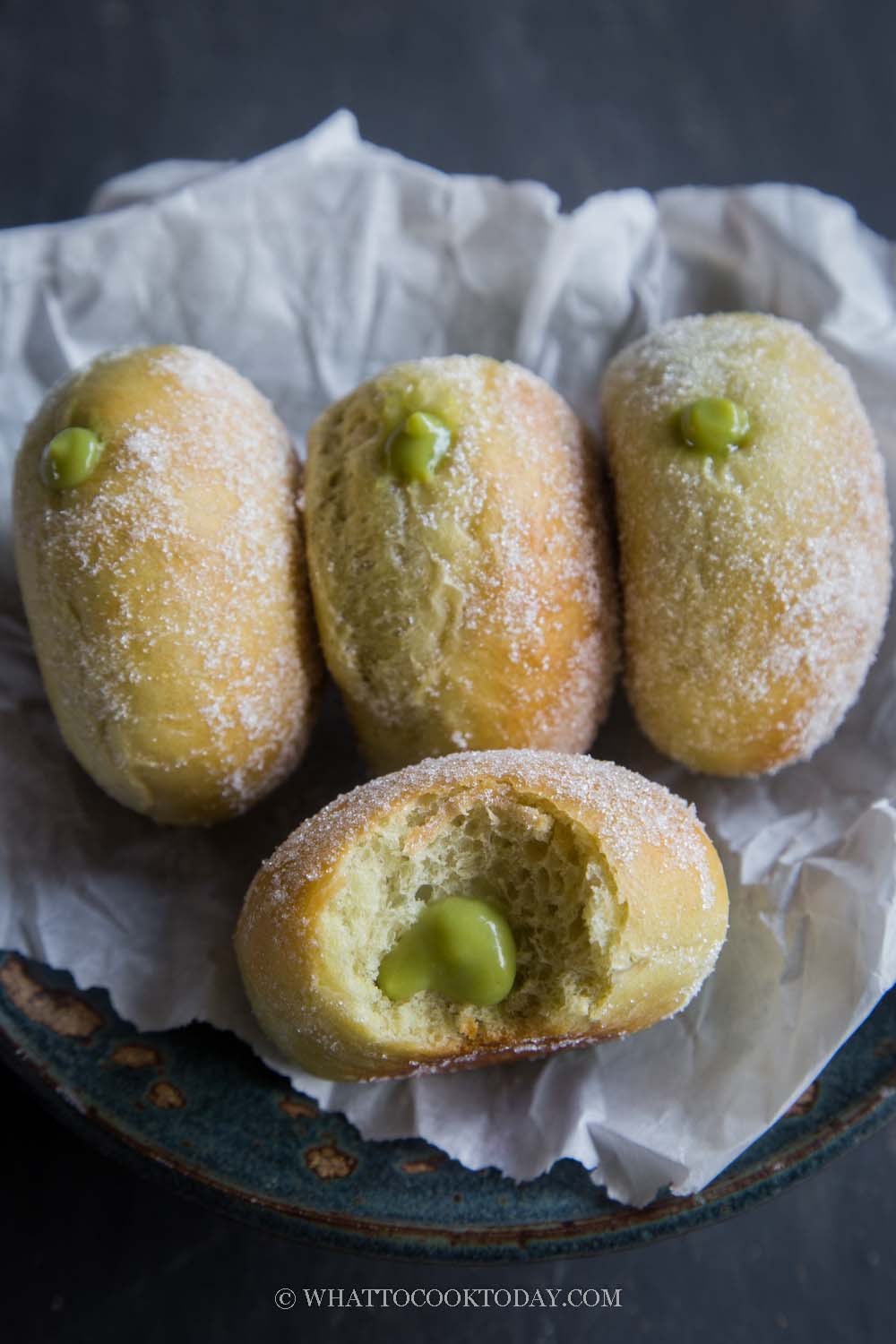 Did you make this bomboloni with pandan custard cream recipe?
I love it when you guys snap a photo and tag to show me what you've made 🙂 Simply tag me @WhatToCookToday #WhatToCookToday on Instagram and I'll be sure to stop by and take a peek for real!

Baked Bomboloni/Bombolone with Pandan Custard (Pandan Donut)
Ingredients
For brushing and coating:
1

Tbsp

butter

unsalted, melted

⅓

cup

sugar
Instructions
Prepare pandan custard:
Cut the pandan leaves into little pieces. Blend this together with 420 gr milk (160 gr from the dough and 260 gr from the custard). Strain and squeeze out more juice from the pulp and discard. Measure to make sure you get 420 gr. Top up with more milk if necessary

Combine 260 ml pandan milk (save the rest for the dough), sugar, pandan essence, and flour in a saucepan. Whisk to combine until no lumps. Add egg yolks in and whisk again to combine to make sure it's smooth. Strain mixture if necessary. Put this over low-medium heat, add butter and cook until the sugar dissolves and the butter melts and continue to stir until the custard thickens and coats the back of the spatula. It will thicken further when it cools down

Remove from the heat and cover with a cling wrap, touching the surface of the custard to prevent the custard forming a skin on top. Chill in the fridge while you prepare the doughnuts
Prepare the dough:
Combine all ingredients for the dough, except for the butter in a mixing bowl of a stand mixer fitted with a dough hook attachment. Knead until it forms a rough dough. Add the softened butter and continue to knead until the dough is smooth and just slightly sticky to touch. It doesn't have to reach window pane
First proofing:
Oil a large bowl and transfer the dough into the bowl. Cover and let it proof at a warm place for about 1 hour or until it doubles in size. Don't go by the time. It may take longer if the temperature is colder where you are
Shape:
When you press on the dough, the indentation stays, which means the dough is done proofing. Transfer to a work surface lightly dusted with some flour

Punch all the air out and give it a few kneads. Divide the dough into 10 equal pieces. Flatten the dough slightly into a disc and then pull the edges of the dough and tuck to form a round shape. Roll it into smooth round dough ball. Flatten with your palm. Put them on a large baking sheet lined with parchment paper. Repeat with the rest of the dough
Second proofing:
Cover the shaped dough with a clean tea towel and let them proof again until they are puffy at a warm place. It may take 45 minutes to one hour at a warm place. When you gently push on the dough, the indentation will slowly spring back and the dough feels much lighter and almost double in size. These are the signs that they are done proofing. Preheat your oven to 375 F (190 C) 10 minutes before the end of proofing time

Brush the surface with some egg wash
Baking:
Place the baking sheet in the middle rack of the oven and bake for the next 12-15 minutes or until golden brown. Do not overbake

Remove from the oven and brush with melted butter all over immediately and then coat with sugar on both sides. Place them on cooling rack to let them cool down before filling them with custard
Fill with custard:
Transfer custard to a piping bag fitted with star or plain nozzle

Cut a slit on the side of the doughnuts with a small paring knife and twist it around to make some space, deep enough to have decent amount of filling inside the doughnuts. Gently pipe in filling into the doughnuts until you see the custard filling all the way up. I recommend only fill as many doughnuts you want to serve, that way, you can store the doughnuts
Nutrition
Serving:
1
serving
|
Calories:
275
kcal
|
Carbohydrates:
42
g
|
Protein:
7
g
|
Fat:
9
g
|
Saturated Fat:
5
g
|
Polyunsaturated Fat:
1
g
|
Monounsaturated Fat:
3
g
|
Trans Fat:
0.2
g
|
Cholesterol:
110
mg
|
Sodium:
112
mg
|
Potassium:
125
mg
|
Fiber:
1
g
|
Sugar:
16
g
|
Vitamin A:
344
IU
|
Vitamin C:
0.001
mg
|
Calcium:
71
mg
|
Iron:
2
mg