Learn how to make this popular Singapore hawker fare at home known as stir-fried flat rice noodles or char kway teow. If you are health conscious, you can make this without using a lard.
Char kway teow is well-loved in Southeast Asia. Each country seems to have their own variations, but if you ask me, there's really no rules when it comes to stir frying rice, kway teow or any noodles in general. A while ago I made Penang Char Kway Teow, which is very similar to this Singapore Char Kway Teow too.
Kway Teow Noodles/ Fun Noodles
Kway teow noodles are basically made from rice and has wide and flat in shape. They are gluten-free. They are also known as "fun" noodles in Cantonese.
1. Fresh kway teow noodles
If you live in Asia, this can be easily obtain at grocery store or "wet" market. You can also make your own kway teow/hor fun noodles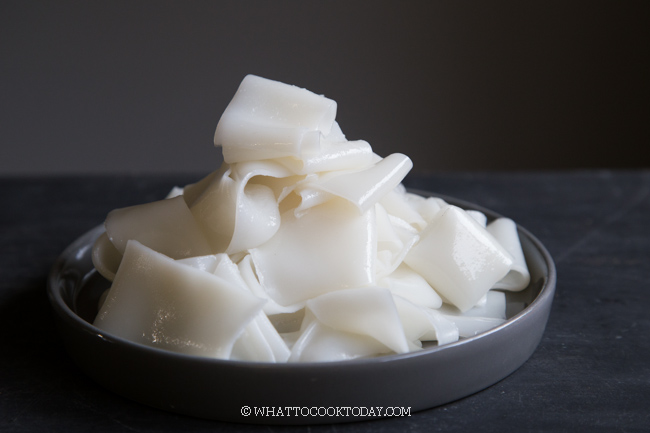 2. Fresh refrigerated kway teow noodles
If you live outside of Asia, it is very difficult to get freshly made kway teow noodles. However, fresh refrigerated flat rice noodles are widely available in Asian grocery stores


3. Dried kway teow noodles
They come in different size: S, M, L, XL (just like clothing LOL). The size refer to the wideness. Use the XL size
Managed expectations
When it comes to char kway teow, I can probably say that the number one thing that people evaluate on whether it's a good char kway teow or not is the "wok hei". The "smoky charred" aroma that is imparted to the noodles when it's cooked in high heat. Can we do wok hei with this homemade version of Singapore char kway teow?
No, I couldn't. Not with my stove. The stove is not capable of producing that kind of high heat. The one in the restaurant or hawker center can. BUT, still the homemade version is still tasty 😉

Tips for making good char kway teow
1. Use fresh or fresh refrigerated kway teow noodles if possible
They just taste better. Sometimes, I have to use dried kway teow noodles too and it's okay, but I still prefer it with fresh or fresh refrigerated noodles
2. Aim to cook no more than 2 servings at a time
Char kway teow tastes way better when you cook in small batch. When you cook in a big batch, you tend to break the noodles into little pieces simply because there is so much stirring you have to do to get everything well-combined
3. Prepare the kway teow noodles
If you use fresh, there's really not much to prepare, BUT if you use fresh refrigerated, they need to be warmed up and then separate the strands of noodles. The dried version need to be soaked in water (not hot) until softened
4. Mix seasonings in one bowl
5. Get everything ready within you reach
Stir frying char kway teow happens quickly, which means you want to have things within your reach because the whole process takes about 5 minutes or less and you don't want to overcook things
6. Use carbon steel or cast-iron skillet or wok if possible
They retain heat very well and cooks the food evenly. Sometimes I use regular pan too (like in the video) and it's still acceptable
7. Handle the kway teow as little as possible
The more you stir the noodles the more it's going to break into smaller pieces. The finished dish is not going to be long strand of noodles that's for sure, some of the kway teow noodles will break into smaller pieces, and that's normal. We just don't want the whole thing to break into tiny pieces and get all mushy.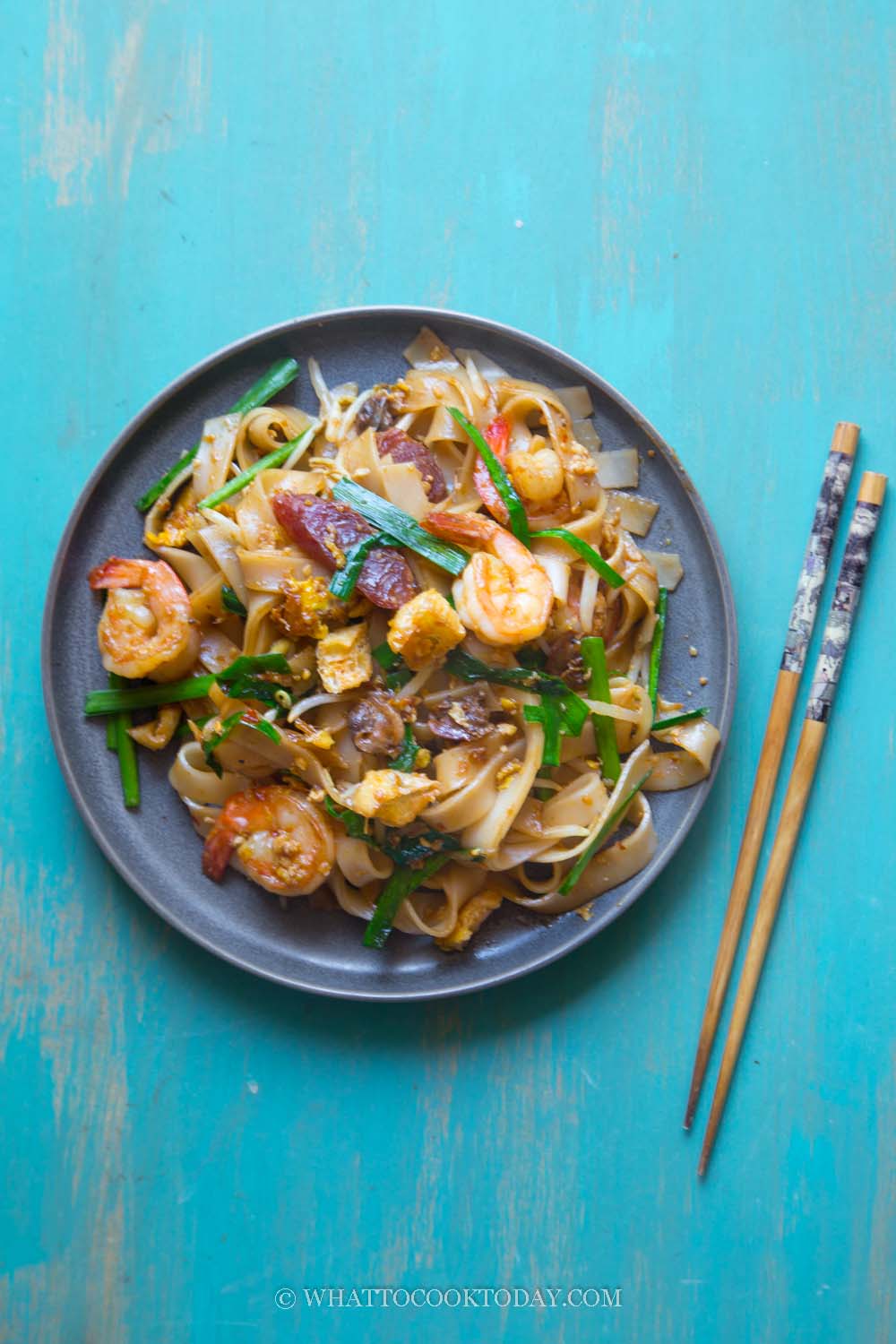 Did you make this Singapore Char Kway Teow recipe?
I love it when you guys snap a photo and tag to show me what you've made 🙂 Simply tag me @WhatToCookToday #WhatToCookToday on Instagram and I'll be sure to stop by and take a peek for real!

Easy Singapore Char Kway Teow (Healthier version - No Lard)
Ingredients
300

gr

fresh kway teow noodles

see notes

3

Tbsp

cooking oil

or lard if you choose to use
Add-ons (you can use as many or as few of these as you wish):
1

Chinese sausage (lap cheong)

sliced

40

gr

fish cakes

sliced

100

gr

shrimp

peeled and deveined

2

large

eggs

2

Tbsp

fresh blood cockles
Aromatics:
3

cloves

garlic

minced

5

stalks

garlic chives

cut into 2-inch length
Seasonings (adjust to your preference):
Instructions
Things to prepare before you start cooking:
Mix all the ingredients for seasonings and stir to combine. Set aside
If you use fresh kway teow noodles that hasn't been refrigerated:
You can proceed to the cooking step as there's not much to prepare here
If you use fresh but refrigerated kway teow noodles:
DO NOT try to separate the kway teow while it's cold as they will break. You can warm the kway teow by steaming for 5 minutes or until they soften over medium heat. You can also microwave them covered with a damp paper towel in one-minute increment until they are softened

Separate the strands of noodles when it's cooled enough to handle. Toss them in a bit of soy sauce to prevent the noodles from sticking
If you use dried kway teow noodles:
If you can choose the size, use the "widest" dried rice noodle sticks. Soak them in cold water (NOT hot water) until they soften. Drain off water
Cooking (if you use fresh kway teow):
Preheat a large wok or skillet until really hot. Add oil (or lard if using). Add garlic and stir fry for about 10 seconds. Add the lap cheong, shrimp, fish cakes, or other add-ons you use, except for the cockles (if using) and eggs. Cook until the shrimp just turn pink but not quite cook yet, push to the sides

Crack in eggs and scramble the yolks a bit and let them cook undisturbed for about 10 seconds and then add kway teow noodles, chili boh, followed by the seasonings. Gently stir to combine. Try not to handle the kway teow too much (especially if you use fresh kway teow) as they will break into little pieces

If you use fresh cockles, add them here and cook for another 10 seconds. Add the bean sprouts and cook for another 30 seconds, check to make sure the cockles are no longer bloody. Have a quick taste test and add more seasonings to your taste, turn off the heat. Sprinkle the chives in and gently move the kway teow around to combine everything one last time. Serve immediately
Cooking (if you use dried kway teow):
Because dried kway teow takes longer to cook compared to fresh kway teow, then we will cook it separately first. Preheat a large wok or skillet until really hot. Add 2 Tbsp of oil. Add the pre-soaked kway teow, splash with about 1 Tbsp of water and then cover with a lid to let the noodles softened, about 3-5 minutes, don't go by the time, but look at the noodles. You will be able to see when the noodles soften, but don't let it turns into a mush

When the noodle has softened, uncover the lid and stir to move it around, but not too much that you break the noodles into tiny pieces. Remove from the wok and set it aside

Add the remaining oil (or lard if using). Add garlic and stir fry for about 10 seconds. Add the lap cheong, shrimp, fish cakes, or other add-ons you use, except for the cockles (if using) and eggs. Cook until the shrimp just turn pink but not quite cook yet, push to the sides

Crack in eggs and scramble the yolks a bit and let them cook undisturbed for about 10 seconds and then add kway teow noodles, chili boh followed by the seasonings. Gently stir to move it around to combine. Try not to handle the kway teow too much though

If you use fresh cockles, add them here and cook for another 10 seconds. Add the bean sprouts and cook for another 30 seconds. Check to make sure the cockles are no longer bloody. Have a quick taste test and add more seasonings to your taste, turn off the heat. Turn off the heat. Sprinkle the chives in and gently move the kway teow around to combine everything one last time. Serve immediately
Notes
If use dried kway teow noodles, use 150-175 gr 
You can also use store-bought sambal oelek or chili paste of your choice 
Recommended products:
Nutrition
Calories:
1173
kcal
|
Carbohydrates:
170
g
|
Protein:
33
g
|
Fat:
39
g
|
Saturated Fat:
7
g
|
Polyunsaturated Fat:
9
g
|
Monounsaturated Fat:
21
g
|
Trans Fat:
1
g
|
Cholesterol:
227
mg
|
Sodium:
3005
mg
|
Potassium:
628
mg
|
Fiber:
6
g
|
Sugar:
15
g
|
Vitamin A:
456
IU
|
Vitamin C:
29
mg
|
Calcium:
113
mg
|
Iron:
7
mg