Simple syrup is infused with aromatic dried osmanthus flowers that you can use for your tea, in your baking, sweets, and desserts.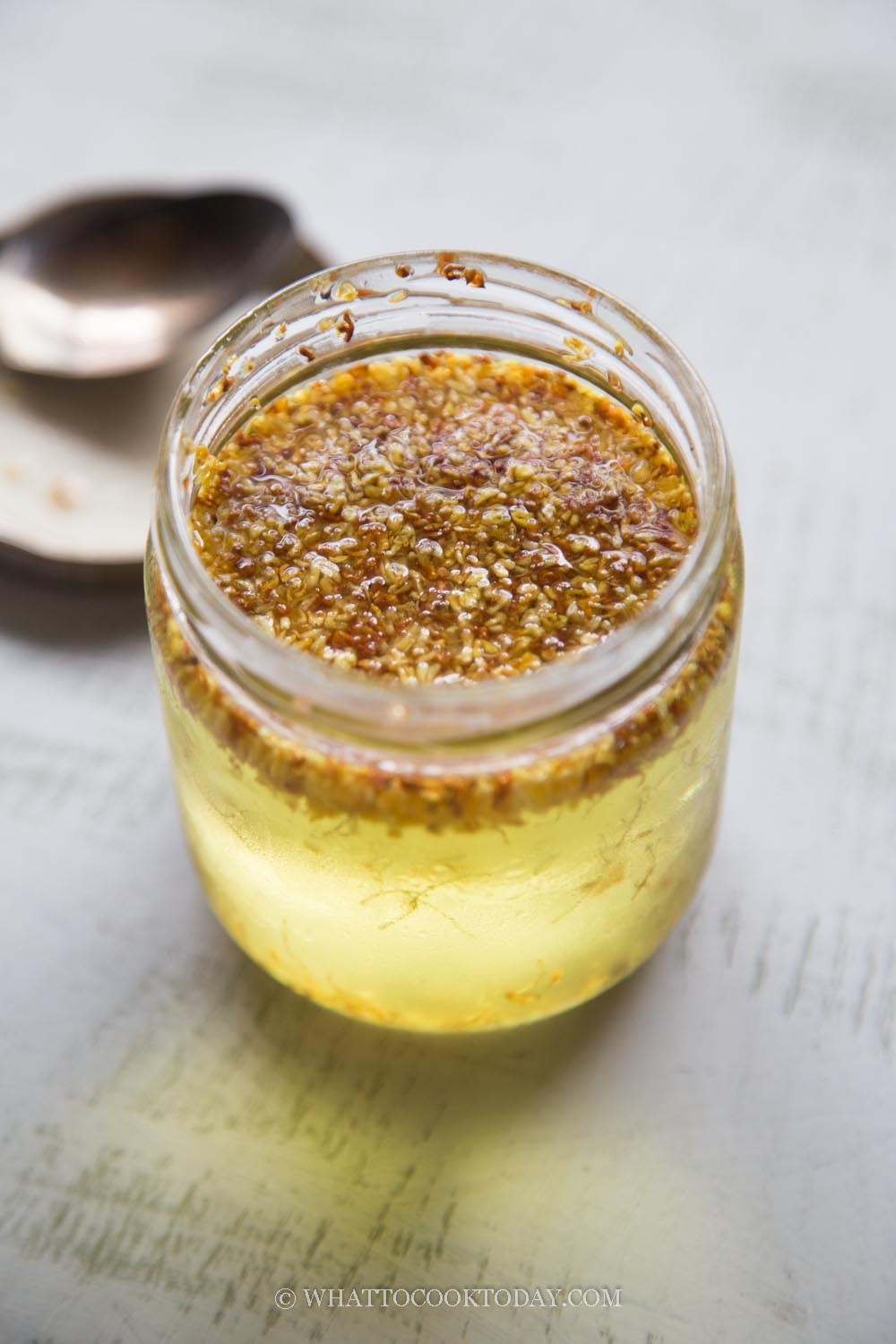 What is osmanthus?
Osmanthus are flowers natives to China and several other East Asian countries. According to wikipedia, there are about 30 species of osmanthus in East Asia. Osmanthus is known for its fragrance, resemblance to the hybrid of peach and apricot. I love the smell a lot. Even my kids love the smell a lot. In China, osmanthus is dried and then used to brew tea, wine, to make sugar, syrup, and to flavor many cooking and sweets/cakes/desserts. Osmanthus is usually sold in dried forms.

How to make simple osmanthus syrup
1. Sterilize a jar by boiling it in a water for 10 minutes and then let it air dry on a clean towel
2. Put water, sugar, honey (if using), and salt in a saucepan over medium heat. Cook until the sugar dissolves. Bring it to a boil and then turn off the heat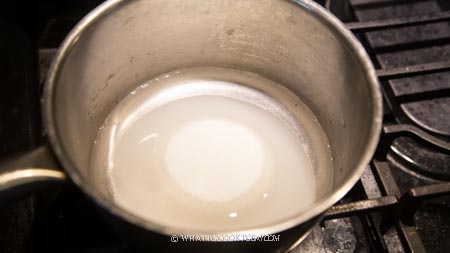 3. The mixture should be clear and no longer cloudy. Turn off the heat


4. Transfer the syrup to the jar and add osmanthus flower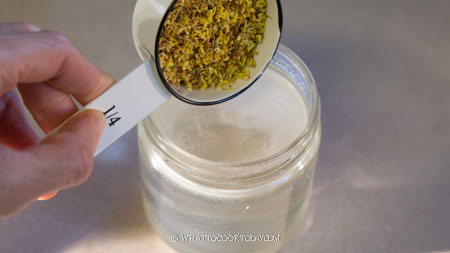 5. Stir it a bit to combine with the syrup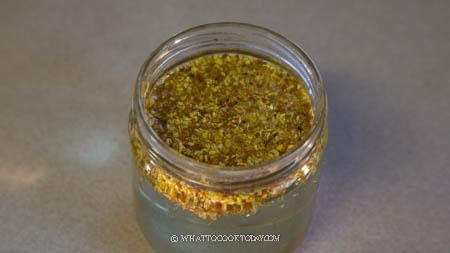 6. Let it cools down and then close the lid and let it sit in the fridge for 2-3 days or longer. The longer it sits, the more intense the flavor will be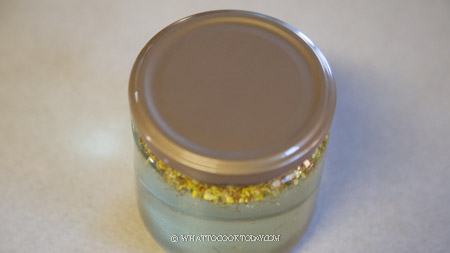 7. The syrup can be kept in the fridge for about 2 weeks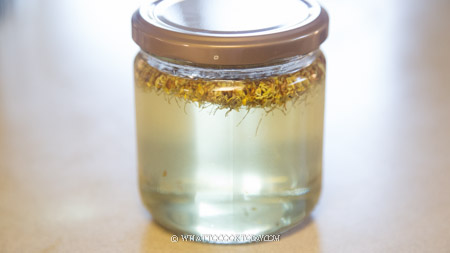 How to use osmanthus syrup
Osmanthus simple syrup can be used to sweeten your beverage, to serve with cakes and desserts. It can also be used as an ingredient to make cakes or desserts. It is also commonly served with tang yuan
Did you make this simple osmanthus syrup recipe?
I love it when you guys snap a photo and tag to show me what you've made 🙂 Simply tag me @WhatToCookToday #WhatToCookToday on Instagram and I'll be sure to stop by and take a peek for real!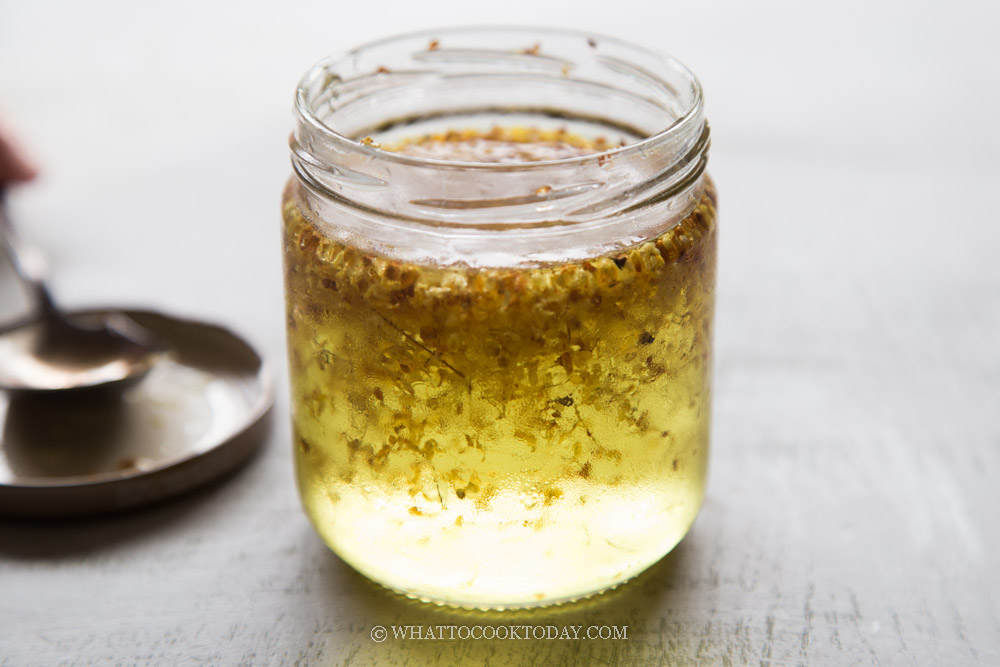 How To Make Simple Osmanthus Syrup
Instructions
Sterilize a jar by boiling it in a water for 10 minutes then let it air dry on a clean towel

Put water, sugar, honey (if using), and salt in a saucepan over medium heat. Cook until the sugar dissolves. The mixture should be clear and no longer cloudy. Turn off the heat. If you want it thicker, you can cook it over low heat for a bit longer. Keep in mind that it will thicken further as it cools down so you don't want to cook it for too long

Transfer the syrup to the jar and add osmanthus flower. Stir it a bit to combine with the syrup. Let it cools down and then close the lid and let it sits in the fridge for 2-3 days or longer. The longer it sits, the more intense the flavor will be

The syrup can be kept in the fridge for about 2 weeks or longer