Malay-style rich and lightly sweetened kuih bingka flavored with pumpkin, cinnamon, and coconut milk is easy to make and a satisfying treat. A perfect recipe during pumpkin season.

What is Bingka Labu Kuning?
Bingka is a Malay-style cake that is usually rich in flavor and dense in texture. It is not a leavened cake, hence the dense texture, but in a pleasant way. The cake has an amazing aroma from coconut milk and whatever flavor you use to flavor the cake. Bingka labu kuning is made with labu kuning (pumpkin), coconut milk, pinch of cinnamon, eggs, and sugar. The cake is very easy to put together and it is perfect for that afternoon tea snack.
What kind of pumpkin to use?
You can use store-bought pumpkin puree (not pumpkin pie mix), sugar pumpkin/pie pumpkin, baby Pam, Autumn gold, Lumina, Cinderella, Fairy Tale pumpkins can be used too.
Substitution for pumpkin
You can use orange sweet potato, other types of squash such as butternut squash, acorn squash.
Can I use a blender to make the cake batter?
I've tried it twice in the past and the results weren't good for some reasons. I think the culprit is too much air from the blending that causes the cake to really collapse and with some holes (from air bubbles) inside the cake. I think if you want to use a blender, you may want to rest the batter to let the bubbles settle down before you pour into the pan to bake.

How to make bingka labu kuning bakar
1. Preheat oven to 360 F(180 C) for conventional oven. If your oven uses top and bottom heat, preheat at 340 F (170 C). Line your baking pan with parchment paper. If you use a bundt pan, make sure you oil and flour the pan (tap out excess flour) so the cake won't stuck


2. In a large mixing bowl, add mashed pumpkin, both sugar. Stir to combine


3. Whisk the eggs until foamy, add coconut milk, and cinnamon and whisk again.


4. Pour this into the pumpkin mixture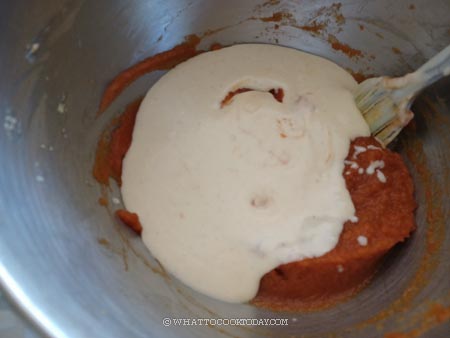 5. Whisk to combine


6. Sift in the all-purpose flour, cinnamon, and salt.


7. Use a whisk to combine until you don't see pockets of white flour. Switch to spatula to make sure you scrape the bottom of the bowl to make sure nothing left down there. It's a thick heavy batter. Strain the batter if you think there is some lumps in the batter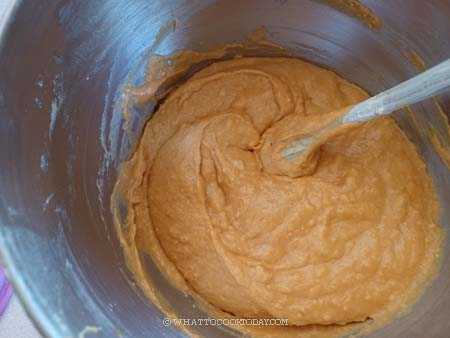 8. Pour this into the prepared cake pan. Shake the pan a bit to even out the batter. Give the pan a few bangs on the counter. Sprinkle with white sesame seeds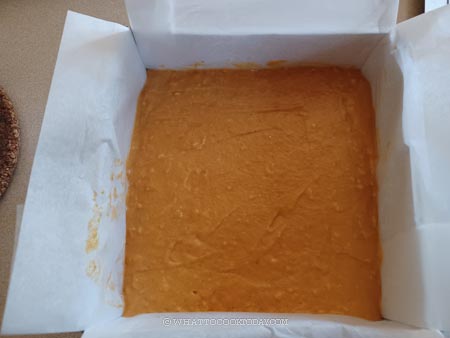 9. Place the cake pan in the middle rack. Bake in a preheated oven for 1 hour or until tooth pick inserted comes out clean with just few crumbs
10. Turn on the top heat only if you use convection oven and bake for additional 5 minutes until nicely golden brown. For my conventional oven, I use broiler. Turn it on low. Let it broil until you have some nice golden brown, but not burnt. You need to watch it closely here if you use a broiler


11. Remove from the oven and bang the cake pan on the counter 2-3 times to release hot air. Let it cools down in the pan completely, about 3-4 hours or so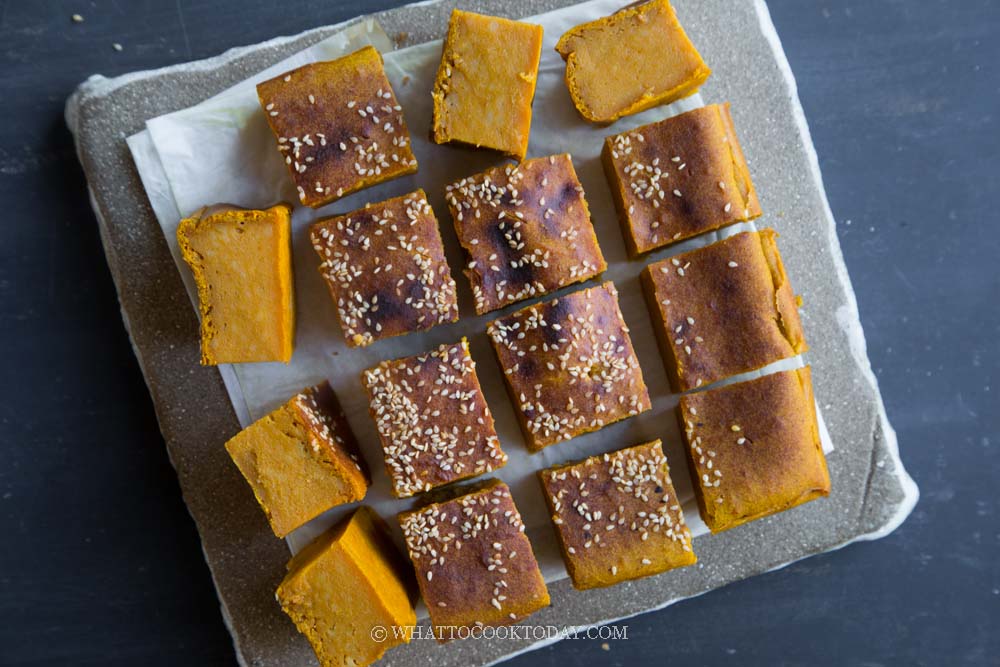 Did you make this bingka labu kuning bakar recipe?
I love it when you guys snap a photo and tag to show me what you've made 🙂 Simply tag me @WhatToCookToday #WhatToCookToday on Instagram and I'll be sure to stop by and take a peek for real!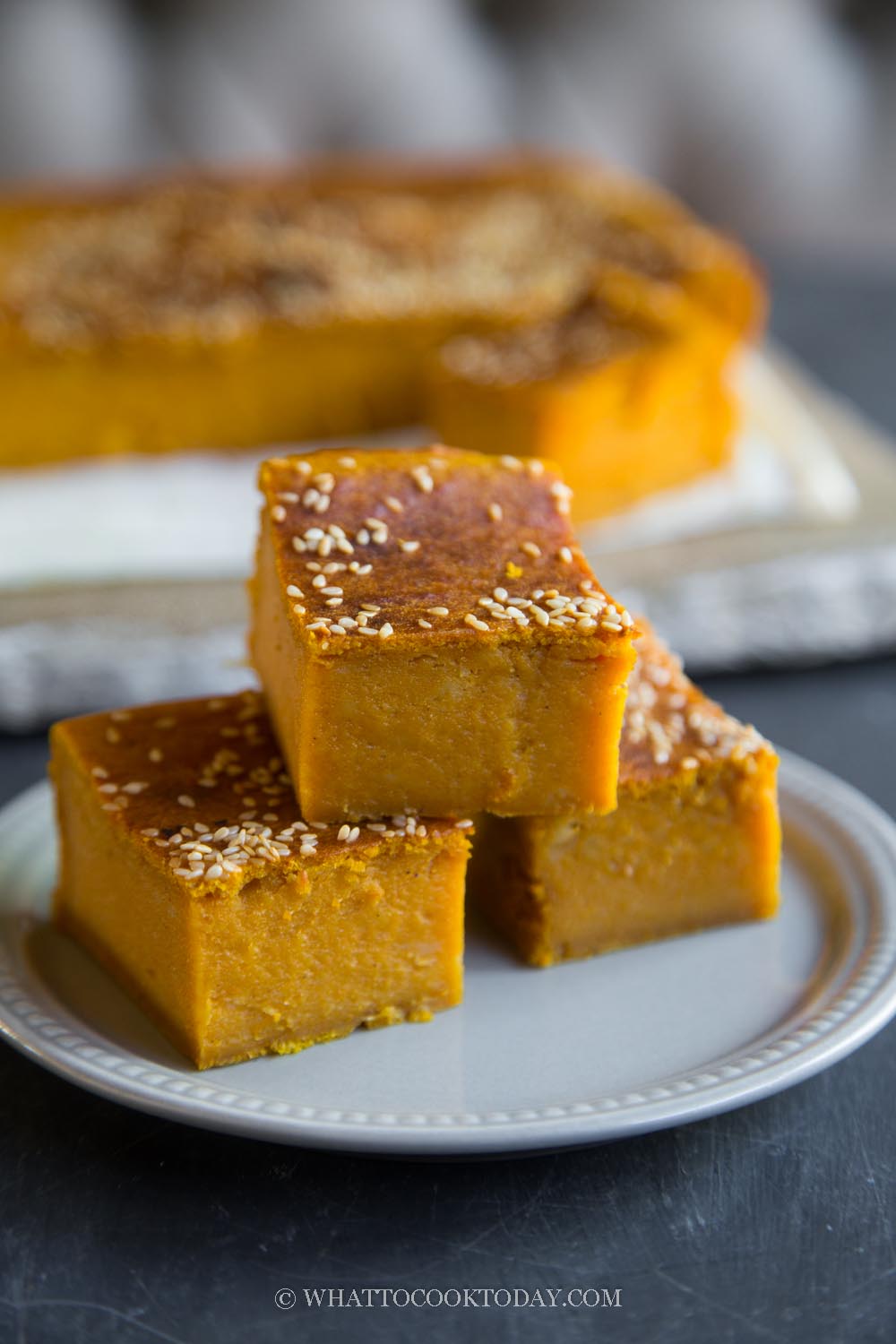 Bingka Labu Kuning Bakar (Malay Baked Pumpkin Cake)
Instructions
Cut the pumpkin into big chunks and then steam in the steamer until it is fork tender. Drain off any excess water and mash with fork while it's warm. You can puree it for smooth texture too. Set aside
Prepare the cake batter:
Preheat oven to 360 F(180 C) for conventional oven. If your oven uses top and bottom heat, preheat at 340 F (170 C). Line your baking pan with parchment paper. If you use a bundt pan, make sure you oil and flour the pan (tap out excess flour) so the cake won't stuck

In a large mixing bowl, add mashed pumpkin, both sugar. Stir to combine

Whisk the eggs until foamy, add coconut milk and whisk again. Pour this into the pumpkin mixture. Whisk to combine

Sift in the all-purpose flour, cinnamon, and salt. Use a whisk to combine until you don't see pockets of white flour. Switch to spatula to make sure you scrape the bottom of the bowl to make sure nothing left down there. It's a thick heavy batter

Pour this into the prepared cake pan. Shake the pan a bit to even out the batter. Give the pan a few bangs on the counter. Sprinkle with white sesame seeds
Bake the cake:
Place the cake pan in the middle rack. Bake in a preheated oven for 1 hour or until tooth pick inserted comes out clean with just few crumbs.

Turn on the top heat only if you use convection oven and bake for additional 5 minutes until nicely golden brown. For my conventional oven, I use broiler. Turn it on low. Let it broil until you have some nice golden brown, but not burnt. You need to watch it closely here if you use a broiler

Remove from the oven and bang the cake pan on the counter 2-3 times to release hot air. Let it cools down in the pan completely, about 3-4 hours or so
Serving:
The cake needs to cool down completely before cutting. Use an oiled-knife or plastic knife to cut the cake
How to store:
The cake tastes the best the next day if you can wait. Store the cake in an air-tight container for 2-3 days at room temperature. Store in the fridge after that for about a week. Simply reheat in the microwave for few seconds before serving or loosely wrap in a foil and reheat in toaster oven or oven at 350 F for 10-15 minutes or until warm
Recommended products:
Nutrition
Serving:
1
slice
|
Calories:
120
kcal
|
Carbohydrates:
20
g
|
Protein:
3
g
|
Fat:
4
g
|
Saturated Fat:
3
g
|
Polyunsaturated Fat:
1
g
|
Monounsaturated Fat:
1
g
|
Trans Fat:
1
g
|
Cholesterol:
23
mg
|
Sodium:
50
mg
|
Potassium:
115
mg
|
Fiber:
1
g
|
Sugar:
8
g
|
Vitamin A:
4411
IU
|
Vitamin C:
1
mg
|
Calcium:
24
mg
|
Iron:
2
mg