You can easily made a wholesome and creamy almond butter using almond flour that most of us have in our pantry these days. Only one ingredient without any added oil and it's done in less than 5 minutes.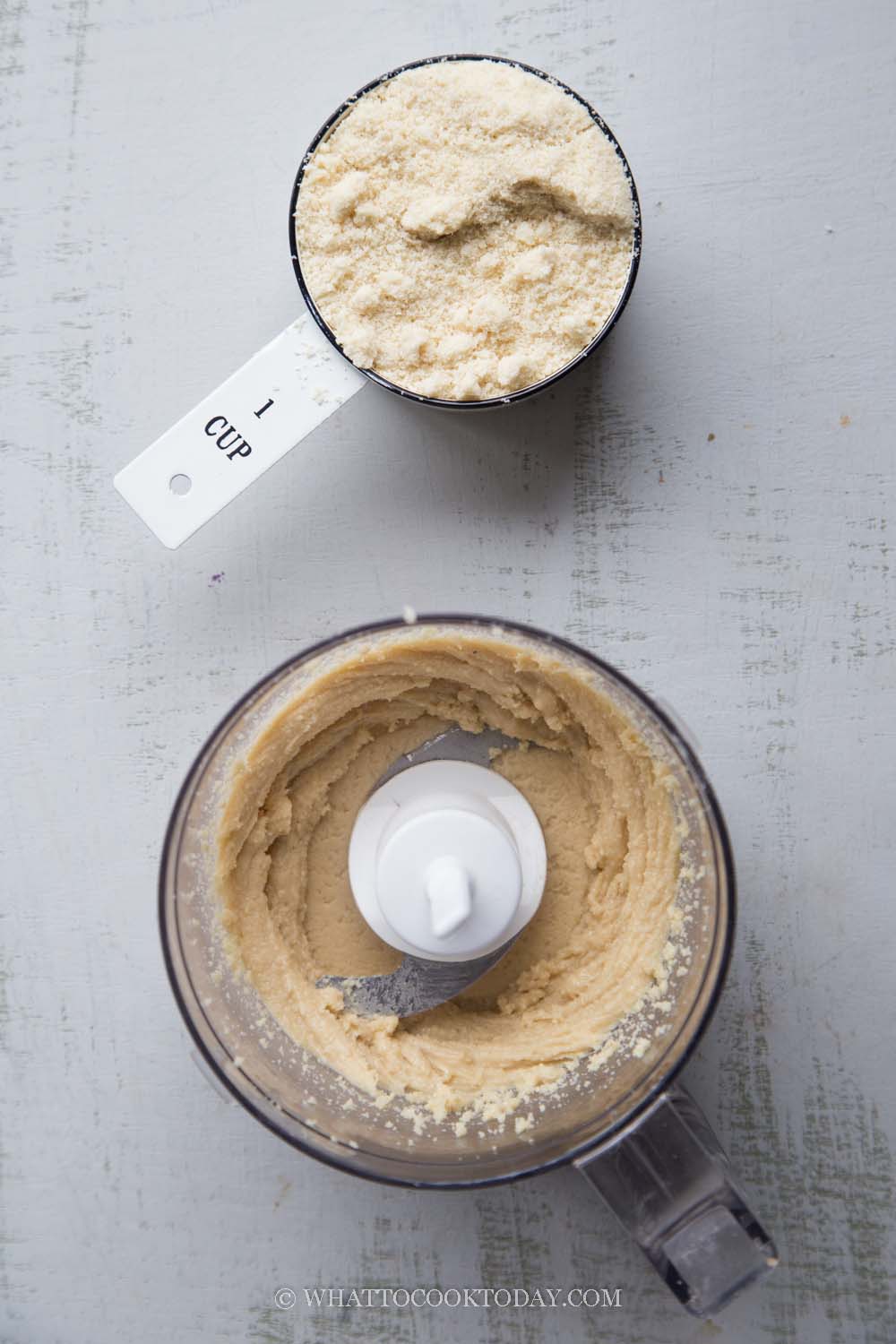 I purchased a big bag of blanched super fine almond flour from Costco when I was learning how to make French macarons. So, I'm trying to use up the almond flour. I have used them quite a bit too while trying out some keto recipes. I'm not on a keto diet, but I'm interested in making some recipes lower in carbs. To make a long story short, I needed some almond butter but I don't have any at home and so I thought can I make almond butter using almond flour ? Well, the answer is yes and it probably took me 2-3 minutes max ?
What you need to make almond butter using almond flour or almond meal
This is just basic almond butter without any add-ons. You can add whatever else you want after you get a creamy almond butter:
1. Almond flour / Almond meal
It doesn't really matter what's the consistency of the almond flour, fine or coarse. I use store-bought almond flour. Almond meal works too. You will get darker color almond butter. If you make your own almond meal or almond flour, I highly recommend toasting the almonds at 350 F (180 C) in the oven for 15 minutes. It adds an extra flavor to the flour/meal


2. Food processor
I have a high-speed blender like Vitamix, but I decided not to use it because it's a bit more difficult to clean around the blade. I feel like too much almond butter got stuck under the blade and ended up wasted, which I don't want to because almond is not cheap. So, I decided to use a food processor. It just a bit extra more processing, but really, not much. It's still a no-brainer!
How to make almond butter using almond flour or almond meal
1. Place the almond flour in a food processor or blender.


2. My food processor manual says that I need to stop after about 45 seconds of continuous grinding to avoid overheating. So, that's what I did. I grind for 45 seconds and stop and then grind again until it reaches the consistency of creamy as shown in the photo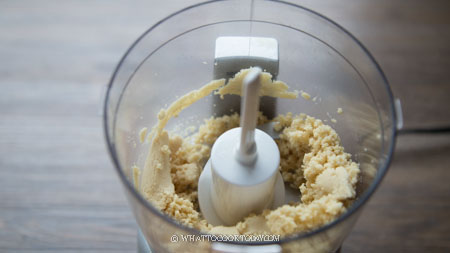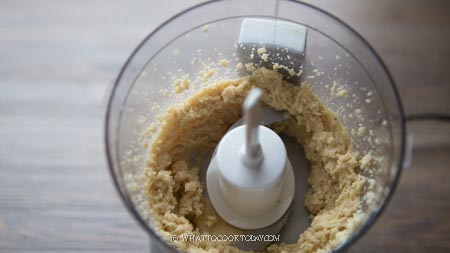 3. The whole process took me probably less than 2 minutes to reach the creamy consistency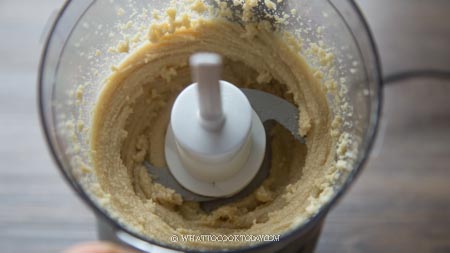 You will need at least 1 cup of almond flour to get it to be able to blend properly using a food processor. I recommend at least 2-3 cups if you are using a high-speed blender to blend effectively
Optional Add-ons
Please feel free to add on whatever seasonings, spices, sweetener, flavor you like for the almond butter to make it more palatable
1. Seasonings: you are welcome to add pinch of salt for some flavor.
2. Spices: I like to add a bit of cinnamon powder
3. Sweetener: honey, maple syrup, keto-friendly sweeteners
4. Flavor: vanilla extract
How to store homemade almond butter
1. Transfer the creamy almond butter into a clean mason jar with a lid
2. Keep this in a fridge for about 2-3 weeks
3. Be sure to check for sign of spoilage such as mold and smells
4. If you sterilize your mason jar by boiling in water for 10 minutes and then air dry the jar, you can keep the almond butter for 1 month or beyond
Did you make this easy almond butter using almond flour or almond meal recipe?
I love it when you guys snap a photo and tag to show me what you've made 🙂 Simply tag me @WhatToCookToday #WhatToCookToday on Instagram and I'll be sure to stop by and take a peek for real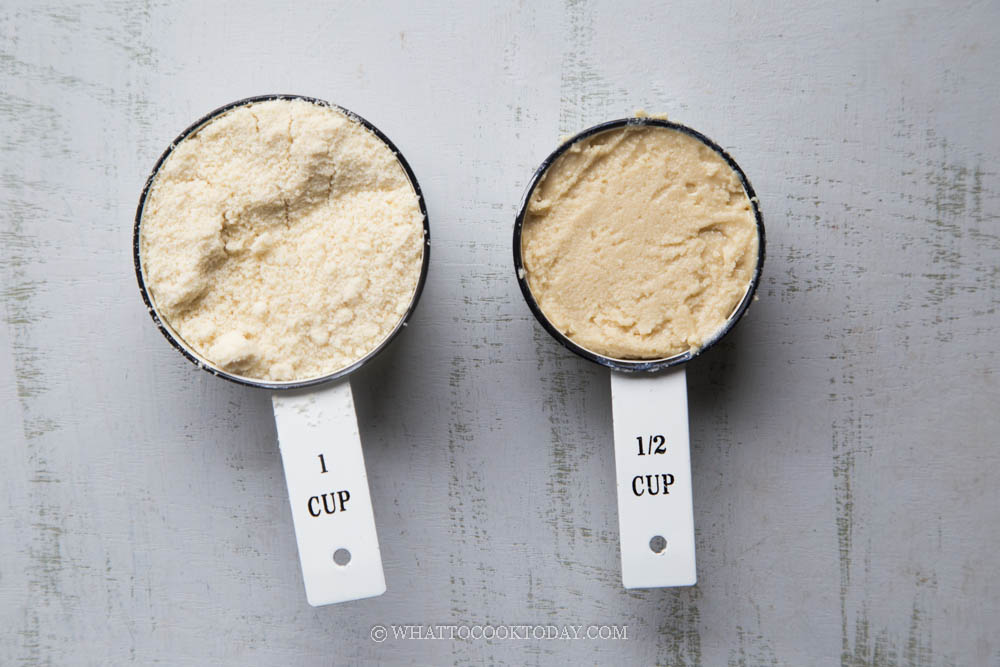 Easy Homemade Almond Butter Using Almond Flour or Almond Meal (No Added Oil)
Ingredients
Optional add-ons (you can use one or combinations of any of the following):
¼

tsp

salt

¼

tsp

ground cinnamon

½

tsp

vanilla extract

Honey

to taste

Agave nectar

to taste

Maple syrup

to taste
Instructions
Place the almond flour in a food processor or blender. My food processor manual says that I need to stop after about 45 seconds of continuous grinding to avoid overheating. So, that's what I did. I grind for 45 seconds and stop and then grind again until it reaches the consistency of creamy as shown in the photo. The whole process took me probably less than 2 minutes to reach the creamy consistency

You will need at least 1 cup of almond flour to get it to be able to blend properly using a food processor. I recommend at least 2-3 cups if you are using a high-speed blender to blend effectively
How to store homemade almond butter:
Store the almond butter in a clean mason jar with a lid and store in the fridge for 2-3 weeks. Simply check for sign of spoilage. If you see any mold or if it doesn't smell right, then it has spoiled. If you sterilize the container by boiling it in the water for 10 minutes and air-dry it, it can keep even longer, about one month or beyond
Recommended products: