Taiwan-style fried bread bowl made with hollowed-out bread that shaped like a coffin and filled with creamy chowder made with chicken, seafood, and vegetables.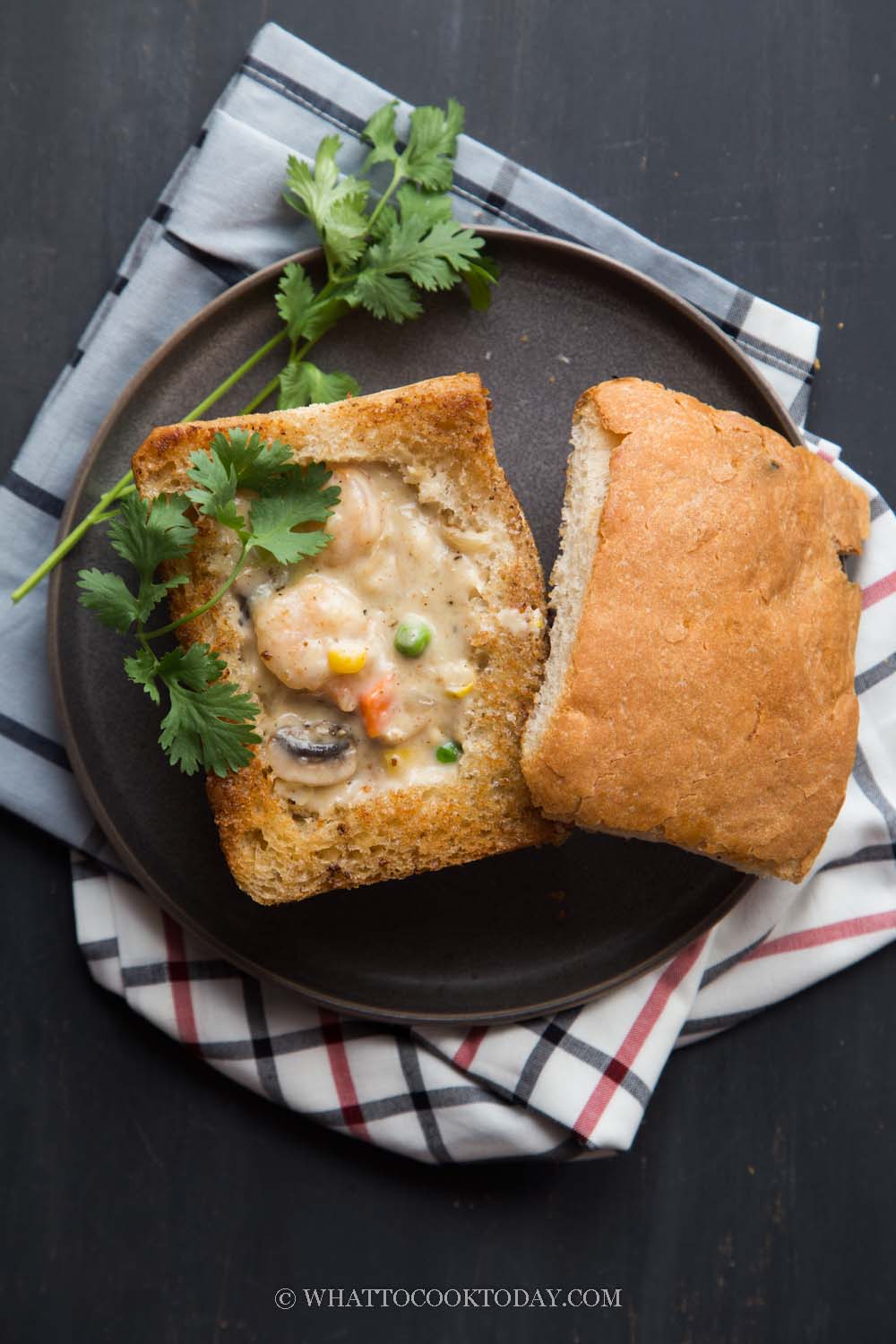 Taiwan coffin bread is a popular street food, originated in Tainan and for a good reason! The dish gets its name "guan cai ban", which literally means coffin because of its shape. Fried bread is hollowed out and then filled with creamy savory chowder! Speaking of texture contrast at its best! A Pullman loaf or pain de mie is usually used to make this coffin toast because it gives you that perfect square.
Variations
Coffin bread is very flexible when it comes to the filling. You can pretty much use whatever filling you want. I used chicken, shrimp, and mixed veggies. You can do other types of meat or even use leftover meat (such as rotisserie chicken). You can also do just seafood by using shrimp, squid, crab meat, etc.
Tips
1. Stale bread is best for coffin bread. It's drier and sturdier
2. You don't have to deep fry the bread. I just "pan fry" the bread on all 4 sides with butter. You can use air-fryer or toaster oven to achieve similar result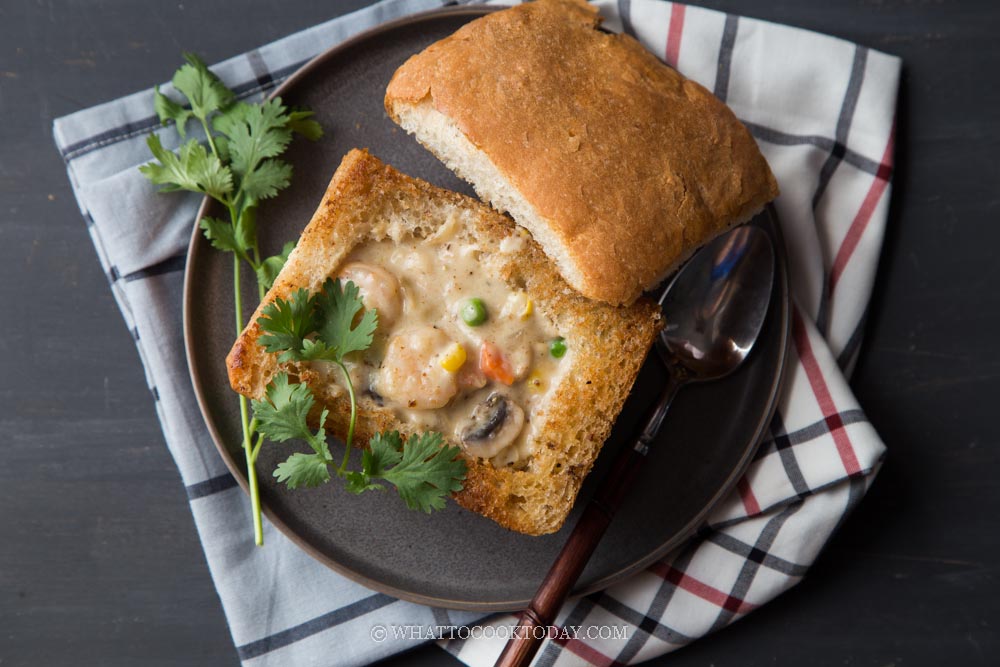 How to make Taiwan coffin bread
1. Cut two thick slices of bread, about 2-2 1/2 inches thick. Melt about 4 Tbsp of butter on a non-stick pan. Brown the bread on all 4 sides until they are lightly golden brown. You can also toast this in the air fryer. Simply spread the butter all over the 4 sides of the bread, air fry at 350 F for 5 minutes or until they are nicely golden brown and then flip to the other side and air fry another 5 minutes or until golden brown or when you are happy with the color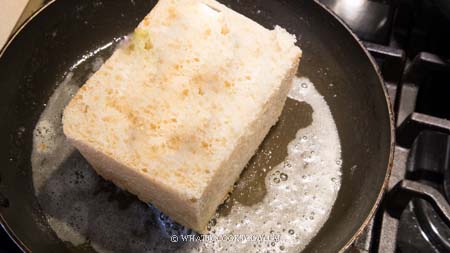 2. Use a small sharp knife or kitchen shears to cut the top part of the bread out, being careful not to cut through the bottom of the bread. Basically we are trying to hollow out to create space for the chowder, just like a bowl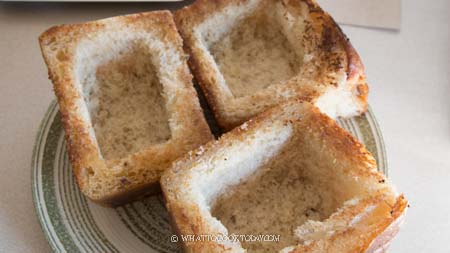 3. Melt 1 Tbsp of butter. Add onion and saute until they are soft. Add the chicken and saute until they turn opaque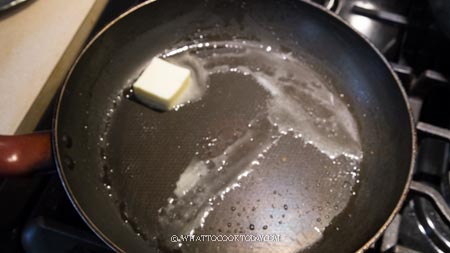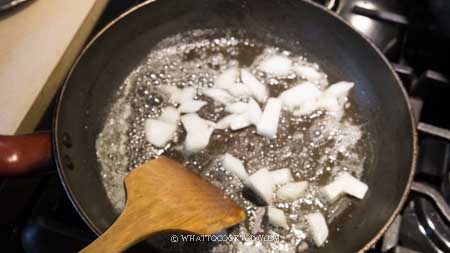 4. Add the shrimp, mushrooms, and mixed veggies. Saute until the shrimp just turn pink. Remove from the pan and set aside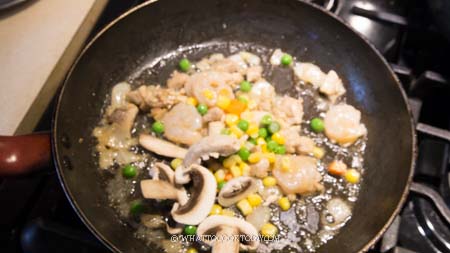 5. Melt 2 Tbsp of butter. Add the flour and keep stirring to form a paste and slowly pour in the chicken broth. Switch to a whisk and keep whisking until no lumps. Add the cream and the chicken, shrimp, and veggies back followed by seasonings. Bring to a gentle simmer. If it's too thick, you can thin it out with a bit more broth. Have a taste and adjust to your preference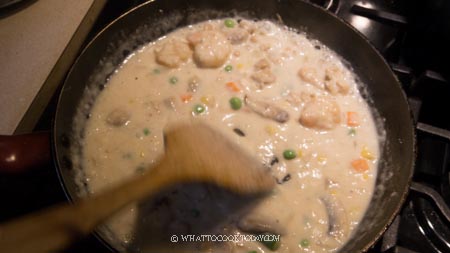 6. Scoop the chowder into the "coffin". Garnish with some fresh cilantro leaves or parsley and serve immediately. Don't forget the bread that you cut out earlier, serve it with the chowder too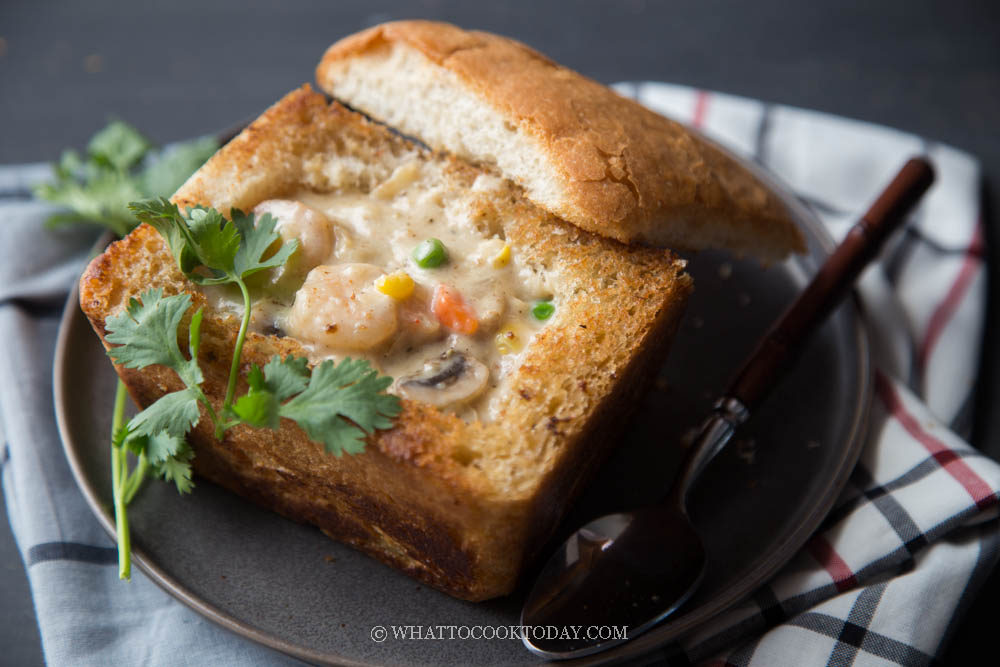 Try it out if you have not
The presentation looks much harder than the actual execution if you ask me. This is a pretty fun food to eat and pretty easy and flexible to make.
Did you make this Taiwan coffin bread recipe?
I love it when you guys snap a photo and tag to show me what you've made 🙂 Simply tag me @WhatToCookToday #WhatToCookToday on Instagram and I'll be sure to stop by and take a peek for real!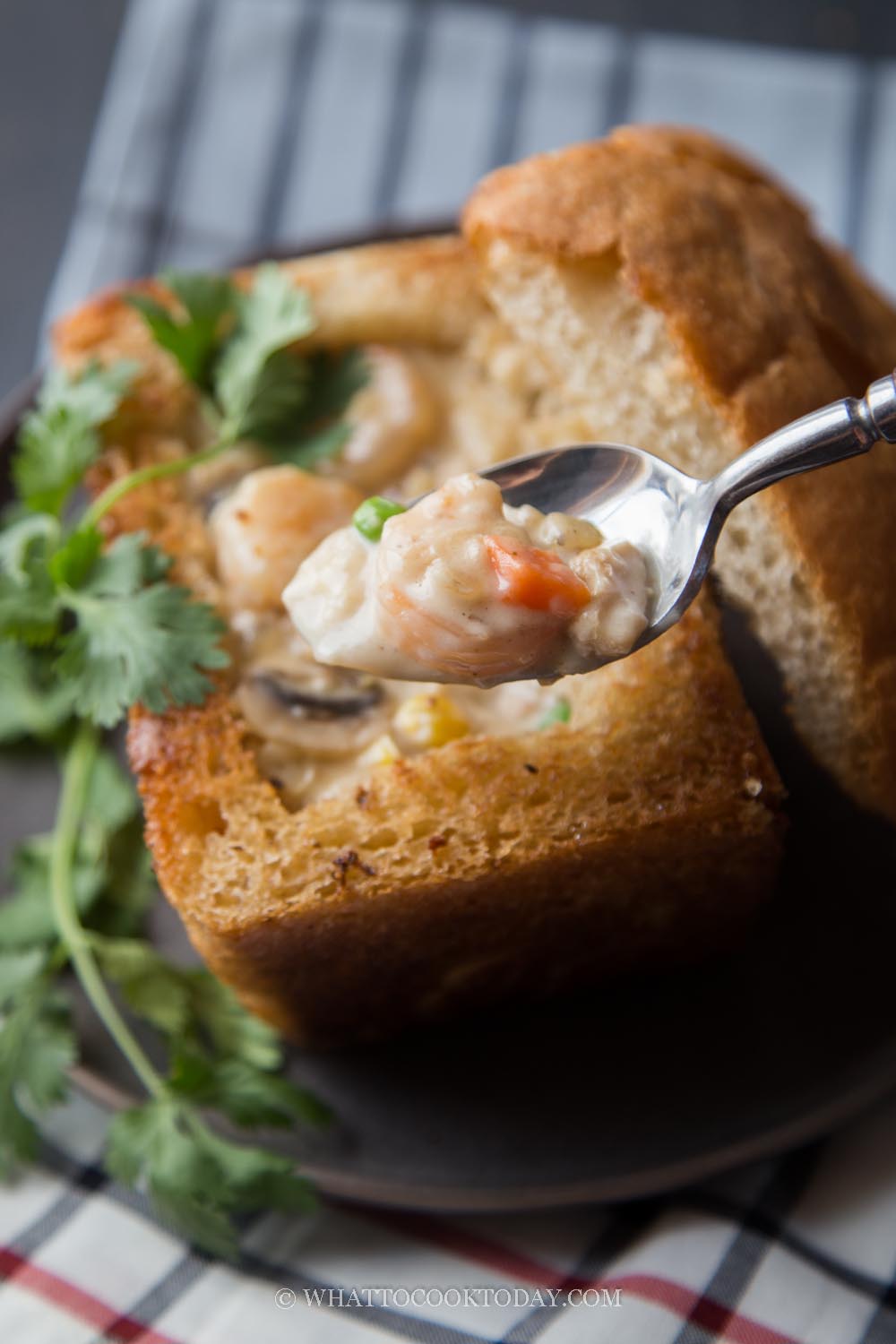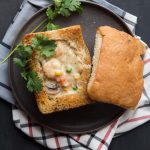 Taiwan Coffin Bread (棺材板)
Ingredients
1

loaf

buttery milk bread

brioche, milk bread is perfect

4

Tbsp

butter
Creamy seafood chowder:
3

Tbsp

butter

divided

1

small

onion

200

gr

boneless skinless chicken breast

or 100 gr shredded leftover chicken meat

100

gr

shrimp

peeled and deveined

8

fresh mushrooms

sliced

60

gr

mixed veggies (corn, peas, carrots)

2

cups

chicken broth

½

cup

heavy cream

3

Tbsp

all-purpose flour
Instructions
Prepare the coffin bread:
Cut two thick slices of bread, about 2-2 1/2 inches thick. Melt about 4 Tbsp of butter on a non-stick pan. Brown the bread on all 4 sides until they are lightly golden brown. You can also toast this in the air fryer. Simply spread the butter all over the 4 sides of the bread, air fry at 350 F for 5 minutes or until they are nicely golden brown and then flip to the other side and air fry another 5 minutes or until golden brown or when you are happy with the color

Use a small sharp knife or kitchen shears to cut the top part of the bread out, being careful not to cut through the bottom of the bread. Basically we are trying to hollow out to create space for the chowder, just like a bowl
Prepare the chowder:
If using uncooked chicken, cut into bite-size pieces

Melt 1 Tbsp of butter. Add onion and saute until they are soft. Add the chicken and saute until they turn opaque. Add the shrimp, mushrooms, and mixed veggies. Saute until the shrimp just turn pink. Remove from the pan and set aside

Melt 2 Tbsp of butter. Add the flour and keep stirring to form a paste and slowly pour in the chicken broth. Switch to a whisk and keep whisking until no lumps. Add the cream and the chicken, shrimp, and veggies back followed by seasonings. Bring to a gentle simmer. If it's too thick, you can thin it out with a bit more broth. Have a taste and adjust to your preference
To serve:
Scoop the chowder into the "coffin". Garnish with some fresh cilantro leaves or parsley and serve immediately. Don't forget the bread that you cut out earlier, serve it with the chowder too