Learn how to make this popular Indian savory crunchy snack with a twist of flavor by adding salted egg yolks and curry leaves. They are absolutely delicious! This recipe makes a very crunchy murukku that stays crunchy.

Murukku is a popular crunchy snack for celebrations like Chinese New Year and Hari Raya in Indonesia, Malaysia, and Singapore. My mom always makes sure to stock up on murukku for Chinese New Year. She doesn't care for those cookies, cakes, and sweets, but murukku is one of her favorites. This salted egg yolk murukku is a twist of flavor from the original murukku recipe, and it's a pleasant twist 😉
What is murukku?
Murukku is originated in India. It means "twisted" in Tamil. It is a crunchy snack (can be savory or sweet) made with a mixture of gluten-free flour such as rice flour, urad dal (lentils), herbs, spices, and seeds. The dough is fed into a special murukku press to shape like coils. Murukku is also known as chakli in different places in India. Chakli is usually made with rice flour and gram flour (besan/chickpea flour). So this version I made here is considered chakli. Though the terms murukku and chakli are used interchangeably sometimes.
The recipe rundown
Taste: savory and umami (thanks to the salted egg yolk)
Texture: extra crunchy and stays crunchy
Pros: they are not too complicated to make but getting the right dough consistency is crucial
Cons: you need a murukku press/mold for this recipe
Ingredients for salted egg yolk murukku
1. Chickpea flour (besan)
2. Glutinous rice flour
Glutinous rice flour is also known as mochiko flour or sweet rice flour
3. Rice flour
4. White sesame seeds
5. Salted egg yolks
6. Unsalted butter
7. Curry leaves
8. Salt and Sugar
How to make salted egg yolk murukku
1. Mix all the dry ingredients in a large mixing bowl and set aside


2. Mash the cooked salted egg yolks until smooth. You can keep the white parts in the fridge for other use


3. Melt the butter in a skillet over medium heat. Add the mashed salted egg yolks and cook until they are foamy and fragrant about 2-3 minutes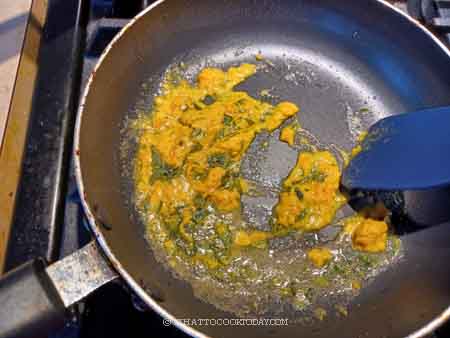 4. Add the finely chopped curry leaves and cook for another minute. Turn off the heat and let it cool down


5. Add the salted egg yolk mixture to the flour mixture.


6. Add the water and stir to combine into a thick, sticky, but spreadable wet and pasty dough. The consistency should be not too thick that you'll have a hard time pressing the batter out through the mold. You need to be able to continuously press the batter out through the mold but make sure it's not too runny
7. Fill the murukku press about 3/4 full. Don't fill it up all the way to the top as it makes it harder to press it out


8. Do a test by pressing the dough out to check the consistency of the dough. If it's too thick, get the dough out and add a bit of water, teaspoon by teaspoon if necessary


9. Preheat about 2 inches height of oil. When you put a skewer in, there should be bubbles around it. The oil is ready. Keep the heat at medium


10. Put the plate inside the murukku press. Mine comes with 1 and 3 holes. If you have never made murukku before, I suggest trying it out with the one hole plate first


11. Gently and steadily press the dough out and move the mold in a circular manner while pressing, about two rounds, and then stop


12. Fry about 2-3 pieces at a time until they are golden brown. Keep a watch on them as they may brown too quickly sometimes. Adjust the heat if needed


13. Remove from the oil to an absorbent paper towel. Repeat with the rest of the dough. Let the fried murukku cools down completely and then store in an air-tight container. They stay crispy for weeks as long as they are not exposed to humidity

Tips
1. If you have never made murukku before, I suggest using the plate that comes with one hole instead of three until you are used to it and can control your shape better


2. Getting the right dough consistency is the key to success in making murukku
The consistency should be moist, wet, and spreadable dough. Test by pressing the dough through the mold and see if you can press it out without the dough breaking into small pieces. If it breaks easily, your dough needs a bit more liquid
3. Do not fill the mold all the way up as it will make it harder for you to press it out
Troubleshooting
1. Murukku is not crispy
– Your dough may contain more liquid than needed. In other words, the dough is too soft
– Your oil temperature is too low
2. Murukku dough is so hard to press out from the mold
Your dough needs a bit more liquid. It should be moist and spreadable dough that can easily pass through the mold
3. Murukku breaks into pieces while pressing
Again, your dough is too stiff and need a bit more liquid
4. Murukku doesn't stay in shape during frying
Your dough consistency is too "liquidy"
Did you make this recipe?
I love it when you guys snap a photo and tag to show me what you've made 🙂 Simply tag me @WhatToCookToday #WhatToCookToday on Instagram and I'll be sure to stop by and take a peek for real!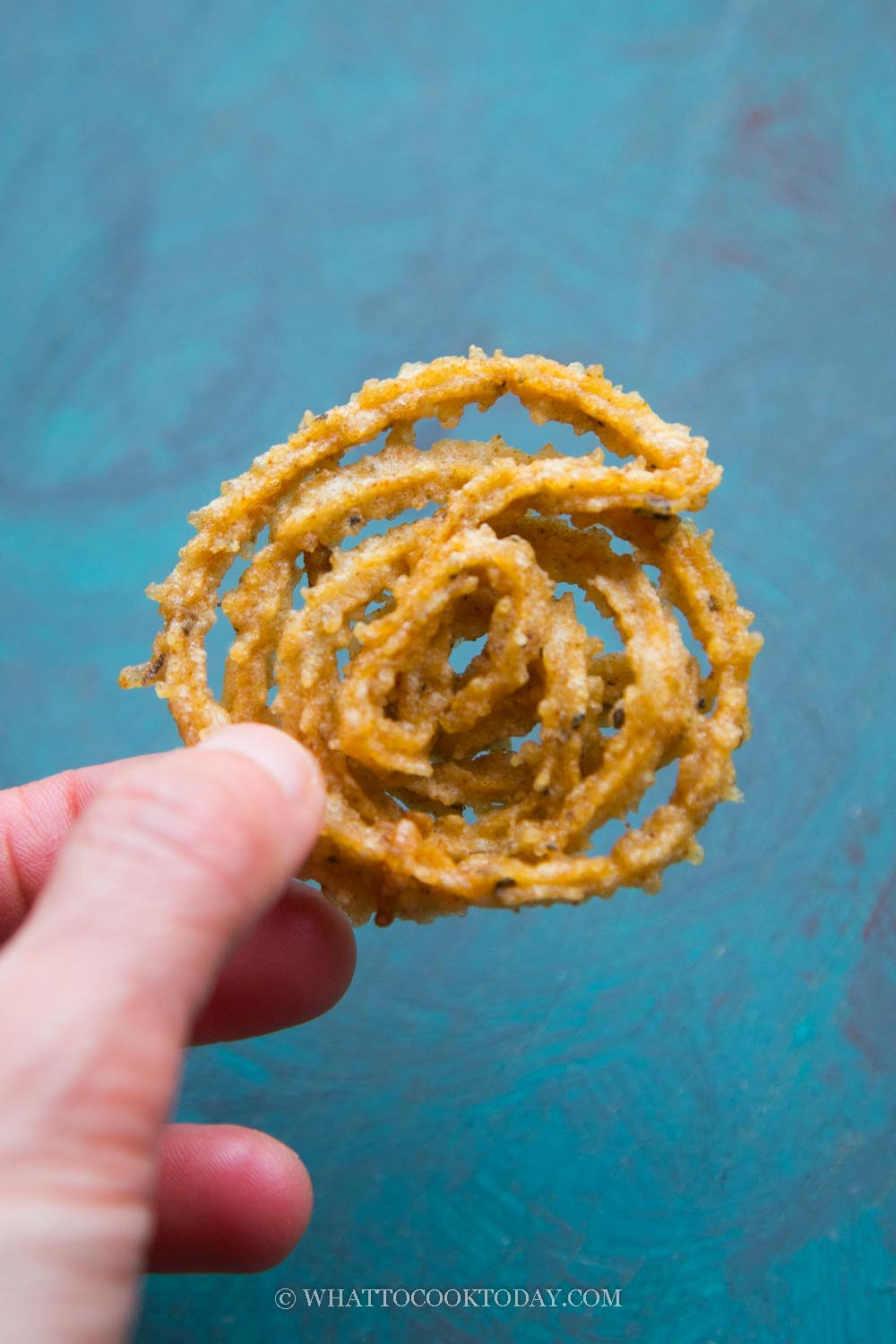 Salted Egg Yolk Murukku
Ingredients
30

gr

butter

unsalted, melted

3

cooked salted egg yolks

mashed

1

sprig

curry leaves

finely chopped

150

ml

water

or more as needed

Cooking oil

for deep-frying
Instructions
Prepare the batter:
Mix all the dry ingredients in a large mixing bowl and set aside

Mash the cooked salted egg yolks until smooth. You can keep the white parts in the fridge for other use (they are great with scrambled eggs or fried rice when you chop them up finely)

Melt the butter in a skillet over medium heat. Add the mashed salted egg yolks and cook until they are foamy and fragrant, about 2-3 minutes. Add the finely chopped curry leaves and cook for another minute. Turn off the heat and let it cool down

Add the salted egg yolk mixture to the flour mixture. Add the water and stir to combine into a thick, sticky, but spreadable wet and pasty dough. The consistency should be not too thick that you'll have a hard time pressing the batter out through the mold. You need to be able to continuously press the batter out through the mold but make sure it's not too runny

Fill the murukku press about 3/4 full. Don't fill it up all the way to the top as it makes it harder to press it out. Do a test by pressing the dough out to check the consistency of the dough. If it's too thick, get the dough out and add a bit of water, teaspoon by teaspoon if necessary

You should be able to press the dough out fairly easily with a bit of resistance, but you shouldn't have to strain to the point that it hurts your hands trying to press the dough. If that happens, your dough is too stiff
Cooking:
Preheat about 2 inches height of oil. When you put a skewer in, there should be bubbles around it. The oil is ready. Keep the heat at medium

Gently and steadily press the dough out and move the mold in a circular manner while pressing, about two rounds and then stop. Fry about 2-3 pieces at a time until they are golden brown. Keep a watch on them as they may brown too quickly sometimes. Adjust the heat if needed

Remove from the oil to an absorbent paper towel. Repeat with the rest of the dough
Storing:
Let the fried murukku cools down completely and then store in an air-tight container. They stay crispy for weeks as long as they are not exposed to humidity
Recommended products:
Nutrition
Serving:
1
piece
|
Calories:
34
kcal
|
Carbohydrates:
4
g
|
Protein:
1
g
|
Fat:
2
g
|
Saturated Fat:
1
g
|
Polyunsaturated Fat:
1
g
|
Monounsaturated Fat:
1
g
|
Trans Fat:
1
g
|
Cholesterol:
19
mg
|
Sodium:
41
mg
|
Potassium:
15
mg
|
Fiber:
1
g
|
Sugar:
1
g
|
Vitamin A:
46
IU
|
Vitamin C:
1
mg
|
Calcium:
10
mg
|
Iron:
1
mg