Learn how to make this popular steamed rice cake or known as kueh tutu in Singapore and Malaysia without the tutu mold. The soft and fluffy kueh tutu are filled with coconut and gula Melaka.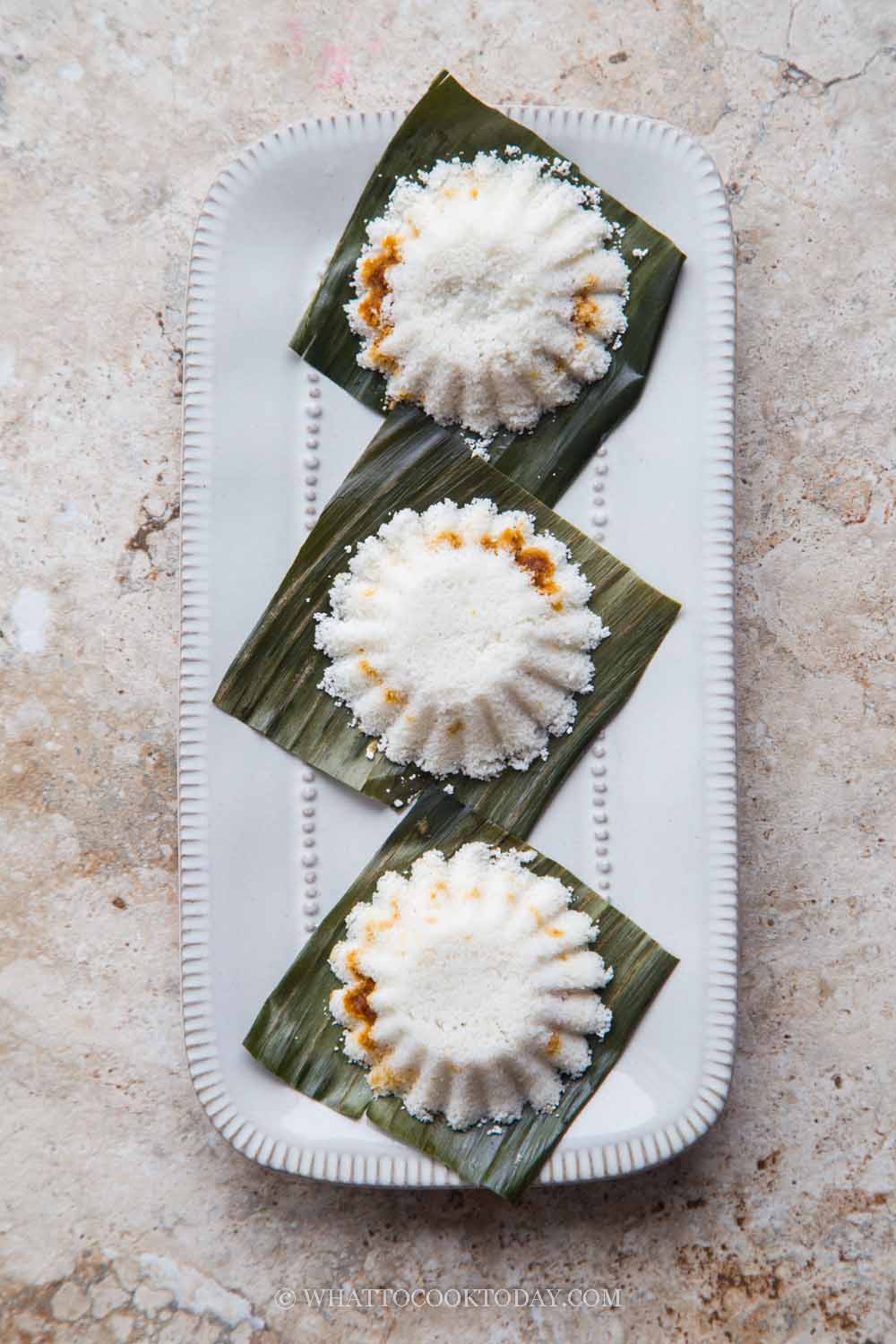 What is kueh tutu or putu piring?
Kueh tutu is an adaptation of the Indian puttu. Traditionally, they are made by grinding rice into flour consistency and then mixed with salt. The mixture is then molded in a special tutu mold that has a shape of a flower and filled with gula Melaka and grated coconut. In Indonesia, we call it putu bambu because they are steamed in bamboo mold instead.
The recipe rundown
Taste: The kueh tutu on its own doesn't have much taste but the gula Melaka and coconut filling pair really well with the plain kue tutu
Texture: The texture is soft,fluffy, and spongey when they are warm. They will harden and tend to dry out the longer they sit at room temperature and this is normal for this type of steamed rice cake
Pros: You don't actually need the kueh tutu mold to make this. I use egg tart mold. You can use any cup or small bowl as a mold
Cons: I don't recommend making this in big batch because they only taste soft and fluffy right out from the steamer and must be eaten almost immediately or at least the same day. The texture tends to dry out the next day onwards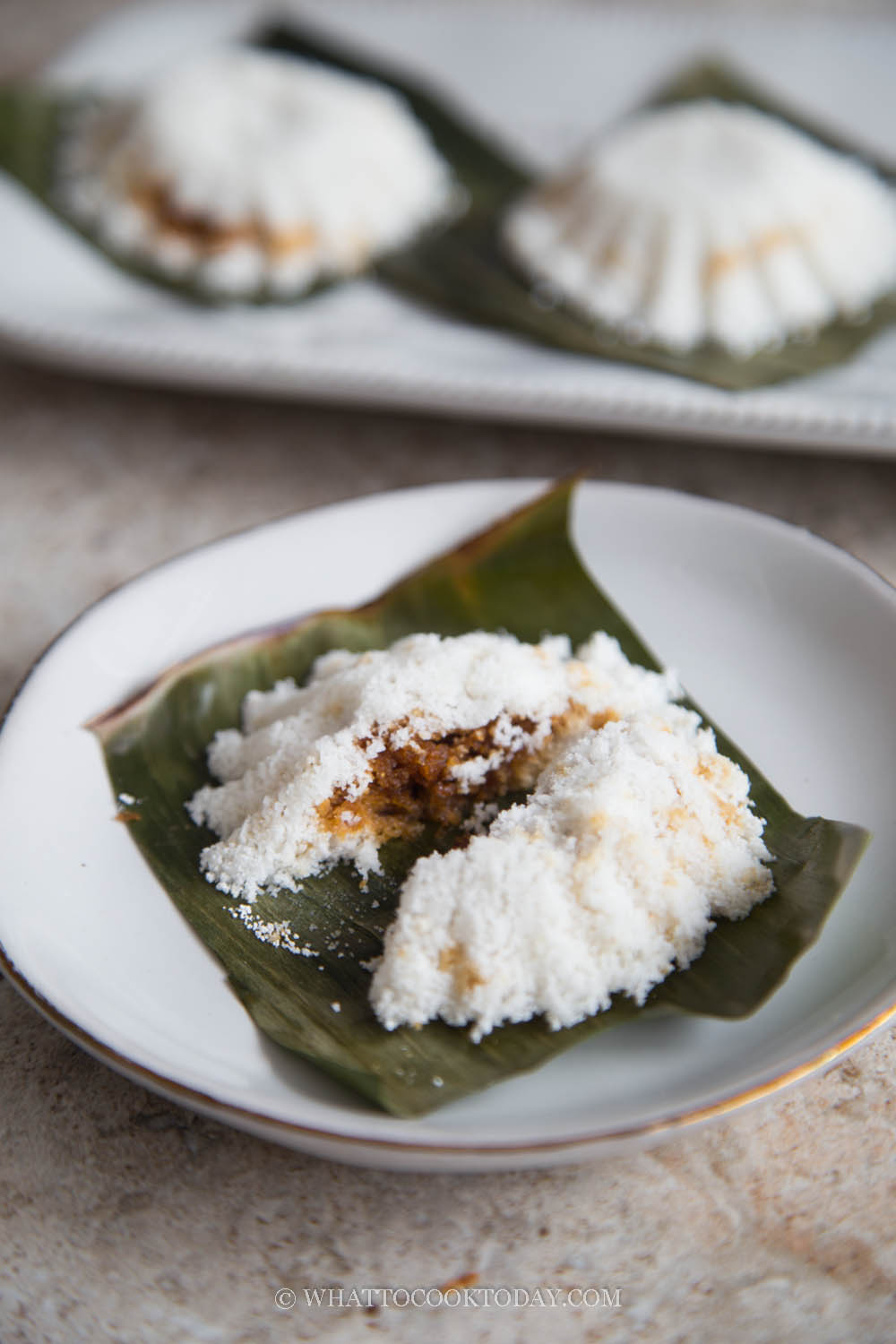 How to make kueh tutu without the special kueh tutu mold
1. Put the rice flour on a steaming plate or you can line your steamer with banana leaves and put the flour on top. Cut pandan leaves into smaller pieces and tuck them inside the flour to impart some flavor (I didn't use at this time because I was out of pandan leaves). Wrap the lid of your steamer with a cloth so no water will drop on the flour. Steam over medium heat for 25 minutes. Remove from the steamer and let it cools down completely. The steaming process add some hydration to the flour and also gets rid of the "raw" taste of the rice flour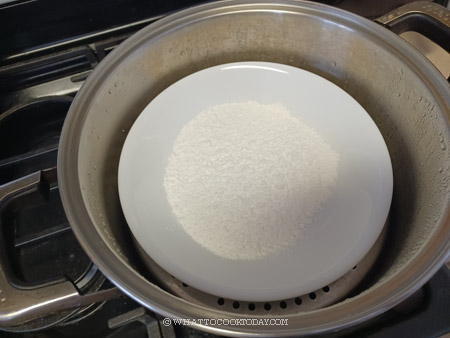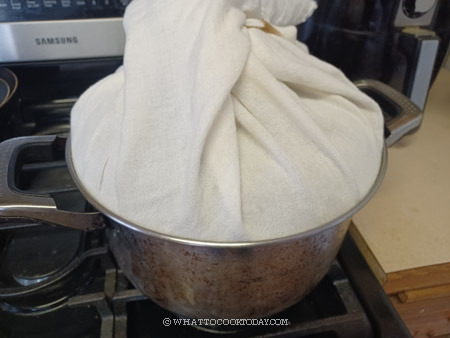 2. Prepare the topping by mixing the grated coconut, pandan leaf and salt and steam for 5 minutes over medium heat. Let it cool down while you prepare other things
3. Get the steamer ready with some water on high heat. Place the cooled-down steamed rice flour and salt in a large mixing bowl. Adding the water a little bit at a time. I can't stress enough the importance of not dumping the water all at once. Continue until you use up most of the water (or all)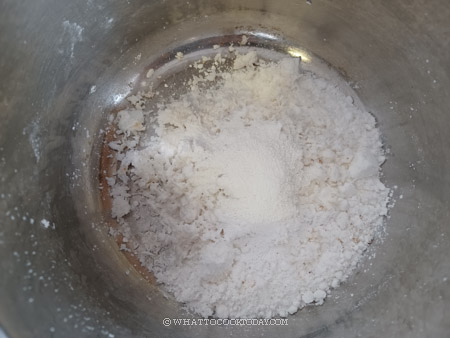 4. The flour mixture should feel "damp" and you will see some large and small lumps. If your rice flour still feels a bit dry, add a bit more water, teaspoon by teaspoon. Again, it's not supposed to feel wet, but just damp


5. Use a strainer to strain the mixture and you will get fine granules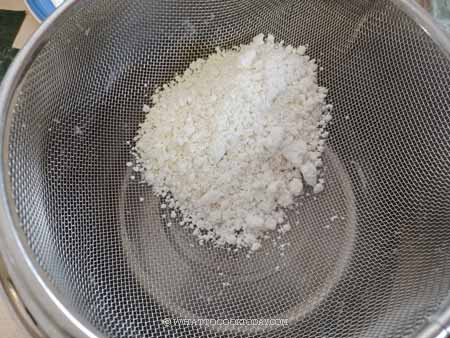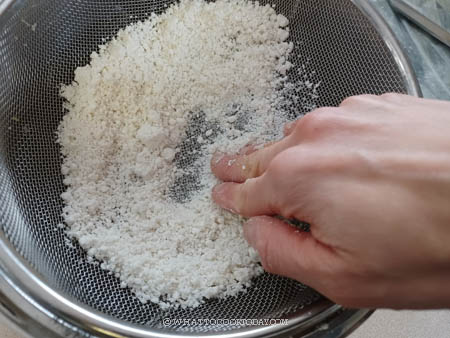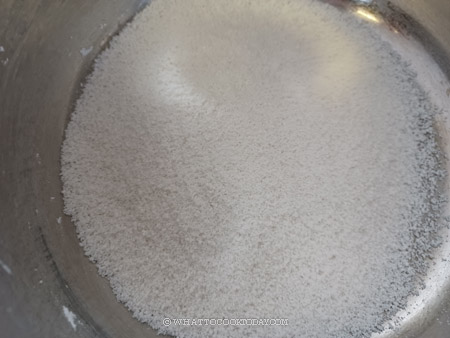 6. They should feel airy and powdery. DO NOT press on this mixture


7. Since I don't have any special kueh tutu mold, I use the egg tart molds (the ones used to make Chinese egg tarts). If you don't have that, you can use any small bowl or cup. Use a spoon to lightly scoop some rice flour mixture into the mold, about 1/2 filled. Again, do not press on this mixture.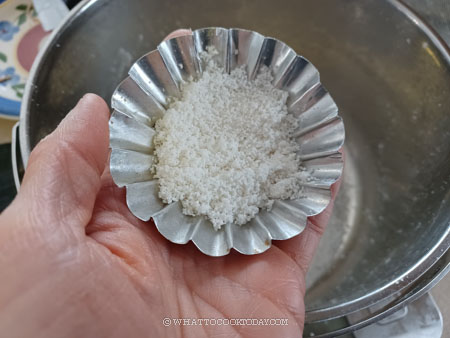 8. Lightly scoop some gula Melaka and grated coconut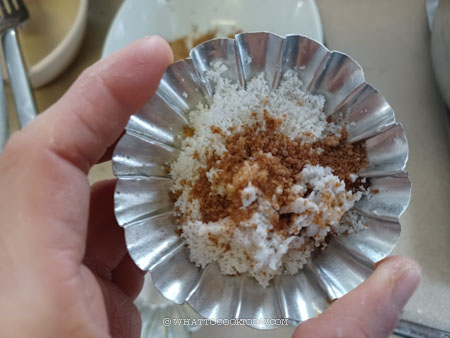 9. Lightly scoop more rice flour mixture to cover. Use your finger to gently level off any excess flour without pressing on it. It is very important not to press on the flour mixture at any time. This will make a dense rubbery steamed rice cake


10. Cover the top with one piece of banana leave square you cut earlier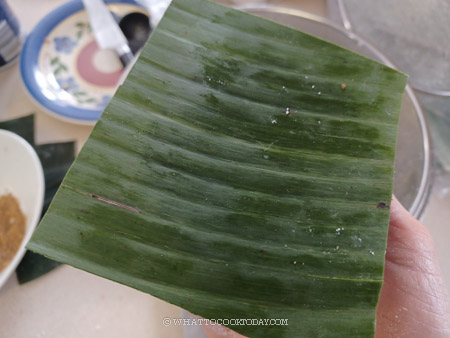 11. Gently invert with the mold still on top, put this directly in the steamer. Then gently remove the mold. This lessens the chance of the rice flour mixture from falling apart or getting out of shape because the mixture is "loose". Repeat with the rest

12. Wrap the lid of your steamer with a cloth to prevent water condensation from dripping into the cake


13. I can put in 4-5 pieces of kueh tutu in the steamer at one go. Turn on the stove to high heat and start counting the time when the water in the steamer comes to a boil and lower the heat to medium. You can also cover all the kueh tutu with a piece of muslin cloth or cheesecloth over them. This helps to prevent the cake from drying out during steaming. Steam for 10 minutes over medium heat (if you make larger thicker cake, it may take longer to steam). Do not overcook or the kueh tutu will turn dry and will crack on top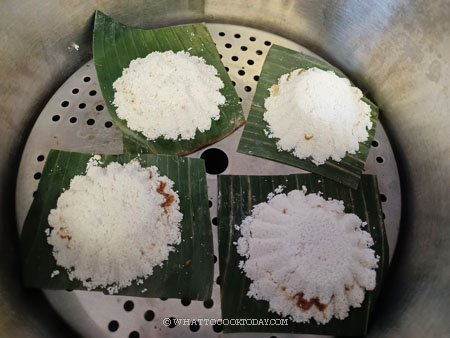 14. Remove from the steamer and serve them when they are still warm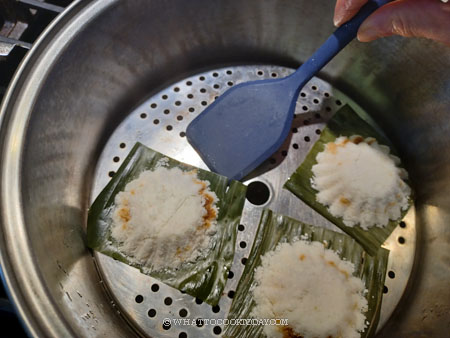 Kueh tutu are best served warm and on the same day
They are the best right out from the steamer. The texture is very light and airy. Unfortunately, they do not keep well as the texture tend to dry up and even after reheating, they don't seem to be as good as they are on the same day you make them. So I suggest not making them in a big batch.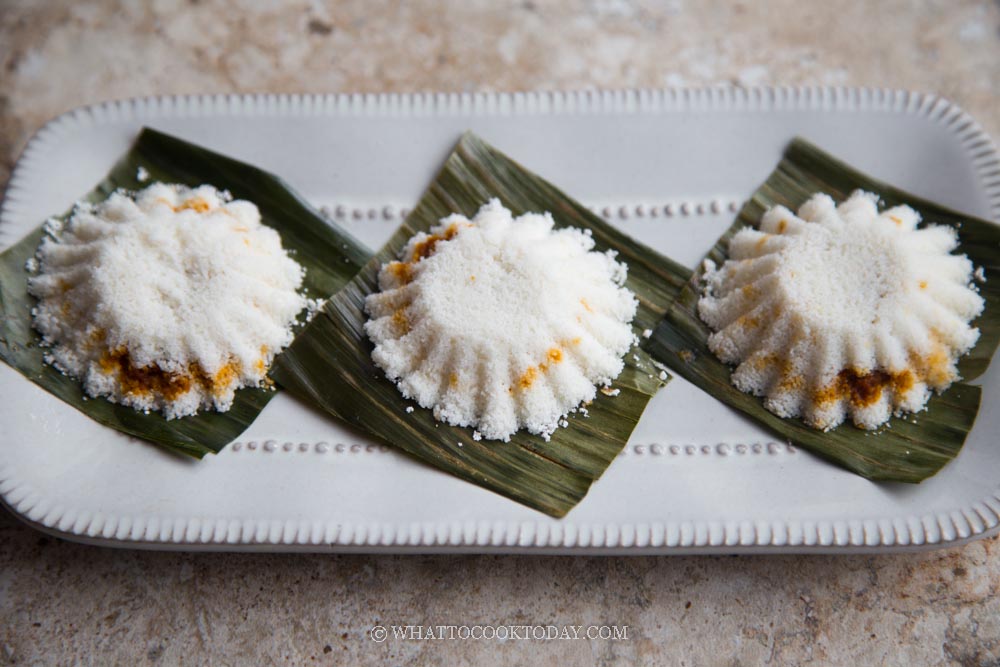 Tips for success
1. Steaming the rice flour will get rid of the "raw" taste and add hydration to the rice flour
2. It is important that you get the rice mixture to be on the "damp" side. Too dry and the steamed cake will be dry and cracked after steaming. Too wet and the cake will turn dense and rubbery
3. DO NOT press on the rice flour mixture when you put them in the mold. They need to be "loose" to get that airy and spongey texture
Did you make this kueh tutu/ putu piring recipe?
I love it when you guys snap a photo and tag to show me what you've made 🙂 Simply tag me @WhatToCookToday #WhatToCookToday on Instagram and I'll be sure to stop by and take a peek for real!

Kueh Tutu / Putu Piring (Without Tutu Mold)
Ingredients
100

gr

rice flour

60

ml

water

you may need more

3

blades

pandan leaves

¼

tsp

salt
Filling:
80

gr

gula Melaka

shaved/grated, you can use coconut sugar too

50

gr

fresh grated coconut

thaw if you use frozen

¼

tsp

salt

1

blade

pandan leaves
Instructions
Cut banana leaves into 8-10 pieces of 3 x 3 inches square
Prepare the rice flour:
Put the rice flour on a steaming plate or you can line your steamer with banana leaves and put the flour on top. Cut pandan leaves into smaller pieces and tuck them inside the flour to impart some flavor. Wrap the lid of your steamer with a cloth so no water will drop on the flour. Steam over medium heat for 25 minutes

Remove from the steamer and let it cools down completely. The steaming process add some hydration to the flour and also to get rid of the "raw" taste of the rice flour
Prepare the filling:
Prepare the topping by mixing the grated coconut, pandan leaf and salt and steam for 5 minutes over medium heat. Let it cool down while you prepare other thing
Prepare the rice mixture:
Get the steamer ready with some water on high heat. Place the cooled-down steamed rice flour and salt in a large mixing bowl. Adding the water a little bit at a time. I can't stress enough the importance of not dumping the water all at once. Continue until you use up most of the water (or all). The flour mixture should feel "damp" and you will see some large and small lumps

Use a strainer to strain the mixture and you will get fine granules. They should feel airy and powdery. DO NOT press on this mixture
Shaping:
Since I don't have any special kueh tutu mold, I use the egg tart molds (the ones used to make Chinese egg tarts). If you don't have that, you can use any small bowl or cup

Use a spoon to lightly scoop some rice flour mixture into the mold, about 1/2 filled. Again, do not press on this mixture. Lightly scoop some gula Melaka and grated coconut. Lightly scoop more rice flour mixture to cover. Use your finger to gently level off any excess flour without pressing on it. It is very important not to press on the flour mixture at any time. This will make a dense rubbery steamed rice cake

Cover the top with one piece of banana leave square you cut earlier and gently invert with the mold still on top, put this directly in the steamer. Then gently remove the mold. This lessens the chance of the rice flour mixture from falling apart or getting out of shape because the mixture is "loose". Repeat with the rest
Steaming:
Wrap the lid of your steamer with a cloth to prevent water condensation from dripping into the cake. I can put in 4-5 pieces of kueh tutu in the steamer at one go. Turn on the stove to high heat and start counting the time when the water in the steamer comes to a boil and lower the heat to medium. You can also cover all the kueh tutu with a piece of muslin cloth or cheesecloth over them. This helps to prevent the cake from drying out during steaming. Steam for 10 minutes over medium heat (if you make larger thicker cake, it may take longer to steam). Do not overcook or the kueh tutu will turn dry and will crack on top

Remove from the steamer and serve them when they are still warm. They are the best right out from the steamer. The texture is very light and airy

I do not recommend storing these cakes for the next day as the texture of the cake tends to be drier even after reheating
Nutrition
Serving:
1
cake
|
Calories:
120
kcal
|
Carbohydrates:
20
g
|
Protein:
1
g
|
Fat:
4
g
|
Saturated Fat:
4
g
|
Polyunsaturated Fat:
1
g
|
Monounsaturated Fat:
1
g
|
Sodium:
170
mg
|
Potassium:
43
mg
|
Fiber:
1
g
|
Sugar:
7
g
|
Vitamin C:
1
mg
|
Calcium:
3
mg
|
Iron:
1
mg