Learn how to make serabi tepung beras saus kinca the easy way. The pancakes are soft, bouncy, and with a honeycomb texture on the inside.
Another food that reminds me of my childhood is serabi. My dad often bought them for us for breakfast or as snacks. Gosh…I love dipping the serabi into the kuah (sauce) or saus kinca. When I made these for the kids and to see them enjoyed them as much as I do was just priceless. They were like "So you got to eat all these delicious food as a kid?" For a moment there, I had this proud look on my face and answered: "Yes I did!".
WHAT IS SERABI BERAS SAUS KINCA?
Serabi is an adaptation of the Indian version of appam by the Indonesian. In Malaysia and Singapore, they are called apam. Don't be mistaken with apam balik (martabak manis), which is also a type of porous pancakes but much thicker. These Indian-style pancakes are made with a batter made with rice and yeast and then fermented for few hours. The serabi are then cooked and large pores will form on the surface of serabi. Serabi or apam is usually served with a sweet sauce known as saus kinca that is made with coconut milk and palm sugar (gula merah or gula Melaka). Sometimes ripen yellow jackfruit pieces are added to the sauce. The sauce (without jackfruit) tastes so much like kaya jam, but without the eggs. I call it a vegan version of kaya (you gotta try it to believe it!). It tastes amazing!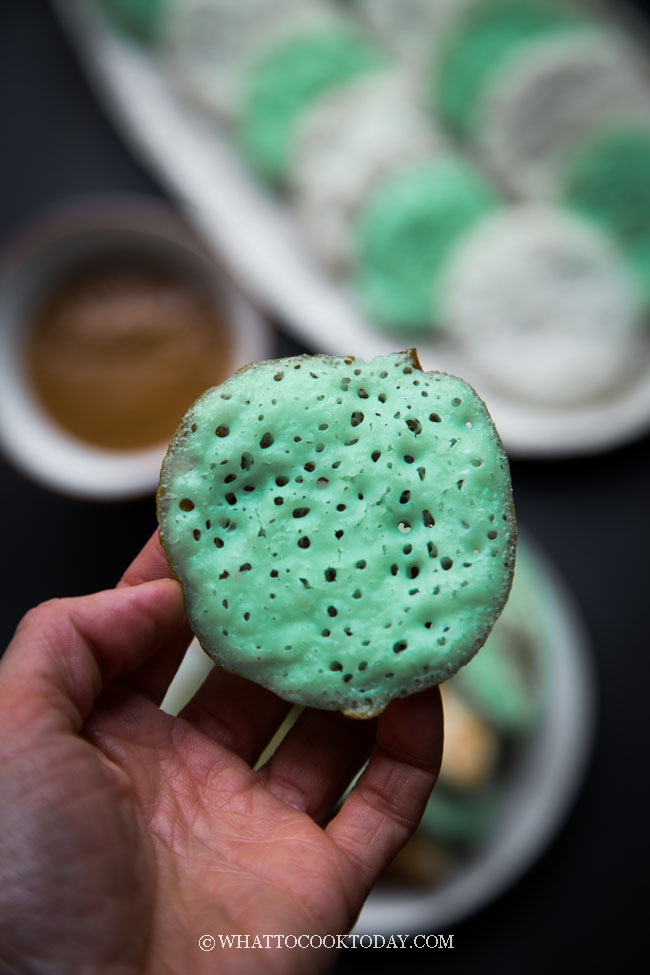 WHY YOU'LL LIKE THIS RECIPE
1. YOU DON'T NEED SERABI PAN (CETAKAN)
Serabi is traditionally cooked in a special pan almost similar to the aebleskiver pan. Serabi pan is flat on the bottom, where aebleskiver pan is round at the bottom. You fill up the batter in the well. Serabi can be cooked on a regular pan, which was what I did
2. NATURALLY GLUTEN FREE
Serabi or apam is made with mainly rice flour and very small portions of other gluten-free flours like glutinous rice flour and tapioca flour
3. EASY AND FOOLPROOF
The recipe is pretty straightforward and the result is consistent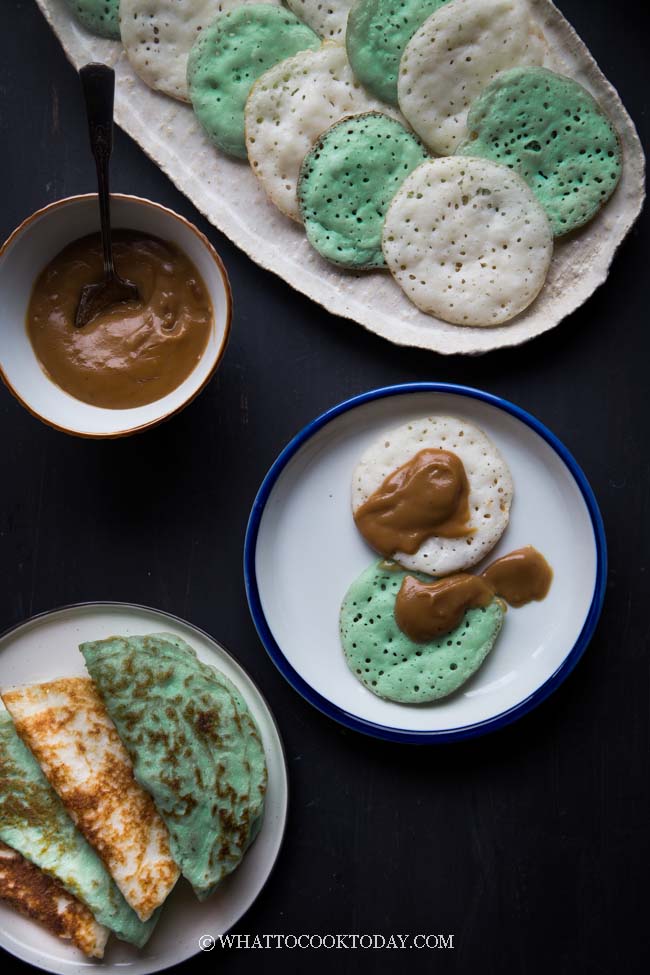 STEP BY STEP HOW TO MAKE SERABI KUAH FROM SCRATCH
PREPARE THE SAUCE
1. Place all ingredients for the sauce in the pan. Stir to mix everything and make sure there are no lumps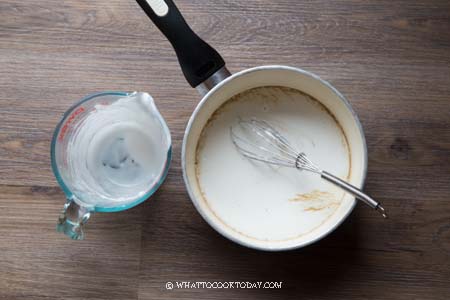 2. Cook it over low heat until the sugar is melted and turn the sauce into golden brown. Don't let the coconut milk boil over. Add jackfruit pieces or banana pieces if you choose to.


3. Give the cornstarch slurry a stir and add into the sauce and continue to cook until the sauce thickens slightly. If the sauce is too thick, you can always thin it out by adding a bit more water until you are happy with the consistency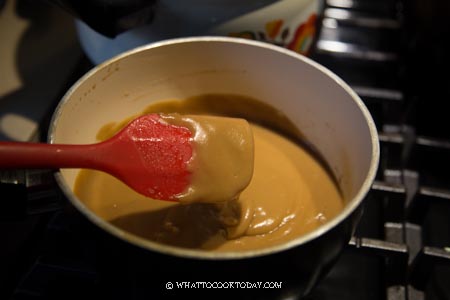 PREPARE SERABI BATTER
1.Put all ingredients for the batter, except for the salt, in a mixing bowl and whisk to combine. Strain the batter to get rid of any lumps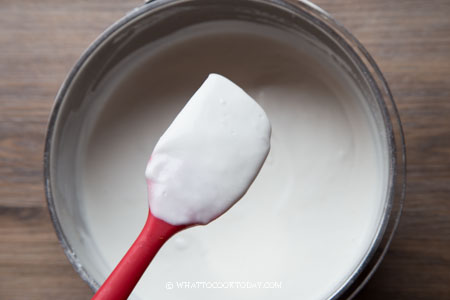 2. Cover and rest the batter in a warm place (I use my oven's bread proof function) to let it proof until you see bubbles on the surface. This may take 1-2 hours, depending on the temperature. It took me about 1 hour 15 minutes. Use a whisk to stir everything to combine. Add the salt and whisk again to combine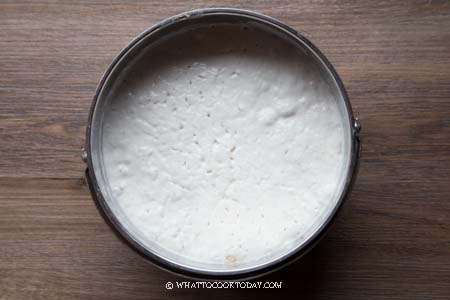 COOKING THE SERABI
1. Preheat a non-stick pan over medium-low heat. Wipe the pan with a paper towel soak with a bit of oil. Spoon about 1 tablespoon of batter and use the back of the spoon to smear it on a circular motion on the pan to form a circle, about 2-3 inches. If you want to make the folded apam, simply smear the batter in bigger diameter


2. Once bubbles or air holes started to appear on the surface, let them appear all over the surface before covering with a lid. Once bubbles have fully appeared, cover the pan with a lid and lower the heat about 2-3 notch and let them cook for another minute. Uncover the lid and you shouldn't see any more wet spots on the surface and the bottom should be golden brown. If it's too dark, you can adjust the level of heat for next round. Transfer to a plate. Smear the pan with a bit of oil as needed. Continue until you run out of the batter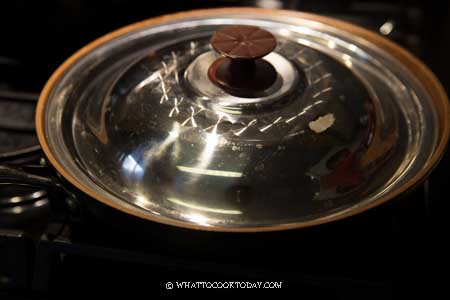 If you want to make a folded version then fold it over after the pancakes are cooked through.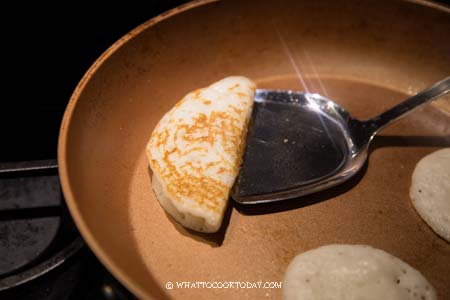 HOW TO SERVE SERABI KUAH
In India, appam is served with savory dishes like curries. In Indonesia and Malaysia, Serabi or apam is served with the kuah or saus kinca on the side and it's considered a sweet treat.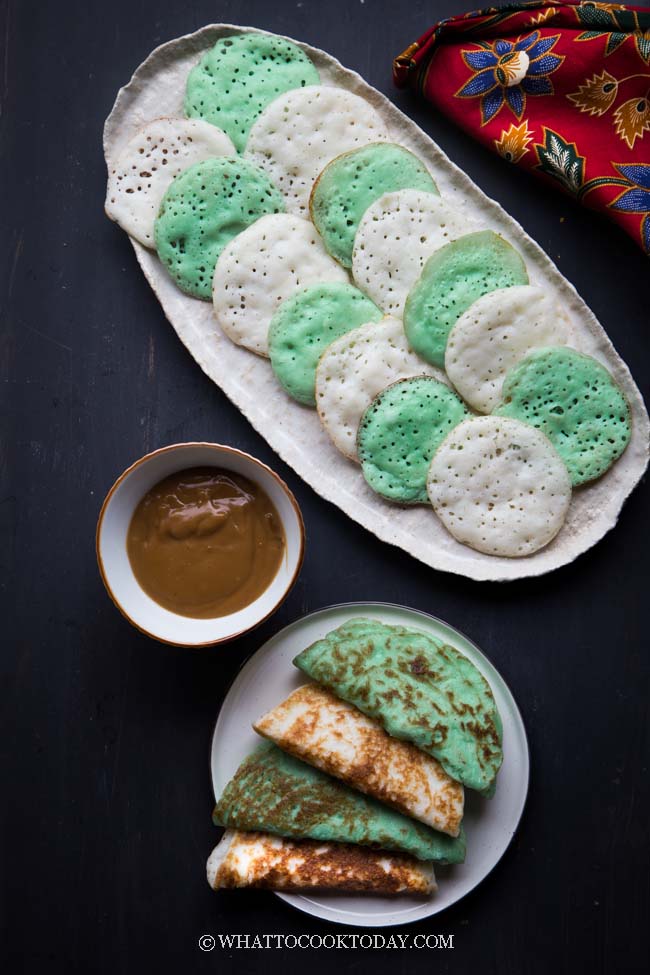 My saus kinca was a bit at a thicker side.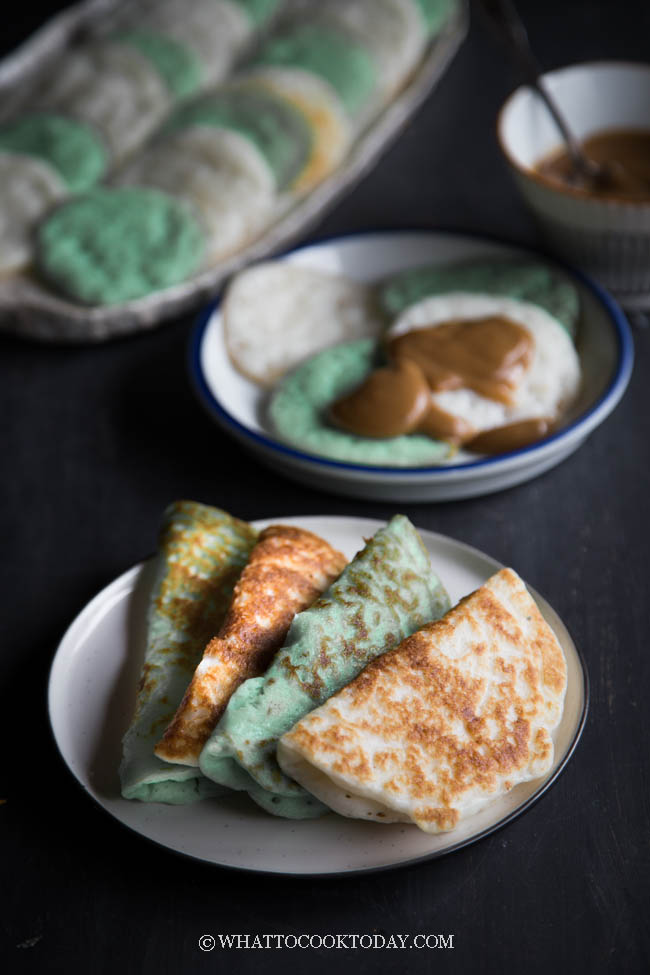 Now you can enjoy the labor of your work 🙂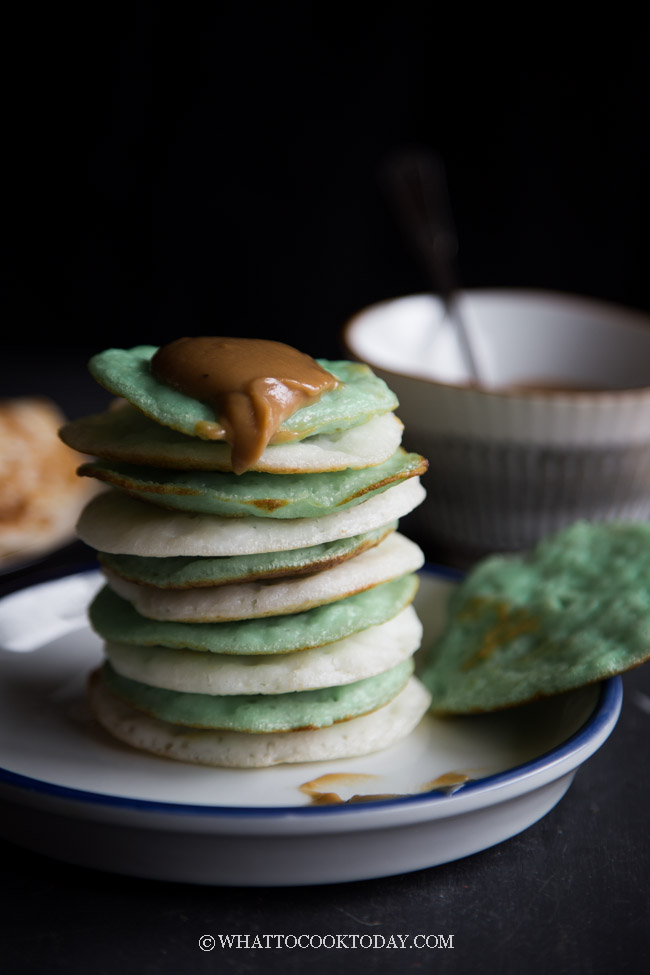 HOW TO STORE LEFTOVER SERABI
Serabi and the kuah can be stored in the refrigerator for up to one week. Simply reheat the serabi by steaming on high heat for 2-3 minutes or you can use a microwave to heat up for like 30 seconds to 1 minute. The kuah can be reheated on the stove over medium heat until just heated through. Don't boil it on high heat or the coconut milk will separate
Did you make this serabi beras saus kinca recipe?
I love it when you guys snap a photo and tag to show me what you've made 🙂 Simply tag me @WhatToCookToday #WhatToCookToday on Instagram and I'll be sure to stop by and take a peek for real!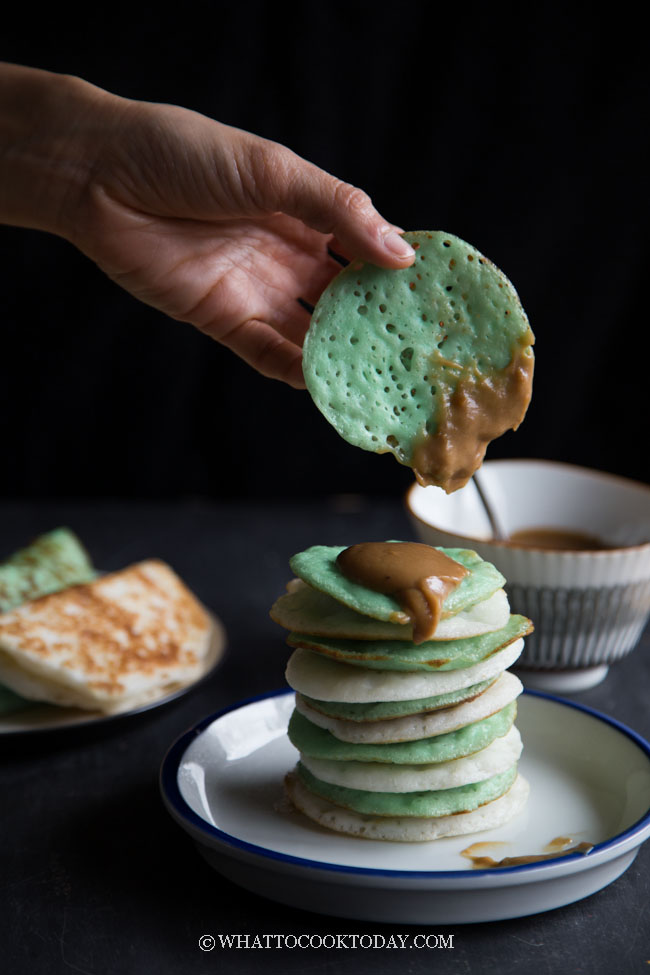 The recipe is updated with an easy version but with great result on February 7, 2022.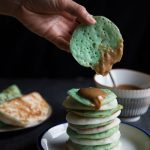 Easy Serabi Kuah / Apam Berkuah / Appam
Ingredients
Saus kinca:
150

ml

coconut milk

50

gr

coconut sugar

Indonesian palm sugar

60

ml

water

more as needed to thin out the sauce

¼

tsp

salt

2

pieces

jackfruit

diced, I use canned jackfruit

1

tsp

cornstarch

dissolves with 1 Tbsp of water
To cook serabi:
Instructions
Saus kinca:
Place all ingredients for the sauce in the pan. Stir to mix everything and make sure there are no lumps. Cook it over low heat until the sugar is melted and turn the sauce into golden brown. Don't let the coconut milk boil over. Add jackfruit pieces or banana pieces if you choose to. Give the cornstarch slurry a stir and add into the sauce and continue to cook until the sauce thickens slightly. If the sauce is too thick, you can always thin it out by adding a bit more water until you are happy with the consistency
Make serabi batter:
Put all ingredients for the batter, except for the salt, in a mixing bowl and whisk to combine. Strain the batter to get rid of any lumps

Cover and rest the batter in a warm place (I use my oven's bread proof function) to let it proof until you see bubbles on the surface. This may take 1-2 hours, depending on the temperature. It took me about 1 hour 15 minutes

Use a whisk to stir everything to combine. Add the salt and whisk again to combine
Cooking serabi:
Preheat a non-stick pan over medium-low heat. Wipe the pan with a paper towel soak with a bit of oil. Spoon about 1 tablespoon of batter and use the back of the spoon to smear it on a circular motion on the pan to form a circle, about 2-3 inches. If you want to make the folded apam, simply smear the batter in bigger diameter 

Once bubbles or air holes started to appear on the surface, let them appear all over the surface before covering with a lid. Once bubbles have fully appeared, cover the pan with a lid and lower the heat about 2-3 notch and let them cook for another minute. Uncover the lid and you shouldn't see any more wet spots on the surface and the bottom should be golden brown. If it's too dark, you can adjust the level of heat for next round. Transfer to a plate. Smear the pan with a bit of oil as needed. Continue until you run out of the batter
Serving:
Serve the serabi with the saus kinca on the side
Storing leftovers:
Serabi and the kuah can be stored in the refrigerator for up to one week. Simply reheat the serabi by steaming on medium heat for 2-3 minutes or in the microwave on high for 30 seconds to 1 minute. The kuah can be reheated on the stove over medium heat until just heated through. Don't boil it on high heat or the coconut milk will separate