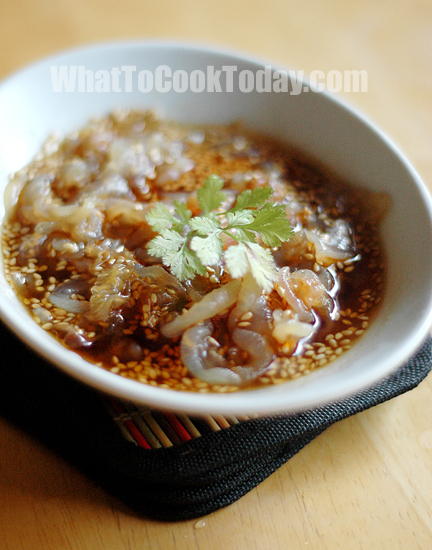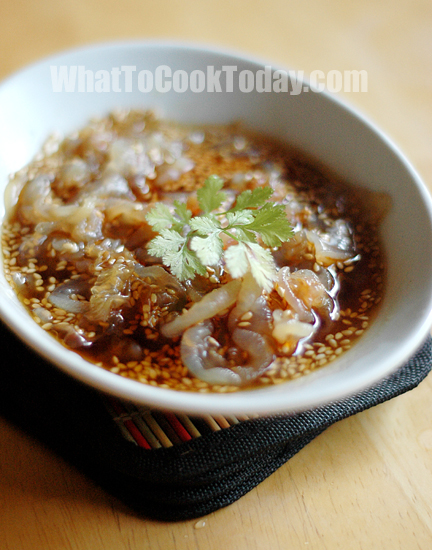 Sesame Jellyfish is the dish that we never fail to order each time we go to Mandarin Kitchen at Bloomington for a dim sum
I think I can safely say that most Asian people do enjoy eating Jellyfish. I think you can put it this way, anything that are not poisonous to eat are in Asian cooking lol!
Jellyfish itself is salty and mild-tasting. It is also crunchy. Hmm…I don't know if I have convinced anyone yet over here to try a Jellyfish haha! I think it's a matter of texture. We introduced Jellyfish to some of our American friends and some like it, some think they can do just fine without it 🙂
When you marinade the Jellyfish with sesame oil, sugar and vinegar, the Jellyfish will absorbed the marinades, like a sponge pretty much and that's what makes it tastes good. They normally serve this chill as an appetizer.
SESAME JELLYFISH/ ZHIMA HAIZHE (2-3 servings)
8 oz (225 g) prepared shredded jellyfish- available in Asian Grocery Store (cold section)
2 tsp light soy sauce
3 Tbsp sesame oil
2 tsp white rice vinegar
2 tsp sugar
1 Tbsp toasted white sesame seeds
Cilantro for garnish
COOKING METHOD:

Mix all the ingredients together and let the Jellyfish marinade for at least 1 hour in the refrigerator before serving. This dish will stay fresh for hours in the fridge