Can you make a pie crust using bread? the answer is yes. I'm showing you how to easily make an easy pie crust using sliced bread. It's fast, healthier, and economical. You can use the crust for both sweet and savory filling.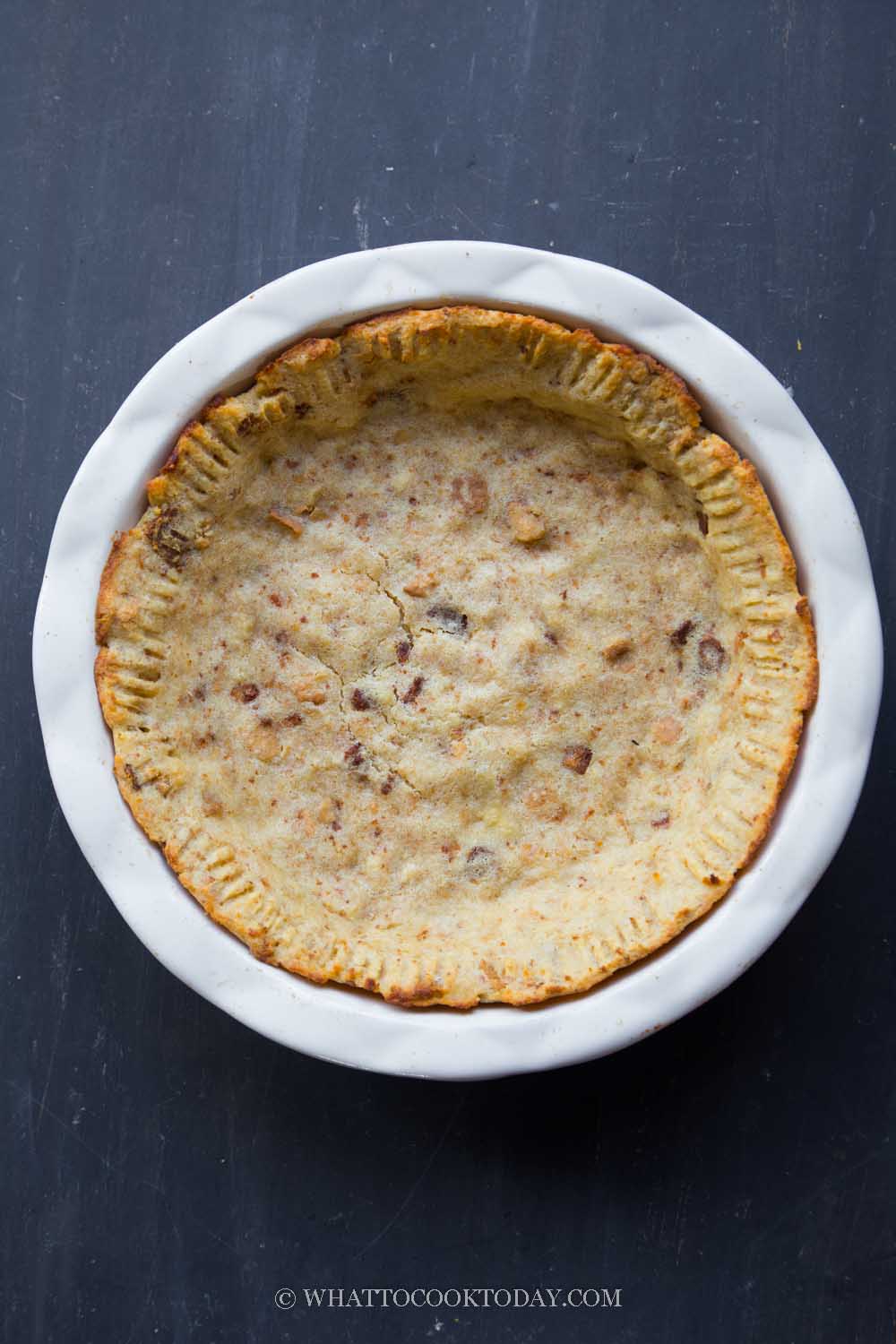 If you can't be bothered to make a pie crust from scratch or simply have some stale bread sitting around and are not sure what to do with them, you can try making this super easy pie crust using bread.
What you need to make pie crust using bread
You basically only need three ingredients here. You can also season the crust if you like, but that's optional.
1. Bread
I have tried this with white bread, whole wheat bread, and other flavored bread like sun-dried tomato bread and they work pretty well. I haven't tried gluten-free bread, so I can't tell you for sure if that will work or not.
2. Milk
You can use cow's milk (whole/low-fat/fat-free), unsweetened non-dairy milk, or just water if you prefer it that way. Using milk gives the crust a better richer taste
3. Egg
The egg works as a binder here
How to make pie crust using bread
1. Preheat the oven to 4250 F (220C) for a conventional oven. If you use a convection oven, lower the temperature by 20 degrees. Cut the bread into little cubes, about 1/2 to 1 inch cubes are fine, don't have to be exact. You don't need to remove the crust. Put them in a large mixing bowl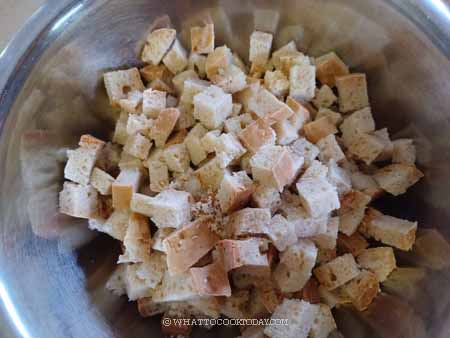 2. Pour in milk and add the lightly beaten eggs. If you want to add the optional add-ons such as seasonings etc, you can add them here. I find it easier to work with your hand. Wear a glove if you don't want to get messy. Mix everything together using your hand. Squeeze the bread and mix everything to form a sort of paste-like dough. It feels moist and sticky. Depending on the type of bread you use, you may need a bit more liquid, or you may not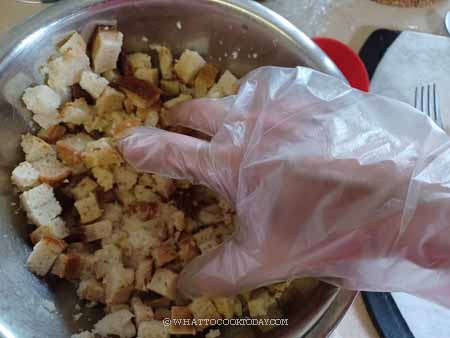 3. This is how it looks like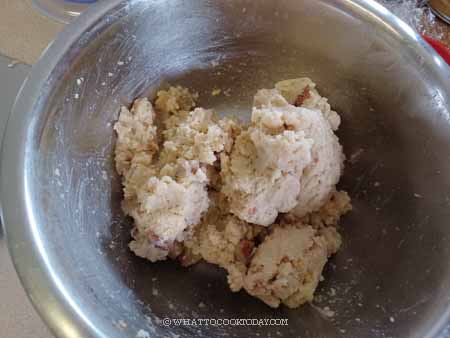 4. I spray my 9-inch round pie plate with non-stick spray. You can brush with oil too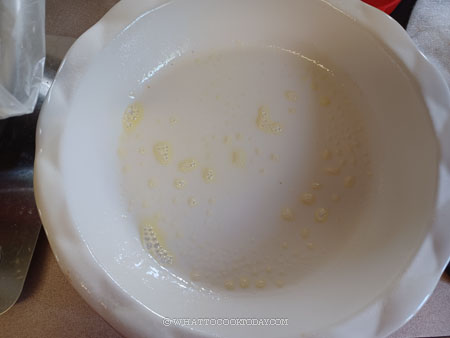 5. Scoop out the dough onto the pie plate. Flatten the dough with your palm/fingers to the base of the plate and gently push it to the side of the pie plate. I would flatten it to about 1/4 inch thick. Do your best to make sure it has the same thickness all around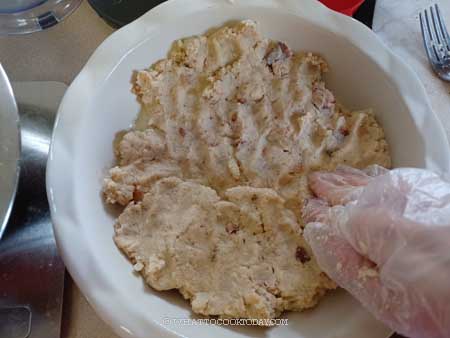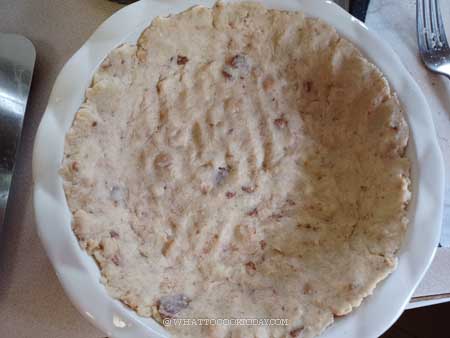 5. You can use a fork to crimp the side of the crust. This is optional. Pierce the bottom of the crust with the tines of the fork in several places. I forgot to do that here, but it turned out fine too, just some bubbly spots here and there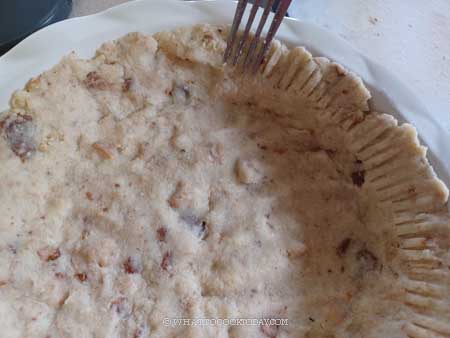 6. Place the pie crust on the middle rack and bake for 10  minutes or until lightly golden brown if you need the crust to be fully baked. For the half-baked pie crust, bake for about 6-7 minutes. Blind baking the pie crust will ensure that it won't get soggy when you put the filling in later


7. Remove from the oven and let it cool down for 10 minutes. UPDATE: I like to brush a layer of egg white to create a "seal" to prevent the pie crust from getting soggy. Then put it back into the oven for another 5 minutes. Remove from the oven and if you use this for a no-bake pie filling, let the crust cool down completely. If the filling needs to be baked, you can fill the pie crust with filling when it's still warm.

How to use bread pie crust
You can use it with pretty much any recipe that calls for a single pie crust. It works for both sweet and savory filling.
Here are some ideas to get you started if you need them:
1. Savory pies/tarts: Norwegian spinach pie
2. Sweet pies/tarts: banoffee pie, Hong Kong egg tart
How to prevent the bread pie crust from getting soggy
1. Par-bake or blind-bake the crust
Which we do in the recipe
2. Add a layer to the base of the crust
I like to add a layer of cheese, fine breadcrumbs, finely crushed cornflakes or cereal to the base of the crust before adding the filling. This helps to avoid the liquid from the filling to sip through the crust, making it all wet and soggy
3. Brush with egg white
You can also brush with a layer of egg white before adding that filling. The egg white will create that seal. This works like a charm for me every time. It works for both sweet and savory pie
4. Brush with chocolate (for sweet pie)
Let your crust cool down completely after you par-bake it. Then melt some chocolate and brush on top of the base of the crust and let the chocolate solidifies and set before you add the filling
Did you make this pie crust using bread recipe?
I love it when you guys snap a photo and tag to show me what you've made 🙂 Simply tag me @WhatToCookToday #WhatToCookToday on Instagram and I'll be sure to stop by and take a peek for real!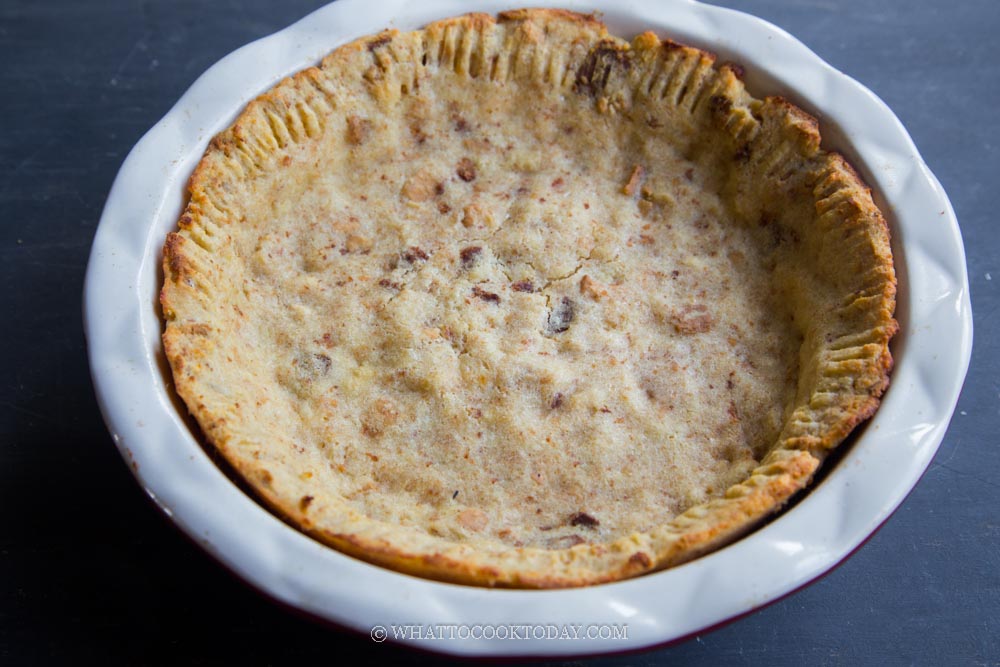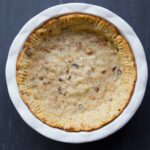 How To Make Easy Pie Crust Using Sliced Bread
Ingredients
Basic pie crust:
300

grams

bread (cubed)

about 4 cups packed. See notes

100

grams

milk

you can use water too

50

gr

egg

beaten, about 1 large egg without the shell
Optional add ons:
¼

tsp

sugar

50

gr

grated parmesan cheese
Instructions
Prepare the "dough":
Preheat the oven to 425 F (220C) for a conventional oven. If you use convection oven, lower the temperature by 20 degrees. Cut the bread into small cubes. You don't need to remove the crust. Put them in a large mixing bowl. Add milk, egg, and optional add-ons if you want

I find it easier to work with your hand. Wear a glove if you don't want to get messy. Mix everything together using your hand. Squeeze the bread and mix everything to form a sort of paste-like dough. It feels moist and sticky. Depending on the type of bread you use, you may need a bit more liquid, or you may not
Shaping:
I spray my 9-inch round pie plate with non-stick spray. You can brush with oil too. Scoop out the dough onto the pie plate. Flatten the dough with your palm/fingers to the base of the plate and gently push it to the side of the pie plate. I would flatten it to about 1/4 inch thick. Do your best to make sure it has same thickness all around

You can use a fork to crimp the side of the crust. This is optional. Pierce the bottom of the crust with the tines of the fork in several places
Baking:
Place the pie crust on the middle rack and bake for 10 minutes or until slightly golden brown if you need the crust to be fully baked. For half-baked pie crust, bake for about 6-7 minutes . Blind baking the pie crust will ensure that it won't get soggy when you put the filling in later

Remove from the oven and let it cool down for 10 minutes. Then brush the crust with some egg white. This will create a seal to prevent the crust from getting soggy and it works like a charm for me every time.

Return the crust to the oven and bake another 5 minutes and then remove from the oven
How to use:
Remove from the oven and let it cool down completely if you use this for a no-bake pie filling. If the filling needs to be baked, you can fill the pie crust with filling when it's still warm. Bake according to the recipe you are using
Notes
I have tried white bread, wheat bread, and flavored bread like sun-dried tomato bread and they work well. I haven't tried with gluten-free bread, so I can't tell you for sure if it works the same way and give the same result or not
Nutrition
Serving:
1
pie crust
|
Calories:
942
kcal
|
Carbohydrates:
153
g
|
Protein:
38
g
|
Fat:
19
g
|
Saturated Fat:
6
g
|
Polyunsaturated Fat:
7
g
|
Monounsaturated Fat:
5
g
|
Trans Fat:
1
g
|
Cholesterol:
198
mg
|
Sodium:
1540
mg
|
Potassium:
570
mg
|
Fiber:
7
g
|
Sugar:
21
g
|
Vitamin A:
435
IU
|
Calcium:
784
mg
|
Iron:
11
mg