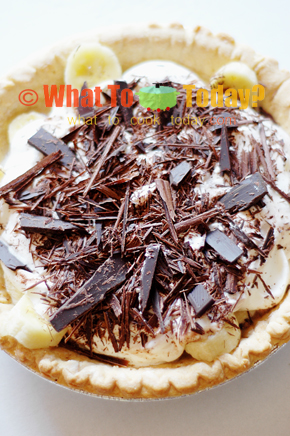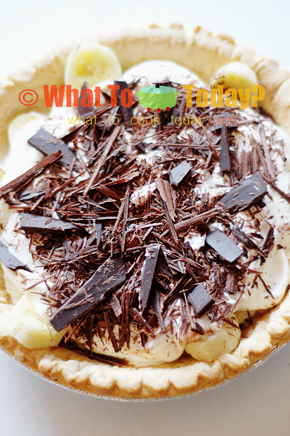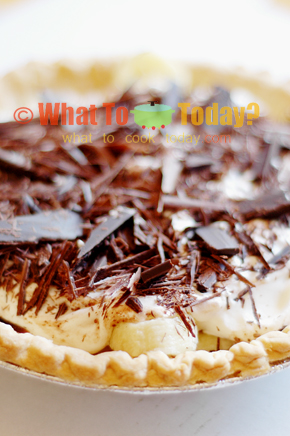 My big man that is. Today indeed is a very special day, not only to him, but especially to me. It's beyond words how grateful I am for having him as part of my life. It's one of the best things happened in my life. Not only he's a husband to me, he is also my good friend and my mastermind. Looking at our little girl (who looks so much like him btw 🙂 ) makes me even more grateful and love this man! Thank you for being you and let's get cooking and eating now lol.
The big man still gotta blow the candle, slice the dessert and eat it too. Last year I made carrot cake for hubby's birthday. This year I thought, well…it doesn't have to be a cake right ? it can be anything sweet. So, I saw the cheat banofee pie in Jamie's 30 minute meals cookbook and I just had to give it a try because I've never had banofee pie before, nor had I heard of it.
Apparently, banoffee pie is from the U.K. and usually made with bananas, cream and toffee. I love this pie though. Not to mention easy to whip up and look and taste great too. Rich but not that sinful 😉
To the man I love, HAPPY BIRTHDAY! I love you more and more each day.
Check out the birthday lunch I made: Moroccan lamb chops with flatbreads and cheese-stuffed peppers. This meal was amazing!
BANOFFEE PIE FOR THE BIRTHDAY BOY
Ingredients
4

heaped tablespoons of sugar

4

ripe bananas

½

cup

(100 ml) low-fat milk

1

pre-made 9-inch pie crust

10

fl oz

(300 ml) heavy cream (or double cream (higher fat content than heavy cream) if you can find one. Double cream is common in the U.K, but not in the U.S)

1

Tbsp

coffee powder or baking cocoa powder

3.5

oz

(100 g) good-quality dark chocolate (70% cocoa solids) for garnish
Instructions
Preheat your oven according to the direction in the pie crust package and bake the crust as directed. Once the pie crust is baked, set aside to cool down a bit

While the crust is baking, put a medium frying pan on a high heat. Put a heaped 4 Tbsp of sugar into the pan and shake the pan to spread it around. Let it melt while you peel 2 of the bananas and blitz them with the milk in a blender until you have a smoothie consistency

Carefully tilt the pan t help dissolve all the sugar. Once bubbling and golden, pour in the banana mixture. Do not touch anything in the pan - caramel can burn badly. The caramel will crystalize when you pour the banana mixture in, don't panic, it will melt again. Keep stirring for 1 to 2 minutes, until dark and golden, then pour into the middle of the pie crust. Let it cool down a bit then put into the refrigerator to cool down further for a few minutes

Peel and finely slice your 2 remaining bananas at an angle. In a large bowl, whip the heavy cream with a mixer until thick and stiff. If you use double cream, use a whisk to whip it until fairly thick, don't overwork the double cream of it will separate. Lightly fold in the coffee powder or cocoa powder to get a marbled effect. Get your pie crust from the refrigerator, arrange the banana slices on top. Use a spatula to spread the whipped heavy cream on top of the pie. Scrape over a little dark chocolate and pop back into the refrigerator for about 1 hour before serving