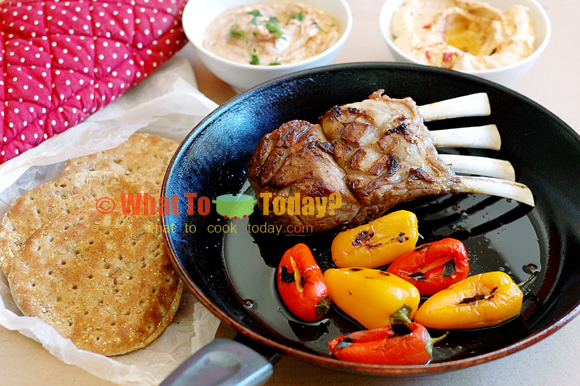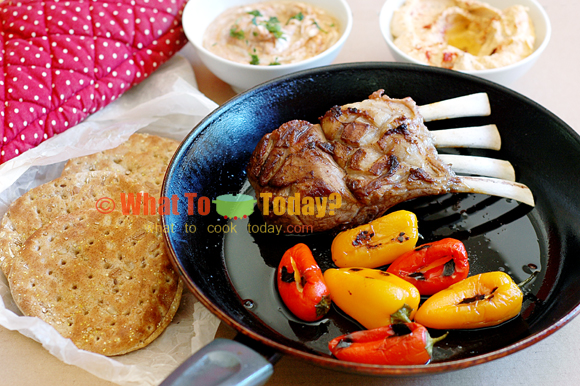 The man loves lamb and so I figured I wanted to make something with lamb and this Moroccan lamb chops just seems to fit the occasion (birthday!). We both enjoy lamb a lot(and you are wondering, I'm cooking for him or for me? ha.ha. for him of course! yea right!). The flesh of the lamb itself, when cooked correctly, are flavorful and tender without needing too much ingredients to overwhelm it. So, I choose this Moroccan lamb chops accompany with yogurt, flat breads, hummus and stuffed peppers. Ask the birthday boy and he'll tell you that he's happy (if he's not, then he gotta fix his own meals from now on…just kidding!)
Of course I made dessert too. I mean…how can you have a birthday without something sweet right ? 😉 Check out the banoffee pie I made. FANTABULOUS! It was a great day. Great meal and one very happy man! 😉 Right, happy man ? *nudge*
MOROCCAN LAMB CHOPS WITH FLATBREAD AND CHEESE-STUFFED PEPPERS FOR THE BIRTHDAY BOY
Ingredients
Lamb:
2

racks of lamb

(8 chops per rack), fat removed

1

whole nutmeg

, for grating

1

tsp

ground cumin

1

tsp

sweet paprika

, plus extra for dusting

1

tsp

dried thyme

1

lemon
Accompaniments:
1

pack of flatbread or sandwich thins work out perfect

1

Tbsp

dried thyme or oregano

9

oz

(250 g) plain yogurt

1

heaped tsp harissa

(see note)

7

oz

(200 g) hummus

¼

a lemon

(I like mine not as sour)

Extra virgin olive oil

Sea salt and black pepper
Stuffed peppers:
2

oz

(60 g) good melting cheese, such as Cheddar or fontina

8

small whole jarred red peppers
Instructions
Get all your ingredients and equipment ready. Fill and boil the kettle/pot with water. Put a large frying pan on a medium heat. Put a roasting tray in the oven and turn the oven on to 425 F

LAMB: put the racks of lamb on a sheet of grease-proof paper over a board and cut each rack in half so you have 4 smaller racks. Quickly score the surface area of each rack in a crisscross fashion, then finely grate over 1/2 the nutmeg, and sprinkle with cumin, paprika and thyme. Massage the flavors into the meat, then place in the hot frying pan with a splash of olive oil. Discard the grease-proof paper. Turn and color the meat on all sides for around 5 minutes as you get on with the rest of the meal

GARNISHES: lay the flatbreads on a board. Drizzle with olive oil, then sprinkle with salt and dried thyme or oregano. Scrunch up and wet a a large piece of grease-proof paper under the tap and flatten out. Stack up the breads and wrap them with the paper, then pop on to the lowest oven shelf to warm through

LAMB: check the lamb. Once brown, transfer to the hot roasting tray, bones facing up , and put on top shelf of the oven. Set the timer for 14 minutes for blushing to medium meat, slightly less for rare, and more for well done. Halfway through, turn the racks over. Rinse out the lamb pan and wipe clean with kitchen towel. Put on a lowe heat

STUFFED PEPPERS: divide the cheese into 8 slices and put 1 slice inside each pepper

LAMB: turn the racks now, gently shake the tray and hit it with a good pinch of salt. Return to the oven

GARNISHES: put the yogurt into a bowl and swirl in the harissa. Drizzle over a touch of extra virgin olive oil and add a few reserved parsley leaves. Spoon the hummus on to a plate, make a well in the center and drizzle with extra virgin olive oil. Add a pinch of salt and pepper, a squeeze of the juice from the lemon half and a pinch of paprika. Take to the table

STUFFED PEPPERS: drizzle olive oil into the pan you used for the lamb, then add the peppers. Cook for just 1 1/2 to 2 minutes and once the cheese melts, turn the heat off. It's quick and delicious

LAMB: remove the lamb from the oven and transfer to a board to rest for a few minutes

TO SERVE: tip the pepper on to a plate and scatter over a few parsley or mint leaves. Take the flatbreads out of the oven. Scatter the rest of the parsley over the lamb, cut the lemon into wedges for squeezing over and serve on the side. ENJOY!
Notes
If you can't find store-bought harrisa mix, you can make you own by using: 3 oz (85 g) dried chili such as guajilo or ancho chili (soaked in warm water until soft), 1 clove garlic, pinch of salt, 1 tsp ground coriander, 1 tsp caraway seeds, 1 red bell pepper. Process everything in a food processor into a paste and add some olive oil to help it going. Store it in a container and pour some oil on top of it. Put in refrigerator and may last for 2-3 weeks.