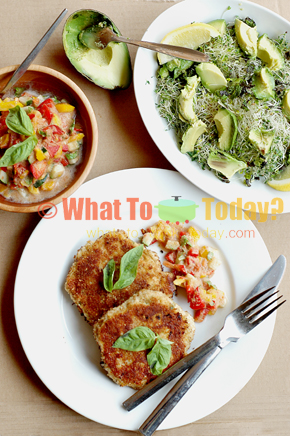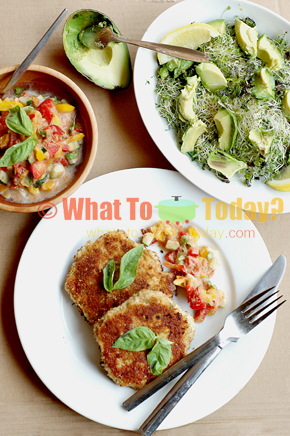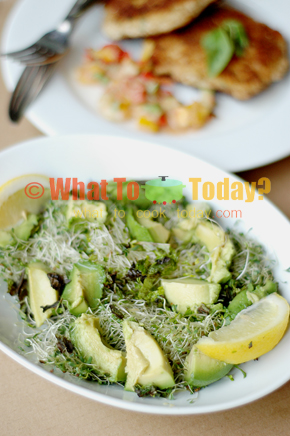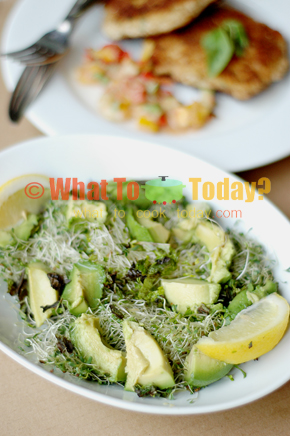 I decided to give this Swedish fish cakes with avocado sprout salad a try from Jamie's 30 Minute Meals cookbook with some modification on the salad. I think I've mentioned before that both my husband and I are not too big of a fan of cooked salmon. We love raw salmon served in sashimi. This Swedish fish cakes recipe uses 3 different type of fishes: salmon, haddock and tuna. The combination is delicious. The fish cakes is served with fresh salsa, which is tangy and sweet in taste, perfect with the fish cakes.
I recently also became a fan of eating alfalfa sprouts after trying Jamie Oliver's fiery shrimp cocktail, which was served with alfalfa sprouts. Topped it with avocado and it taste even better. Alfalfa + Avocado….wow…super food I'd say!
This meal is hearty and super satisfying! what a deal!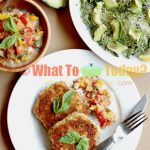 30-MINUTE MEAL: SWEDISH FISH CAKES WITH AVOCADO SPROUT SALAD
Ingredients
Fish cakes:
2

slices

of stale or crusty bread

2

of about 5 oz

(150 g) salmon fillets, skinless and boneless

10.5

oz

(300 g) haddock fillet, skinless and boneless

7

oz

(200 g) tuna steak

1

lemon

A small bunch of fresh flat-leaf parsley

1

clove

garlic
Salsa:
1

fresh red chili

1

fresh green chili

4

spring onions

4

ripe red or yellow tomatoes

Red wine vinegar

½

a cucumber

1

yellow pepper

1

red pepper

2

limes

A small bunch of fresh basil
Salad:
3.5

oz

(100 g) alfalfa sprouts

A small bunch of fresh mint

2

ripe avocados

1

lemon

Olive oil
Seasonings:
Extra virgin olive oil

Sea salt and black pepper
Instructions
Get all your ingredients and equipment ready. Fill and boil the kettle/pot. Turn the oven on to 425 F. Put the standard blade attachment into the food processor

FISHCAKES: Whiz the bread in the food processor until fine. Meanwhile, tear off a large sheet of tin foil. Put the breadcrumbs on top, then put to one side. Add all the fish to the processor. Finely grate in the zest of 1 lemon and rip in the parsley leaves, discarding the stalks. Add a really good pinch of salt and pepper and pulse a few times until coarsely mixed

Tip the fish mix on to a platter and add 2 heaped tablespoons of the breadcrumbs. Scrunch and mix with your clean hands, then divide into 4 patties. If you've got a round pastry cutter (about 4 inches in diameter), use that as a mould. If not, use your hands to roll them into 4 balls then push, squeeze and pat them into fishcakes. I found that wetting your hand with water helps to prevent the fish from sticking to your hands. Place on top of the breadcrumbs, making sure the cakes are of even thicknesses, then sprinkle the breadcrumbs on top to evenly coat them

Put a large frying pan on a medium heat and add a good couple of lugs of olive oil. Bash a clove of garlic with the heel of your hand and add to the pan. When the garlic sizzles, transfer the fish cake to the pan. Cook for about 7 minutes while you make the salsa. Once golden, flip over and cook for another 7 minutes or so until golden on the other side too

SALSA: Quickly wash your processor bowl. Deseed the chilies and remove the stalks, trim the spring onions, and add both to the food processor with the whole tomatoes and a pinch of salt and pepper. Add a swig of red wine vinegar and pulse until finely chopped. Have a taste and adust the flavours if needed and when you're happy pour on to a platter

Halve the cucumber lengthways then finely chop into smaller pieces. Halve, deseed and finely chop the peppers. Mix with the rest of the salsa on the platter and the juice of 2 limes. Pick the baby basil leaves and put aside for garnish, then roughly chop the rest of the leaves and add to the salsa

SALAD: scatter the alfalfa over a platter and finely slice the mint leaves, discarding the stalks, and scatter over. Halve the avocados and spoon big chunks of the flesh over the platter. Drizzle with some olive oil and squeeze juice of 1 emon over the salad

SERVING: spoon some salsa onto the serving plate. Put a fish cake on top of it. Garnish with some basil leaves and a pinch of salt. Serve with the salad on the side