Perfectly seared five-spice scallops with some sweet chili rice will leave you thinking "why haven't I made this before?"
I always have a thing for jumbo scallops. They are so meaty and sweet on their own without having to put any other seasonings. I just love them so much. They are quick to prepare, however, it's very easy to overcook them. Once you overcook them, they lost their tenderness and turn rubbery like other seafood does.
The pan-fried scallops go so well with the sweet chilli rice. This sweet chilli rice on it own is so good. Hubby loves the rice a lot. I love it too. It's so flavorful. The spring onions, the eggs, the coriander and the sweet chili sauce, they go so well, making it such a perfect fusion meal. Recipe is adapted from Jamie Oliver Meals in Minute cookbook. I modified a little bit but it's still a delicious meal.
For baking/ kueh making: I highly encourage to weigh ingredients with a digital kitchen scale instead of using measuring cups as they are not very accurate especially when it comes to recipe that requires precision.
GRAMS TO CUPS CONVERSION (UNSIFTED)
INGREDIENTS
Rice:
2

cups

basmati rice

1/2

cup

fresh or frozen peas/shelled edamame

-

thawed if frozen

3

eggs

1

Tbsp

soy sauce

1

Tbsp

sesame oil

1/2

lemon

A small bunch of fresh coriander

1/2

cup

Sweet chili sauce
Scallop:
2

lbs

fresh large scallops, shelled and trimmed

1

clove of garlic

-

(peeled and minced)

2

Tbsp

Honey

2

small knobs of butter

A small bunch of fresh coriander
INSTRUCTIONS
RICE: put the rice in a large pot with a tight-fitting lid. Add in 2 1/2 cups of water. Bring the water to a boil and then lower the heat and pop a lid on and leave to cook for 15-20 minutes

SCALLOPS: Pat each scallops dry with an absorbent paper towel. Score crisscross on top, only going halfway through. Season with salt and pepper, finely grate over some lemon zest and dust with the five-spice powder

RICE: trim and finely slice the green onions and put into a mixing bowl. Crack in the eggs, and add 1 Tbsp each of soy sauce and sesame oil and a drizzle of olive oil, then whisk. Take the lid off the rice and use a fork to fluff it up. Add in the peas. Pour the egg mixture all over. Squeeze the juice of 1/2 a lemon and add a pinch of pepper. Put the lid back on and turn down to the lowest heat for another 4 to 5 minutes. Remove from the heat and let it rest for about 5 minutes. Open the lid and drizzle some sweet chili sauce when ready to serve

SCALLOPS: Get a large frying pan on the highest heat. P

put about 1 Tbsp of cooking oil in the pan. Quickly add the scallops, scored side down. Don't turn the scallops until they've had about 2 minutes. Quickly turn them all over and crush in 1 unpeeled garlic. Add in some honey and 2 small knobs of butter. Take off the heat, and transfer to a serving plate and sprinkle over leaves from a small bunch of coriander. Serve with the rice and greens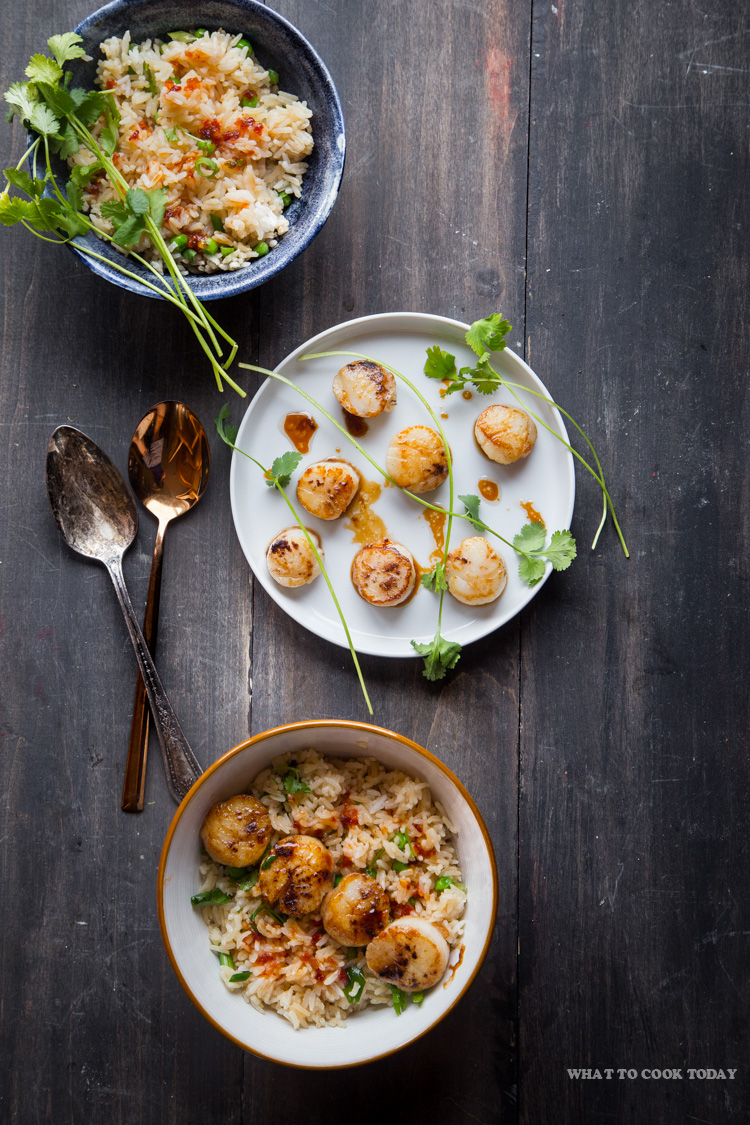 *This post contains affiliate links. You don't pay extra as a consumer if you choose to click on the link and purchase from there. What To Cook Today just receives a small commission from this. That's all. It helps to pay for the cost to have this blog up and running. Thank you so much for your support !