Soft and silky smooth steamed eggs with minced pork is popular and easy dish that almost every Chinese home cooks love to make.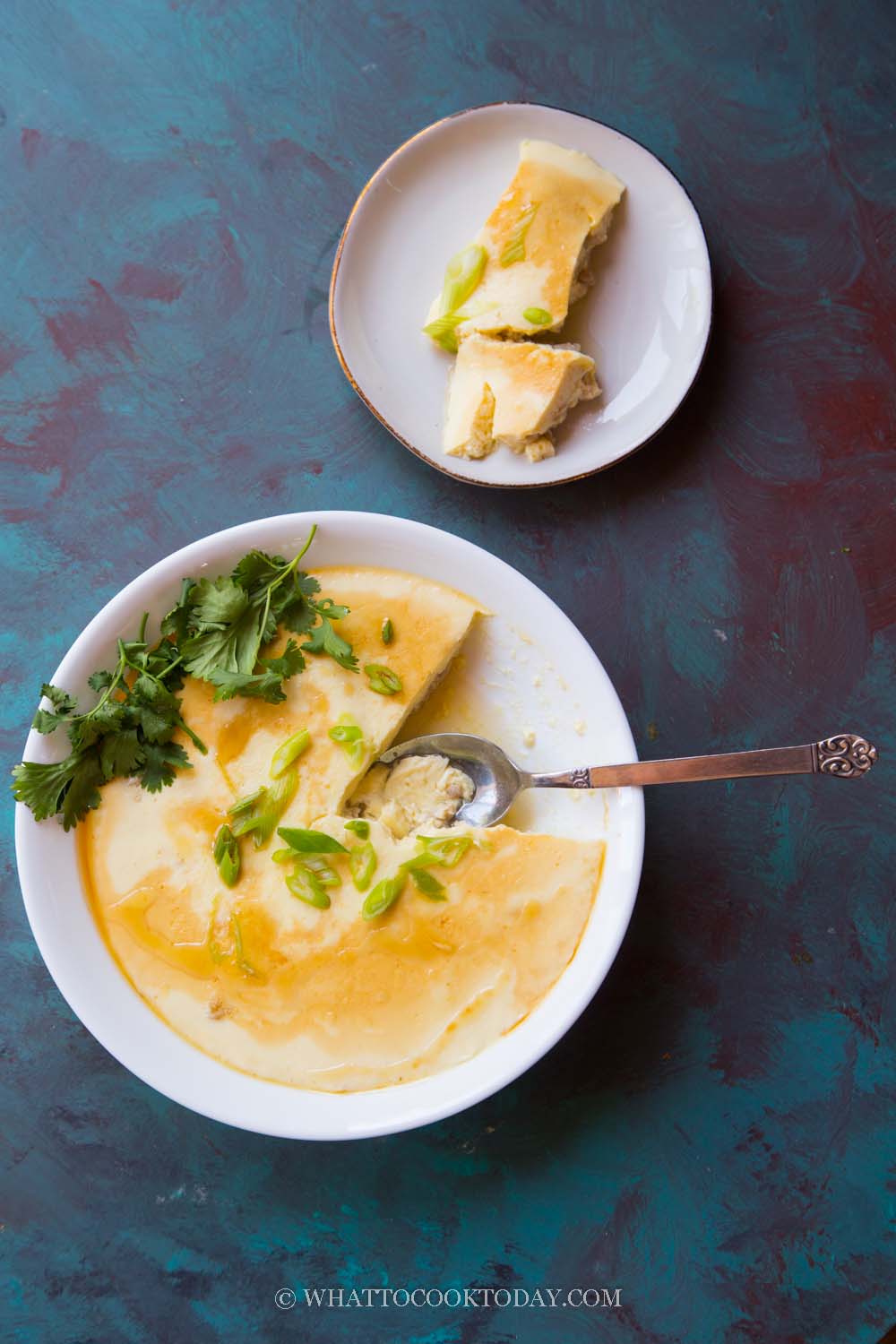 My mom made this easy steamed egg with minced pork almost every week. Sometimes more than once a week. We love it and it's easy to make. There are so many varieties out there. Each home cook seem to have his/her own version. The version my mom made is usually not the soft and silky smooth type like the one I made. It's firmer in texture. There's no right and wrong here if you ask me. It's more of a personal preference. I made it almost similar to making chawanmushi, but a bit firmer.
How to make easy steamed egg with minced pork
1. Put all ingredients in a bowl and mix to marinate the pork for 15 minutes while you prepare other things


2. Bring the water in the steamer to a boil. Crack three eggs in a bowl. Combine water and cornstarch and stir to mix and then add to the eggs and use a whisk to mix until combine but not too vigorously that you create too much bubbles


3. Spread the marinated pork on a wide shallow type of bowl


4. Pour the eggs mixture through a sieve on top of the eggs. This step is optional. My mom never did this and some home cooks I know didn't do this as well. If you prefer silky smooth texture, then run the egg mixture through the sieve. Pop as much bubbles as you can


5. Wrap the lid of the steamer with a cloth to prevent water dripping back on the eggs. You can also wrap a plastic wrap over the plate .Steam over high heat for 1 minute and then lower the heat to low and steam for 15 minutes or until the egg custard is set but still jiggly but no longer watery


6. Drizzle a bit of soy sauce and garnish with some chopped green onion and cilantro leaves if you prefer. Serve immediately

This dish truly brings back so much childhood memories for me. I'm so glad my kids really enjoy this dish like I did when I was and still do.
Variations
You will see some version where the eggs are steamed without the meat. Instead, the meat is stir-fried until cooked through and then after the eggs are done steaming, the meat topping is poured on top and serve. I didn't grow up with this version though, but in case you are interested in doing it that way.

Did you make this recipe?
I love it when you guys snap a photo and tag to show me what you've made 🙂 Simply tag me @WhatToCookToday #WhatToCookToday on Instagram and I'll be sure to stop by and take a peek for real!

Easy Steamed Egg with Minced Pork
Ingredients
For the eggs:
3

large

eggs

about 60 grams each with the shell

50

ml

water

1

tsp

cornstarch
For the pork:
150

gr

ground/minced pork

1

tsp

soy sauce

1

tsp

Shaoxing wine

⅛

tsp

sugar

½

tsp

mushroom granules

optional

¼

tsp

ground pepper
Garnishes:
1

stalk

green onion

finely chopped

cilantro leaves

finely chopped
Instructions
Marinate the pork:
Put all ingredients in a bowl and mix to marinate the pork for 15 minutes while you prepare other things
Prepare the egg mixture:
Bring the water in the steamer to a boil. Crack three eggs in a bowl. Combine water and cornstarch and stir to mix and then add to the eggs and use a whisk to mix until combine but not too vigorously that you create too much bubbles
To steam:
Spread the marinated pork on a wide shallow type of bowl. Pour the eggs mixture through a sieve on top of the eggs. This step is optional. My mom never did this and some home cooks I know didn't do this as well. If you prefer silky smooth texture, then run the egg mixture through the sieve. Pop as much bubbles as you can

Wrap the lid of the steamer with a cloth to prevent water dripping back on the eggs. Steam over high heat for 1 minute and then lower the heat to low and steam for 15 minutes or until the egg custard is set but still jiggly but no longer watery
To serve:
Drizzle a bit of soy sauce and garnish with some chopped green onion and cilantro leaves if you prefer. Serve immediately
Recommended products: