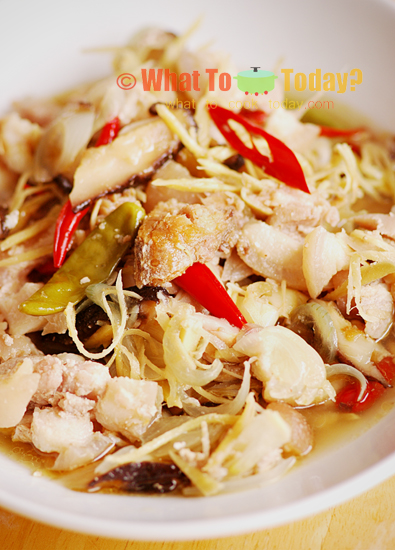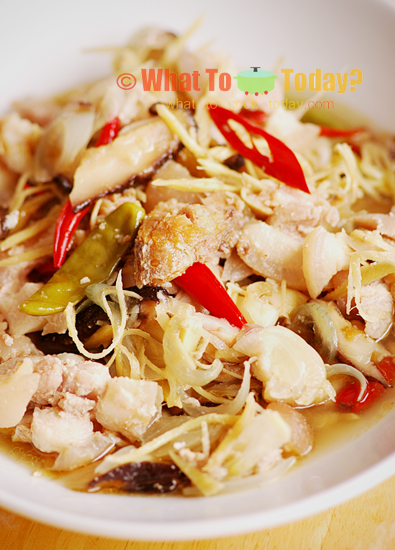 Steamed pork belly with salted fish is my mom's classic recipe that I grew up with. Absolutely love it. The thought of salted fish may not be appetizing to most people. However, this dish is my all big time favorite. I let hubby tried it and he, too, loves this dish.
I bought salted croacker fish before from the Asian store and it simply did not make the cut. I, then picked up another type of salted fish which is made from mackerel and when I checked out at the cashier, the owner of the shop told me that Salted mackerel fish is the bomb!!! and it is!!! SO GOOD!!!!!!!
The key ingredient here is the salted mackerel. Once steamed, it releases a fragrant flavor (at least to me) that really compliments well with the pork. There is also ginger, shallots and few sliced of bird's eye chilis for "color" and that tiny "hint" of spicyness. The juice that releases during the steaming is amazingly sweet and salty at the same time.
STEAMED PORK BELLY WITH SALTED MACKEREL
Ingredients
300

g

pork belly

cut into 1/4-inch slices*

100

g

of Mackerel Salted fish or 2 slices out from the jar

1

shallots

thinly sliced

2

cloves

of garlics

crushed

3-4

Bird's eye chili

seeded and sliced open or keep them whole

1

tumb-size ginger

julienned

¼

C

of water

½

Tbsp

of fish sauce

1

Tbsp

of canola oil
Instructions
Heat up the oil in a small pan. Briefly pan-fried the salted mackerel until slightly brown. Remove and set aside

Prepare a steamer. Get a serving plate you are going to serve the dish in (that will fit into your steamer) and place the sliced pork belly as first layer, then top with two slices of salted mackerel

Top with sliced shallots, ginger and chili. Add 1/4 C of water with 1/2 Tbsp of fish sauce. Cover and steam on high heat for 45 minutes or longer until the pork is tender

Serve with hot steamed rice or a bowl of porridge. YUM!
Notes
NOTES: * If you use lean pork, use 1 Tbsp of corn starch and 1 Tbsp of fish sauce to marinated the pork. I personally like it with pork belly, fatty but more flavor and that's what makes it good!