Stir-fried chicken with Thai basil (Gai Phat Krapao) is a super easy one-pan meal anyone can whip up with minimal ingredients and packed with robust flavor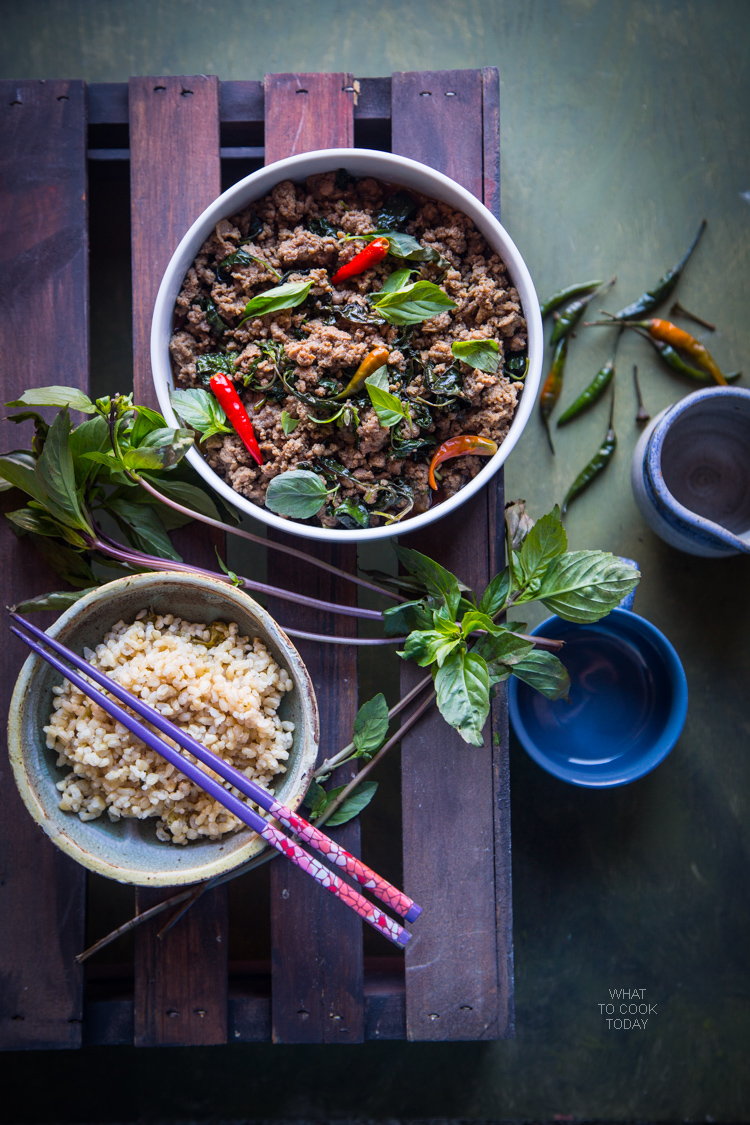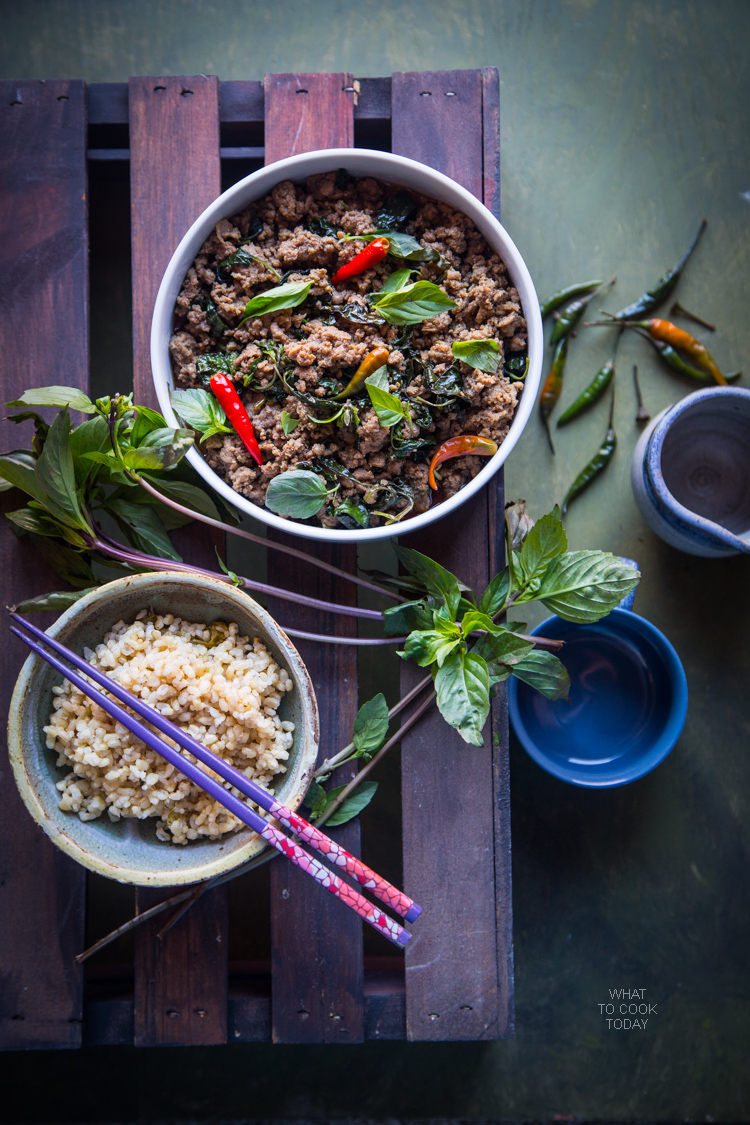 Stir-fried chicken with Thai basil is an absolutely delicious and popular street food in Thailand. I've always loved Thai food. Their usage of the variety of herbs and spices, like in Indonesian cooking, always make me hungry. Common ingredients you will find in Thai pantry are usually fish sauce (I usually say they use this like the Chinese will use soy sauce 🙂 ), chilis, basils, mints, lemongrass, coconut milk, kaffir lime leaves. Of course, there are many more, but these are just to mention several you will see very often.

This stir-fried chicken with holy basil is a dish that I know my brother always order at Thai restaurants. You will be surprised how easy it is to whip up this dish. Seriously, less than 30 minutes probably. I remember reading somewhere that Thai cooking uses different type of basil and there are 3 types of Thai basil (please correct me if I'm wrong):
1. Thai basil (bai horapa)
Very commonly used and it has that anise taste. Often used in salads and curries
2. Holy basil (bai krapao)
Which is what this recipe uses. It tastes peppery and used in stir-fries
3. Lemon basil (bai maenglak)
Lemony in taste and sweeter. Used in salads and soups
You probably won't find these three types of basil in just any kind of grocery stores. The Asian grocery store often carries the Thai basil and Holy basil. I don't see lemon basil as much.
I've heard that basil is the "king of herb" and that goes without saying in this dish. You will love it and the most wonderful thing is you don't spend the whole day preparing this dish. In and Out of the kitchen!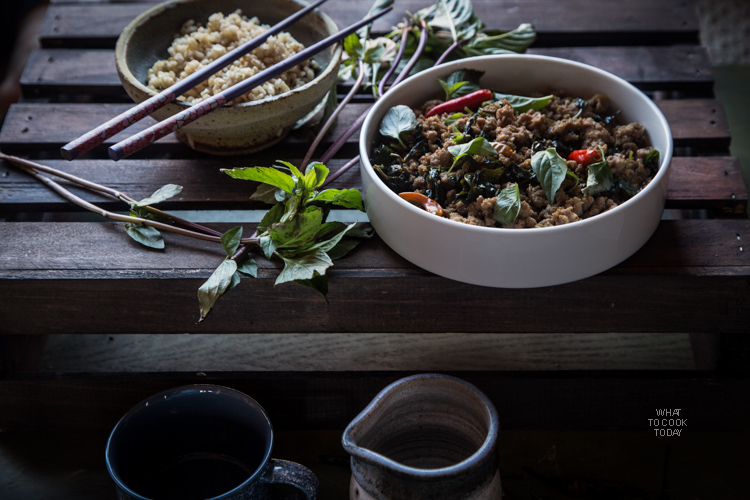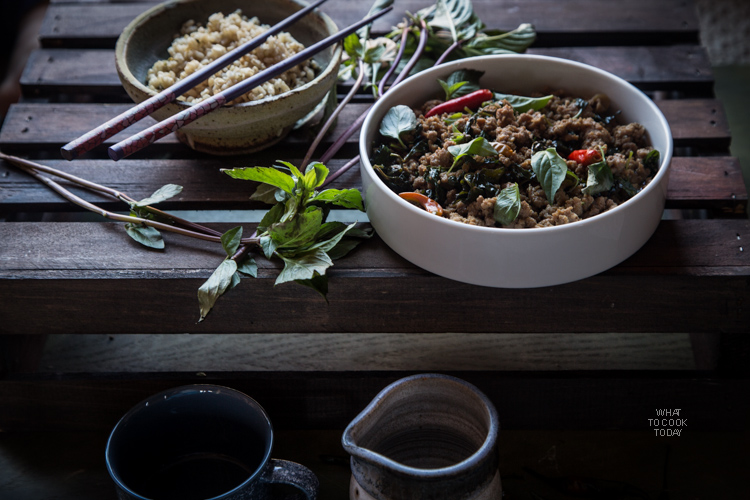 This blog post contains affiliate links. I earn a small commission when you made purchase at no extra cost to you. Learn more.
Stir-fried chicken with Thai basil (Gai Phat Krapao)(2-3 servings)
Ingredients
2

Tbsp

cooking oil

2

garlic cloves

crushed

10

oz

chicken breast

or you can grind it up, boned and chopped in small pieces

2

long red chilies

chopped finely

2

handful of holy basil

bai krapao

2

Tbsp

fish sauce

1

Tbsp

dark soy sauce -skip if you can't find one

not the same with regular soy sauce

1

Tbsp

sugar

2

Tbsp

water or chicken stock
Instructions
Heat the wok or skillet on a medium heat. Add oil and garlic, stir-fry for a few seconds. Turn on the heat and add the chicken and stir-fry until they turn opaque. Add chili and half of the basil. Stir-fry for 1 minutes

Add fish sauce, dark soy sayce, sugar and water or stock. Turn down the heat on low. Have a taste and add more fish sauce and/or sugar as needed. It should be spicy, savory, with a hint of sweetness. Add the rest of the basil, stir-fry for a few seconds and serve on rice