Soft and chewy tang yuan (sticky rice balls/mochi balls) served in sweet red bean soup is another variety of tang yuan recipes you will enjoy to celebrate the Chinese dongzhi festival or as a tong sui dessert. The recipe can be cooked in Instant Pot pressure cooker or on the stove.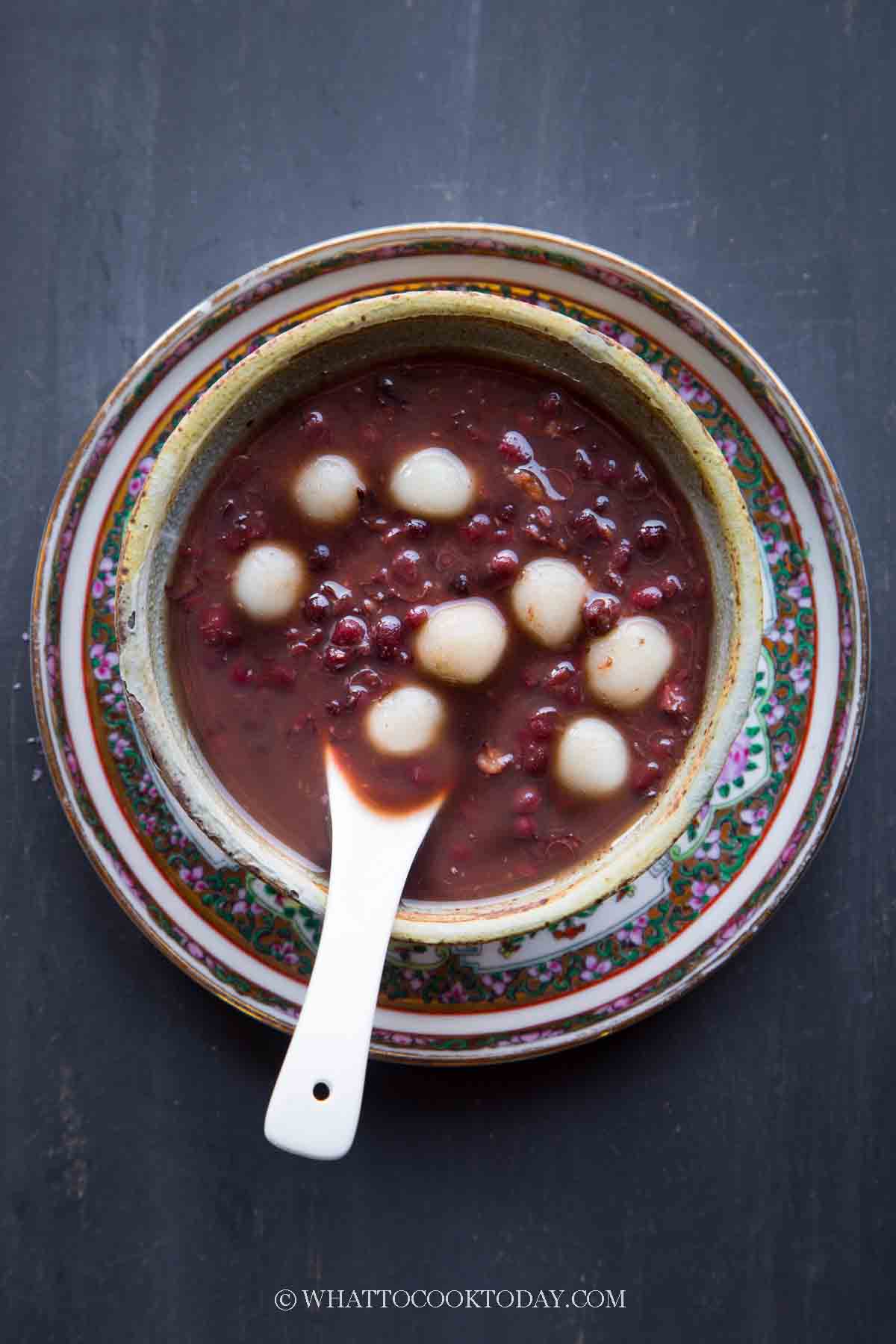 Sweet red bean soup is one of my favorite Chinese desserts. I know it may sound weird if you are not familiar with Chinese cuisine. A Caucasian friend asked me before "How can beans become a dessert? and a soup version too?" The thought of it may not seem so appealing. I am probably biased too because I grew up with this kind of sweet soup dessert or in Chinese we call it tong sui (literally means sugar water) and I really love tong sui. This is usually a kind of dessert served after a meal to cleanse your palate if you go to Cantonese restaurants. They love to serve tong sui and I love them all too. Now, if you are getting a bit tired of tang yuan served in sweet ginger broth, which is the traditional way of serving it, you should try this sweet red bean soup tang yuan or this pumpkin black sesame tang yuan with tapioca pearls and coconut milk (don't get me started on the latter! it's extremely good!)
The recipe rundown
Taste: The soup is lightly sweetened yet it's enough to satisfy that craving for something sweet
Texture: The mushy sweetened red beans in a soup works well with the soft yet chewy little tang yuan balls (mochi balls)
Ease: Easy
Pros: They are easy to put together, yet it seems fancy enough to serve as tong sui or to celebrate dongzhi
Cons: If you cook the sweet red bean soup on the stove, it may take longer compared to using a pressure cooker
Ingredients
1. Adzuki beans
These tiny adzuki red beans are usually used to prepare tong sui like sweet red bean soup. They are available at any Asian grocery store
2. Dried Mandarin orange peel (Chen Pi)
These are available at the Asian grocery stores too. You can also make your own or use regular orange peel. If you google it, you'll find many recipes for homemade dried Mandarin orange peel. They need to be soaked in a water briefly to plump up before using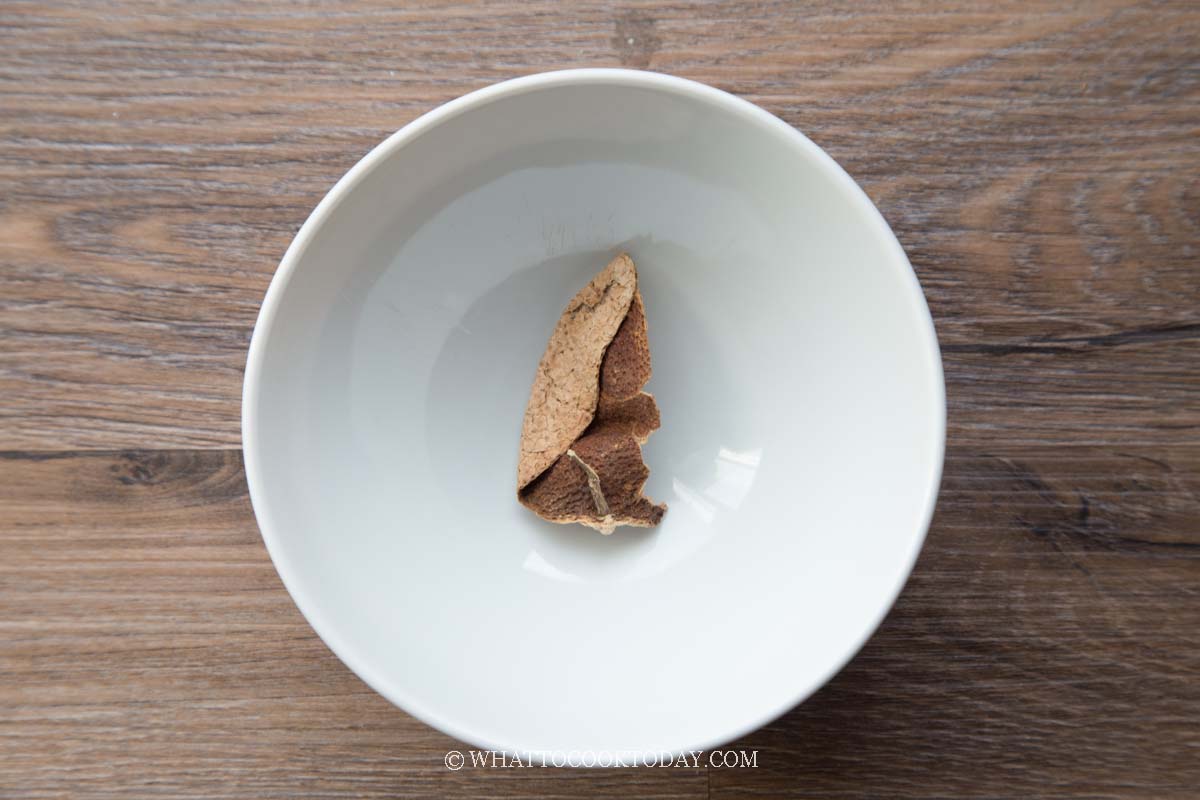 3. Brown sugar or rock sugar
I usually like to use rock sugar, white or brown rock sugar, but I'm out and I like to use brown sugar instead of regular white granulated sugar. You can use whatever you like. If you prefer to stay away from refined sugar, feel free to use honey or another sweetener of your choice
4. Salt
A small pinch of salt ties all the flavor of the soup together. I love it!
5. Glutinous rice flour
Glutinous rice flour (mochiko flour) is the main ingredient in making tang yuan balls (mochi balls). Please don't replace it with any other type of flour. Regular rice flour will not work
6. Icing sugar
Icing sugar is just to add a hint of sweetness to the tang yuan. You can omit if you prefer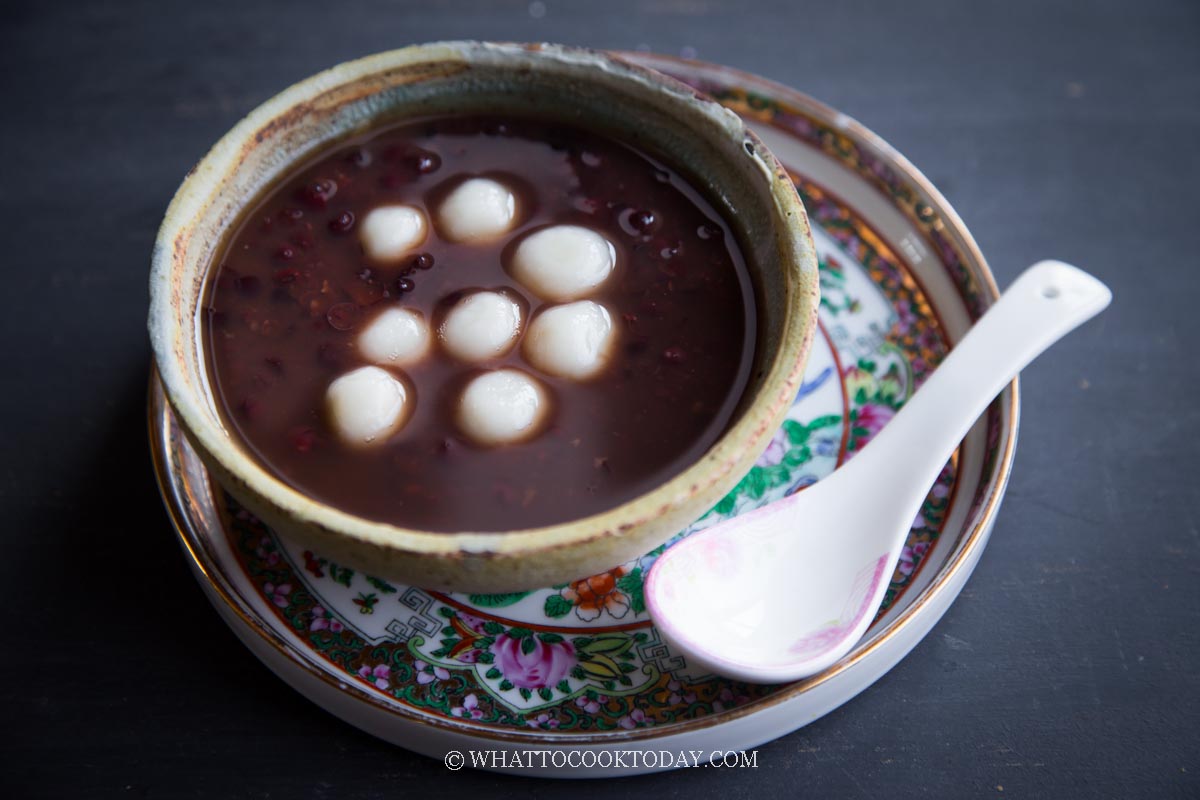 How to make sweet red bean soup tang yuan
1. Rehydrate the Mandarin peel
Soak the dried peels in warm water for 15 minutes or until they are soft. Scrap off the white part inside the peel if any. It's bitter. I used store-bought peel and so the white part has been removed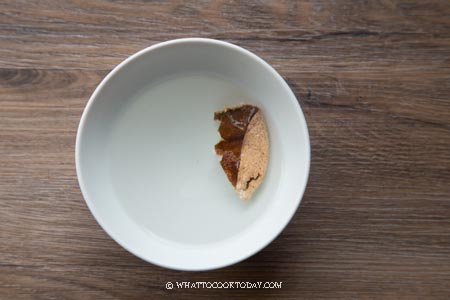 This was how it looked like after soaking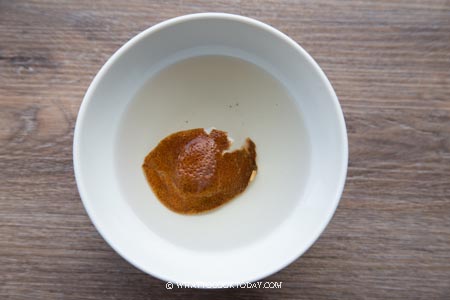 2. Soak the red beans if you are not using a pressure cooker to cook. If you use Instant pot pressure cooker or any other pressure cooker, you don't need to soak the beans
3. Rinse the red beans in water and discard bad ones, if any. Place inside the inner pot of Instant pot. Add the peel and water.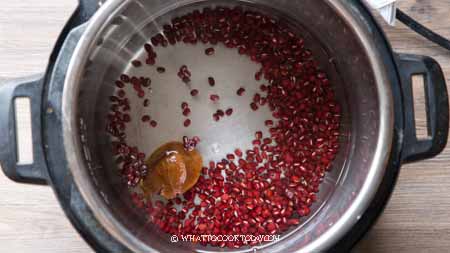 4. Close the lid and turn the steam release valve to "sealing". Press "pressure cooker" and make sure it's on high pressure. Set the timer to 45 minutes. 30 minutes will do too, but I like some of my red beans to be "broken", which makes the soup a bit thicker and 45 minutes is perfect for me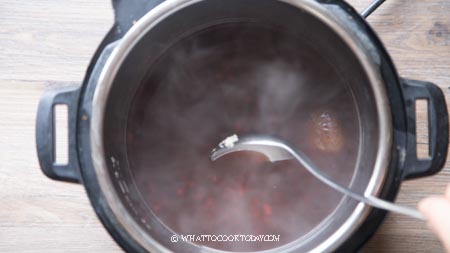 5. After 45 minutes has elapsed, wait 10 minutes and then release the pressure. Carefully unlock the lid. Stir in the sugar and small pinch of salt. Adjust the amount to your taste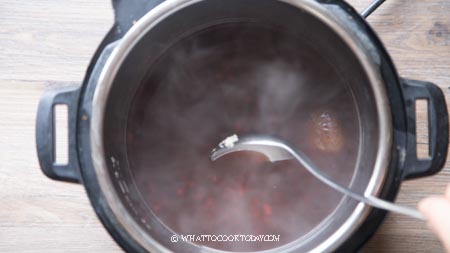 6. If you like the soup to be thicker, press "saute" mode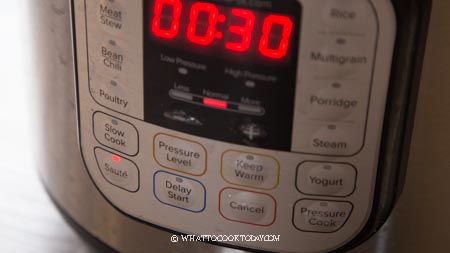 7. Let it boil for another 10 minutes or so to evaporate extra liquid. Keep in mind that the soup is thicker when it cools down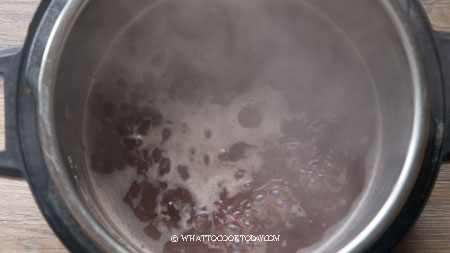 8. Ladle the sweet red bean soup into serving bowls and add tang yuan balls, it's up to you how many balls you want to add for each serving. I think around 10-12 mini balls are good to start with (though I can eat more LOL)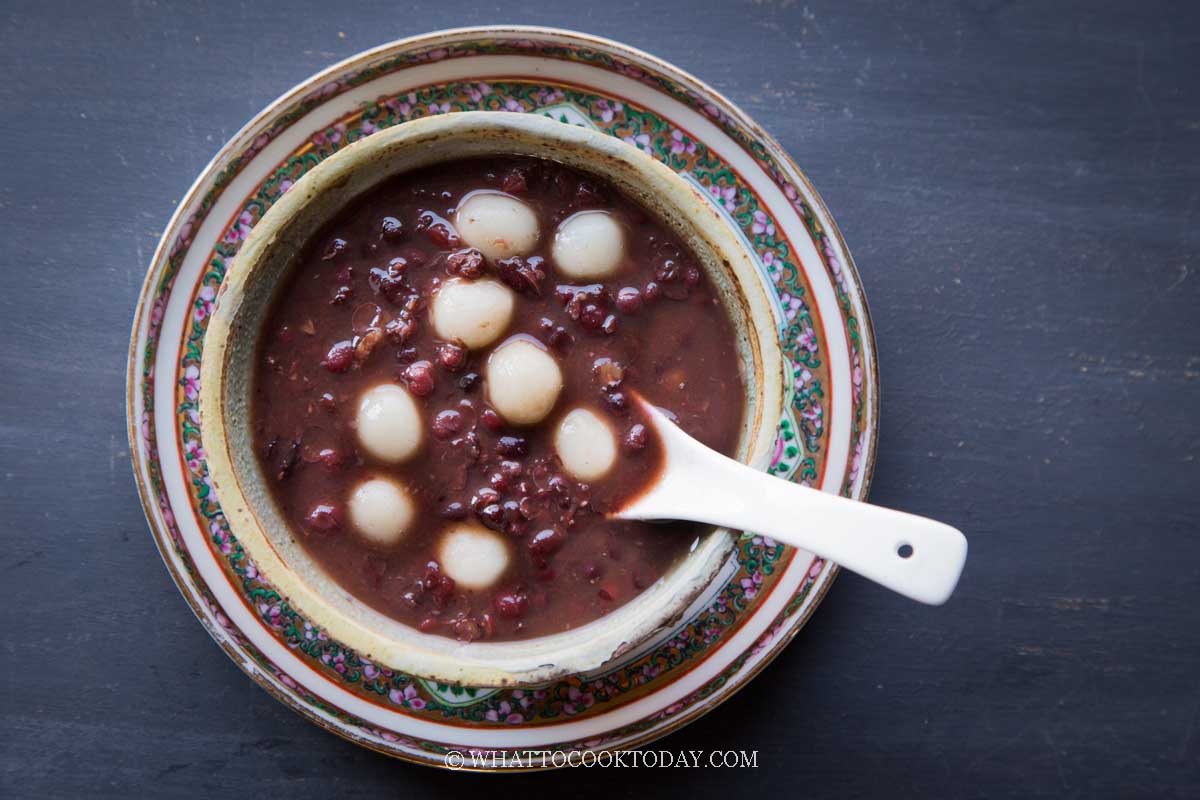 How to store leftover
Leftover sweet red bean soup can be stored in the fridge for up to one week max. The tang yuan balls can be stirred into the soup and kept in the soup. They will soften when you reheat them on the stove or in the microwave.
Variations
1. You can also add other beans, such as green mung beans
2. You can omit Mandarin peels and used other aromatic such as pandan leaves it's easier for you to get
3. You can add cooked tapioca pearls
4. I like to add diced water chestnuts for that crunch too
5. You can add some coconut cream or milk to the soup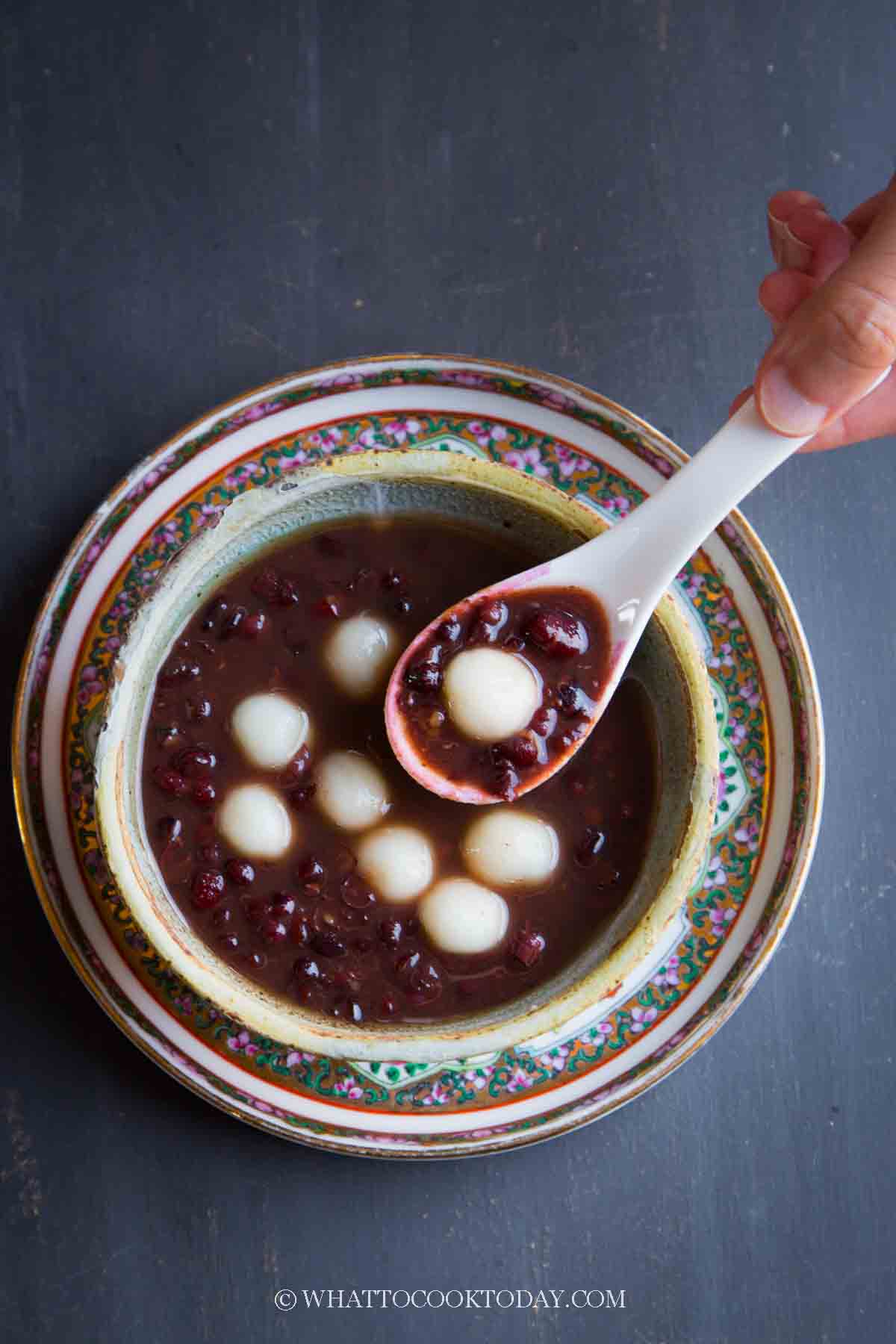 Did you make this sweet red bean soup tang yuan recipe?
I love it when you guys snap a photo and tag to show me what you've made 🙂 Simply tag me @WhatToCookToday #WhatToCookToday on Instagram and I'll be sure to stop by and take a peek for real!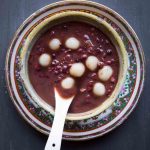 Sweet Red Bean Soup Tang Yuan (Hong Dou Tang)
Instructions
Rehydrate the dried Mandarin peel:
Soak the dried peels in warm water for 15 minutes or until they are soft. Scrap off the white part inside the peel if any. It's bitter. I used store-bought peel and so the white part has been removed
Soak the red beans (if not using a pressure cooker to cook):
Pour enough water to cover the red beans and soak for at least 4 hours or overnight. Discard the soaking water
If using Instant pot pressure cooker to cook:
Rinse the red beans in water and discard bad ones, if any. Place inside the inner pot of Instant pot. Add the peel and water. Close the lid and turn the steam release valve to "sealing". Press "pressure cooker" and make sure it's on high pressure. Set the timer to 45 minutes. 30 minutes will do too, but I like some of my red beans to be "broken", which makes the soup a bit thicker and 45 minutes is perfect for me

After 45 minutes has elapsed, wait 10 minutes and then release the pressure. Carefully unlock the lid. Stir in the sugar and small pinch of salt. Adjust the amount to your taste. If you like the soup to be thicker, press "saute" mode and let it boil for another 10 minutes or so to evaporate extra liquid. Keep in mind that the soup is thicker when it cools down. Stir in some coconut cream or milk if you want extra flavor from the coconut. I love it, but didn't use it this time
If cooking on the stove:
Put the beans, dried peel, and water in a large pot and bring to a boil. Then lower the heat to let it simmer until the beans are soft, about 1 to 1 1/2 hours. You may need to add some water during the cooking period. Cook until some of the beans are broken and some are still whole. It's up to you how you want the consistency to be. I like some of the beans broken and the soup to be thicker. Cook to the consistency you like

When you are happy with the consistency, stir in brown sugar, adjust the amount to your taste preference
Prepare tang yuan dough:
Mix glutinous rice flour and icing sugar in a mixing bowl. Add the boiling hot water. Stir to mix with a spatula at first and when it's not too hot anymore, use a clean hand to mix and knead into a non-sticky dough. Add a bit of water as needed to form a dough. The dough will be soft and pliable because of the hot water. Cover them with plastic wrap to prevent it from drying out

Pinch off a small amount of dough, about 8-10 grams (it's up to you how big or small you want them to be) and then roll into small balls. You should have no problem with the dough breaking because the dough is so soft and pliable. Keep the small balls covered with plastic wrap too. Continue with the rest
Cook the tang yuan:
Bring a large pot of water to a boil. When they are rolling boil, add the tang yuan balls and cook until they float to the top. Once they float to the top, cook for another 1 minute. Use a slotted spoon to remove them from the pot and submerge them in a fresh water briefly to stop the cooking process and to prevent them from sticking to each other
How to serve:
Ladle the sweet red bean soup into serving bowls and add tang yuan balls, it's up to you how many balls you want to add for each serving. I think around 10-12 mini balls are good to start with (though I can eat more LOL)
Recommended products: